Introduction
This post is an experiment in recording a journey as it happens to South East Asia, our fourth, this time popping into Luang Prabang in Laos for a bit of R&R, then for three weeks in Viet Nam. For other posts see South East Asia, Laos and Thailand and Cambodia. Also "A Holiday in Three Parts". The journey started well, 55 minutes from home to airside at Heathrow. Then Thai Air announced a two and a half delay because Pakistan had closed its airspace, also the flight had to be redirected over Russia and China adding two hours to the flight time, 13 hours in total. A sleepless night watching forgetable movies with 500 other people on a Airbus A380.800. Unfortunately we missed our connection in Bangkok to Laos, but the gods were with us, Bangkok Air got us on the next flight. A French civil servant in the 1920's would take a civilised six weeks to do the same journey. Finally 8 hors late we arrived at the Three Nagas Hotel in Luang Prabang.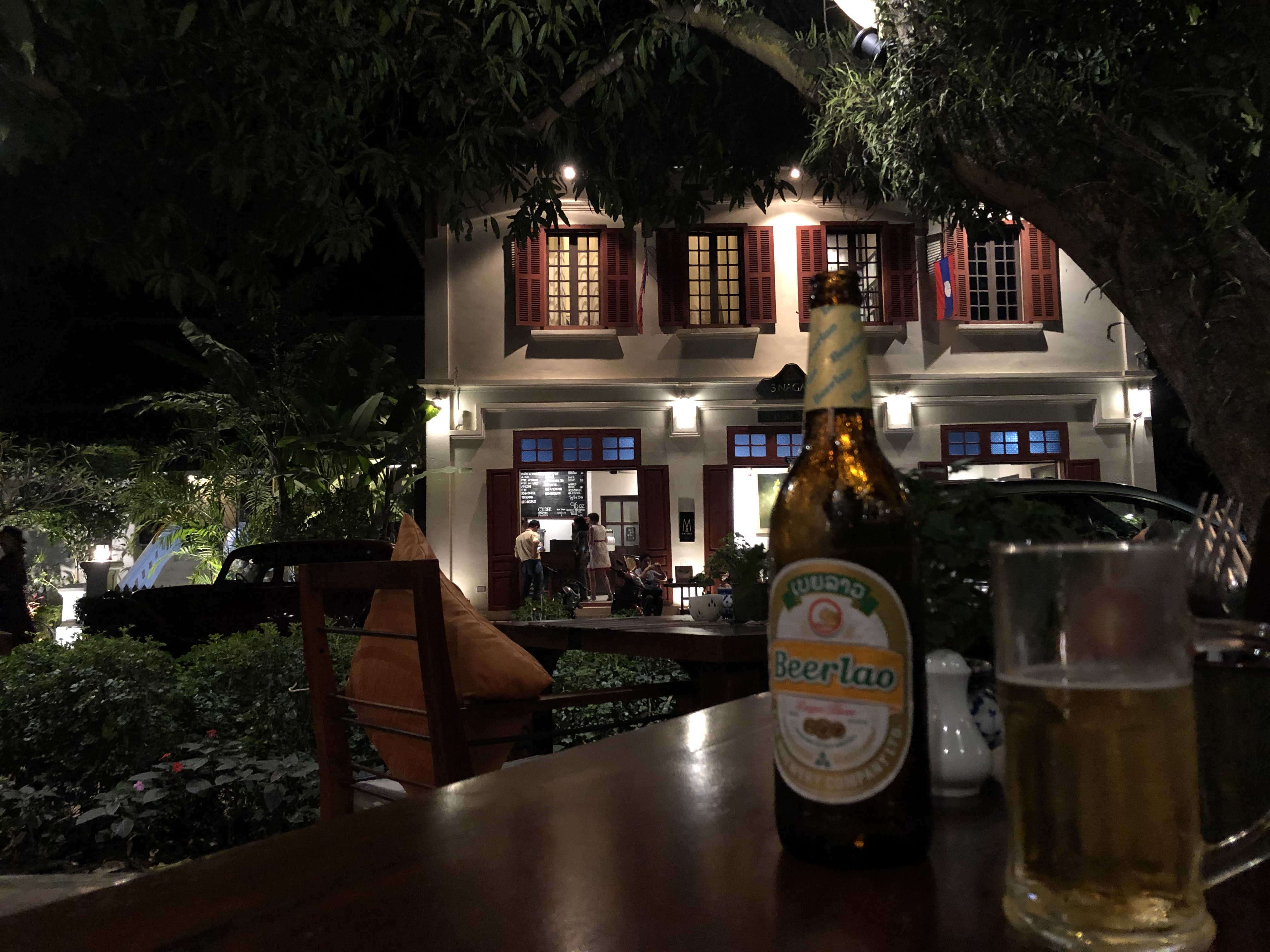 Luang Prabang, the old Capital of Laos, is a little gem of a city, gentle, quiet, clean and " acceuilant". There is nothing special  here, it is just special. The old town is boarded by the might Mekon River and the small………River. It comprises of wonderful Wats, Buddhist temples and monastaries, and French colonial style houses now upcycled into boutique hotels. The Three nagas is a classic example, a fusion of Lao and French styles, timber framed with overhanging roofs and polished dark wood floors. Our first day was spent re-visiting the Xieng Thon Wat, built in 1560 and restored by King Sisavang in 1928 with French money. Beside a lovely Buddha, to whom would you prefer to intercede on your behalf with God, the Wat has charming decorations including , glass mosaic Tree of Life [qv Assyrian tree of life at recent exhibition at BM], and a couple on a donkey. Now it is a moped. As Margaret's , my wife, suitcase failed to arrive we had to buy a dress from a charming Australian women…………… She also sold small pendants of bombs made from recycled bomb metal; Peace Bombs. The CIA dropped an estimated 250 million bombs on Lao during their unofficial attack on the Ho Chi Min Trail during the Viet Nam war, 80 million are unexploded. She also mentioned  a documentary Blood Road by Rebecca Rusch describing how she bicycled the entire Trail looking for her father's crashed bomber, which she found. Watched the sun set over the Mekong, a beer under the spreading Mango Tree [Mangifera indica] of the Three Nagas then shopping, suitcase still had not turned up. Elegant specialised boutiques, one showcased the book "Indochina Style" by Barbara Walker publ. Marshall Cavendish. For me a shop selling Eaglewood [an exotic expensive speckled wood] and Rosewood beads, ornaments and tea ceremony trays, with a drainage hole, also rough contorted logs, tree trunks and roots.  Supper at the The Pizza and Luang Parbang on…….; noodle soup, salad, fried rice and a large beer for 100,000 kips, equivalent to £10. With my rather fragile stomach I plan to tour South East Asia fueled by egg fried rice.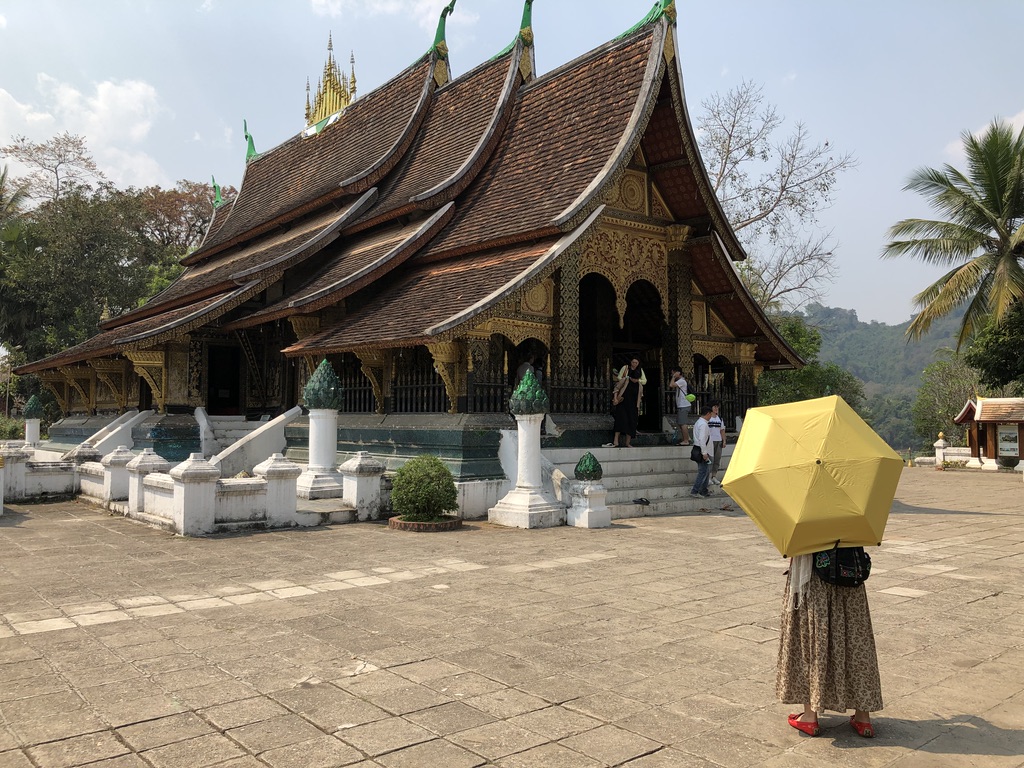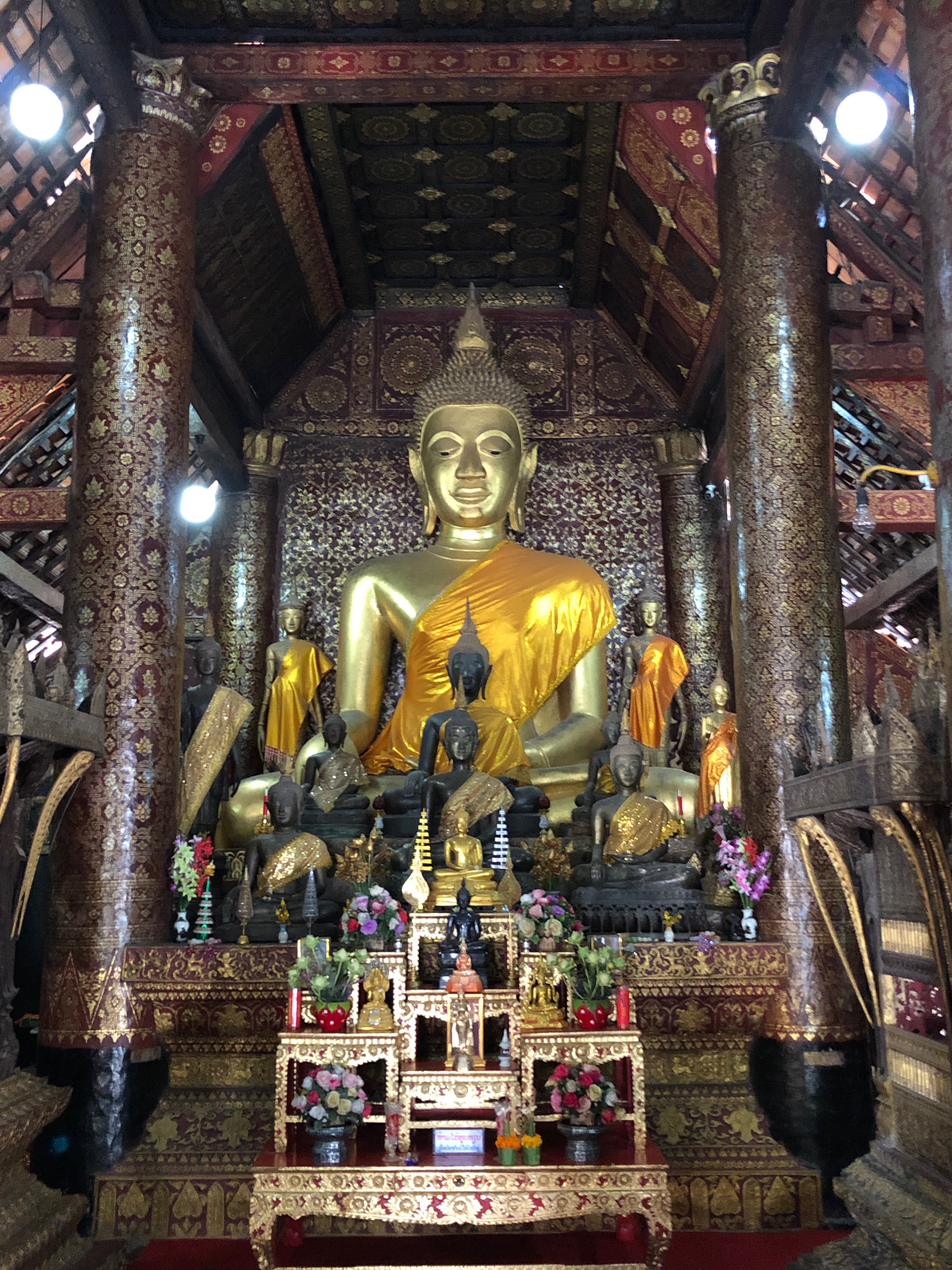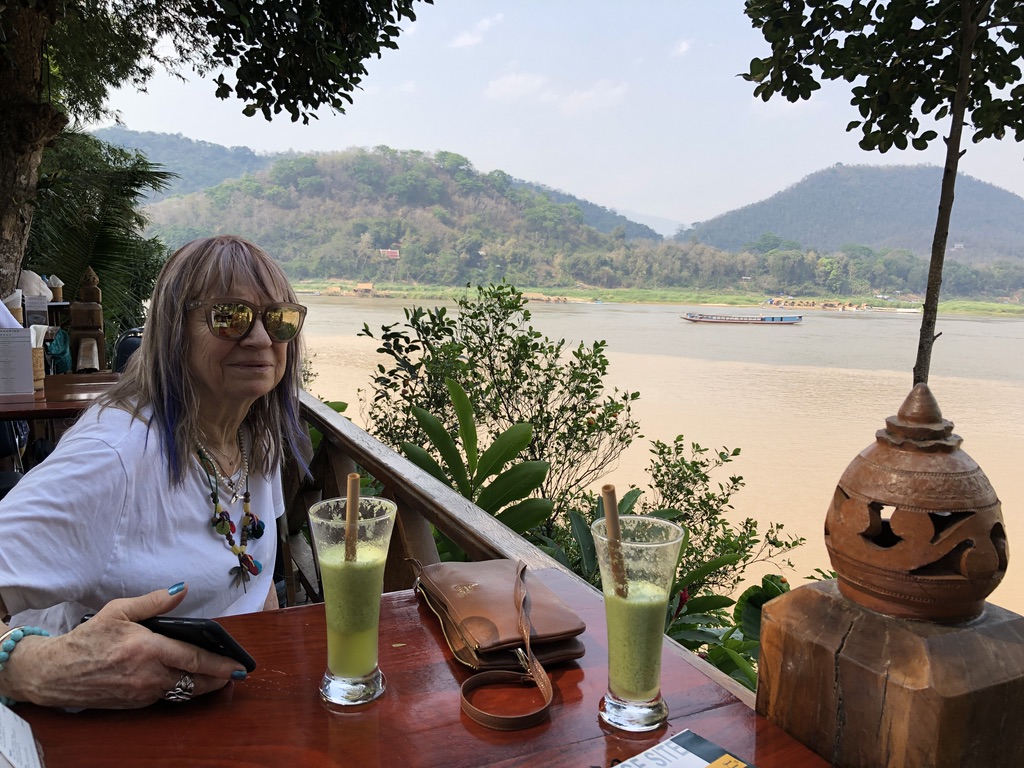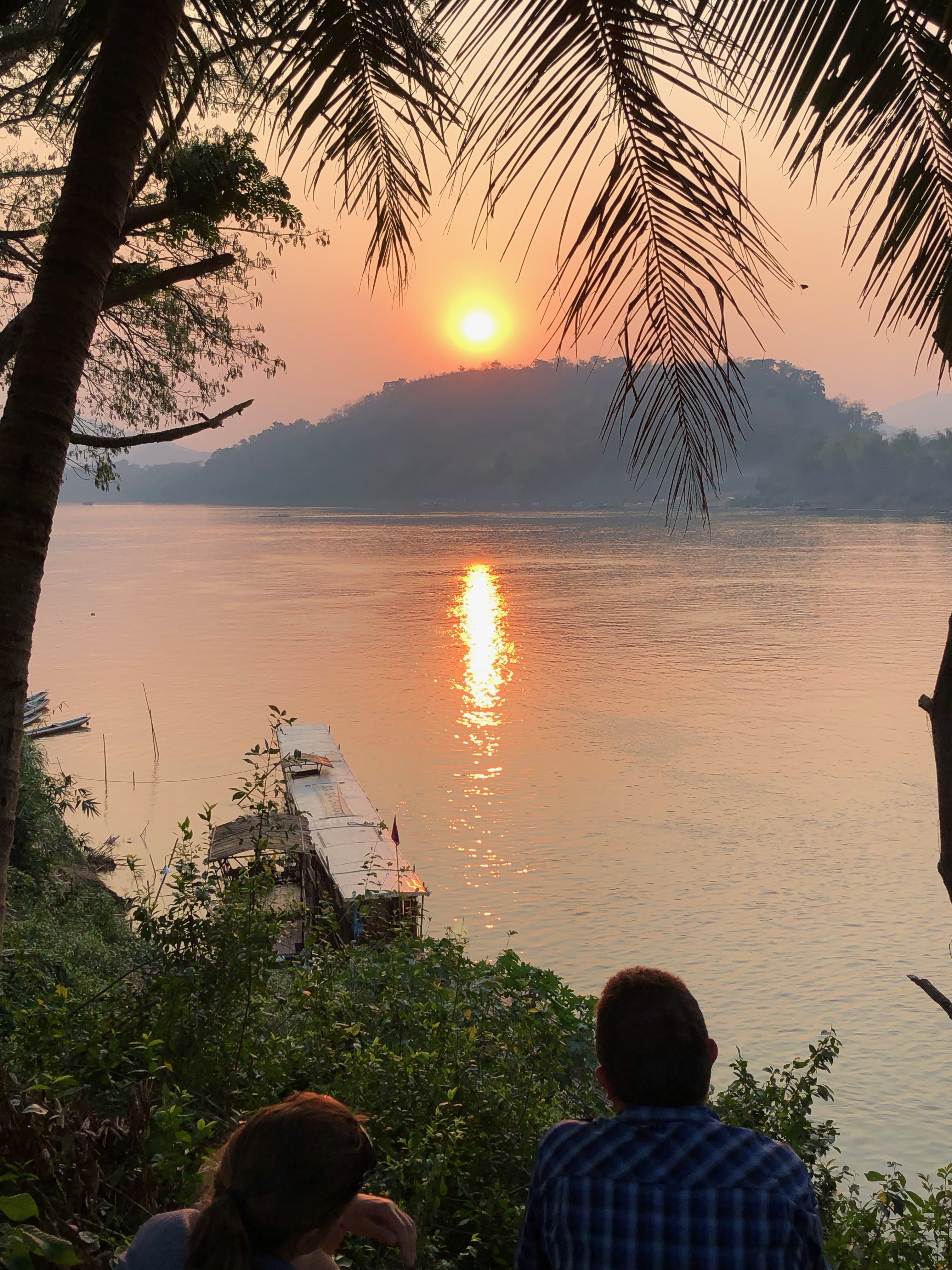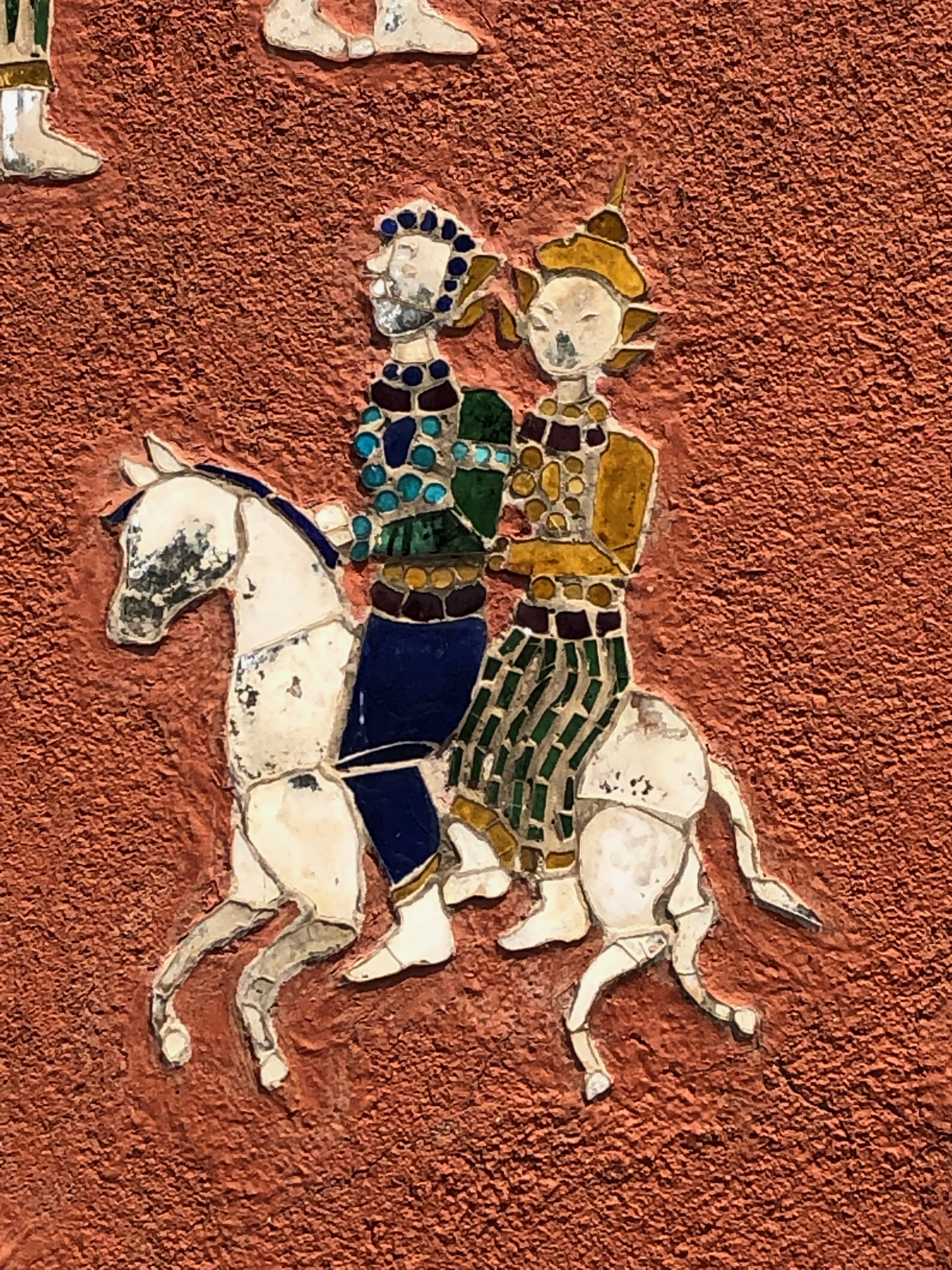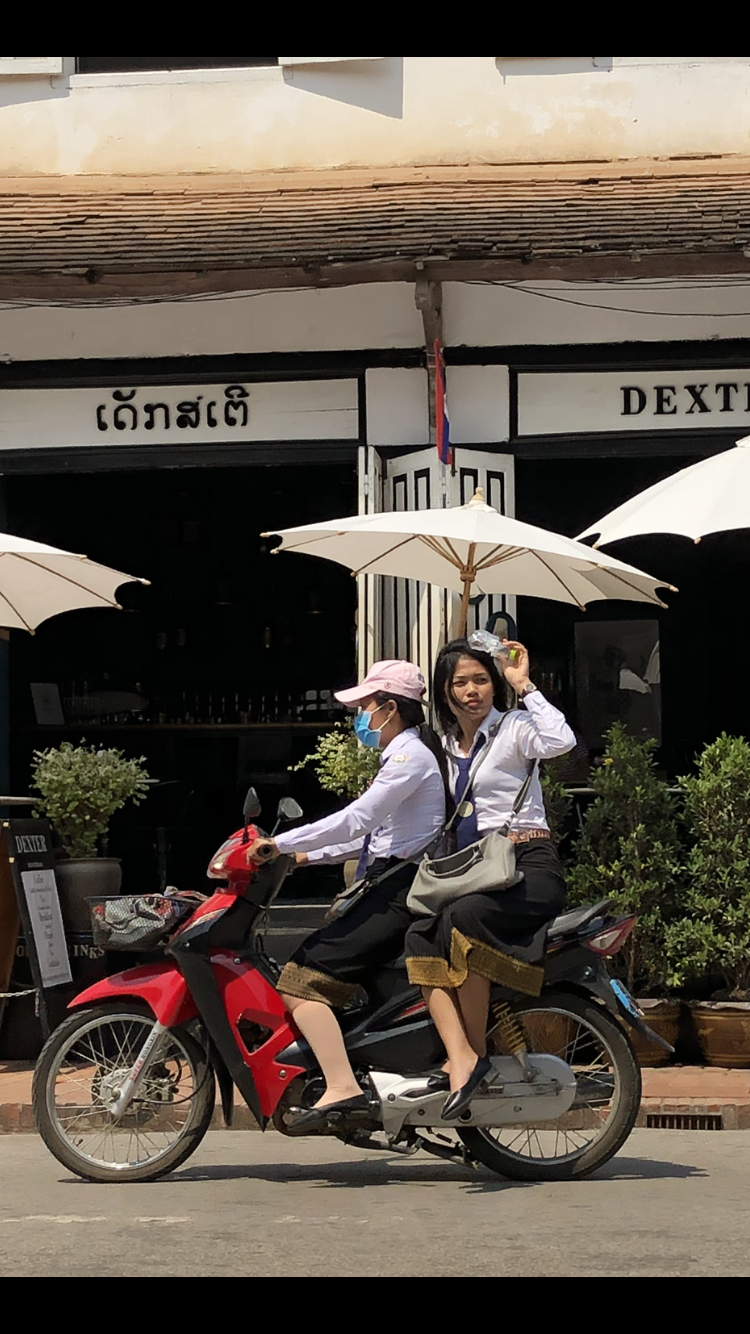 After a sleepless night, read 40 pages of Andrew Marr's magnum opus "A History of the World", we went on a boat trip down the Mekong to the truly glorious waterfall at Khang Si. The extraordinary hybrid boat was designed and owned by two young Frenchmen under the name Khopfa, associated with the Belle Rive Boutique hotel. The waterfall is dramatic plunging through tropical vegetation. But what are truly magnificent are the series of pools of aquamarine water just ideal for swimming. Lying on one's back gazing up at the blue sky through tropical Coral Trees with their red flowers attracting beautiful butterflies, and not a fly or mosquito in sight. Back in town we ate at the slightly more upmarket Bamboo Restaurant; again noodle soup, fried rice, papaya salad and large beer for kips 151,000. It is next door to the Apsara Hotel where we stayed in 2013 and 2105. The Restaurant is now run by a 5 star operation out of Bangkok; Secret. Norman Lewis in his book "A Dragon Apparent" quotes the French director of Information that " Laos first…an earthly paradise. Can't imagine it, if you haven't been there" Quite agree. The French also had a saying' The Vietnamese plant the rice, the Cambodians watch it grow but the Laotians listen to it grow".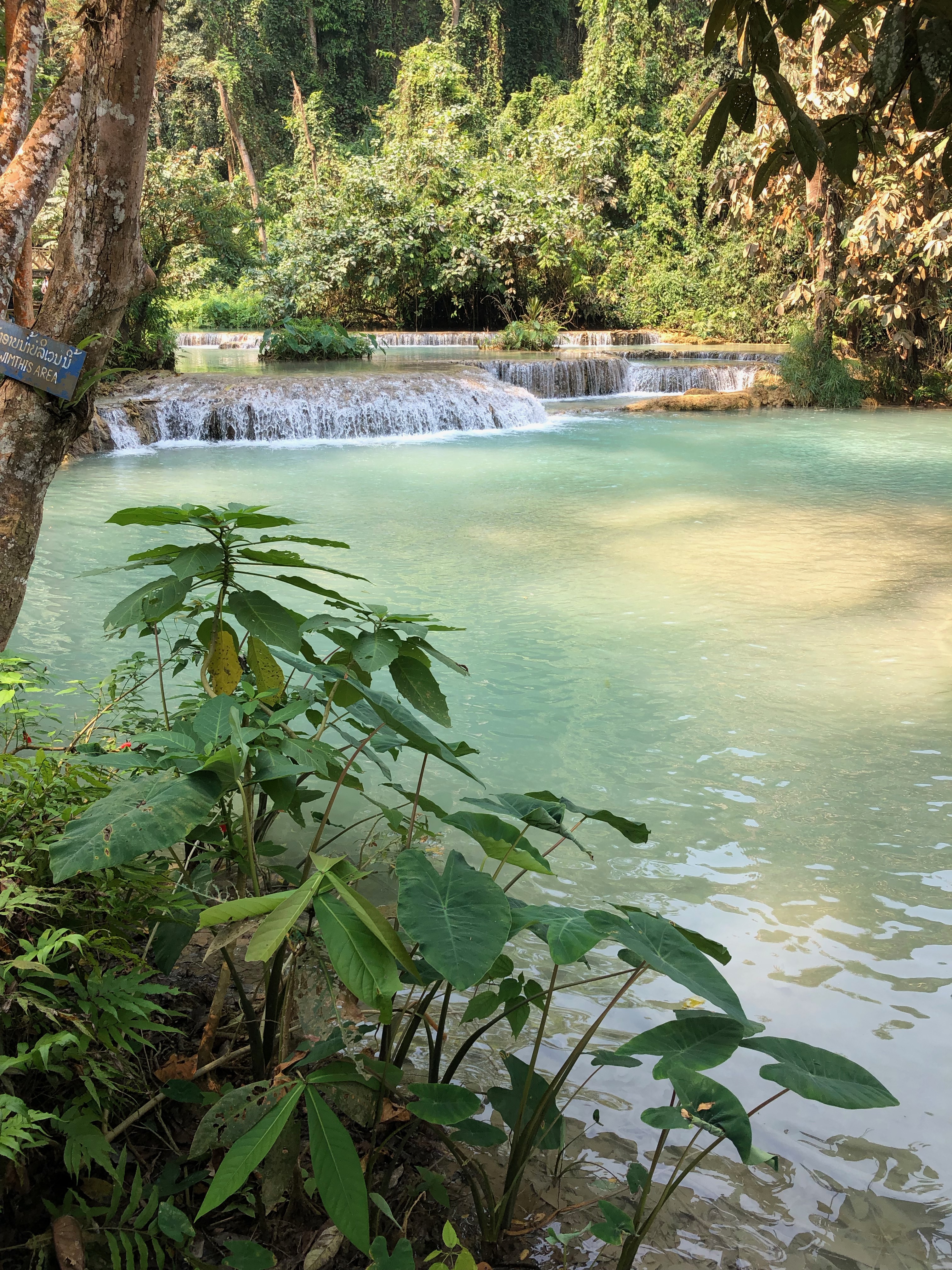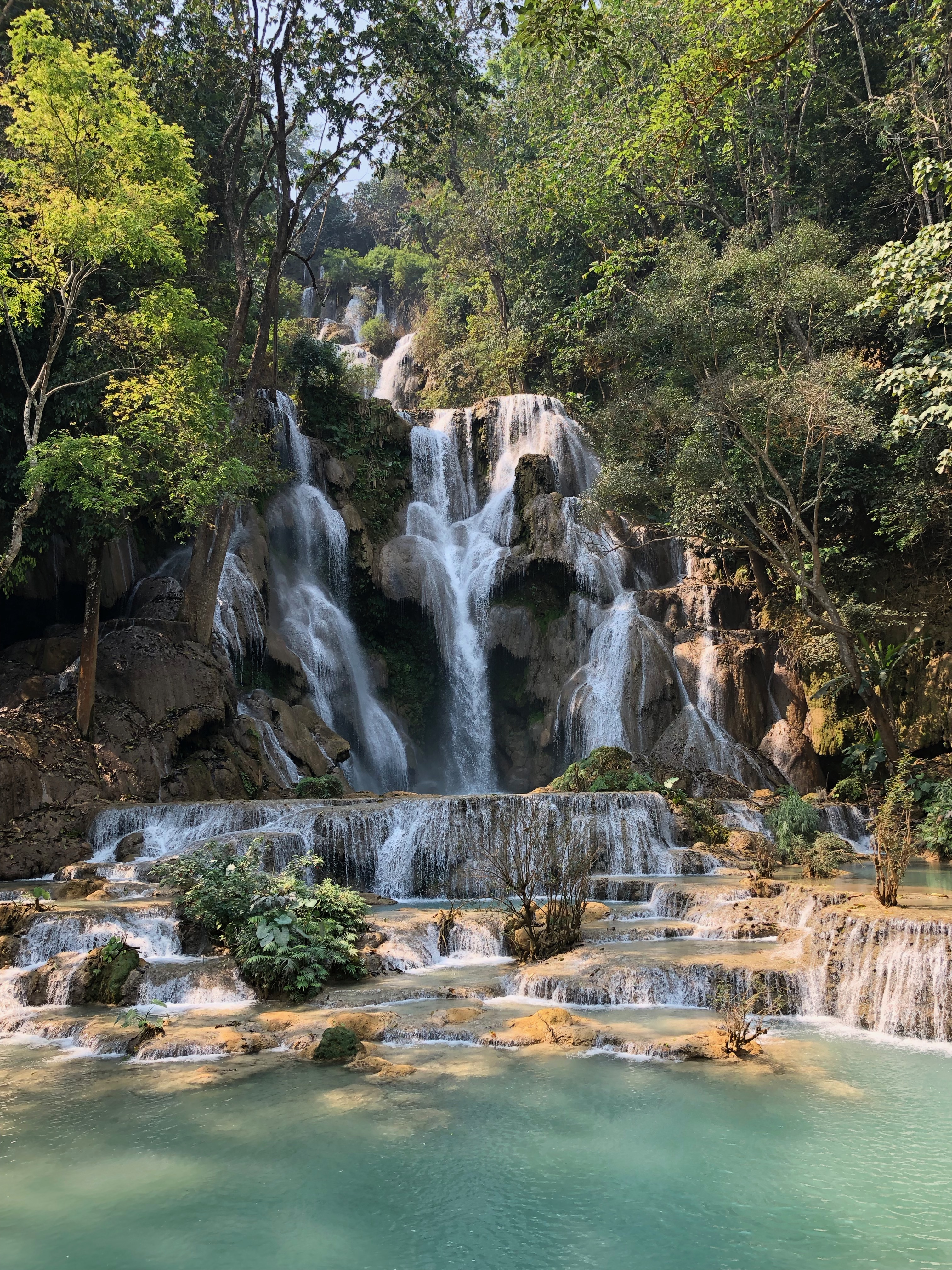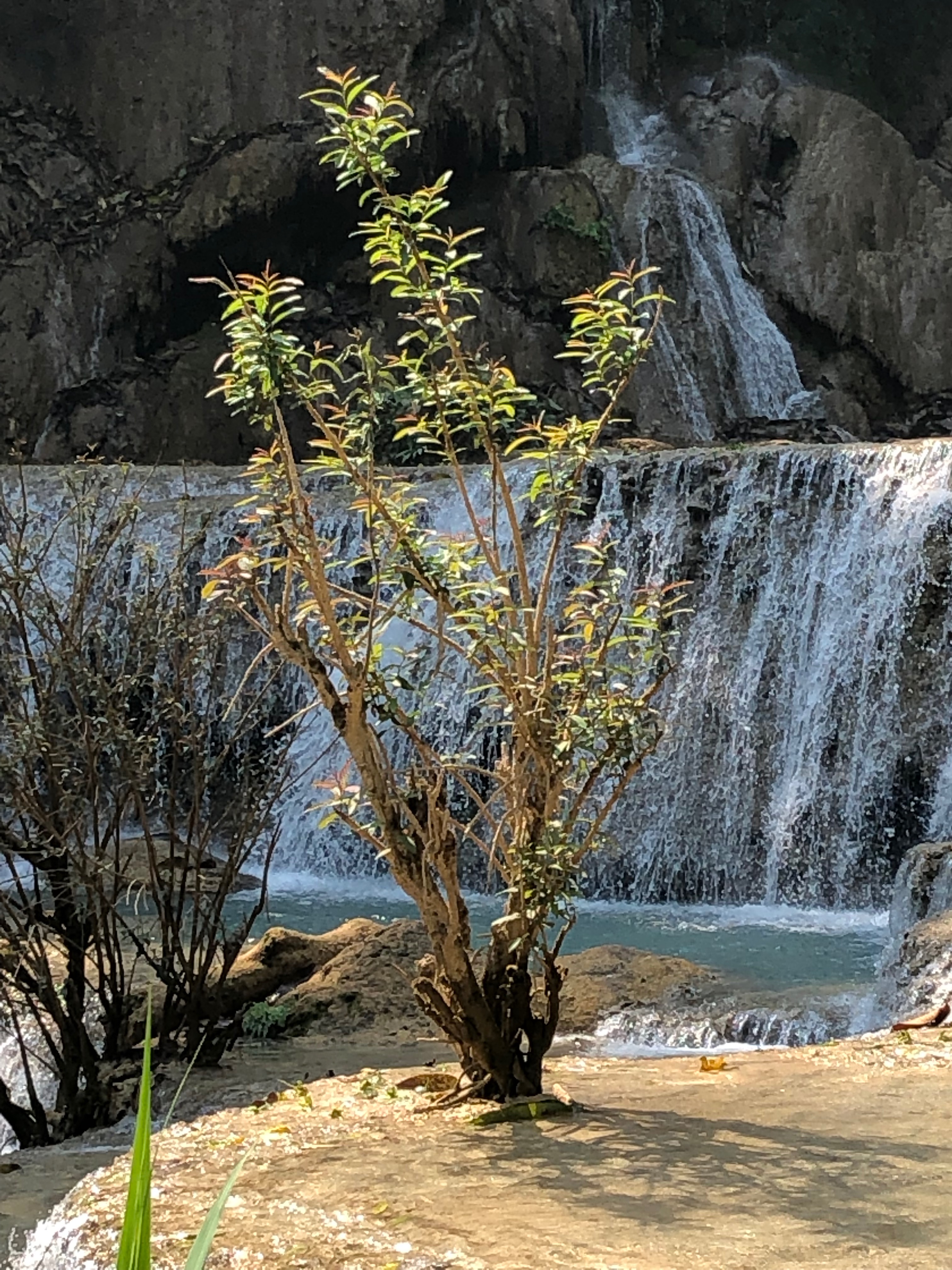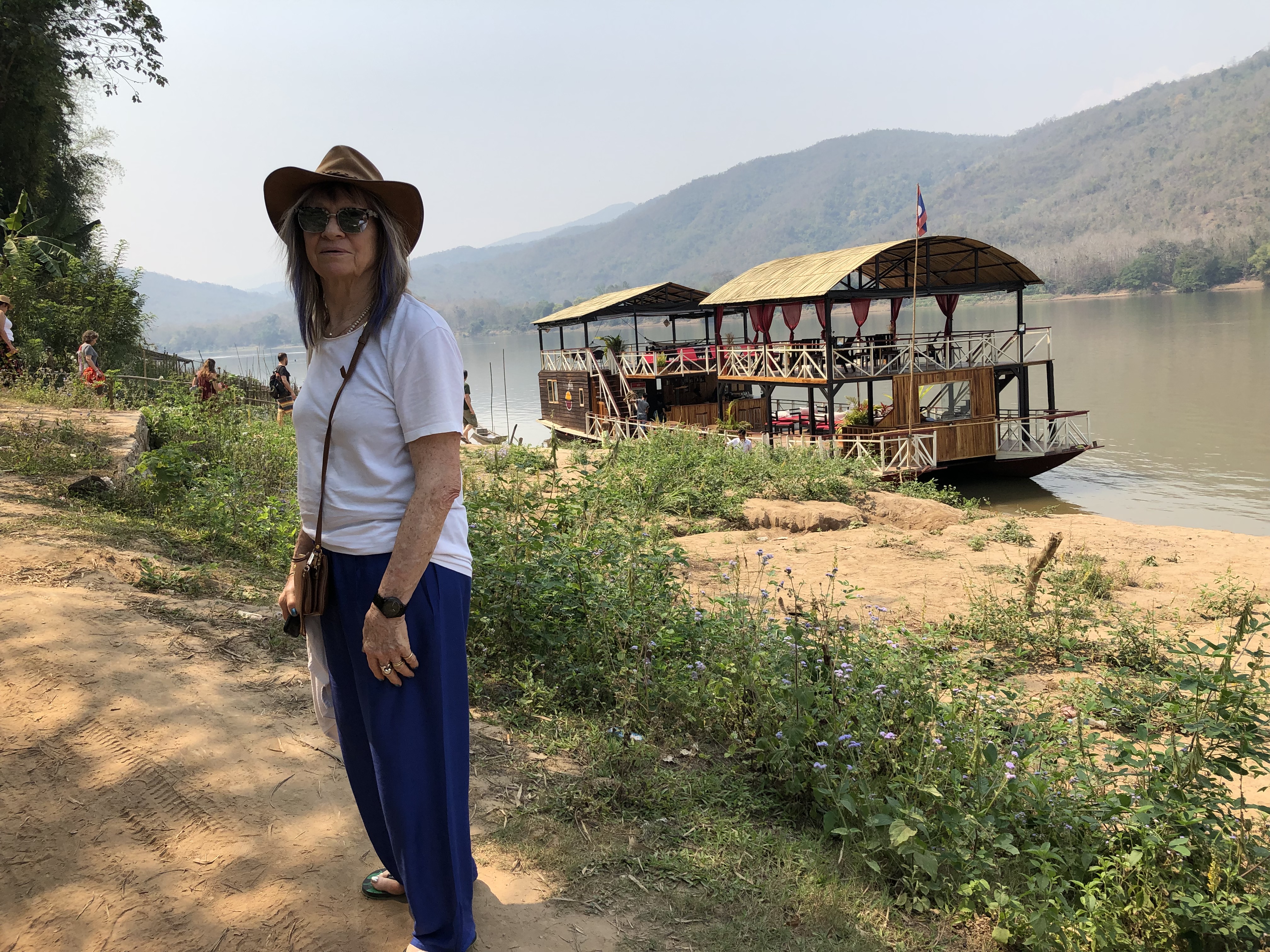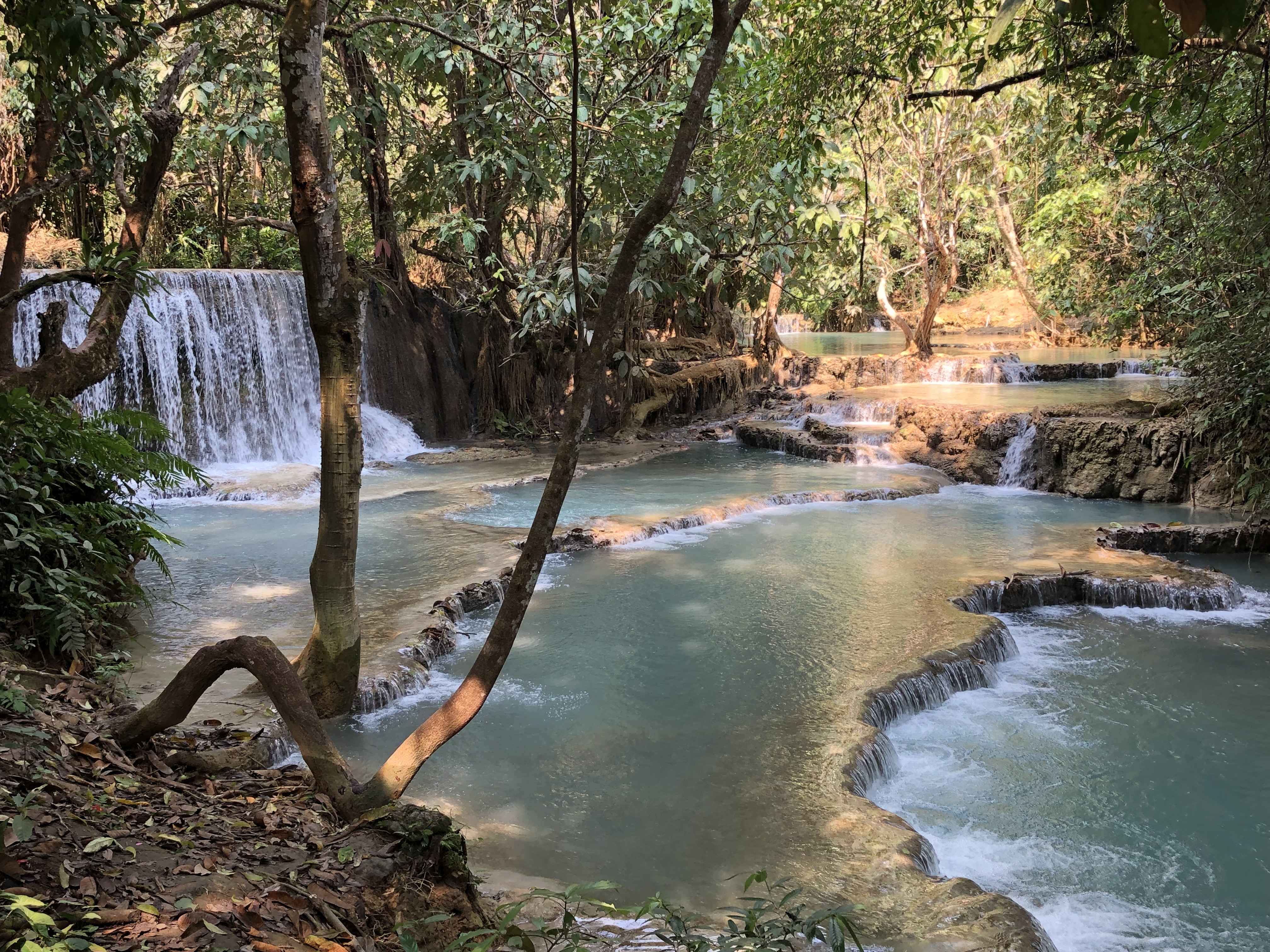 Awoke next morning to a gentle slightly misty summers morning in an English village, or so it reminded me. I am writing this by the infinity pool of the Fusion Maia Hotel and Spa overlooking "China Beach". known locally as My Khe beach in Da Nang which I am finding rather distracting so have decided to defer further posts till "later". I have already lost two text posts. I exhibit below the distracting view, followed by photos of the extraordinary landscape of Houlan Bay, much more "later". So back to my beach-combing and glue-gunning.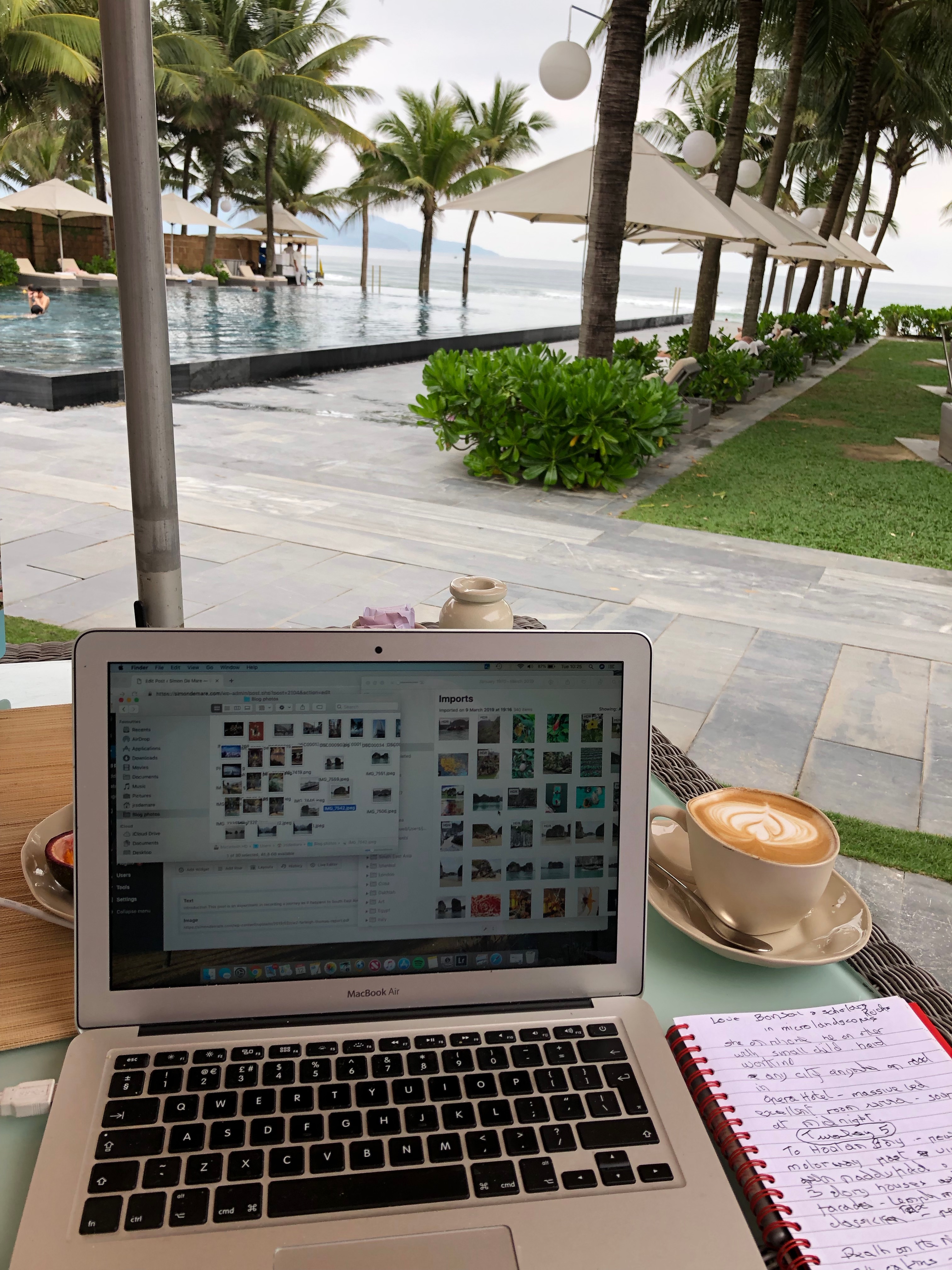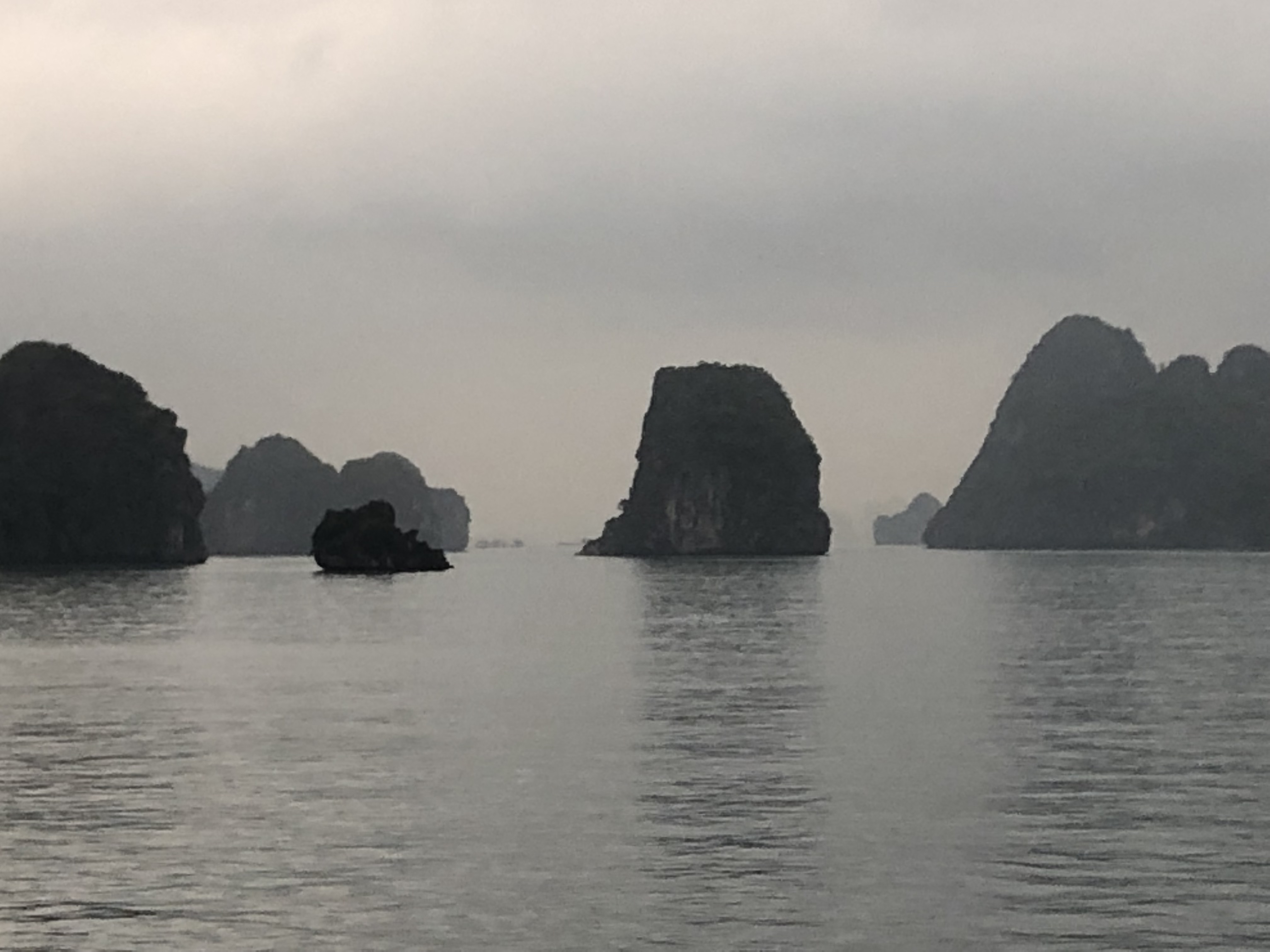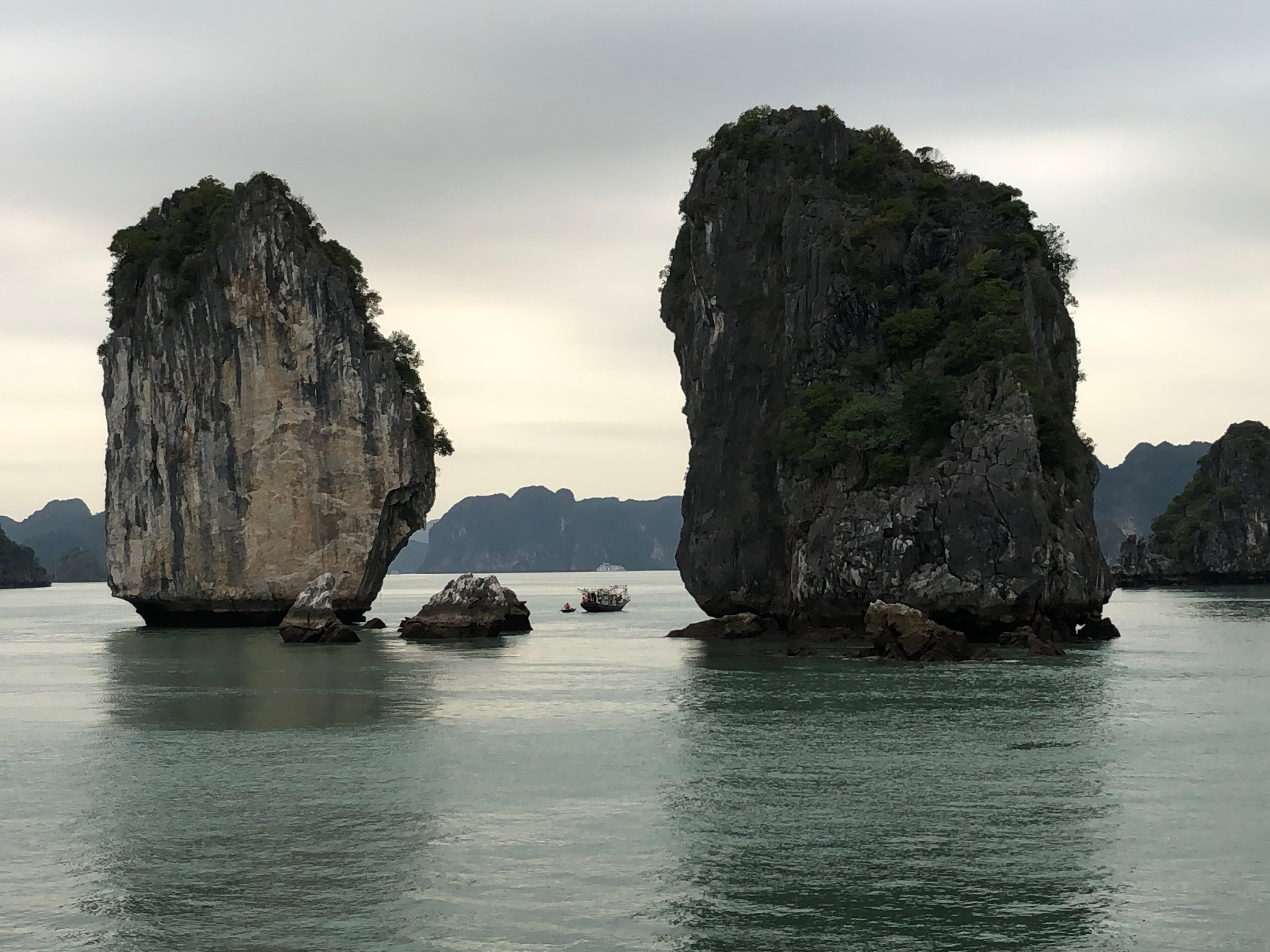 Tuesday 5 March
Now back in London [April 4] and coping with the jet lag and Brexit chaos, why did we come back, by writing up my diary and sorting out far too many photographs.
To Halong Bay, mini van from the Opera Hotel Hanoi, new motorway passed vivid green paddy fields and new tall then 3 story houses with ornate neoclassical facades, result of the 5 times 25 metre rule. In Vietnam property tax was based on the length of the frontage so now nearly all buildings are tall and narrow with 5 metre frontage.
We visit the ubiquitous tourist trap, a pearl farm that produces Halong Bay cultured pearls, with a massive shop.
We board our Au Co cruise boat, straight out of "Death on the Nile", 32 cabins in traditional wood style with outside balcony.
We cruise through a surreal landscape of 1,968 sugar loaves piecing straight up out of the sea, like skerries on steroids; a unique fjord like landscape. Geologically Triassic period limestone differentially eroded into a mature drowned karst landscape similar to that found in Thailand, Phi Phi islands on James Bond fame, and the Guilin district in China. The future following global warming, perhaps!
We are taken on a boat trip to visit the floating fishing village of Cua Van, an ethnic visit peering into the private lives of the villagers. Could not help thinking of Johnny Rotten's line "holidaying in other peoples misery".   The word "Alterity" springs to mind.
The food and service was excellent, the other guests pleasant and unobtrusive.
A Dinner menu; Fairy & Dragon's pearls, Deep fried minced seafood beignet and chill sauce
Banana flower salad with crispy roasted peanuts
Pumpkin soup with ginger
Grilled fish with rice noodles served with rice cakes
Pineapple Duo, Creme brûlée flambeed with rum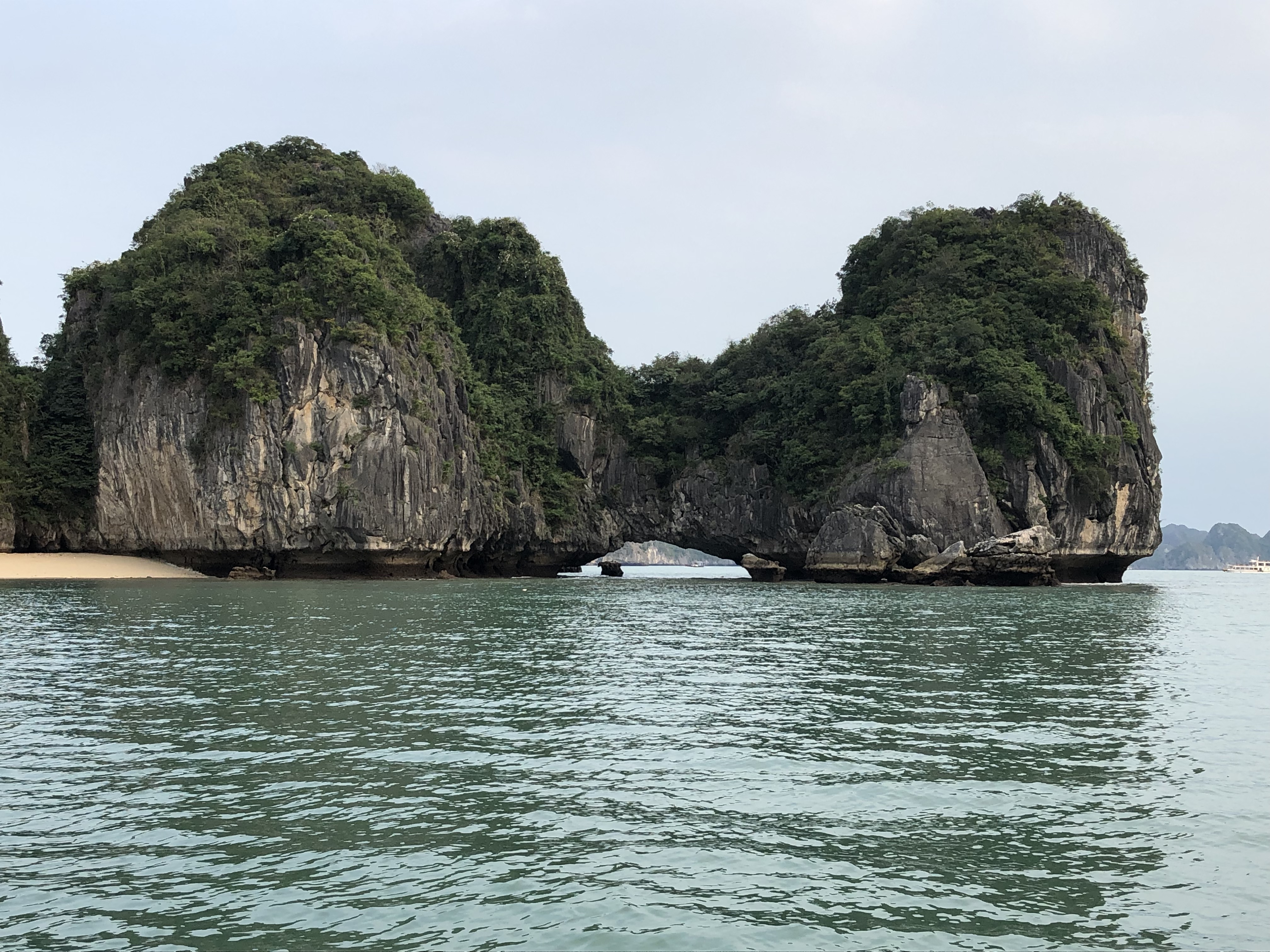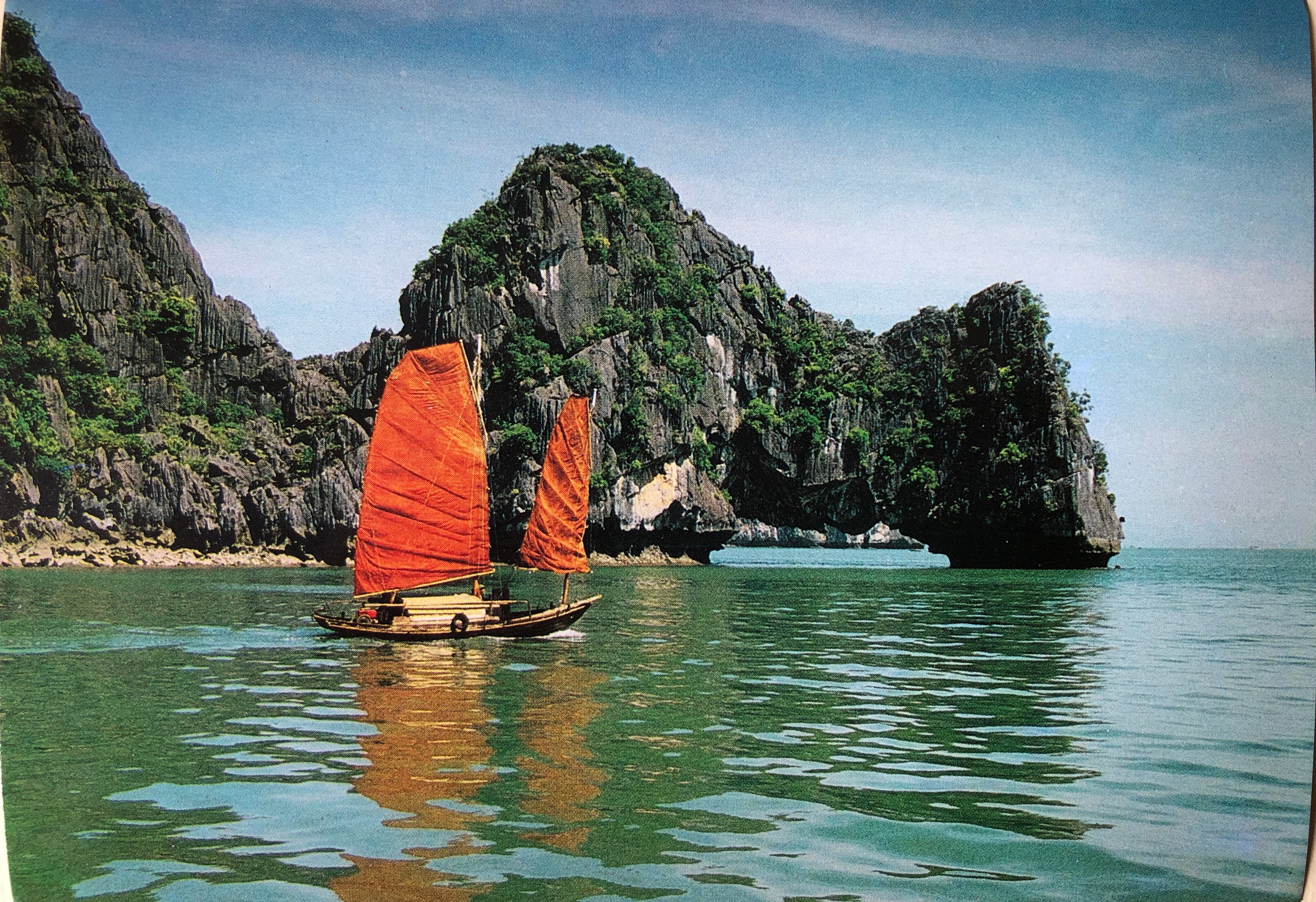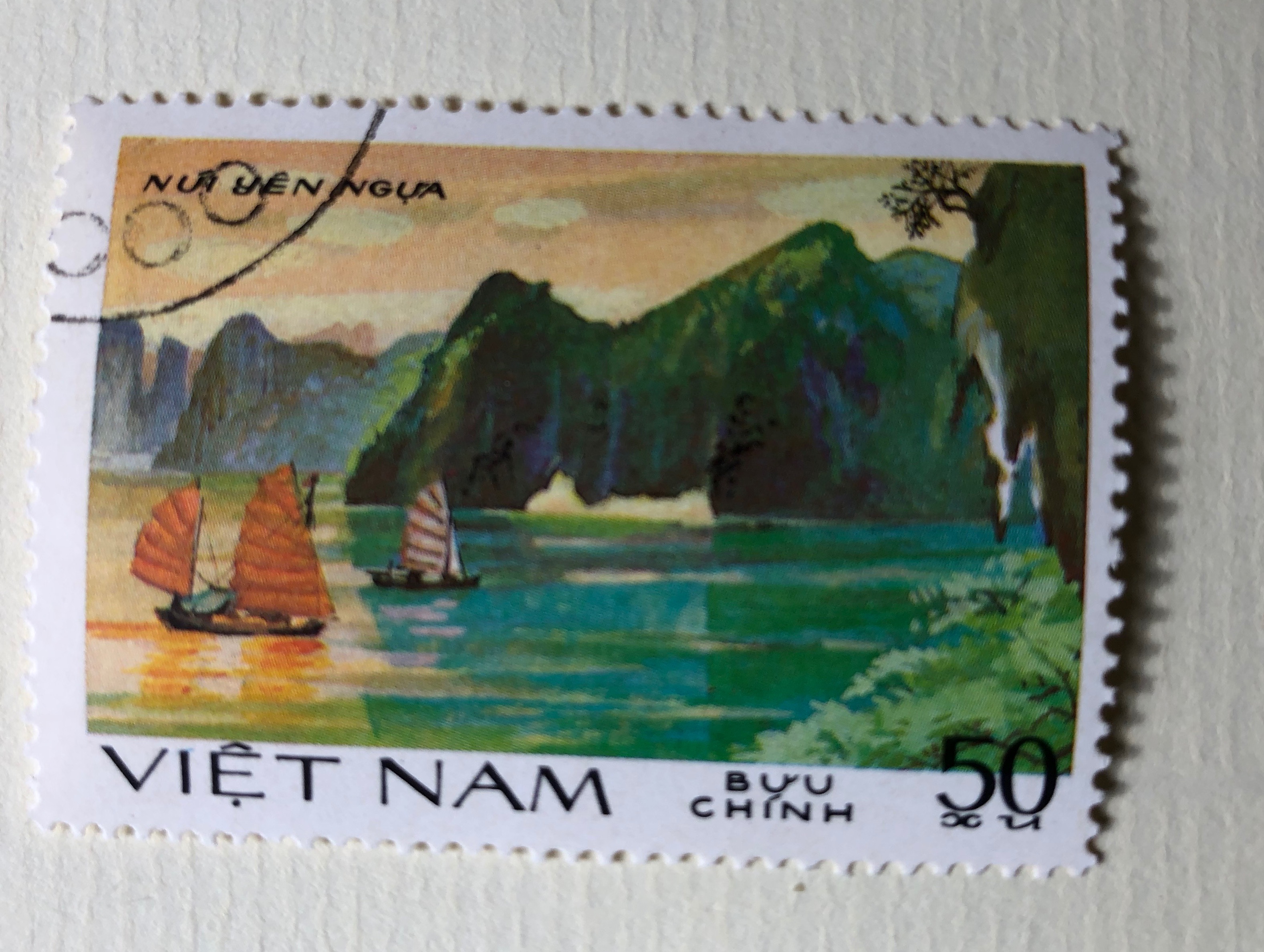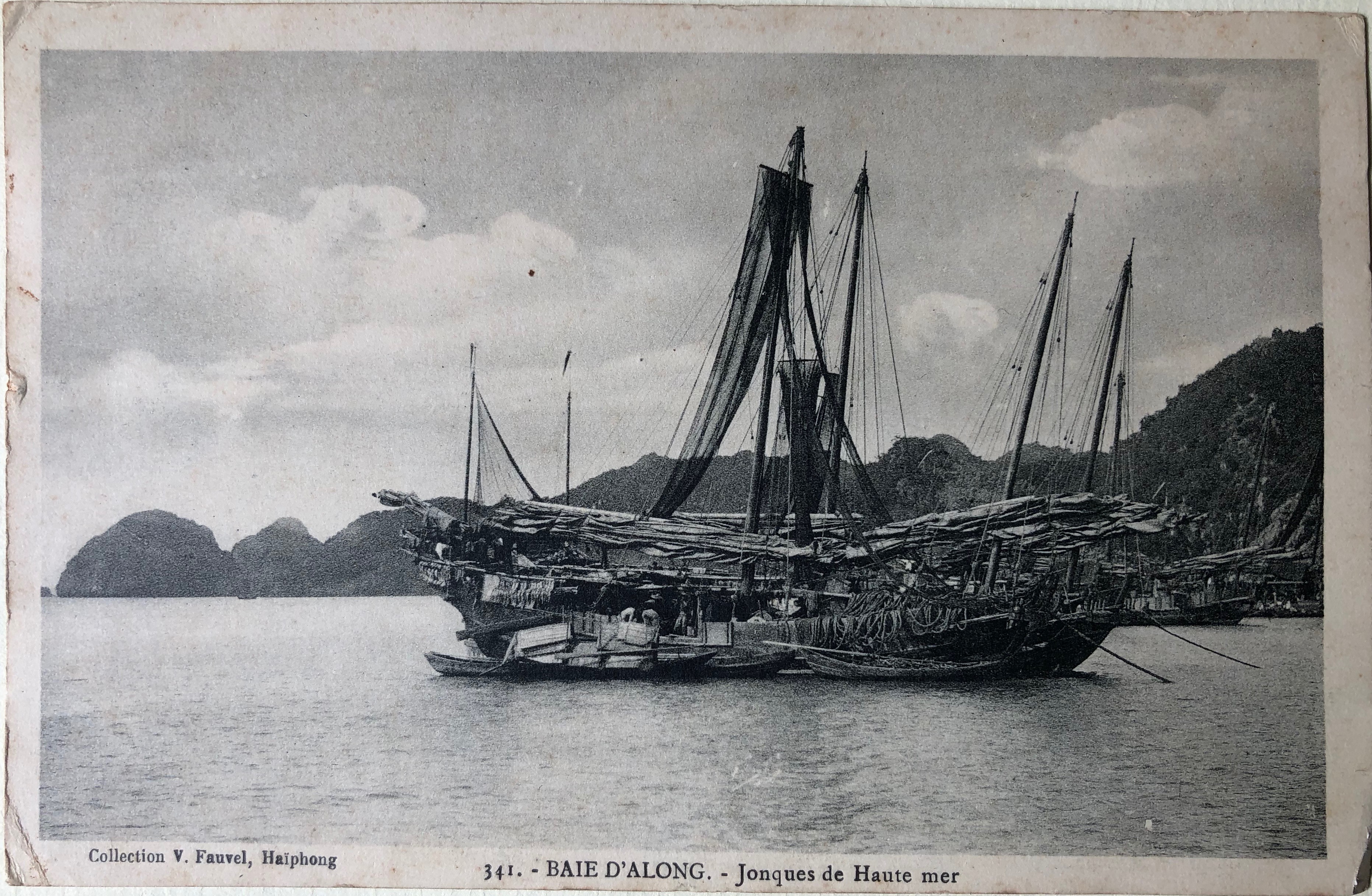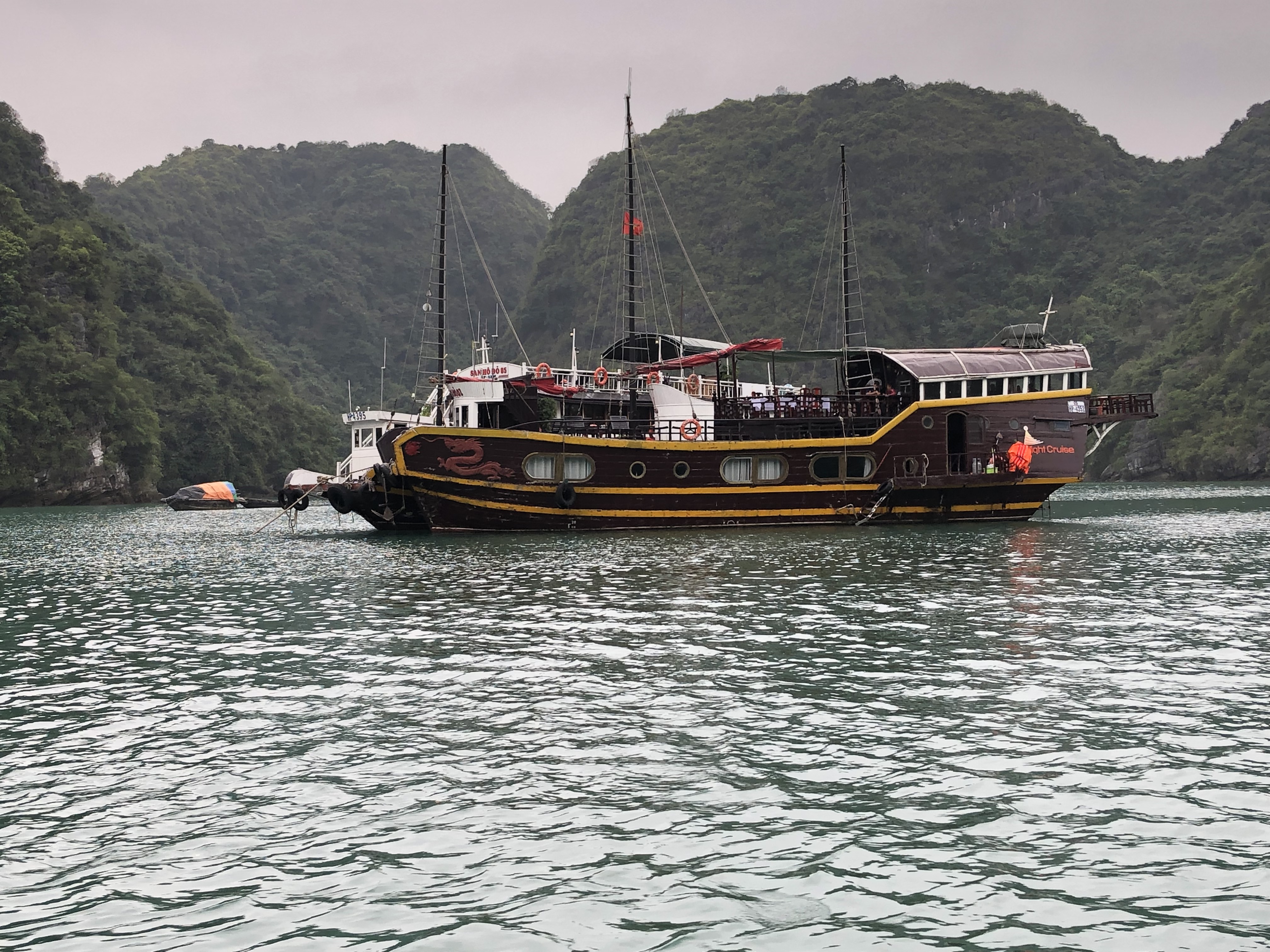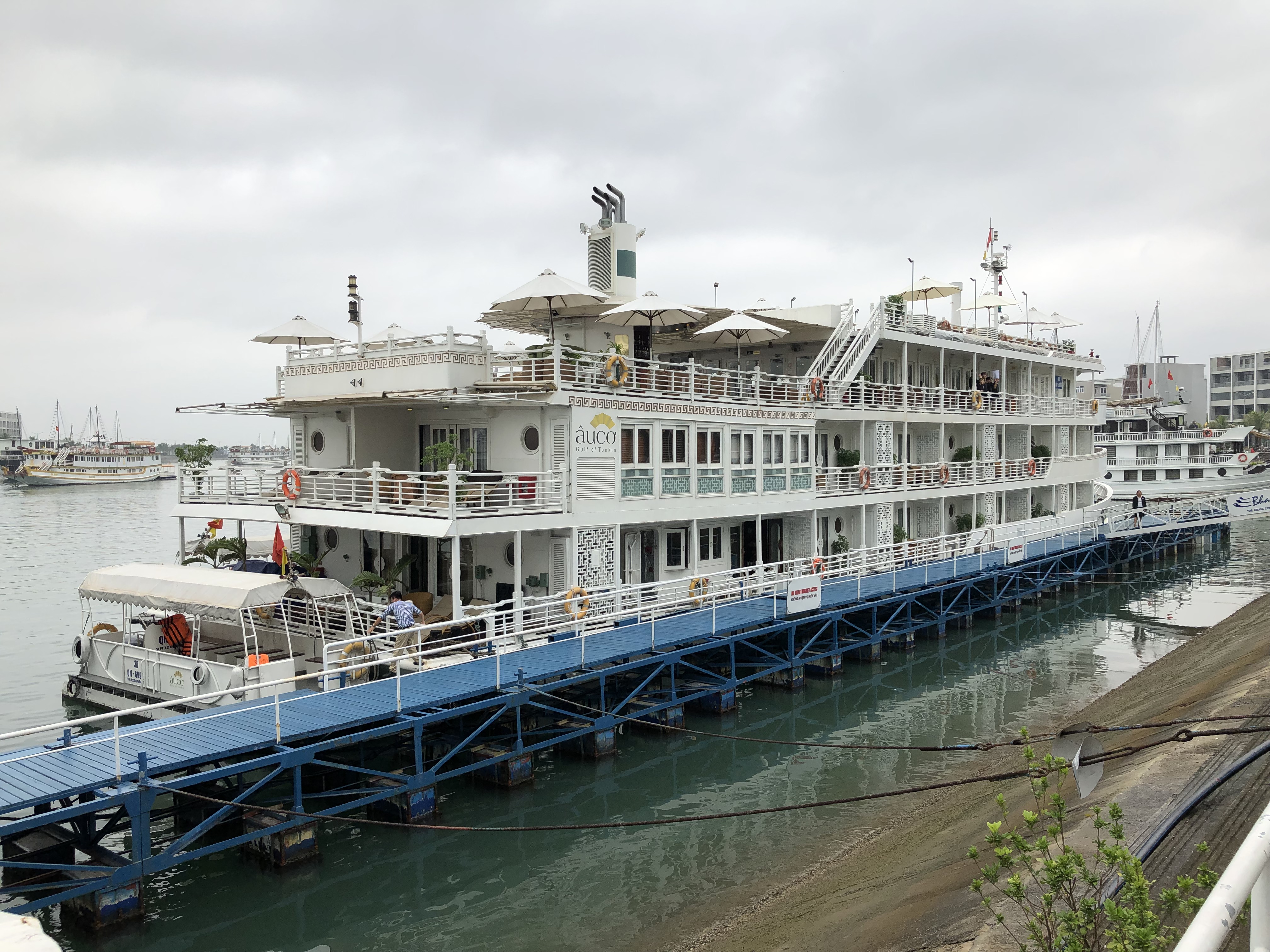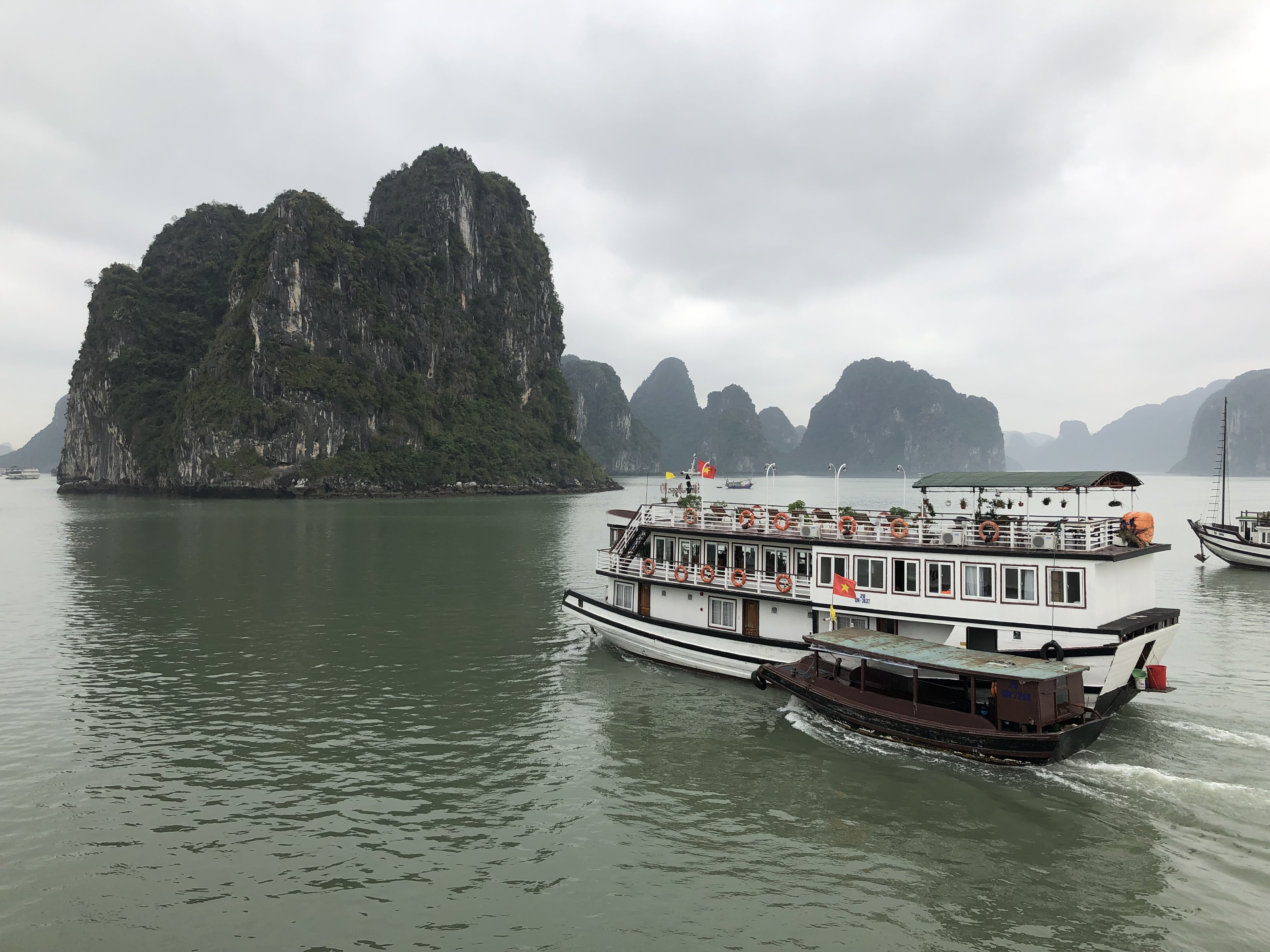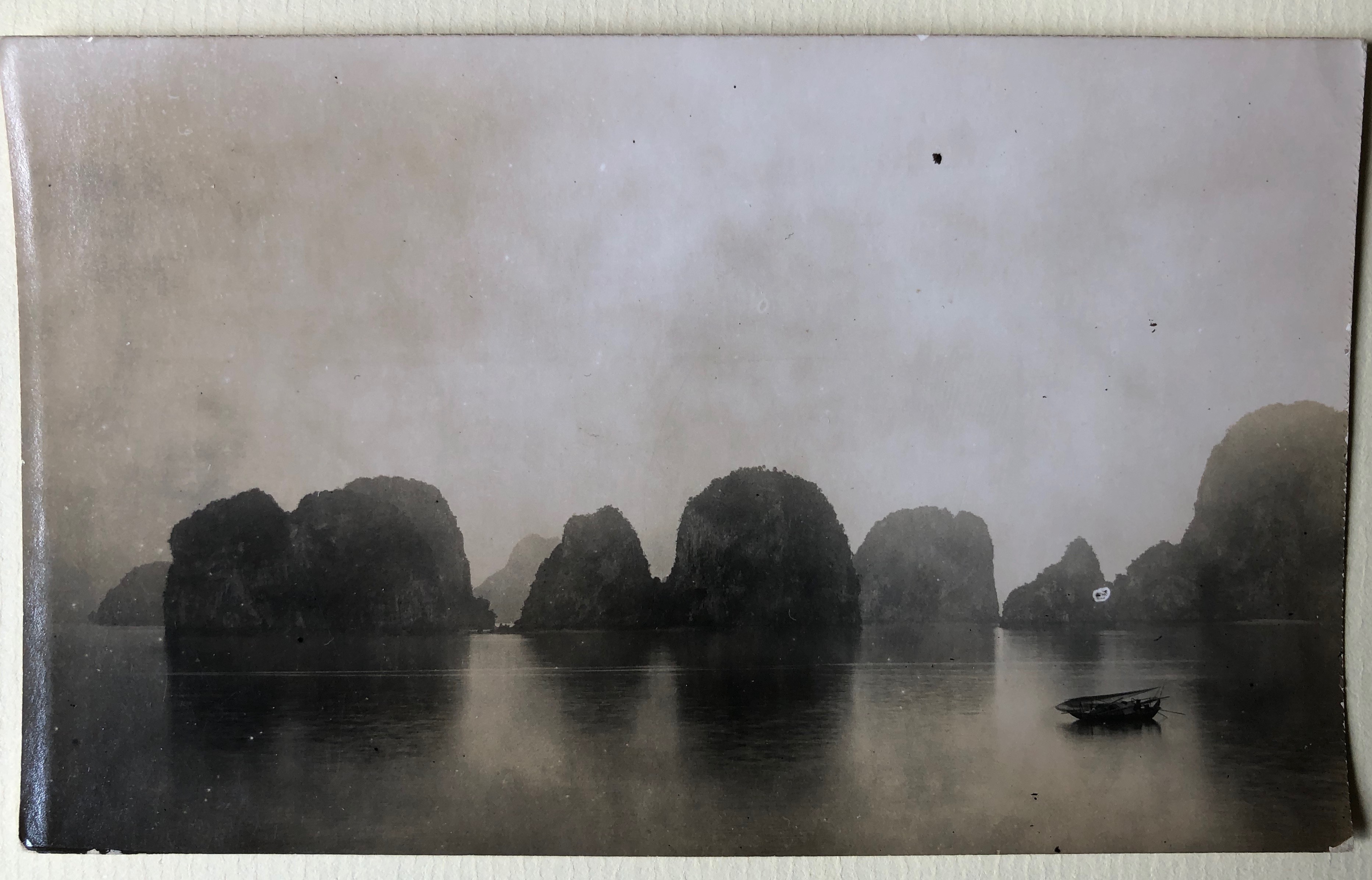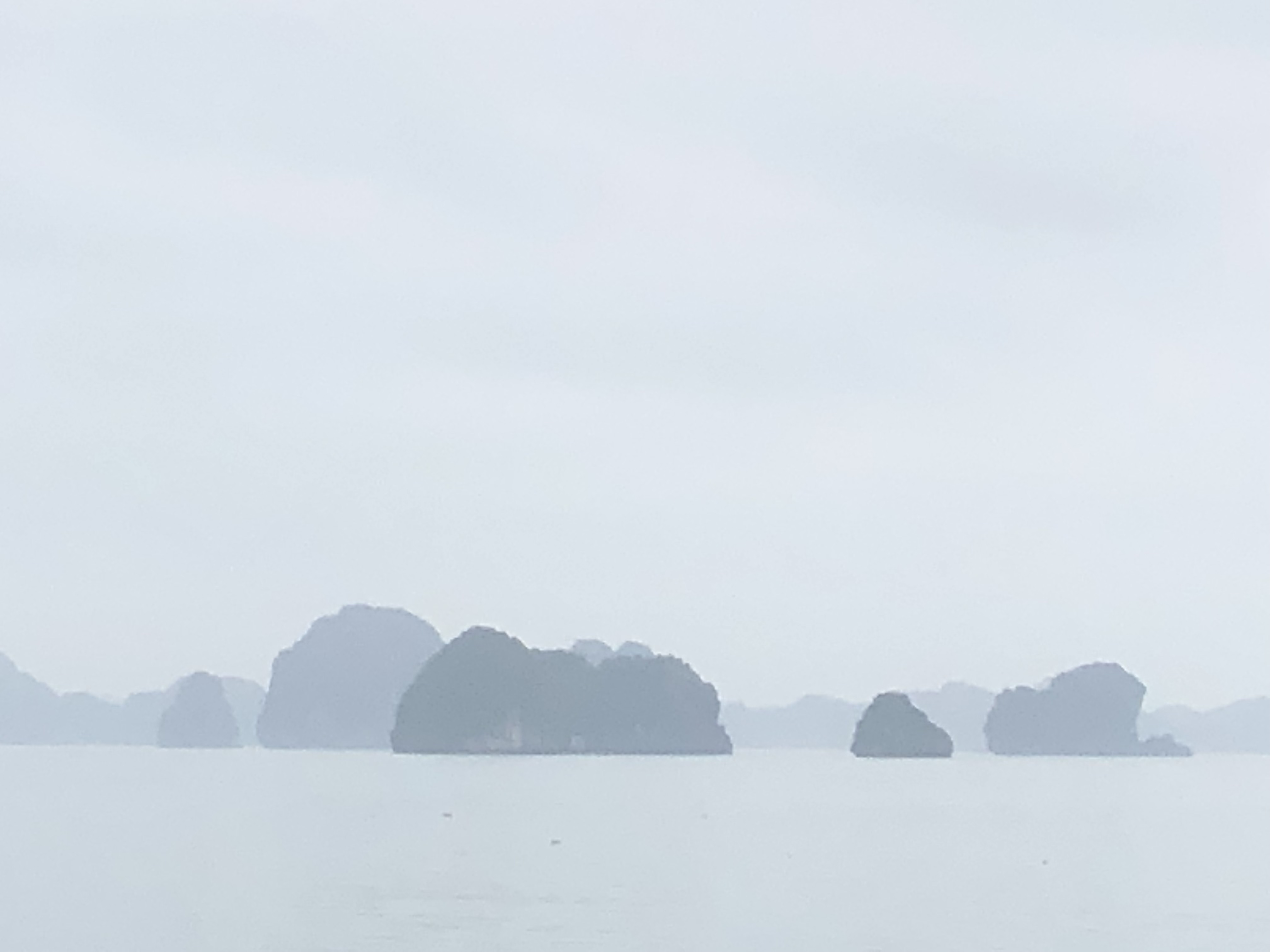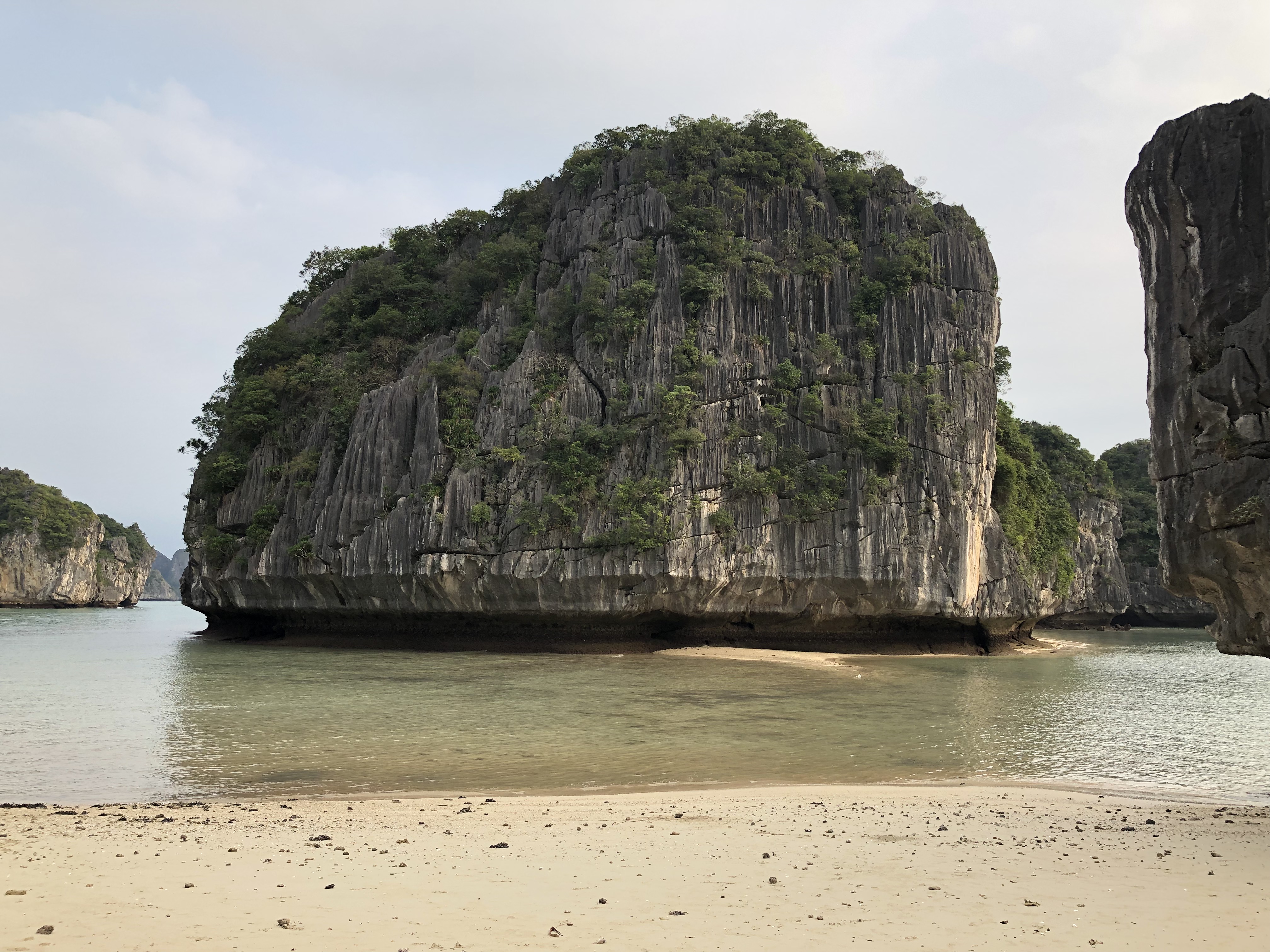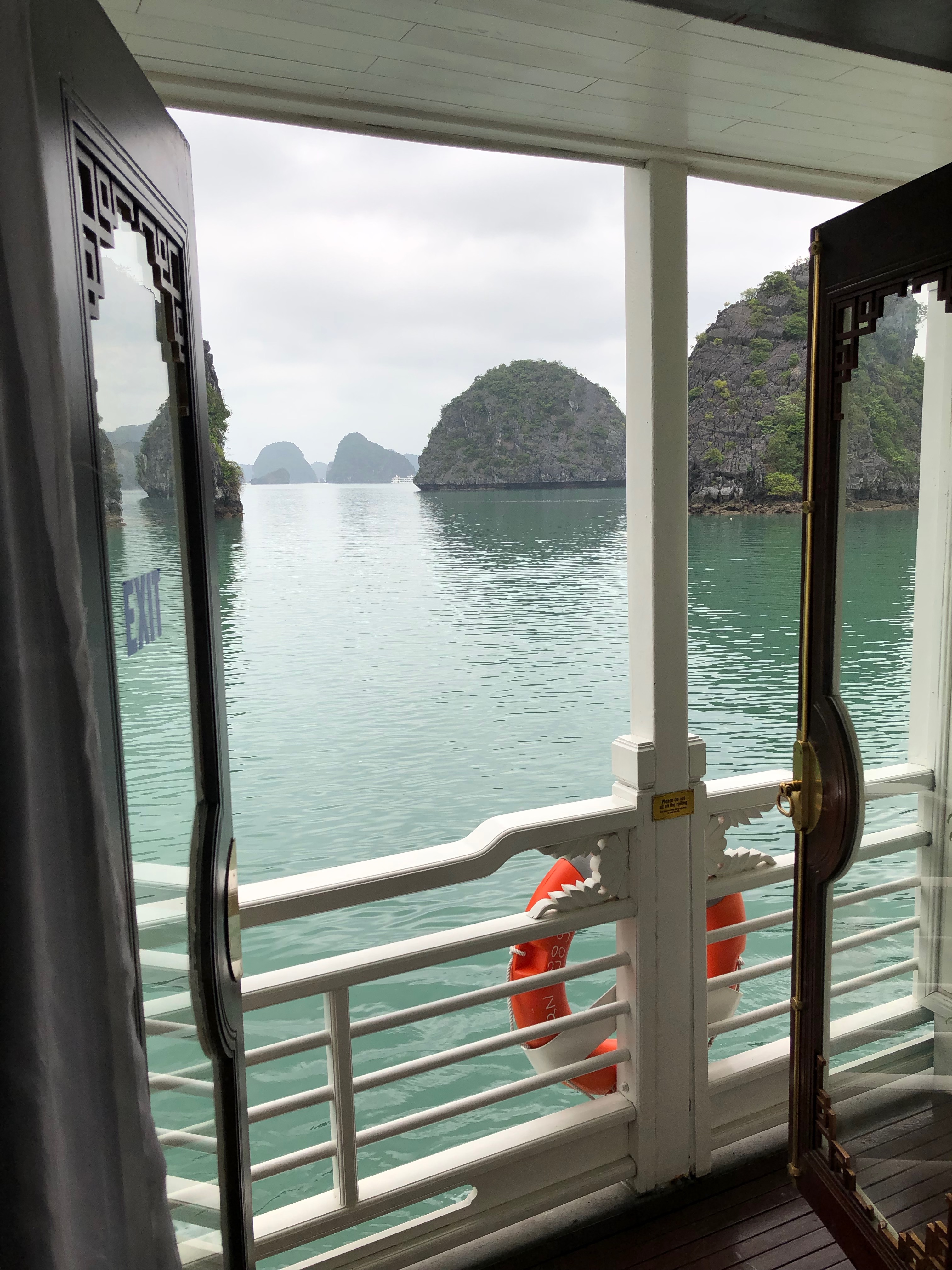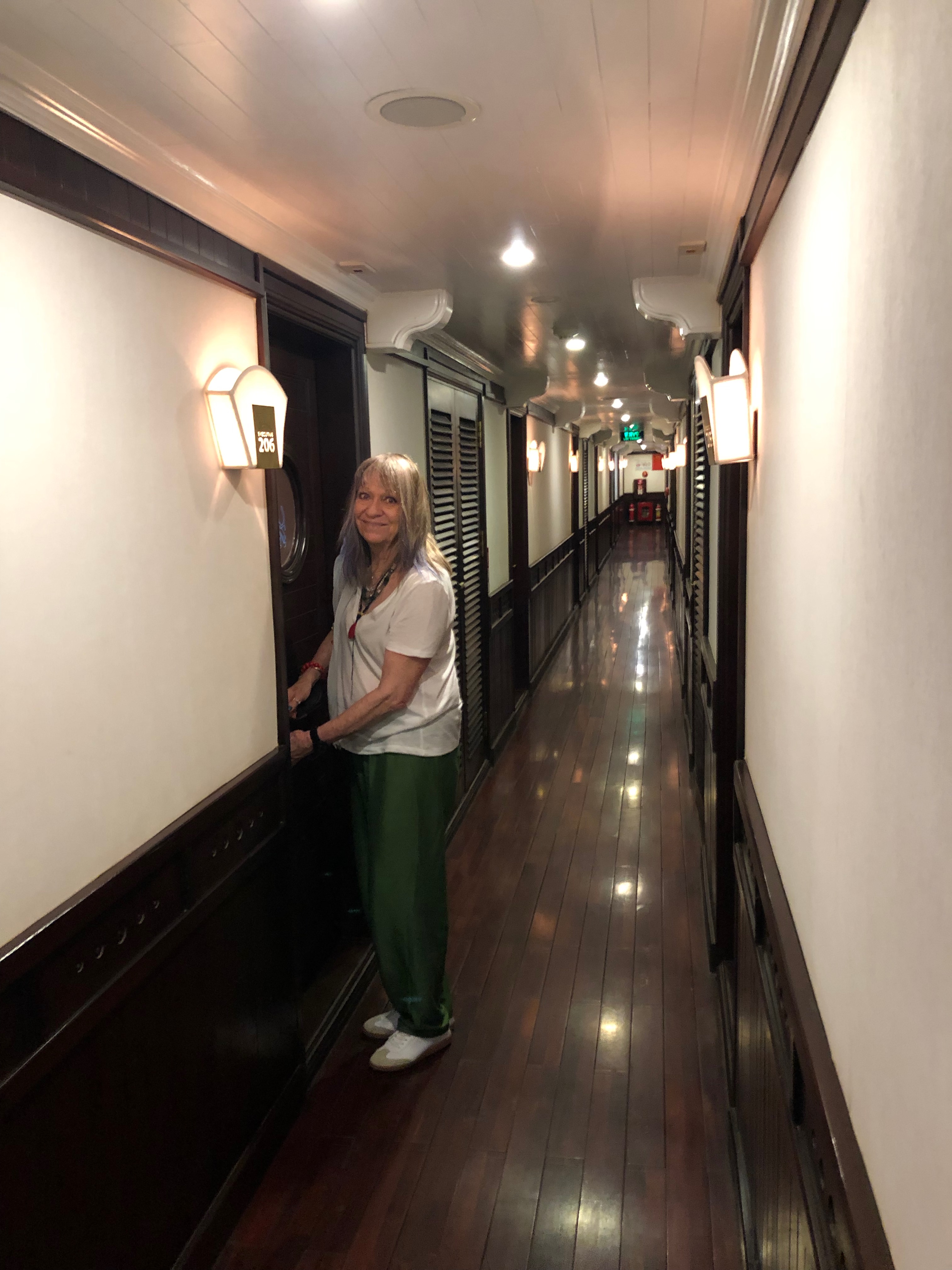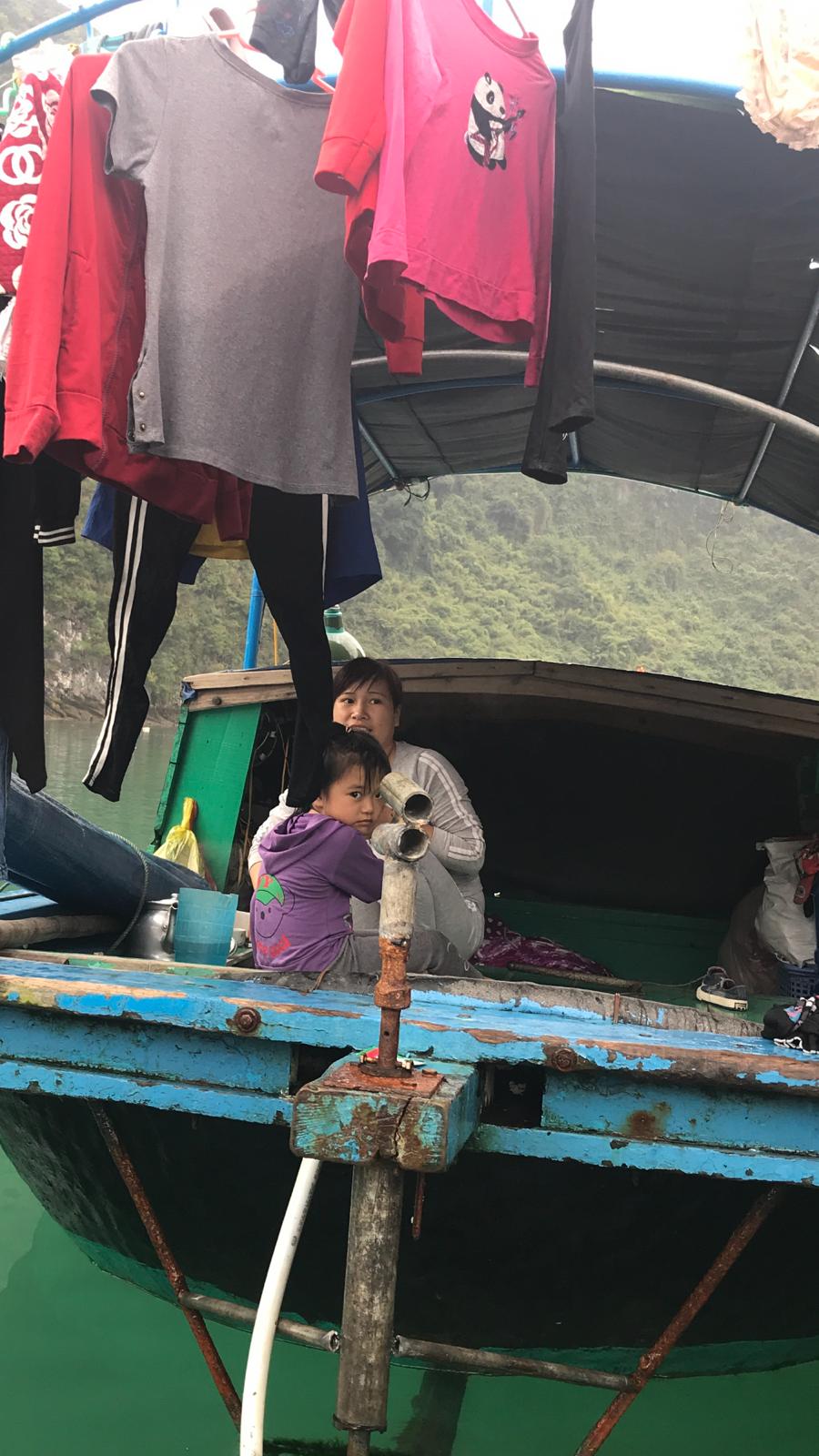 Wednesday 6 March
Full day on the boat cruising around the islands, every minute a different vista. But visits are arranged. First to the island of Cat Ba, home of a languid lurking Golden Headed Langur Monkey unique to the island, with only 68 left. Nice jungly walk passed coel plants like giant lords and ladies accompanied by the booming calls of the Flowerpecker bird to a village of Viet Hai which grows vegetables for the cruise boats. The island is also the only home of the Kim Jiao tree the wood of which was used by the Emperors to make chop stick, because the wood goes black in the presence of poison.
After lunch a boat trip to a small hidden private beach on which the crew had layed out a bar and beach towels. Kayaks were provided to canoe around the towering cliffs. Rather good beach combing exploring other beaches
The famous detective Lady Margaret investigating the scene of the crime in The Case of "Horror on Ha Loun Bay". Ha Long means Descending Dragon, creation myth; dragon and the fairy
Auco Cruises, Gulf of Tonkin; www.aucocruises.com  and www.bhayacruises.com
Jay, assistant Cruise Manager; acm2@aucocruises.com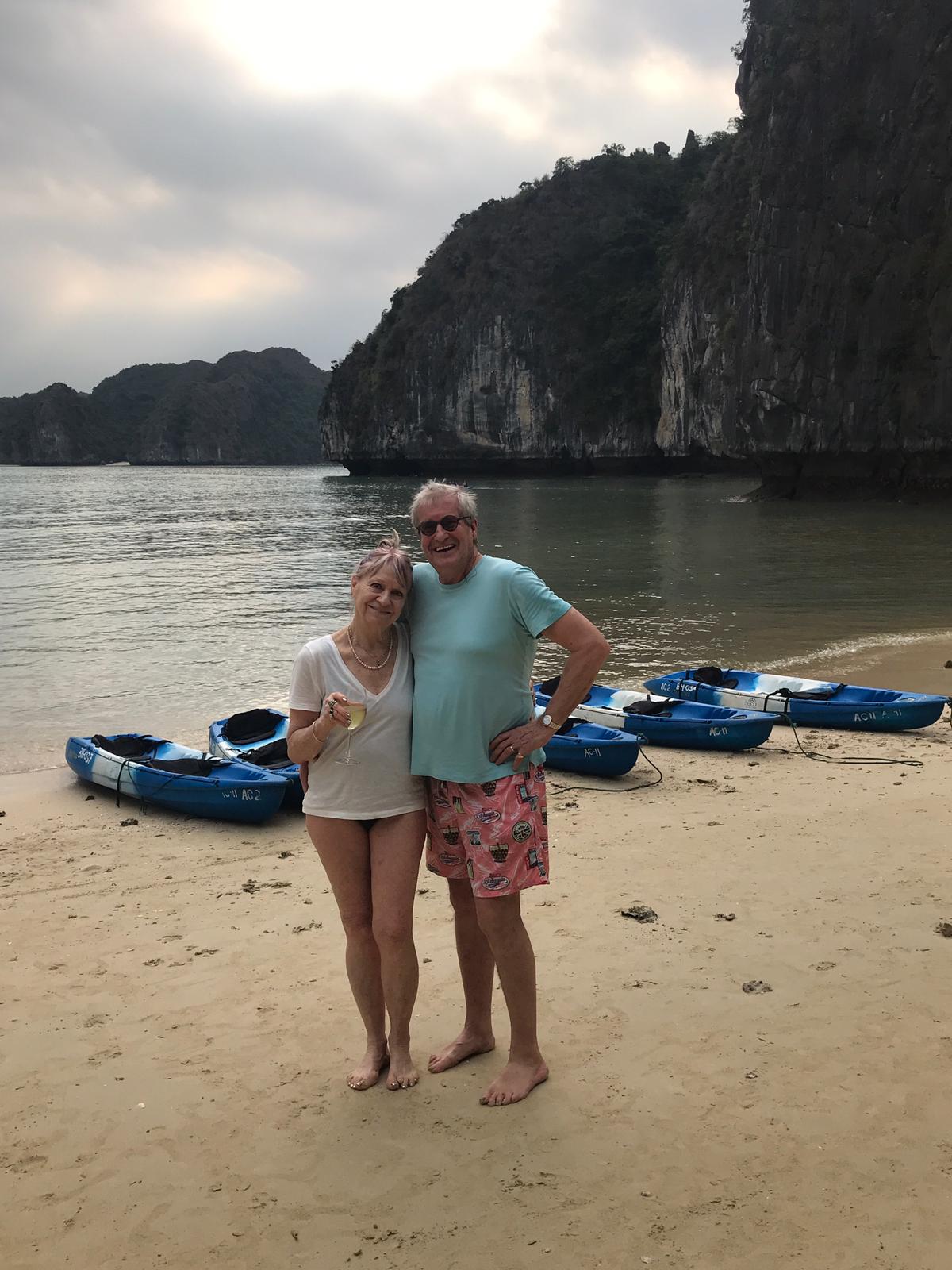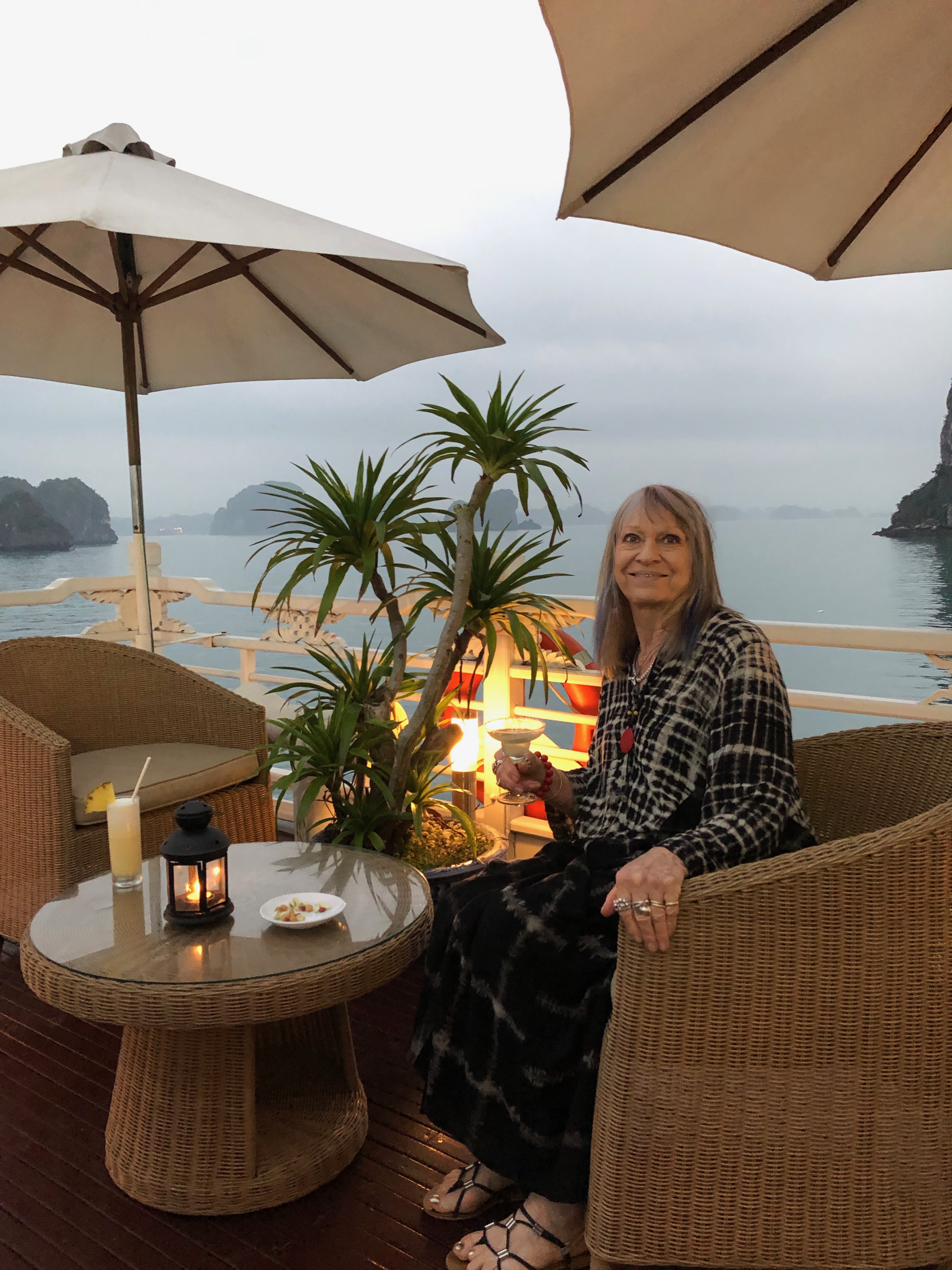 Thursday 7 March
Visit Hang Soi Nhu caves where archeologists have found stone tools dating from 15,000 ya and pottery from 8,000 ya and masses of fresh water snail shells, all indicating recent sea level rise of the early holocene period.
Spoke to young American couple with their daughter spending a year travelling. The recommend relocation cruises via Vacations To Go.
Back to the Hotel de L'Opera [managed by Sofitel] in central Ha Noi, 29 Trang Tien Street, Hanoi, very close to the impressive French built heavily columned Opera House. A modern perfectly adequate 4 star hotel aimed at tourist groups, a very large bed and excellent room service. We explore the city, walk around the tree lined Hoan Kiem Lake, [18 th. C. Tortoise Tower]  the centre of Hanoi between the old city with its narrow shop lined streets and the tree lined boulevards of the French quarter.  Our first, and Margarets last, street food lunch, strange bits floating in a thin soup and noodles.
Do my first "Then and Now" comparing the 1908 postcard of St. Joseph's Cathedral to the view today. This miniature version of Paris's Notre-Dame it was consecrated in 1886, built on the site of the Bar Thien Pagoda, demolished by the French. Other civilisations just recycled an existing place of worship from one god to another, qv St Sophia in Istanbul and ………in Syracuse Sicily.
Impressions; very active pavement life, often blocking them, new chic tea and coffee shops, "Gourmet Ba'get and Coffee Bar", and "Cong Caphe" ,French fashion boutiques, art galleries, and marvellous painted utility junction boxes, and millions of small motorbikes like busy wasps who just avoid one;  with a population of 90 million there are 45 million motorbikes.
Incidentally Vietnam is the world's second largest coffee exporter after Brazil, and second largest producer, again after Brazil, with Columbia third Indonesia fourth and Ethiopia fifth.
Unlike most cities in South East Asia there is none of the massive demolition and rebuilding, compare photos of Central Hanoi and HCMC, Sai Gon. Slightly run down , echoes of any northern city in England or France. Impact of conservative communist values of the northern Vietnamese. 
Cocktails in the Bamboo Bar of the beautifully restored Hotel Metropole Hanoi, managed by Sofitel. Built by the French in late 19 th.C as the splendidly named Grand Hotel Metropole Palace it has hosted Noel Coward, Somerset Maugham and Graham Greene whilst writing "The Quiet American". Jane Fonda in her Hanoi Jane phase sheltered in the hotel's basement during an American air raid. It has that certain atmosphere of a proper hotel for real travellers, not just a bedroom factory for tourists.
We had supper in the lovely elegantly unchanged "Club Opera Novel" restaurant [17 Trang Tien Street], good  crab meat spring rolls butboring mains, Roasted Chicken and Stir Fried Glass noodles , and sadly empty.  The bill was over a million dongs, actually 1,173,000 dongs, which, at 30.000 dongs to the £ was £40 for 2.
We walked 8.2 kms.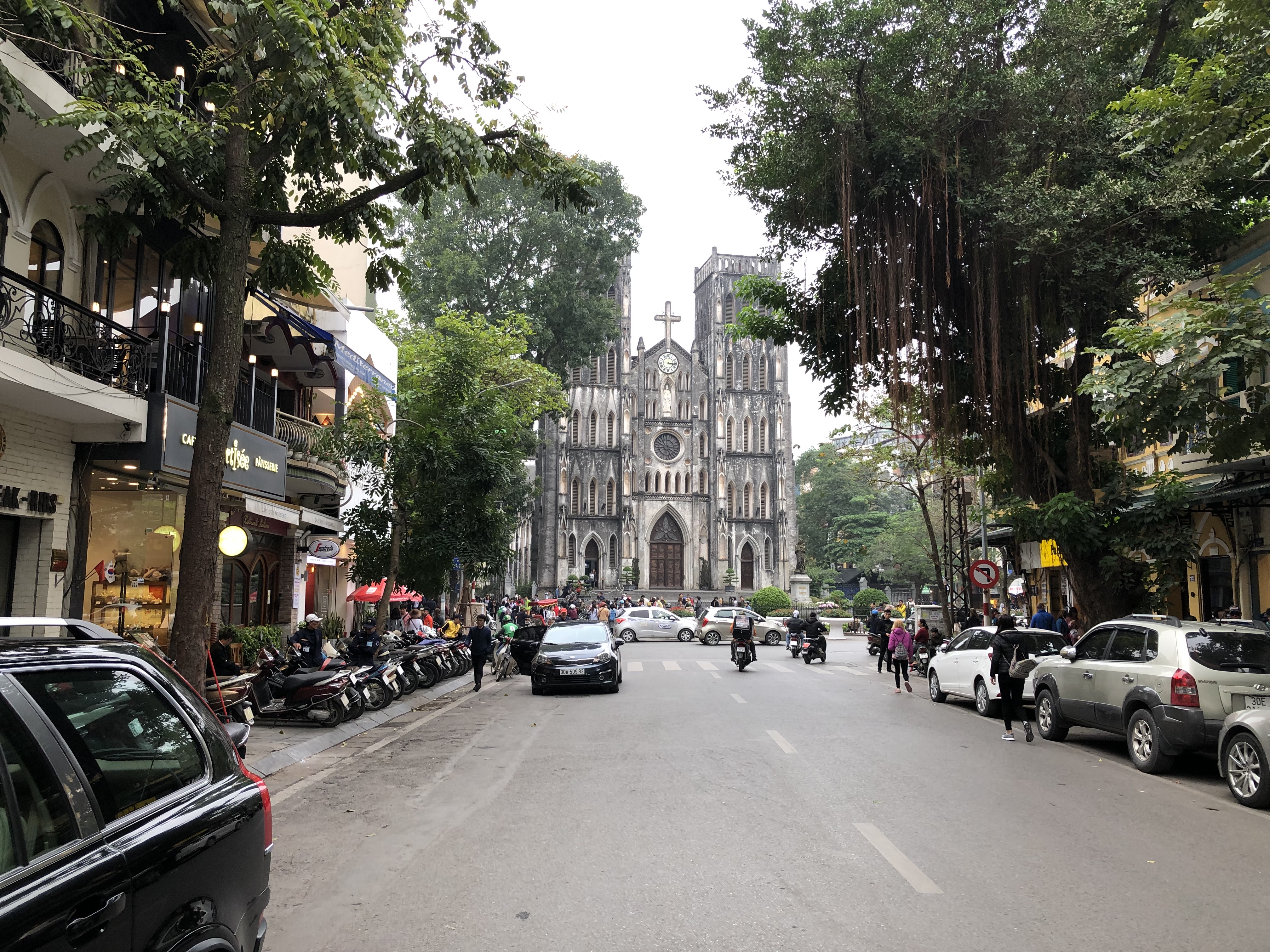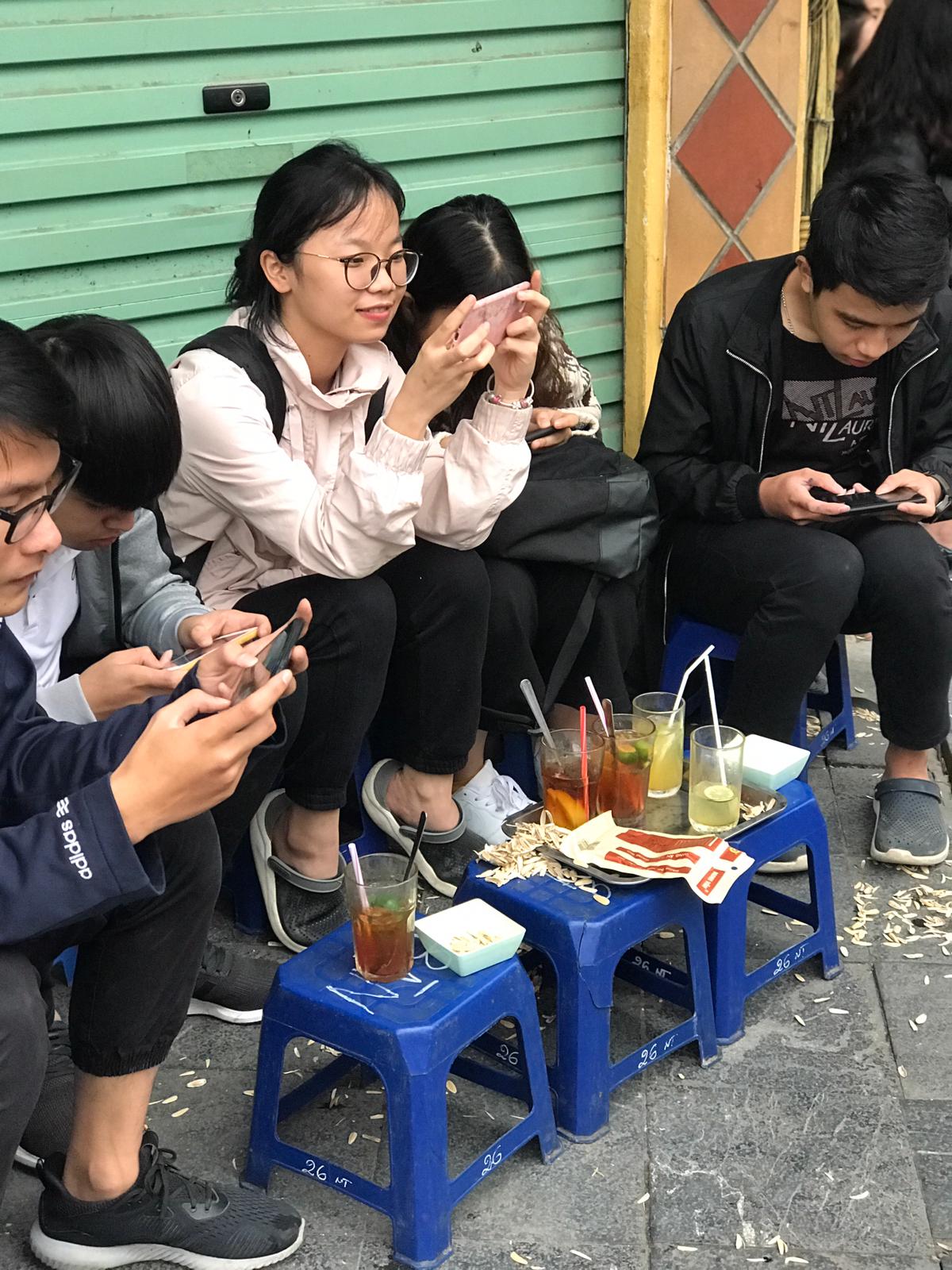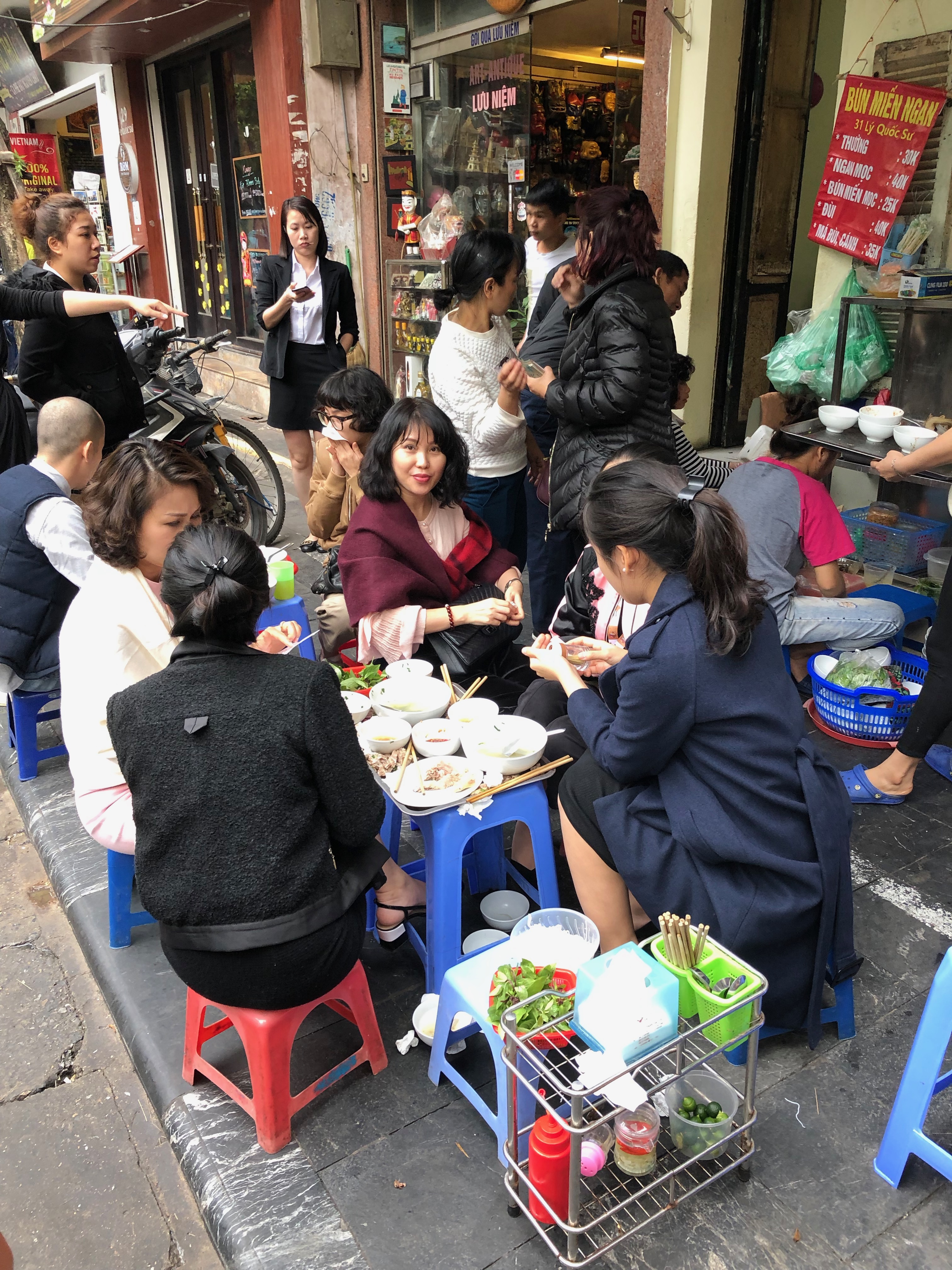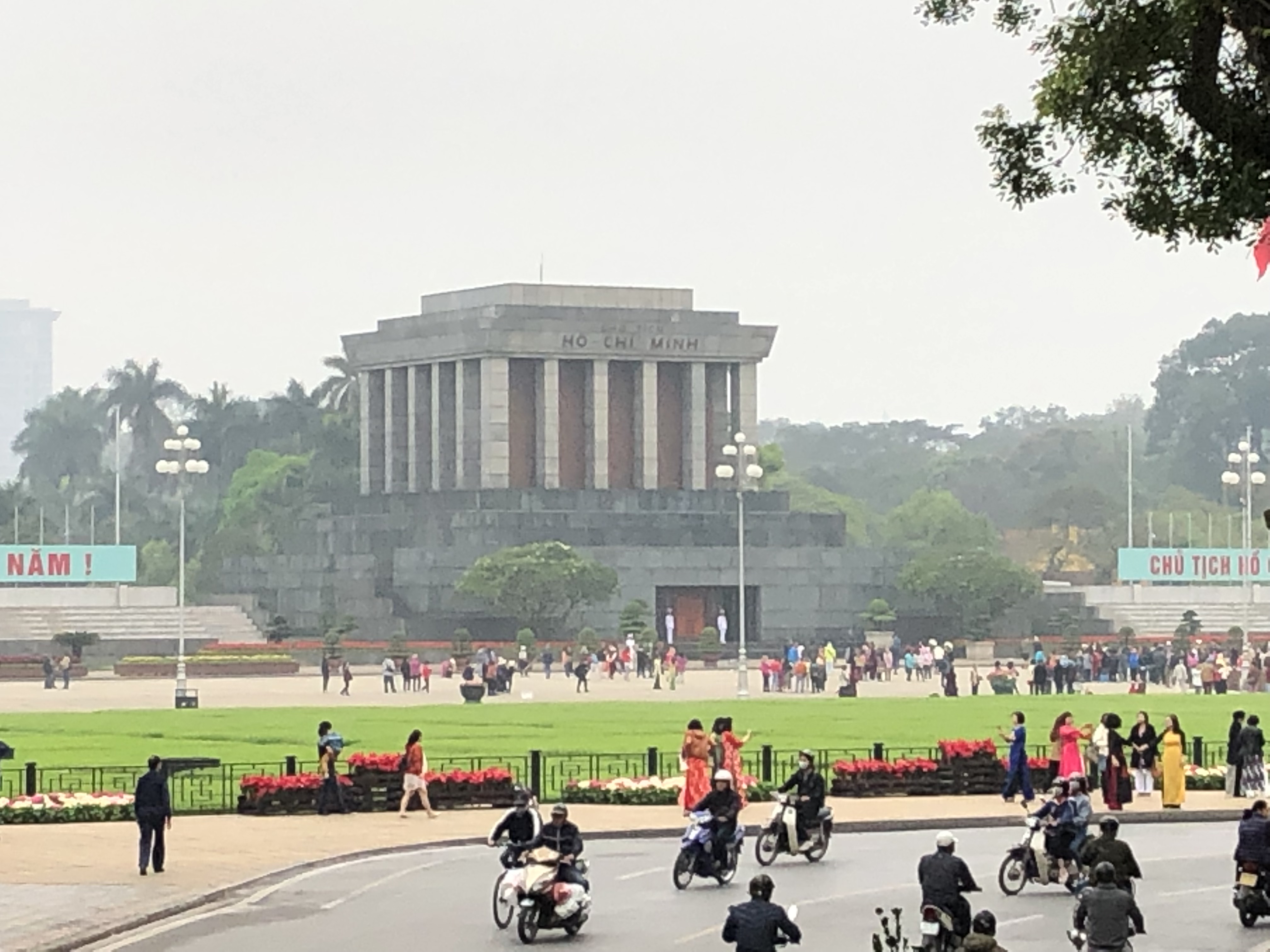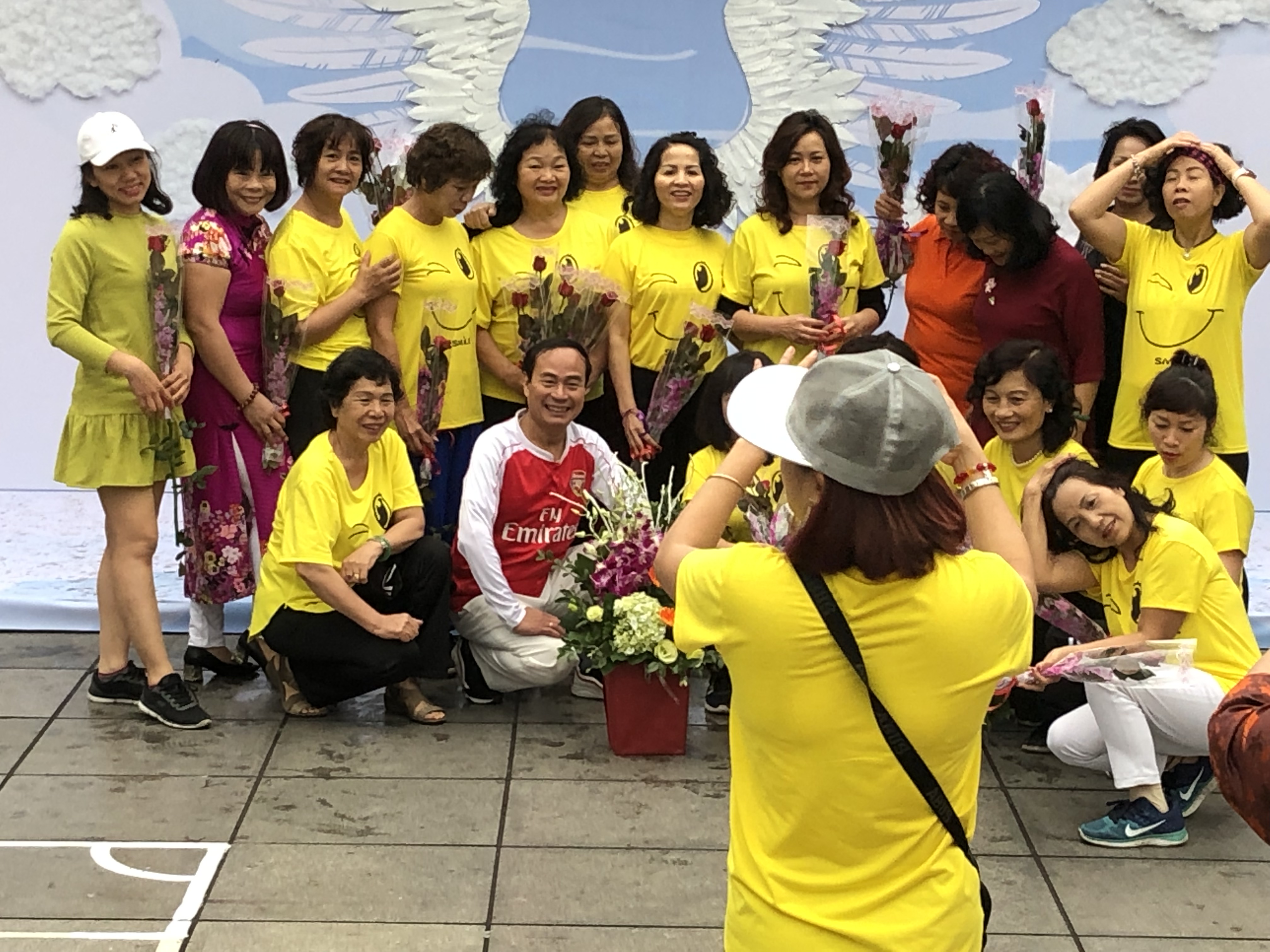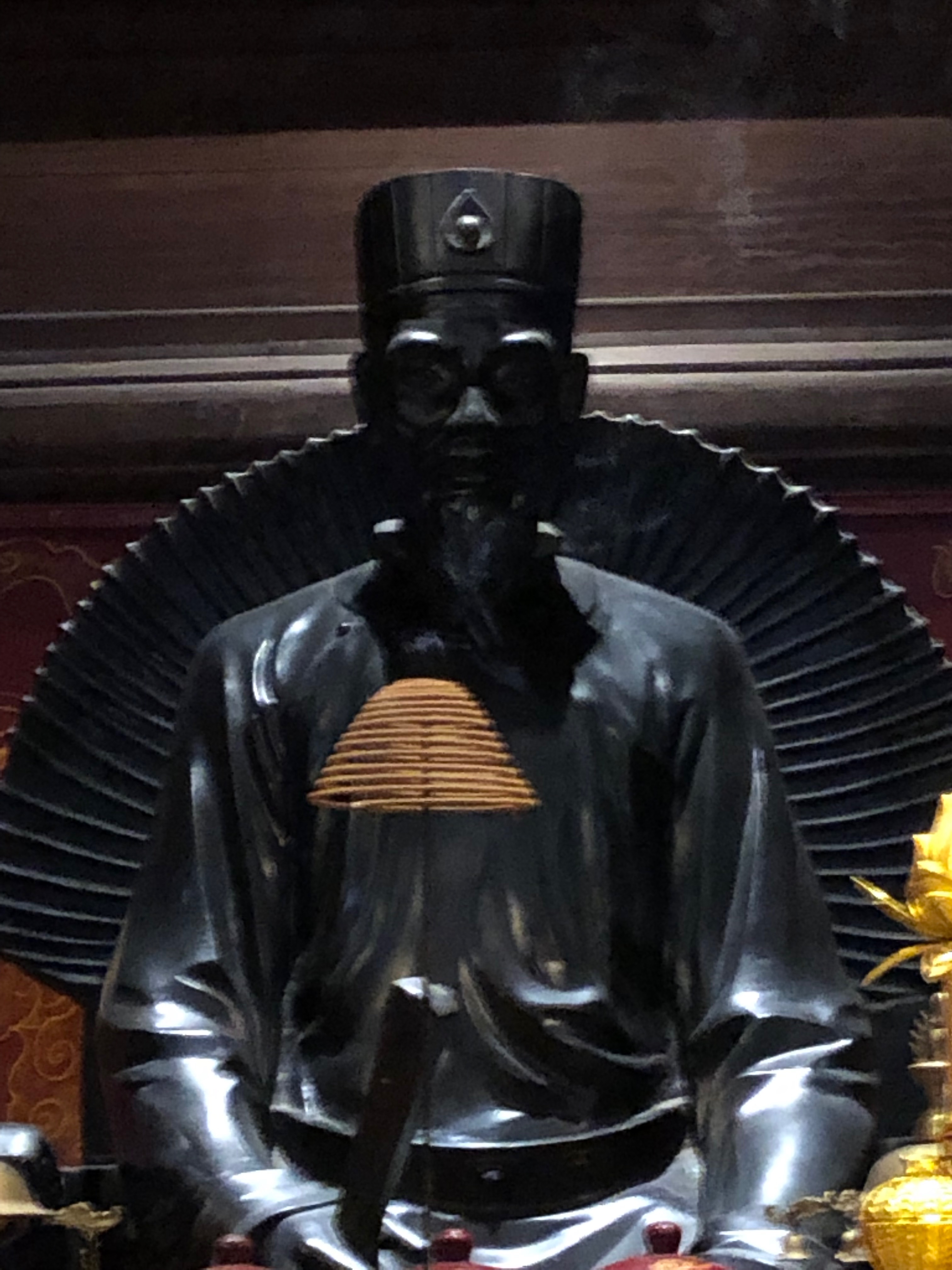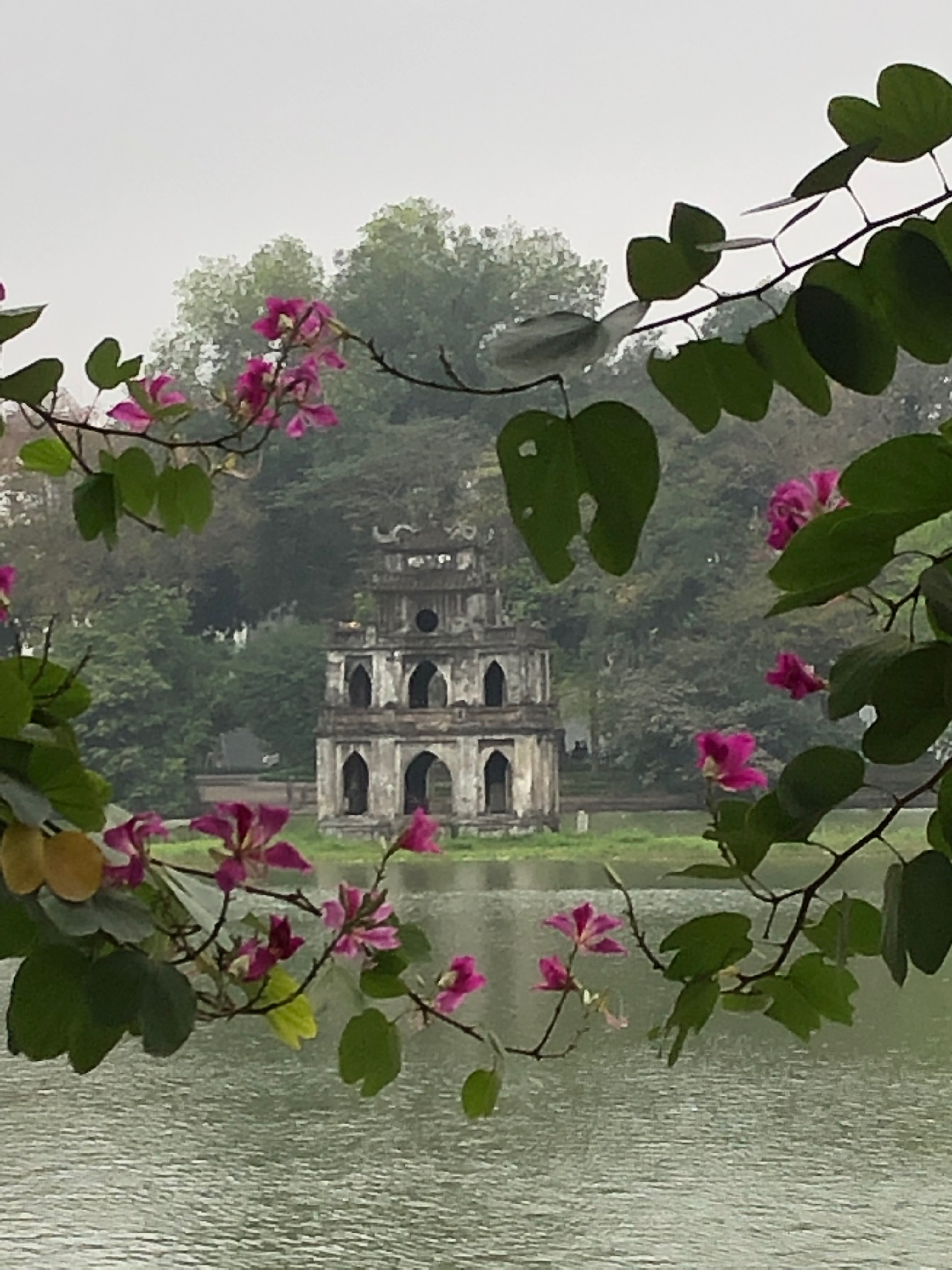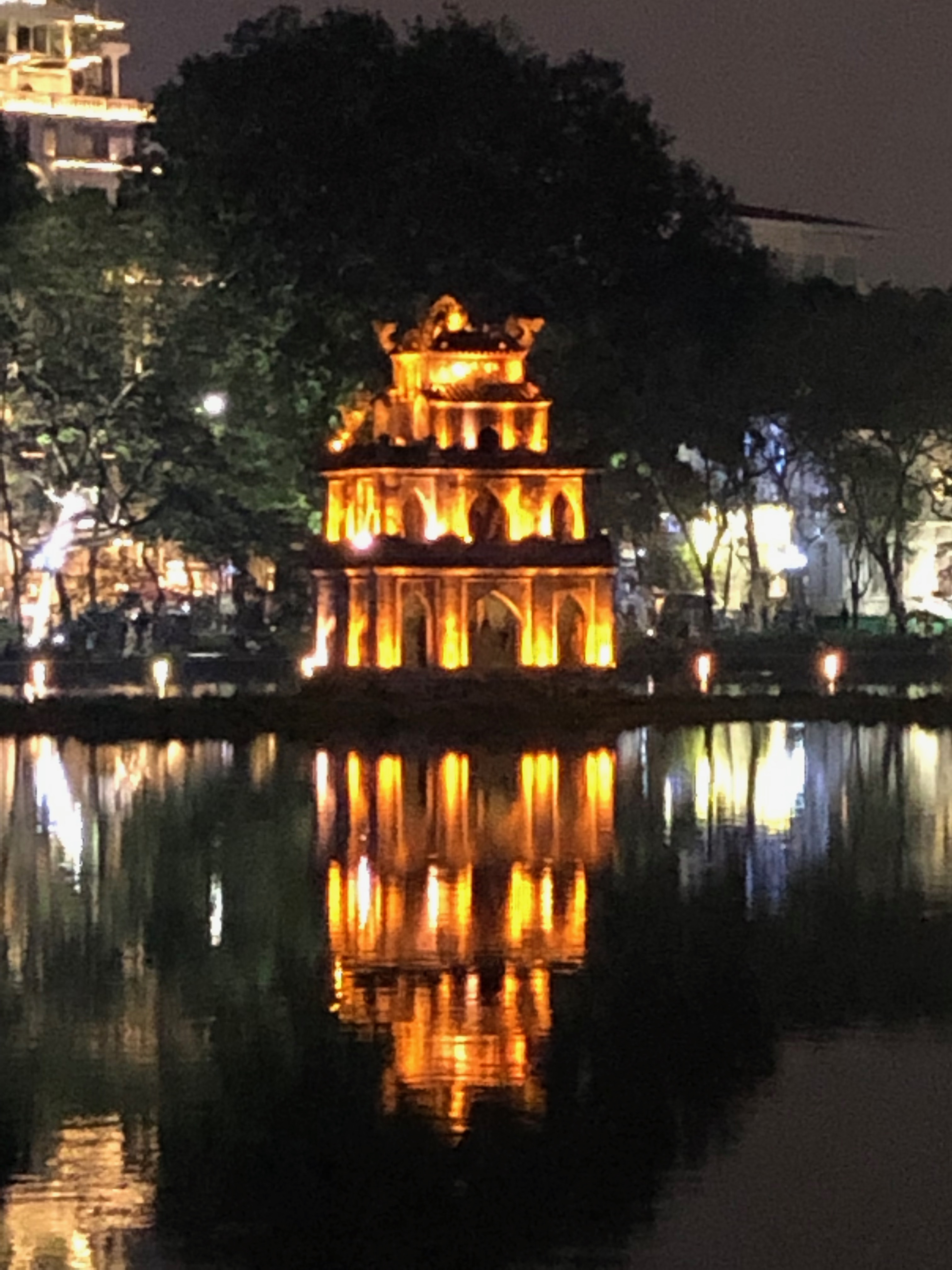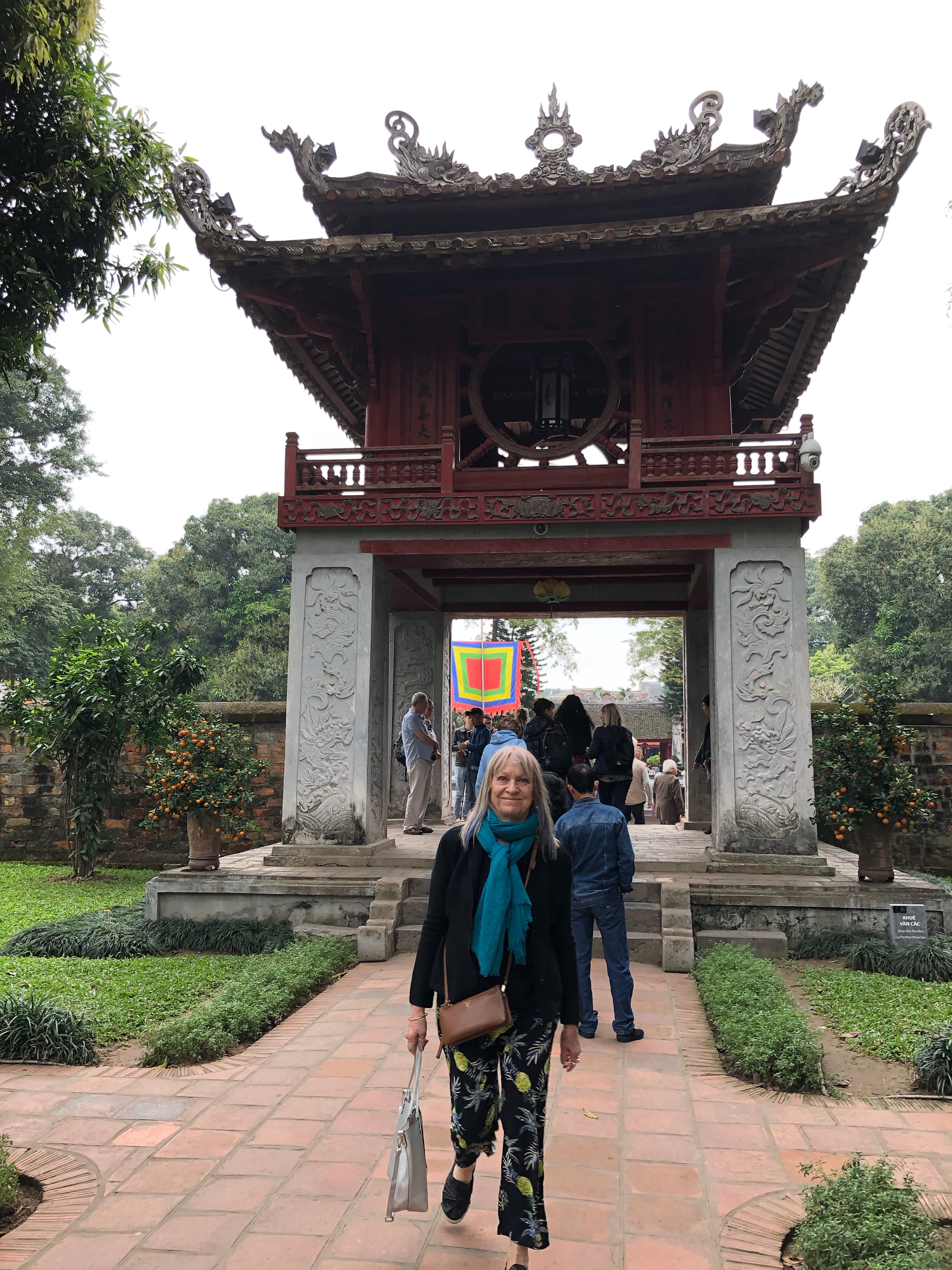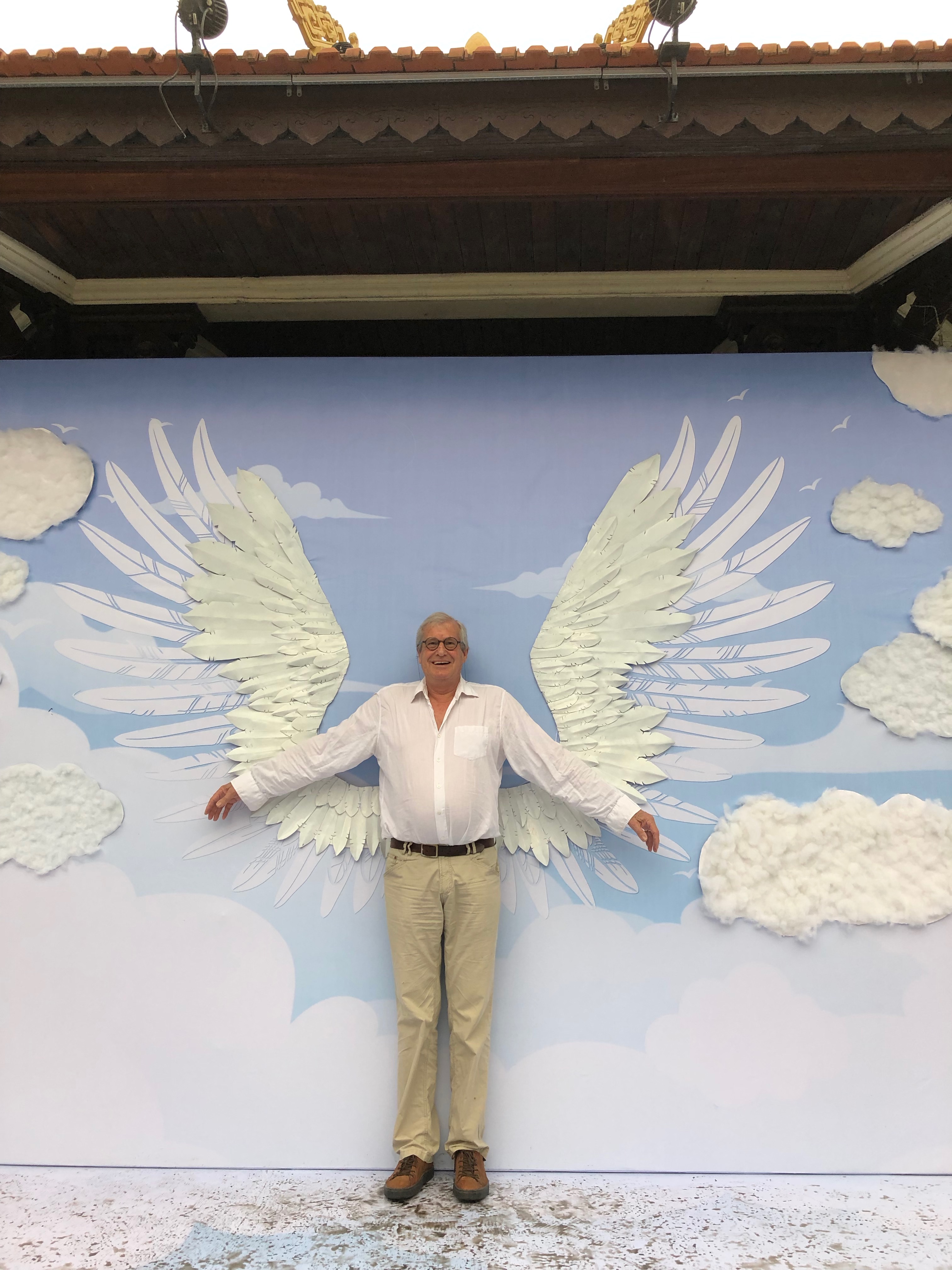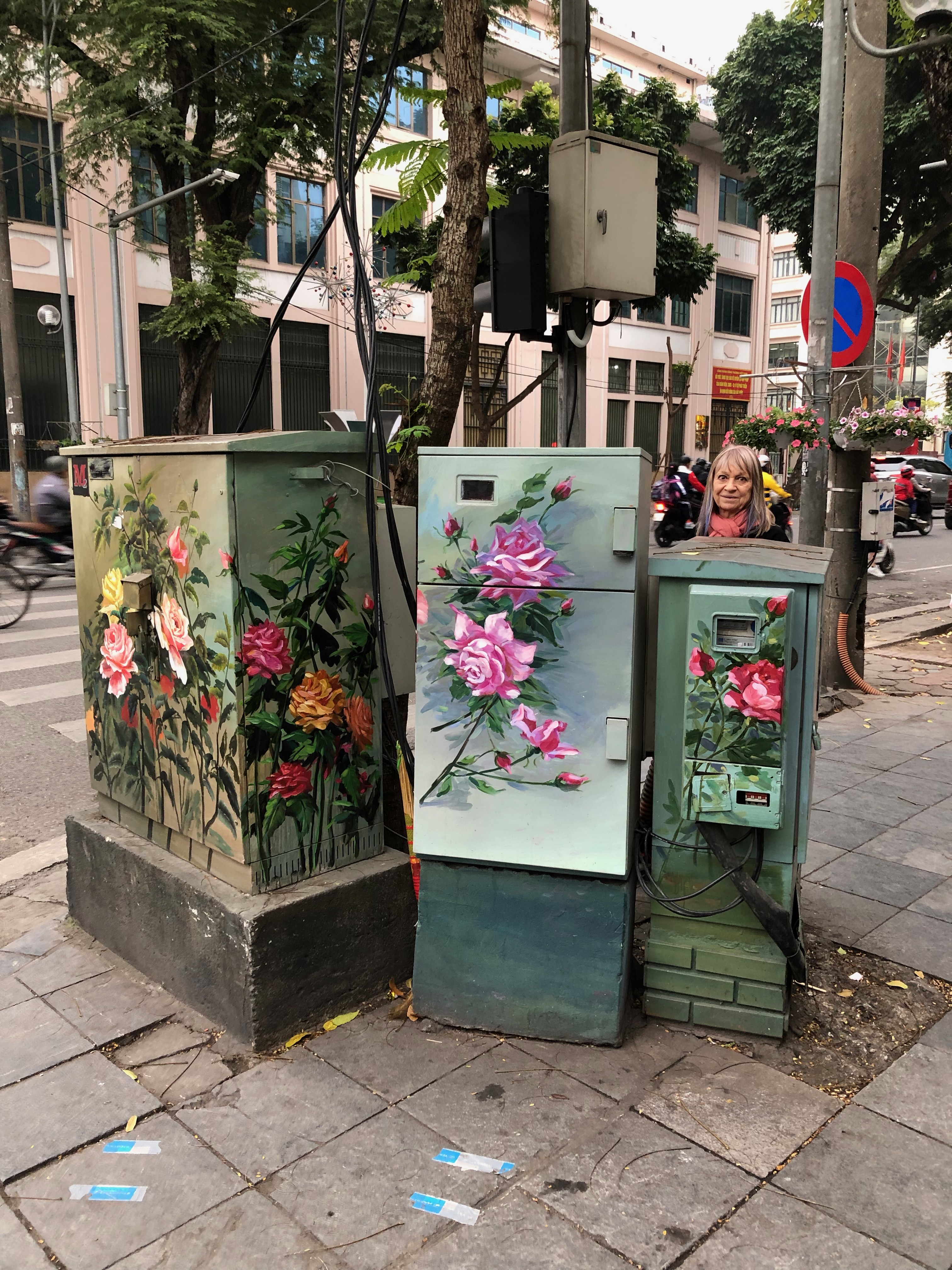 Friday 8 March
Early morning walk with half the cities population exercising in the parks, playing badminton on the pavements, and one couple slowly ballroom dancing to the music from their bike. It was Womens Day so there were crowds of brightly dressed middle aged women exercising and chatting all around the Hoan Kiem Lake.
Take the bus tour passed the Hanoi Flag Tower on the old Citadel, the One pillar Pagoda, Ho Chi Min's impressive if derivative mausoleum, the Presidential Palace, previously the Palace of the Governor General of Indo-China, looking rather like a fin de siecle hotel on the South of France. Ho Chi Min lived and worked in the palace  from 1954 to his death in 1969, though he lived more simply in a small stilt house in the grounds. On the the Tran Quoc Pagoda, one of Vietnam's oldest with its tower dating from 1639. The area around the Mausoleum was the French residential district with fascinating villas in mixed local and French design and details. Unlike in Cairo and Maadi these villas have been restored and converted into Embassies and offices, rather than demolished and replaced by blocks of anonymous flats. 
Lunch of Pho Ba, beef noodle soup, and Pho Ga, chicken noodle soup. So digestable. Pass a shop selling wood statues and beads where the speckled wood sells for $300 a kilo, called Aquilaria Crassna Pierre known as Agar wood, source of an essential oil.
After lunch long walk along Trang Thi to the strangely named Temple of Literature, dedicated to the education of mandarins, with open entry, in the Confusion style. Founded in 1070 it was closed by the French in 1915. It consists of five walled courtyards representing the journey in education. The central pool is called the Well of Heavenly Clarity, marvellous. The black statue of Confucius does remind me of Darth Vedar from Star Wars.
Back to the Bamboo Bar for cocktails, White rum, mint, ginger, and Champagne
Tequila, aperol, dry vermouth, rosemary
and two bowls of perfect pho, we decided to limit our food to hotels, no strange things floating in grey soup.
We could have spent at least two more days in Hanoi, exploring the city's Buddhist temples and the surrounding countryside. We have already suffered a "Fomo; Fear of Missing Out" or "you mean you didn't see……", friends have said they loved the surrounding countryside described in a local guide book as "Emerald mountains, endless paddy fields and quaint ethnic minority villages makes Mai Chau feel a thousand miles from the capital city" The Vietnamese still have this patronising attitude to mountain tribes, "Montainards". Echoes of promotion of country pubs in the Cotswolds.
Another tour is "Sapa, H'Mong The Hills", Tribes, Trekking, New Homestays, Waterfalls. www.chienhostel.com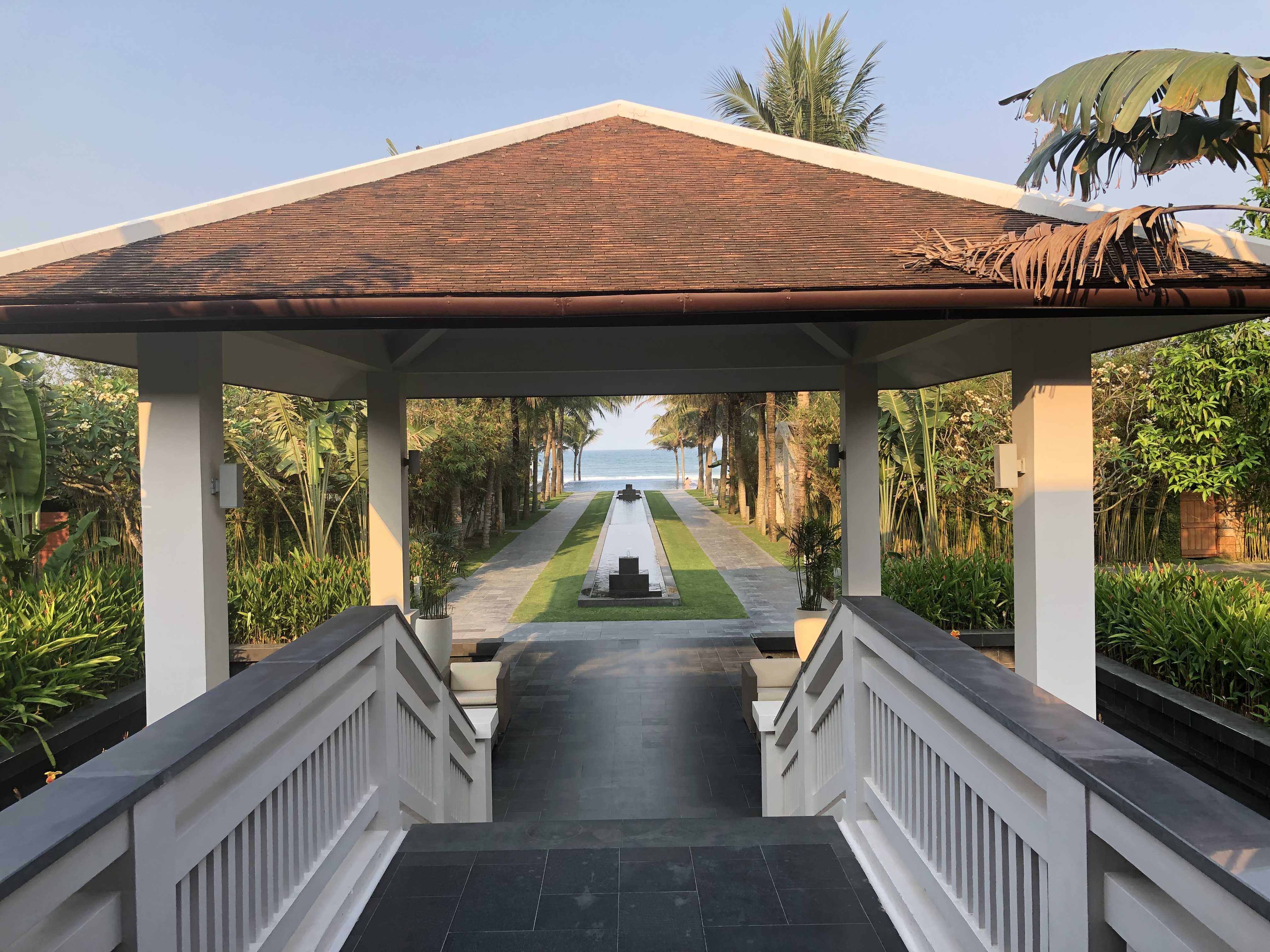 Saturday 9 March
Fly to the modern totally rebuilt city of Da Nang, made famous as the main American base in the Viet Nam war. Cross the splendid Dragon Bridge, built like a red dragon swimming across the river, at weekend evenings it literally spouts fire and smoke.
Arrive at the Fusion Maia Hotel and Spa, an idyllic cliche that works.  Discrete private villas among frangipani, lilac de Japon,  palm trees and beds of Strelitziacaea flowers leading down, via an elegant rill, to a a perfect infinity pool right on the South China Sea. Each villa was the size of a small flat with its own swimming pool. Included in the price was two massages a day, Margaret was in her second heaven, I was slightly concerned. We were taken to the elegant spa building staffed by white uniformed young Vietnamese women full of smiling efficiency, we chose our program for the week.
Chill, followed by my first massage, a Natural Living Aromatherapy, then an excellent barbecue.
Other massages, termed "Mindful Body Work" included Stretch release Massage, Warm pressure massage, Seven sense sleep massage.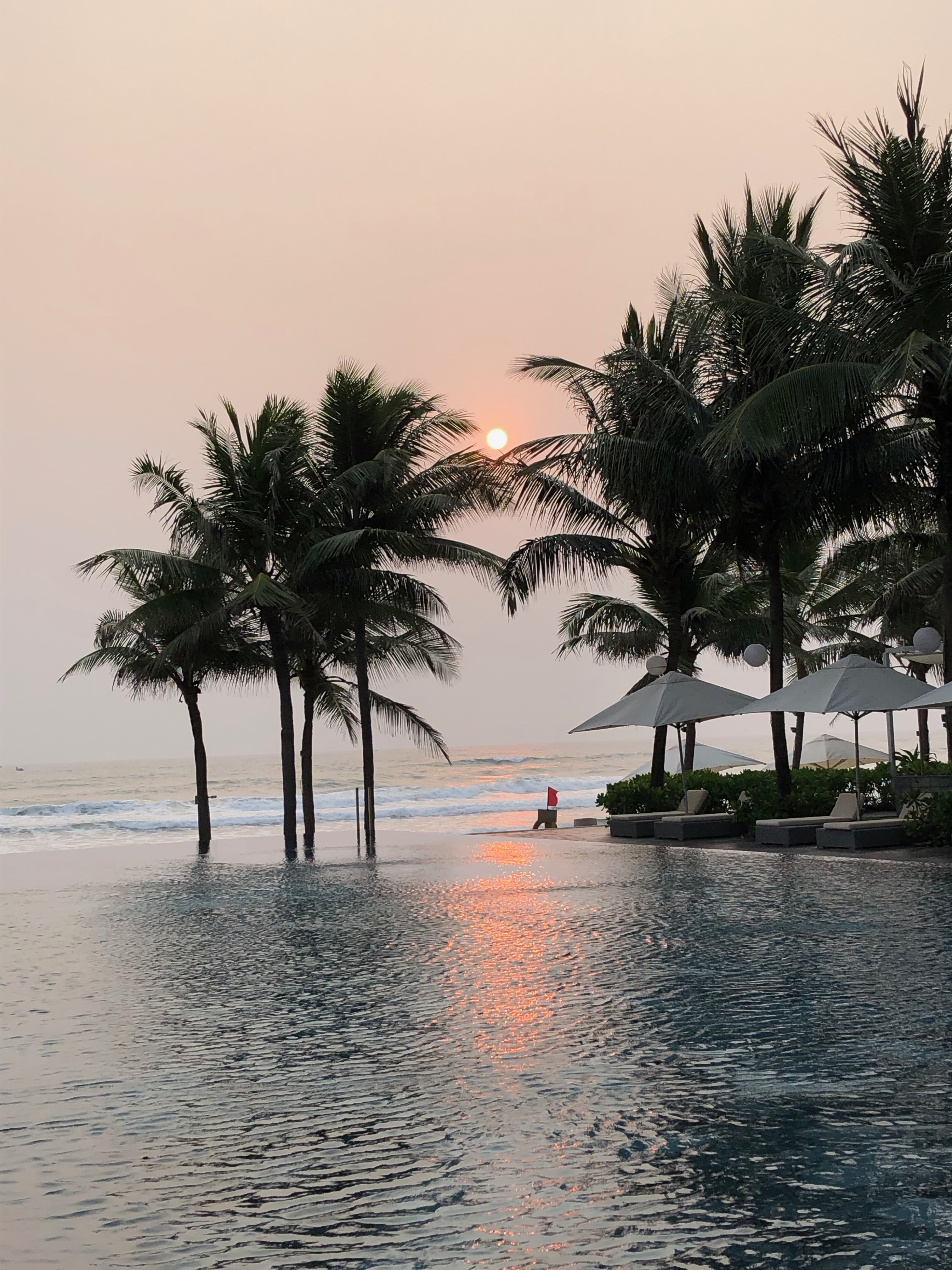 Sunday 10 March
Margaret's birthday, arrange birthday flowers through the charming French executive manager Chloe Lemelle. My spa treatment involved a pedicure at 9 am, my feet are just recovering from the shock, but no complaints, a buffet breakfast of muesli, yoghurt and passion fruit, followed by two eggs sunny side up on a bed of fried rice with crispy bacon. Who is counting calories with all these massages
Attempt to write my blog, see photo, but give up as too distracted. Chill and swim and light lunch of pho at the beach restaurant. A 3.30 stretch massage, chill, drink, supper.
Every evening a small gift and a message was left in our villa, the messages included " You are, therefore I am", "Smile to the cloud in your tea", "Smile breathe and go slowly", "My actions are my only true belongings", "I have arrived, I am home", "Open mind, open heart", all very mindful new age. One evening a pebble is left on our bed with "Just Breath" engraved on it with the explanation; Just breath inspired by "A Pebble in Your Pocket" by Thich Nhat Hanh ;
Hold the pebble
Breathe in deeply
Breathe out slowly
Repeat Mindfully
Return pebble to pocket
Practice this everyday
the pebble is now in our bathroom.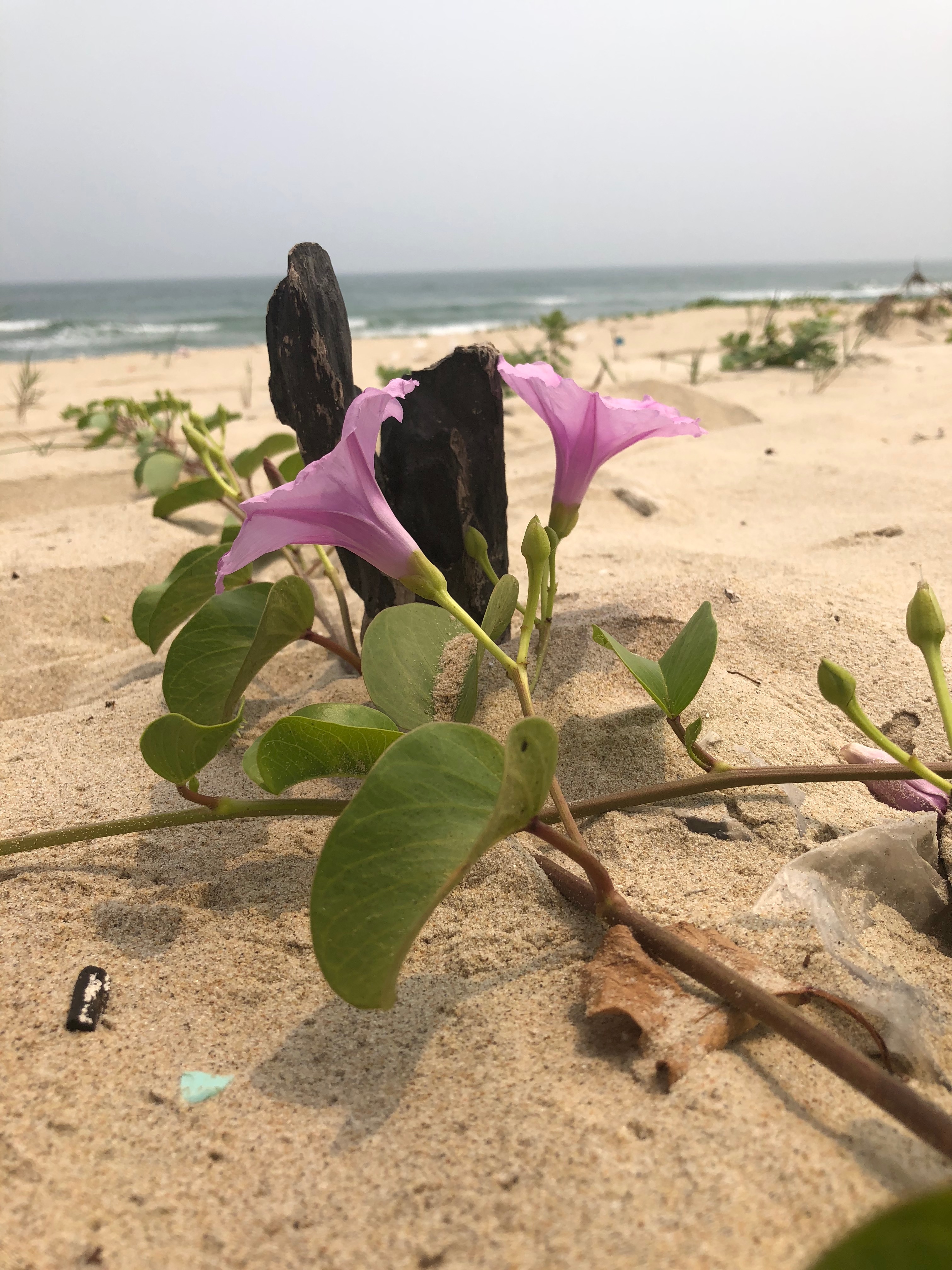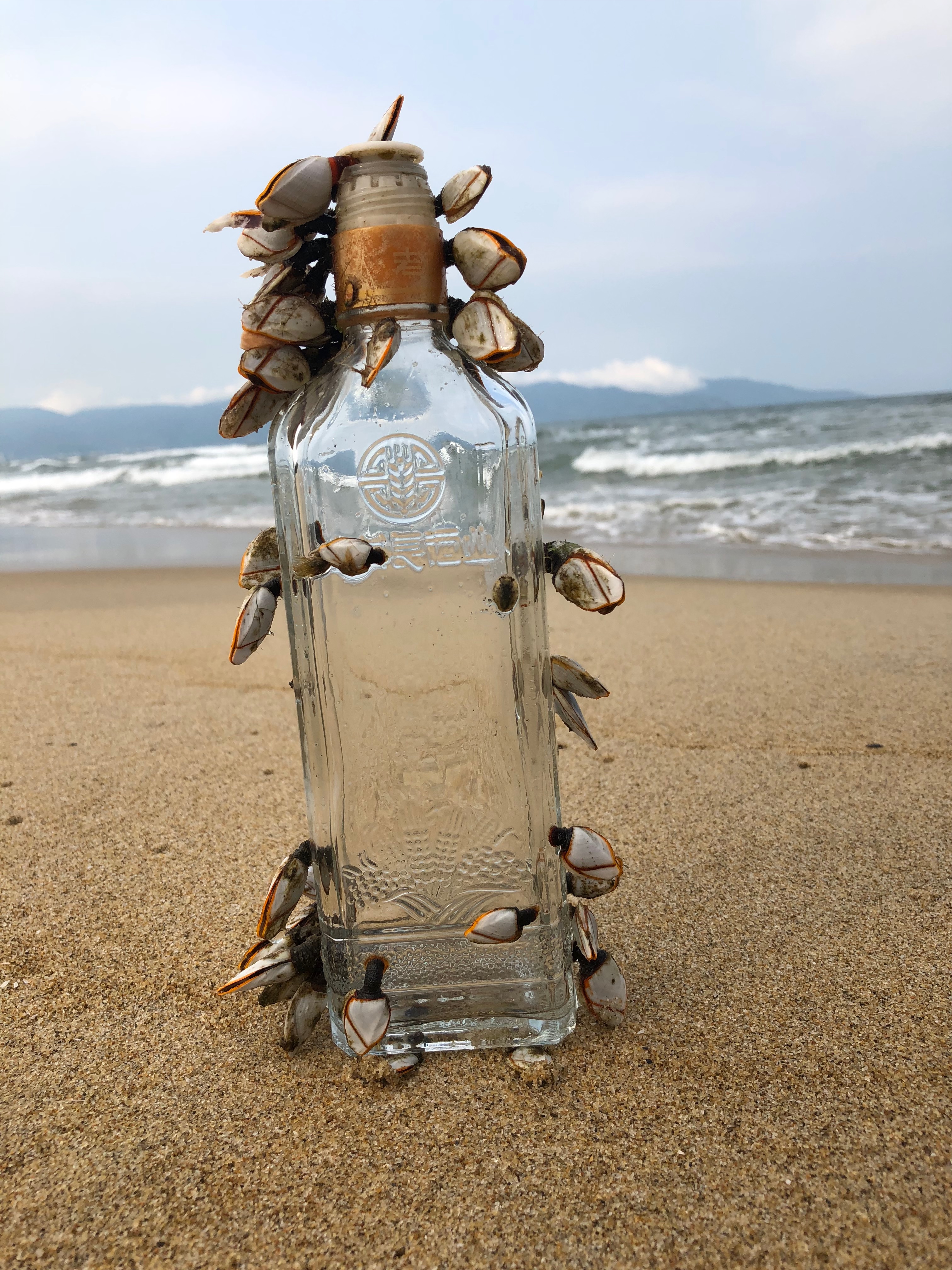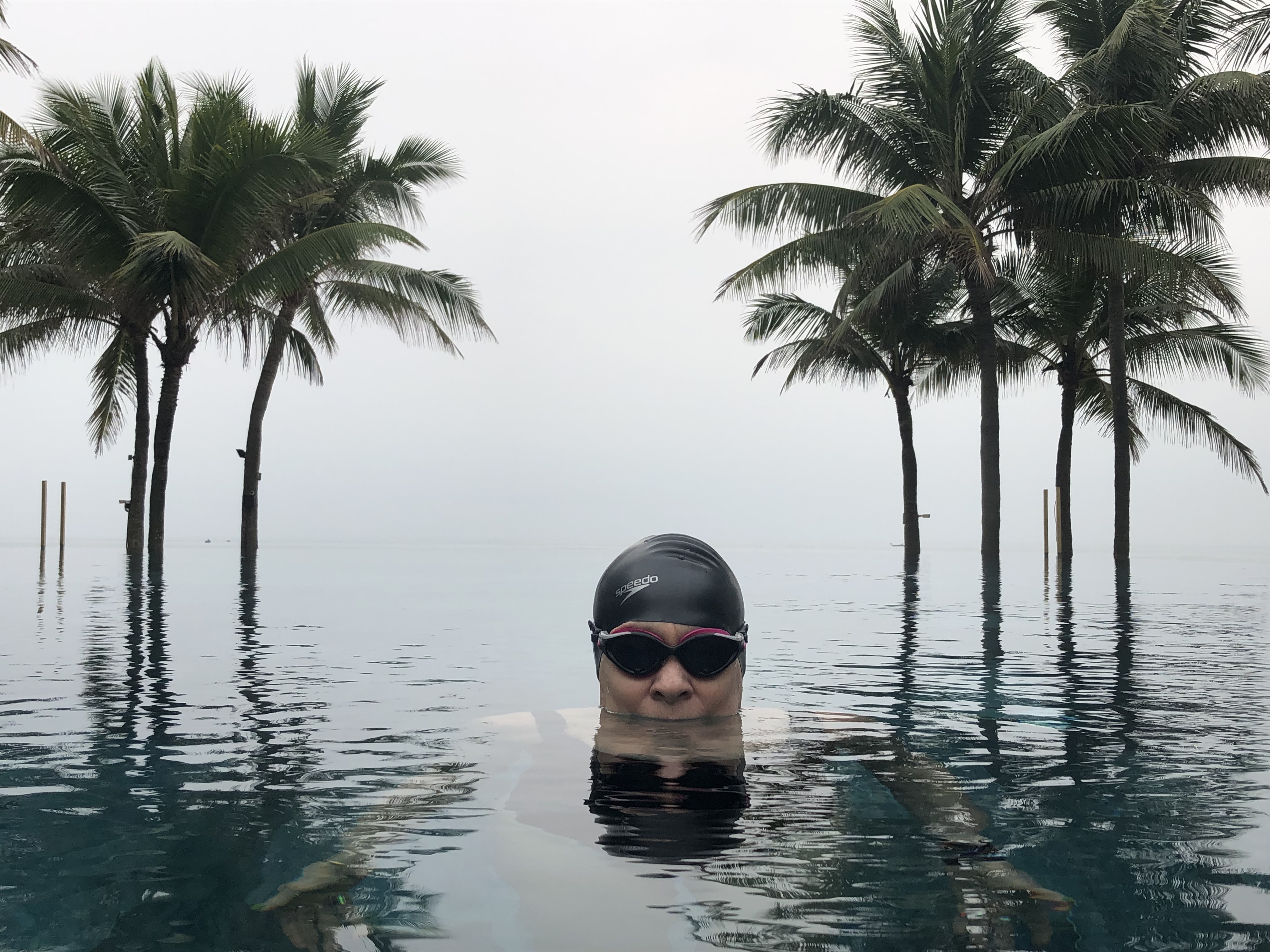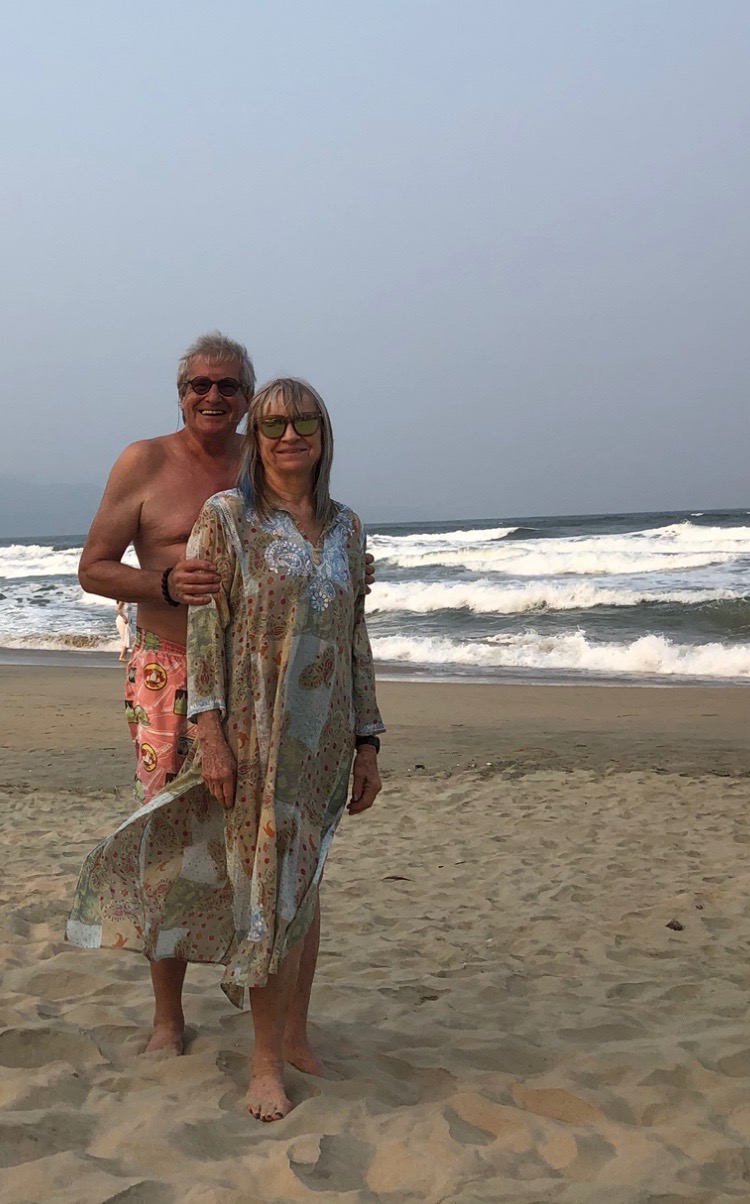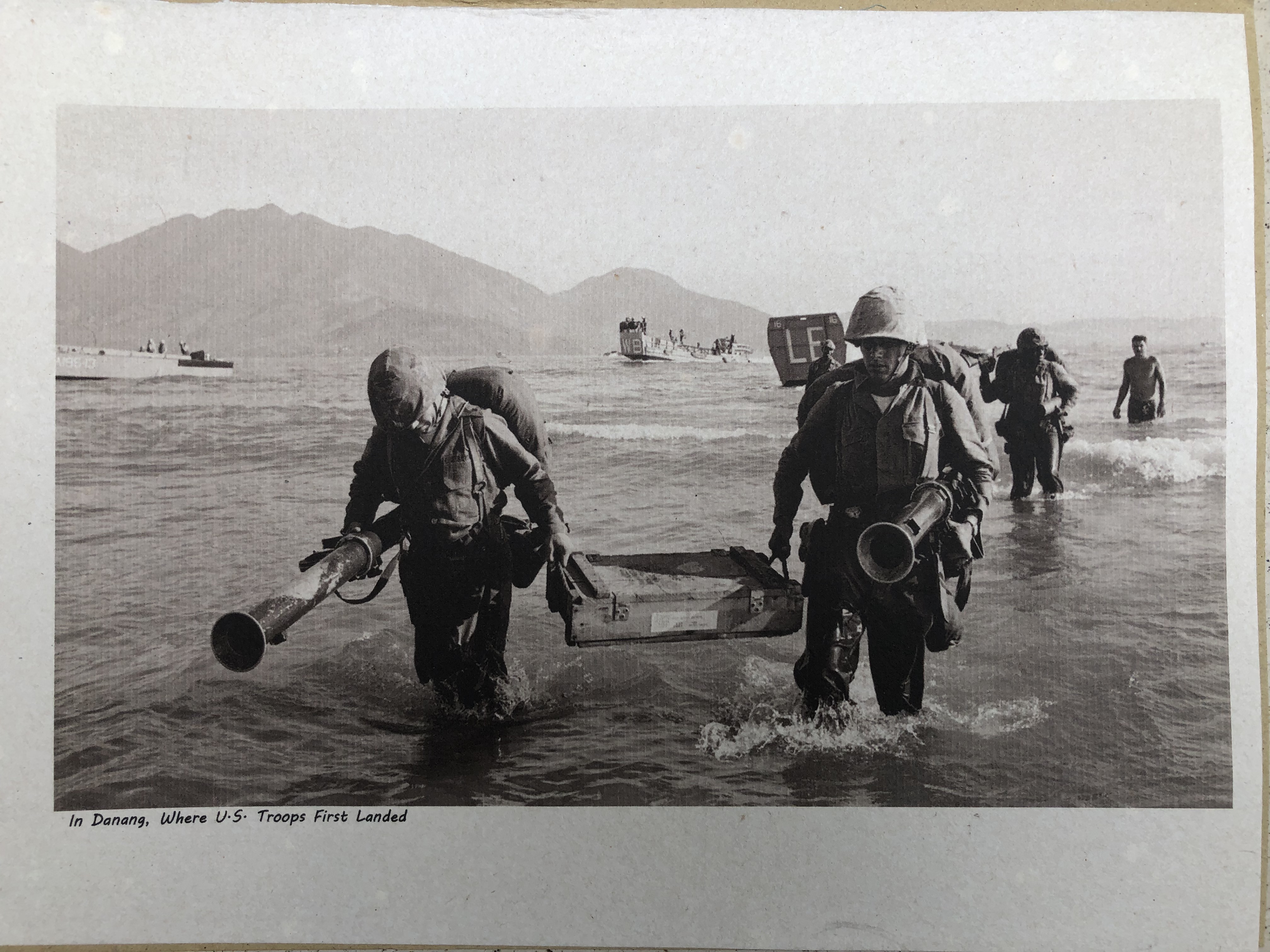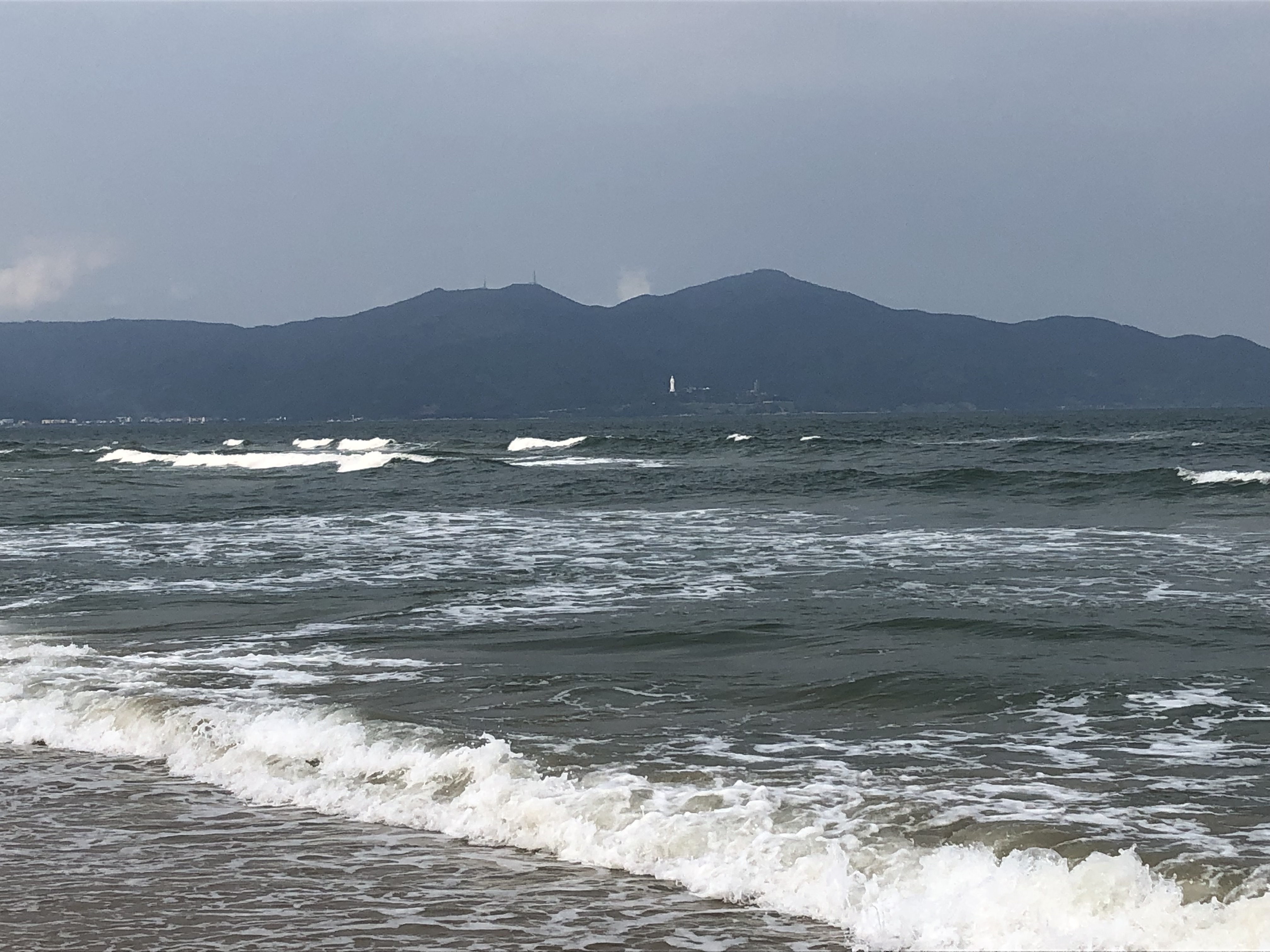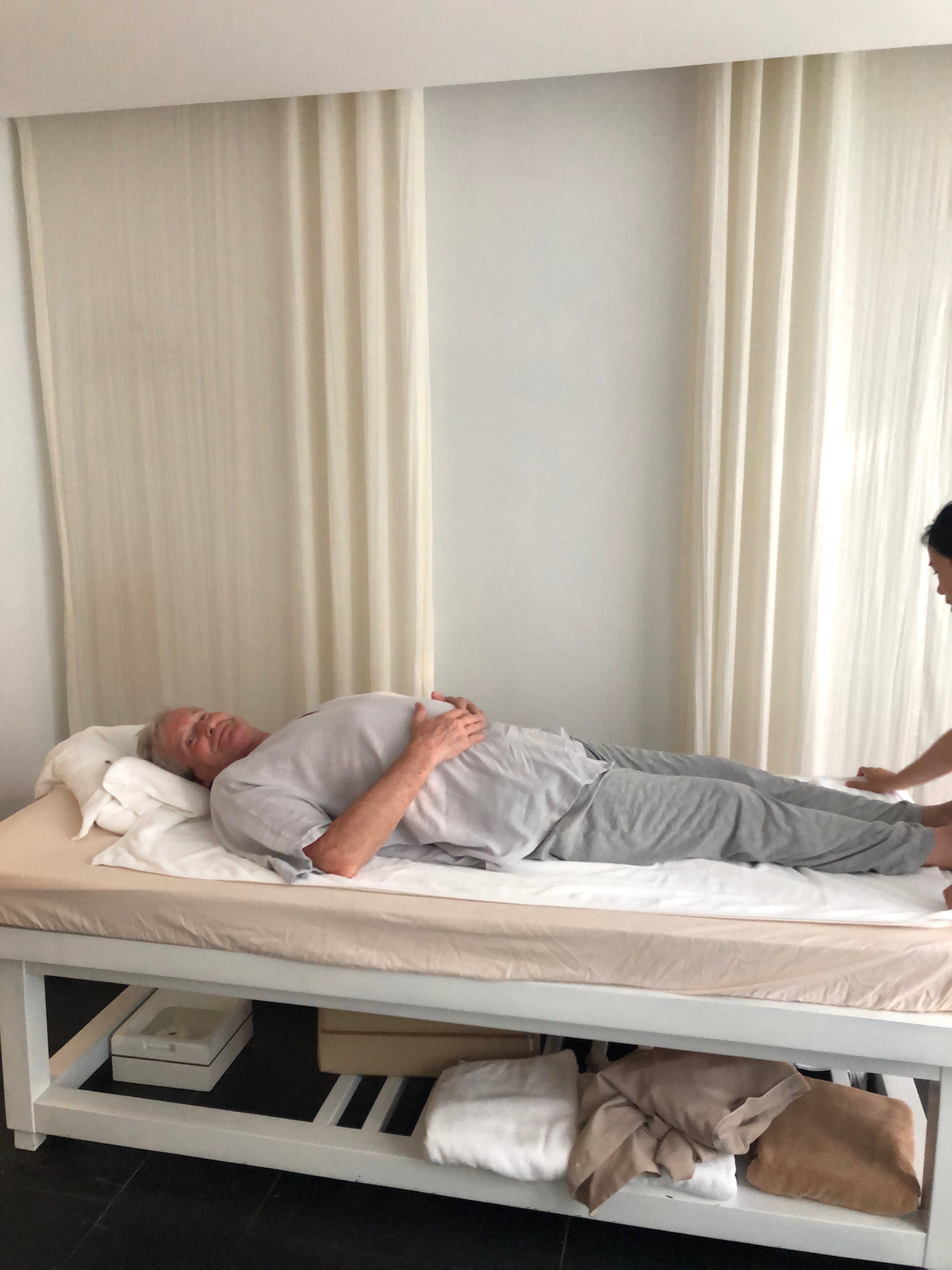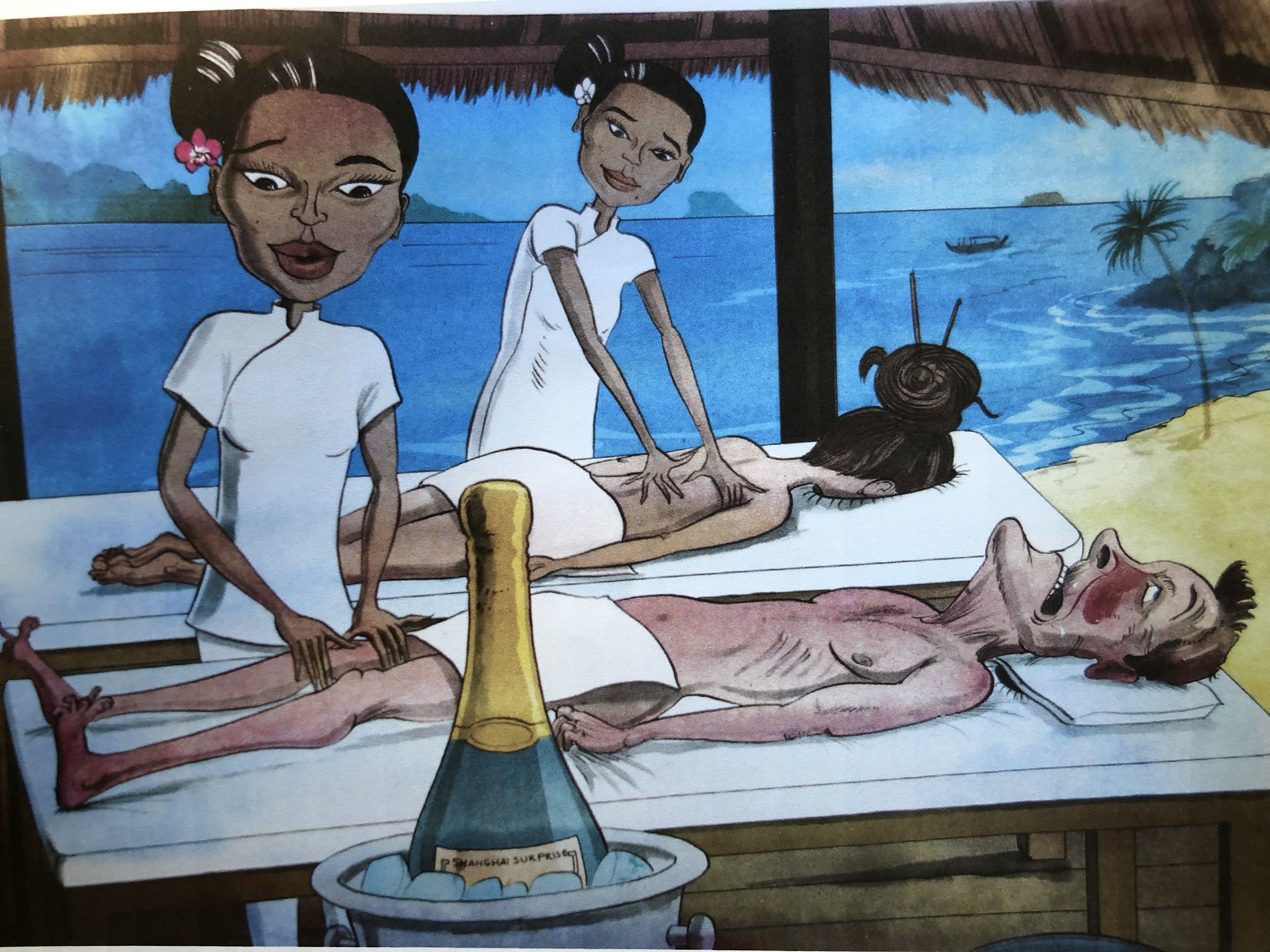 Monday 11 March
A 8 kms, 11,000 step beach walk along a virtually empty beach to the sound of a tumbling sea and stretches of uncleaned beach littered with detritus, a beach-combers dream full of drift wood and plastic net floats, see box collages.
The beach, called My Khe, stretches some 30 kms from Da Nang down to Hoi An, and has been voted one of the best beaches in Asia!  Called the China Beach by the Americans, it is where they landed in 1965, "Marines stormed ashore at Danang to be met by journalists" see photo, and the French in 1858. Sadly it is rapidly becoming any beach anywhere looking like Miami with Hyatt Regency and a Sheraton virtually next door and 6 storey hotels replacing bungalows.
Afternoon trip to the village of Hoi An. It was the main international port of Vietnam from the 15 to 18 th. centuries however civil strife and more important silting up of the harbour due to growth of the spit, echoes of Kings Lyn and Winchelsea. The town slowly sank into obscurity until it was reinvented as a tourist destination, and luckily, was protected by UNESCO who prevented any redevelopment. Now the charming old buildings , in a wide variety of styles, are tourist tat shops, predominantly manufactured crafts, leather goods, cloths, suites made for $90 ex. material, and souvenirs .
The town charges an admission or entry fee of 120,000 dongs, around £4, which includes admission to  pagodas and museums. For example the extravagant highly decorated Phuc Kien, Fujian, 17 th century Assembly Hall for the Chinese colony together with a Temple to the Goddess of Thien Hau, the Holy Mother who saves sailors from stormy seas. Interestingly whilst the assembly hall dates from 1792 the equally ornate gateway was built, in the same style, in 1975.
However the town changes completely at night, all the streets are illuminated with chinese lanterns, neon lights are banned, and the Hoai River is full of small boats similarly illuminated with lanterns, and enhanced by floating flower candles. a truly charming sight.
A sample meal for two in a pavement cafe overlooking the river;
4 beers 120,000
Spring rolls 90,000
Yangzhow fried rice 125,000
Pho tom noodle soup 85,000
Stir fried garlic botchy
Total 485,000      £16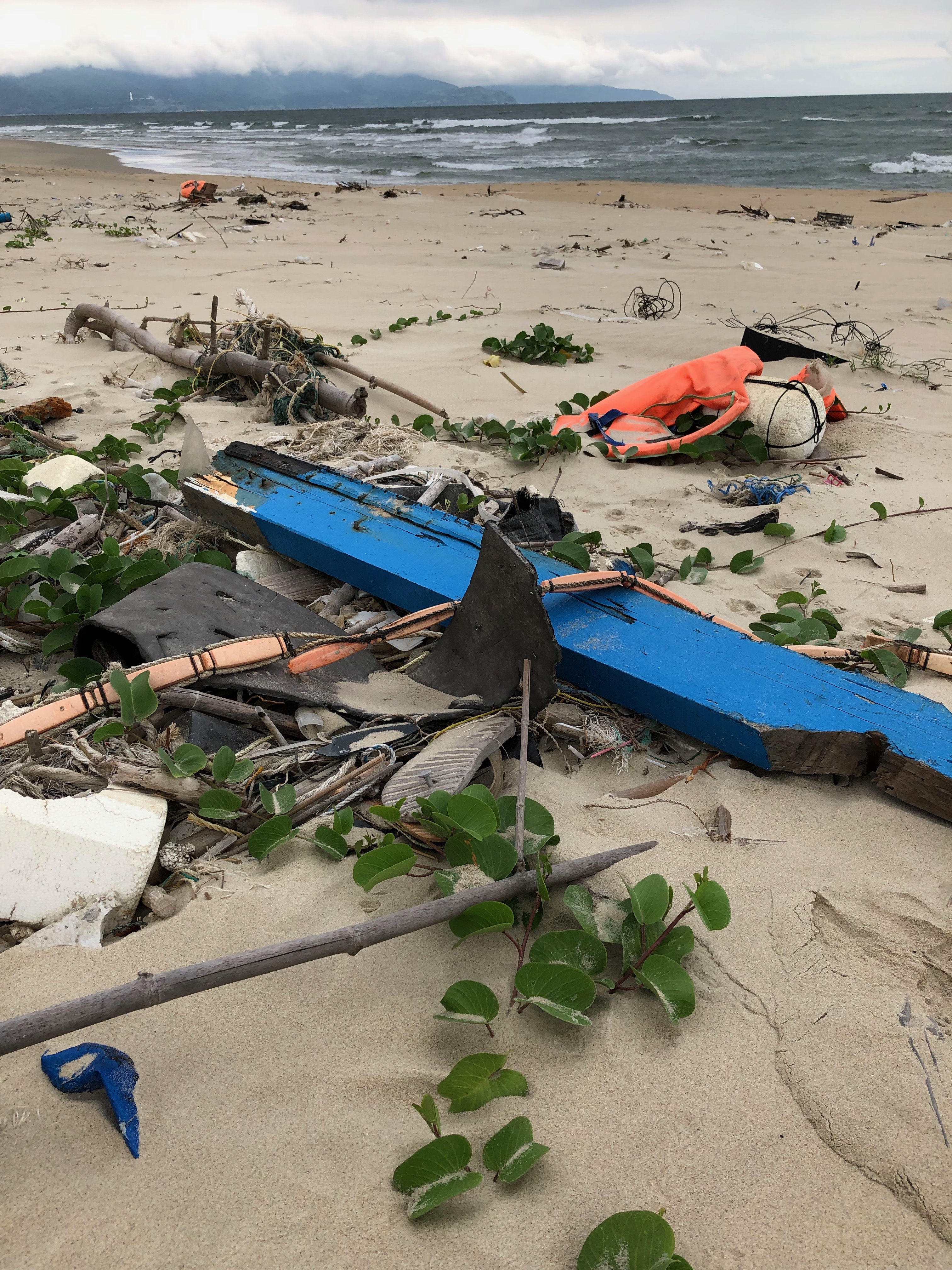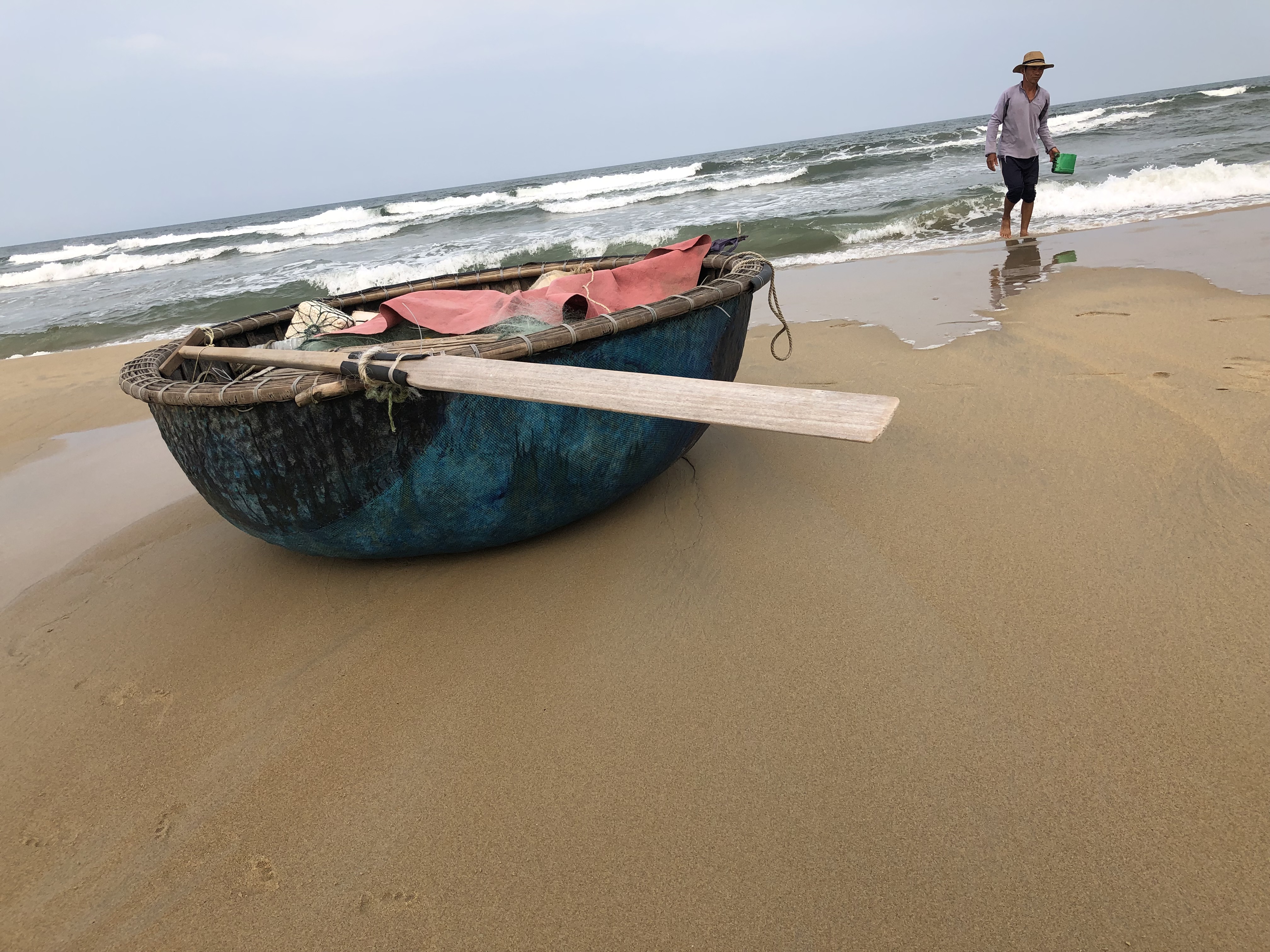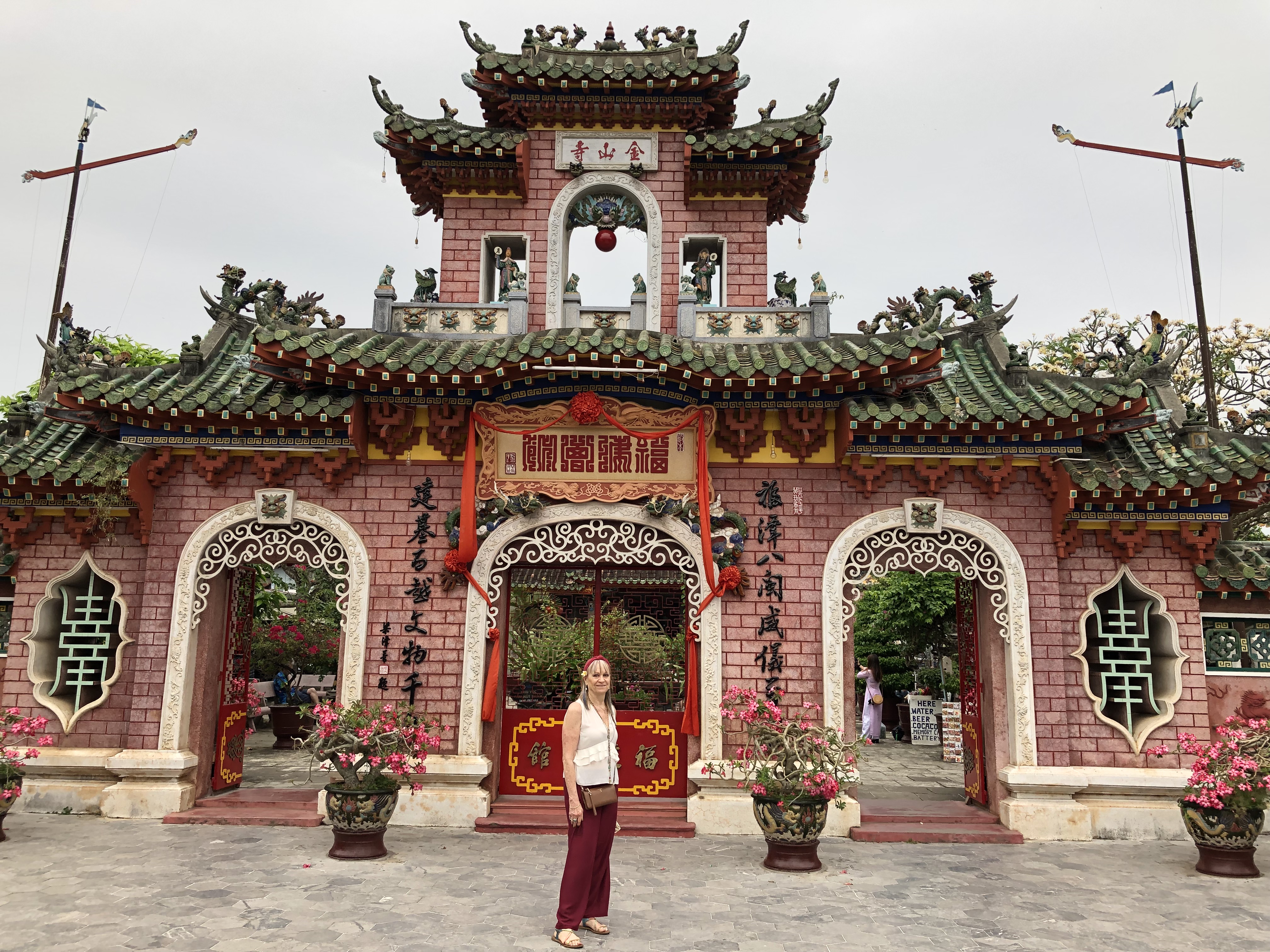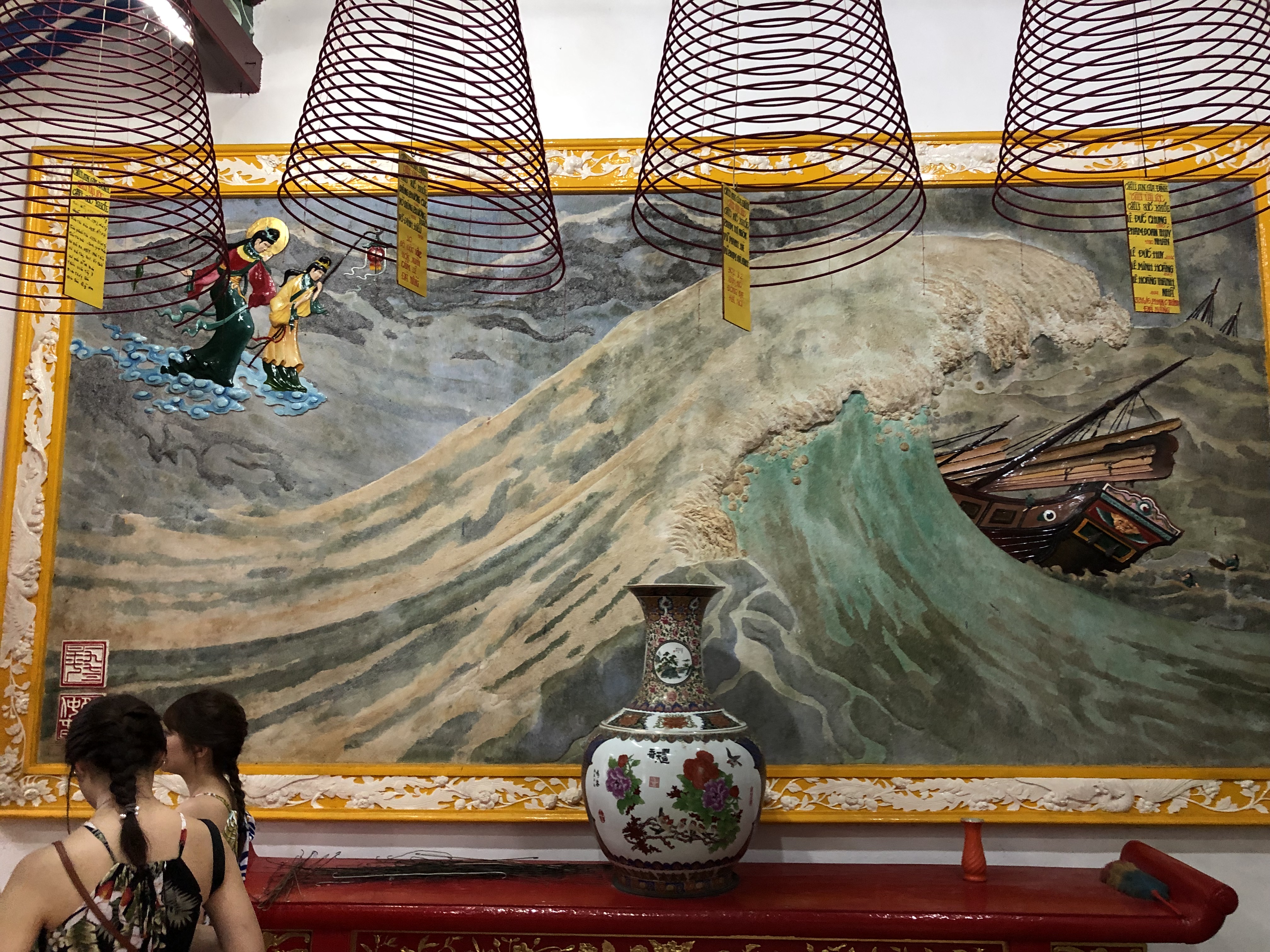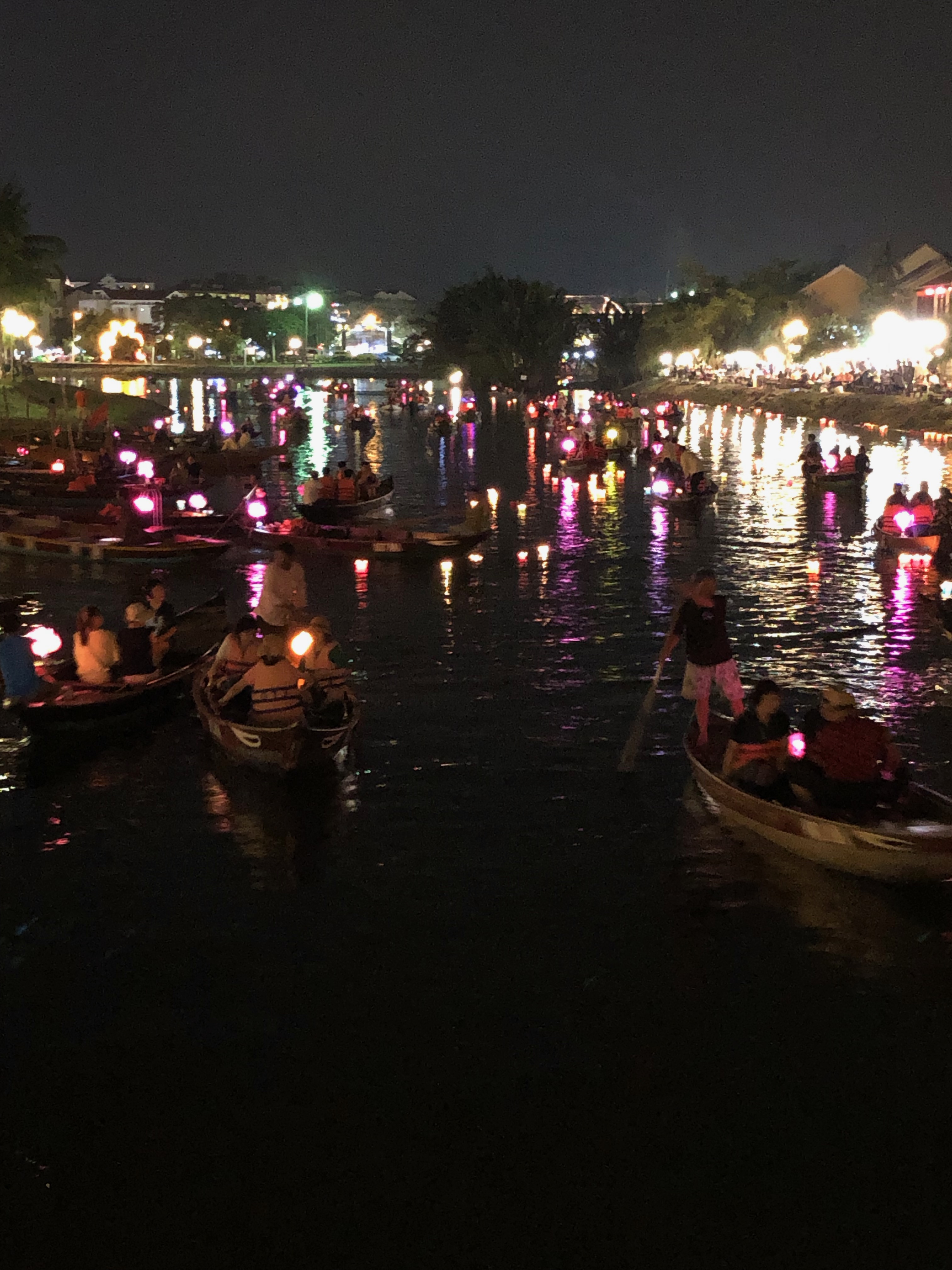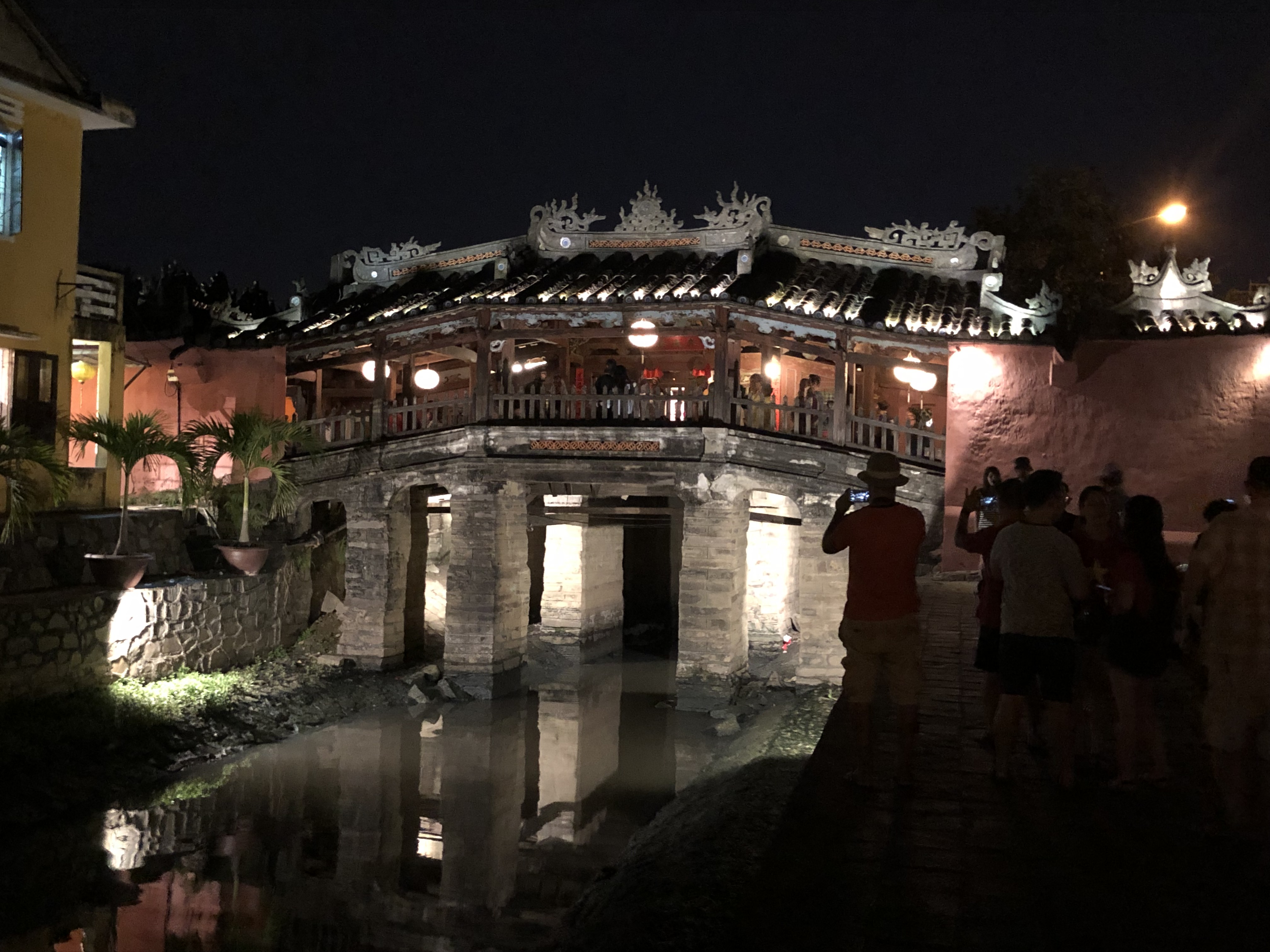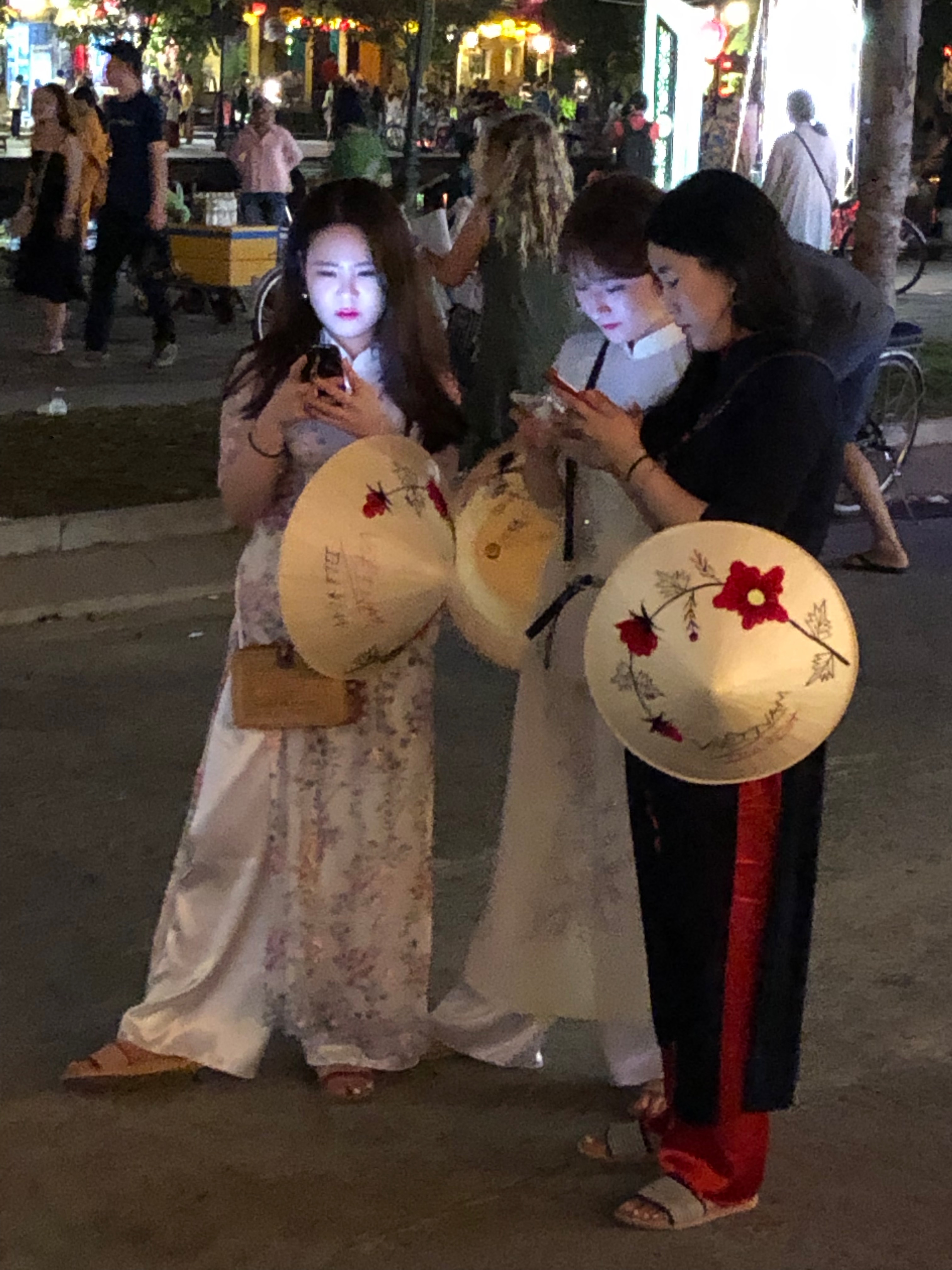 Tuesday 12 March
Day off, no tours, no culture, walks along the beach, massages and reading Graham Greene's "The Quiet American", background reading for Ho Chi Min City Saigon.
Wednesday 13 March
Morning massage, afternoon jeep tour of the Son Tra Peninsula nature reserve. Glorious dense rainforest with massive tree and lush undergrowth. Unspoilt without "tourist friendly" facilities. It is home of the common Macaque monkey and the rearer Langur monkey, the former are every where, the latter glimpsed relaxing in the trees.
Then to the popular Linh Ung Pagoda with their splendid bonsai trees in micro landscapes. The main feature is the massive brilliant white statue of the Lady Buddha, built in 1990 and visible from the whole of Da Nang. The Vietnamese Buddhists introduced the lady Buddha, she does not exist in India. She looks rather like statues of the Virgin Mary, another representation of the  Universal Goddess.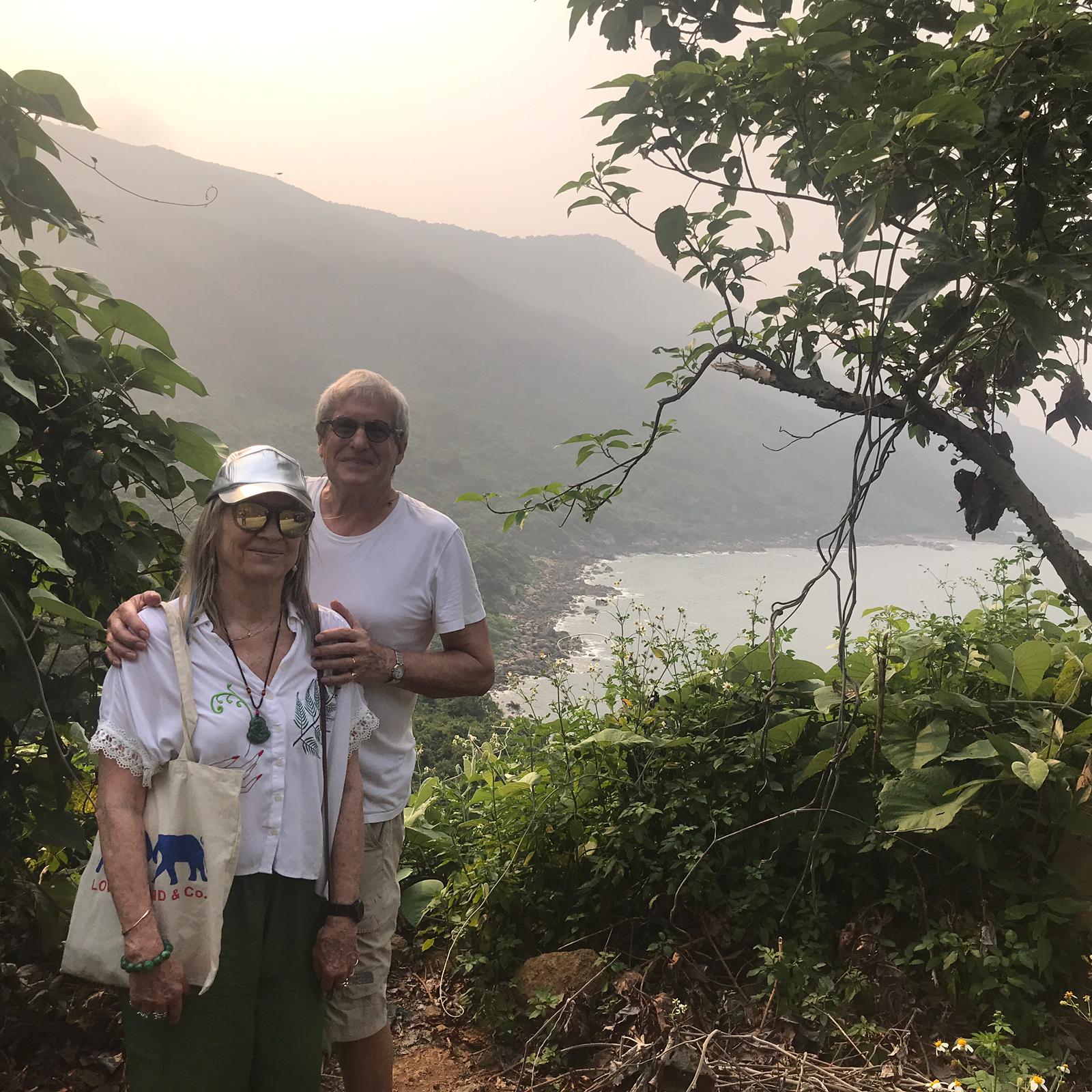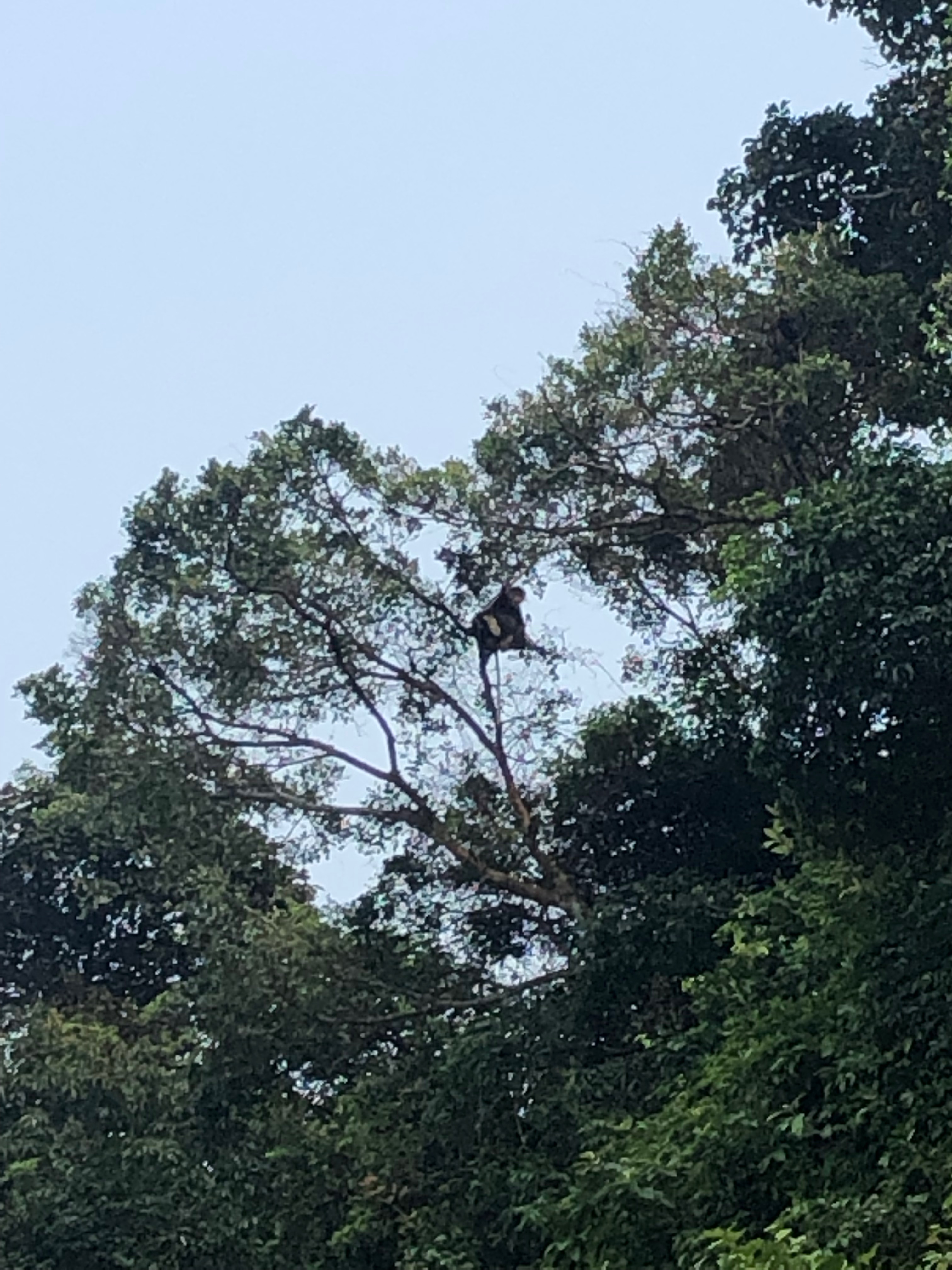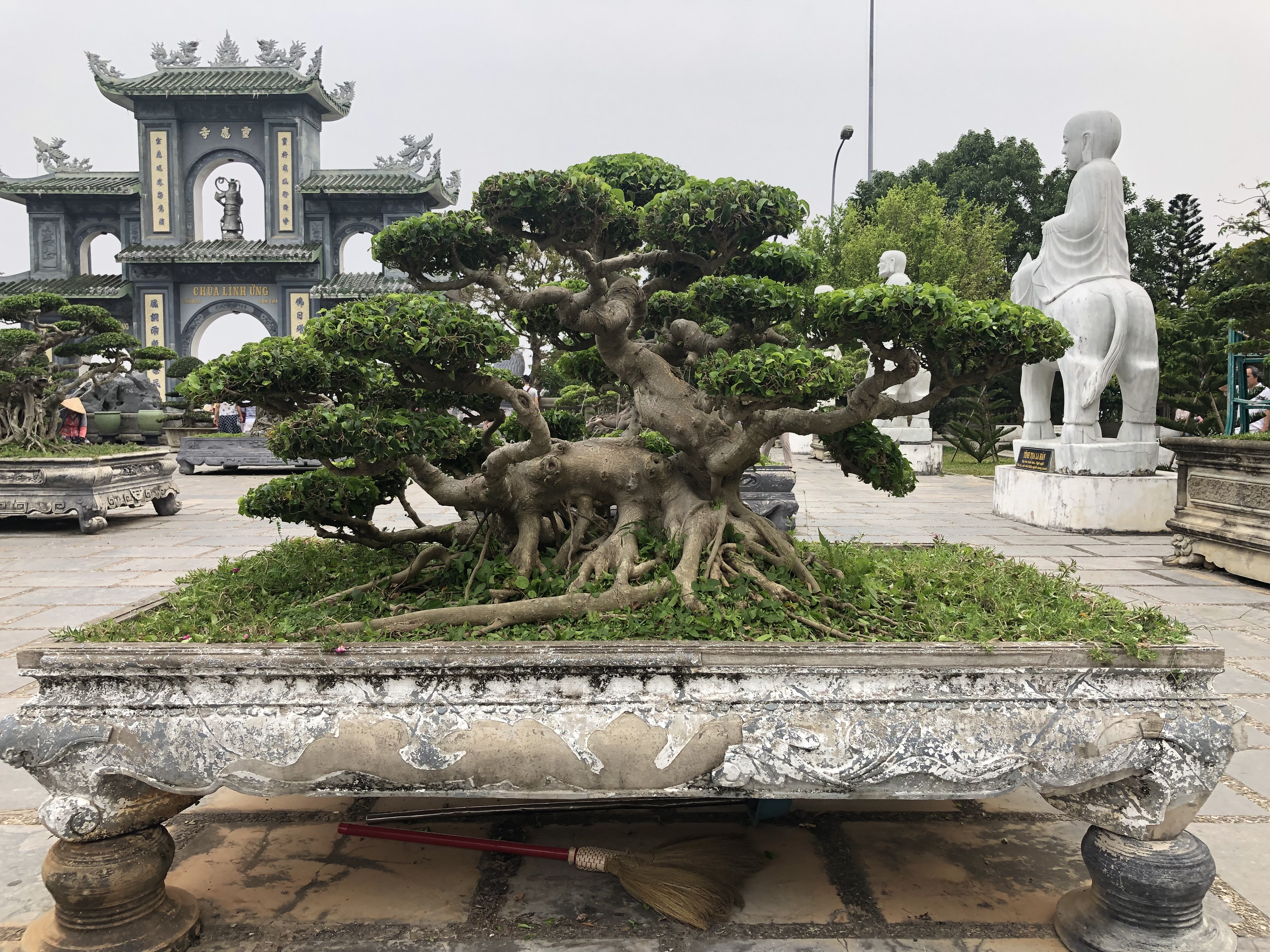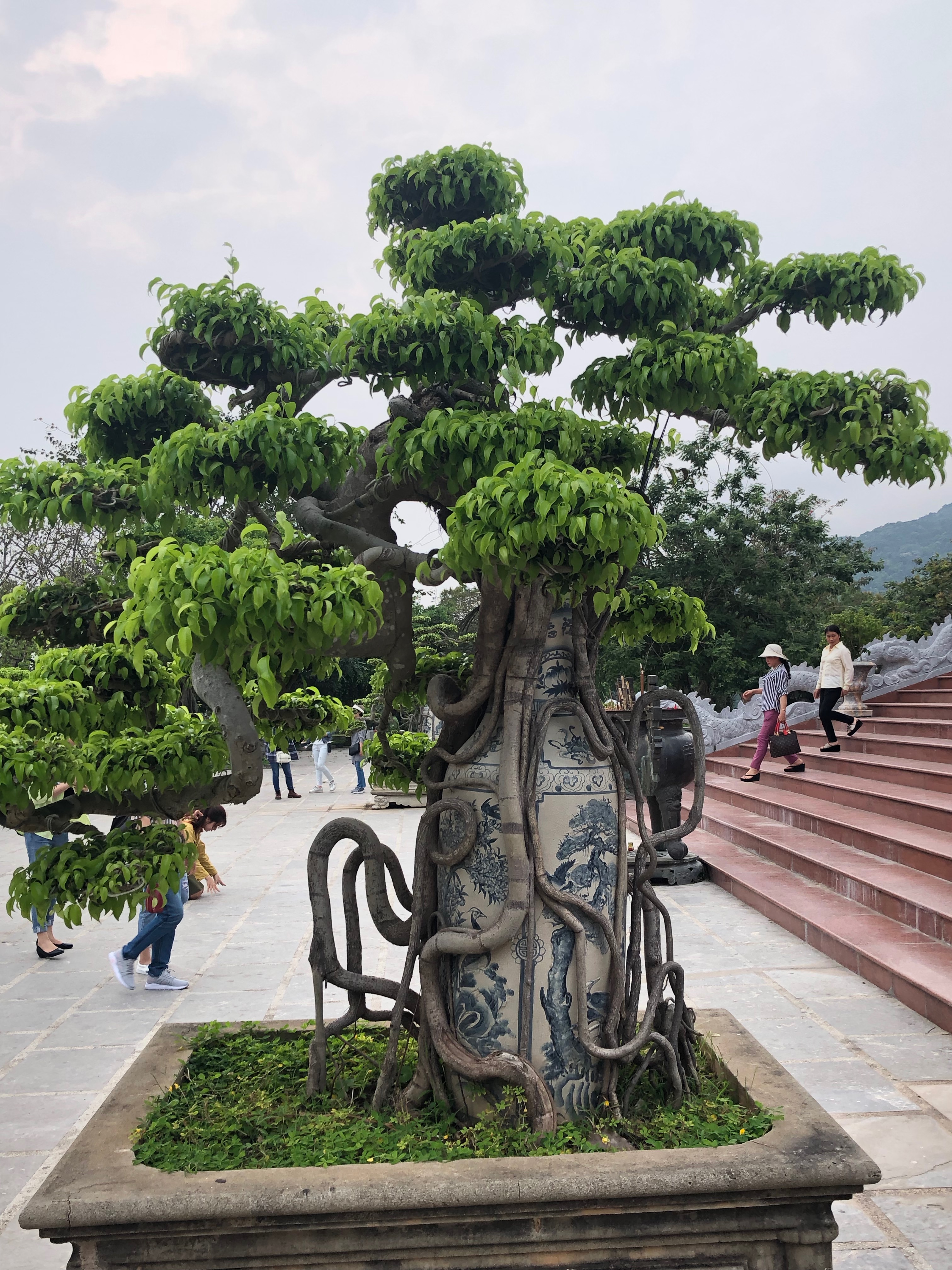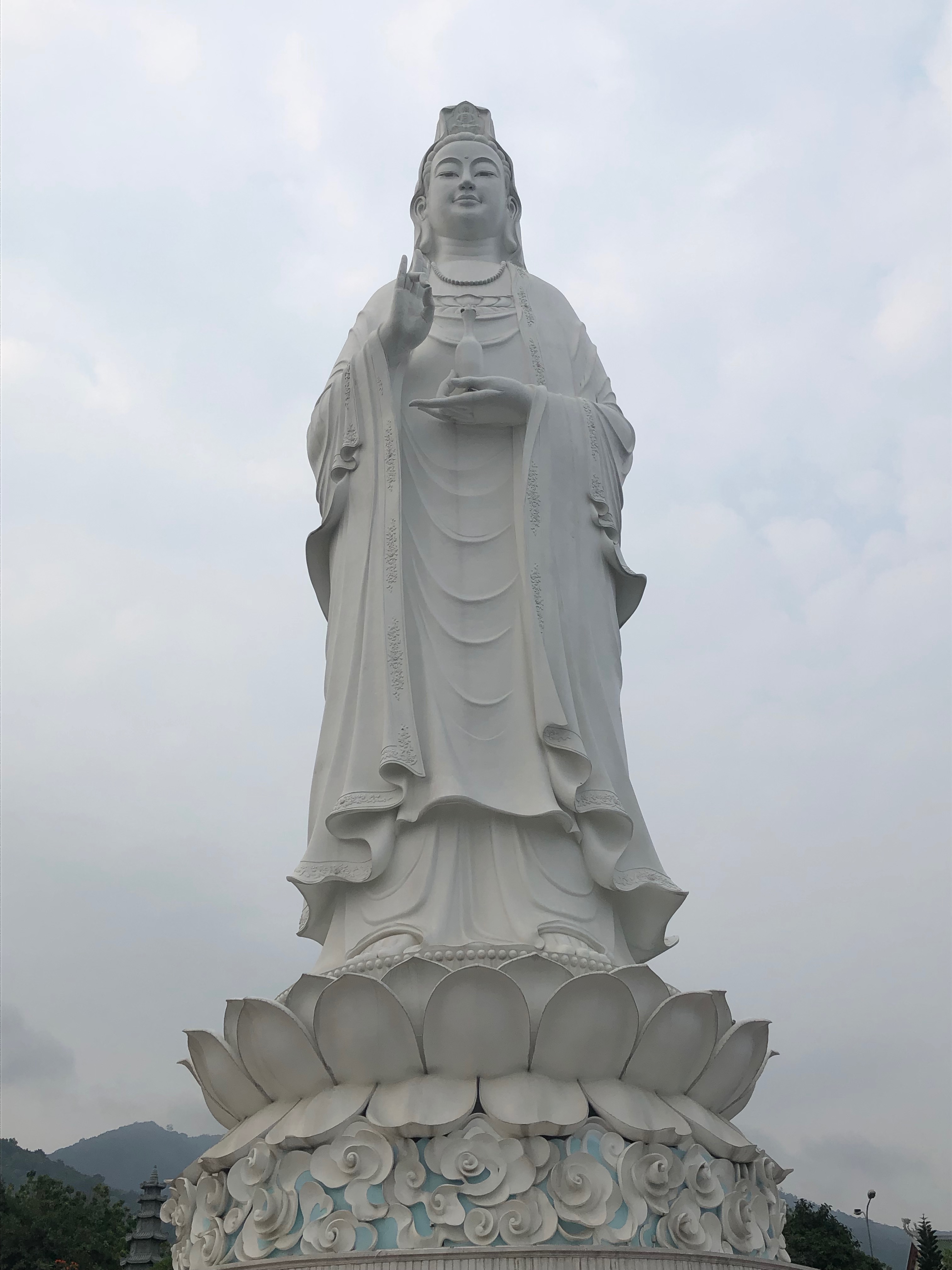 Thursday 14 March
Off to the Spa building in dressing gown and thin disposable "Underwear Male" where we are met by myth young Vietnamese girls in white trousers and long shirts who sit smiling, behind white computer screens. Given a glass on scented water and a hot towel. Allocated two girls who lead us along shaded corridors lined with palm and banana trees to  room with two beds and piped "mindfull" music. Change into loose top and trousers and instructed to lie on my back on the bed, she gently places a towel over my eyes, spreads my legs apart, leaps into the bed and thoroughly massages my legs all the way up , approaching a pain threshold. Turned onto my stomach and looking down through a hole in the bed to a lone yellow chrysthanthemum in a bowl, I feel her knees pummel my buttocks.
I repress my imagination and try to concentrate on the massage, but that cartoon keeps coming back to me, and TS Eliot's little ditty
Actually feel quite loose as a result, could get used to it. Homework on Hue and Saigon by the infinity pool, watching the Japanese girls doing selfies.
Further walks and beach combing on the beach, so relaxing.
Candle lite supper in the pool restaurant with a gentle breeze and sound of the surf. Margaret had seared tuna [180,000 Dong] and I had My Quang [180,000 dong]; white rice noodles, spiced chicken, local herbs, crispy pork spring rolls, tomatoes, gravy, rice crackers and limes.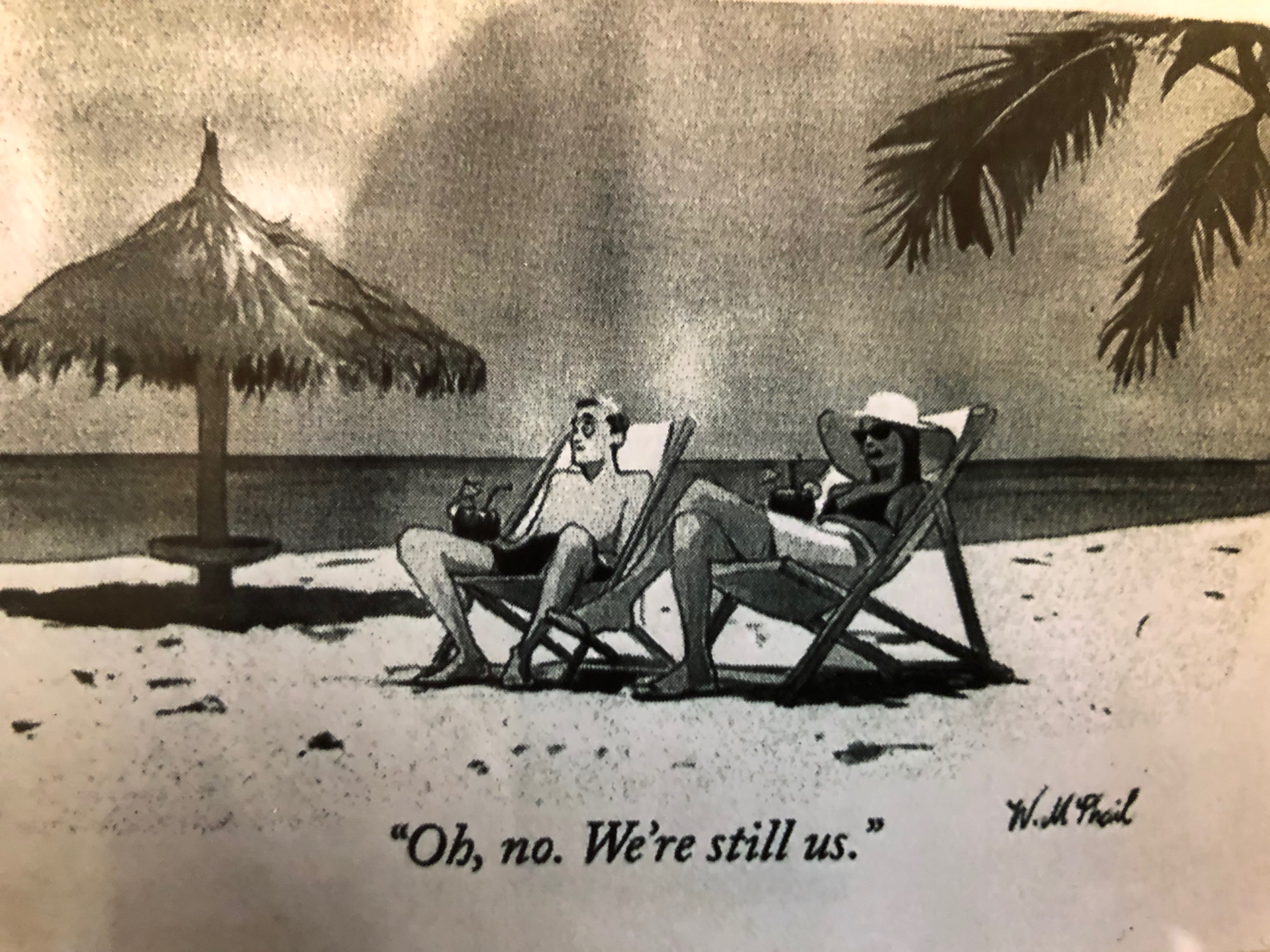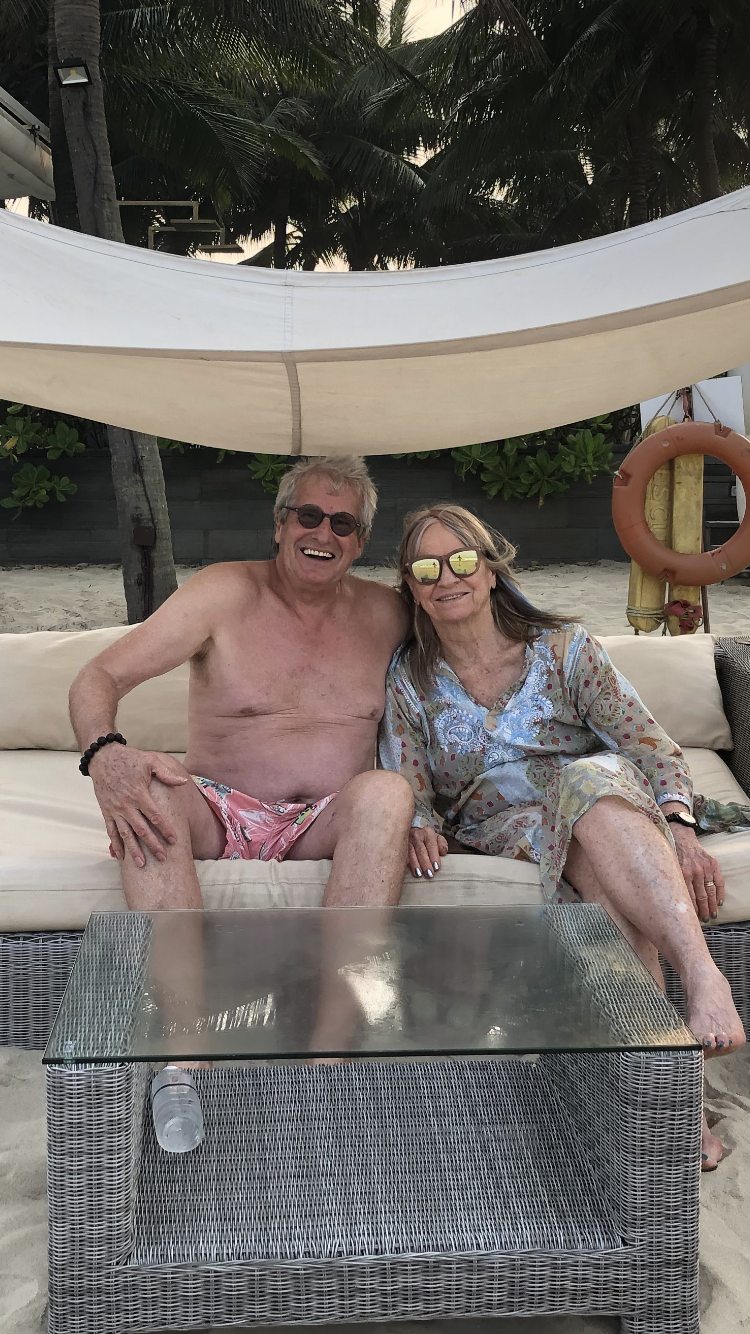 Friday 15 March
Day guided trip to Hue, capital of Vietnam during the Nguyen Dynasty [1802-1945], who moved from the old capital of Hanoi. First over the Hai Van Pass out of Danang on the 110 kms journey to Hue. all jumbled together are Nguyen period Hai Van frontier Gates, French period fortifications and American period bullet  scared pill boxes, now used as features for wedding photographs.
Then to the tomb of the Nguyen Dynasty King Tu Duc [1847-1883]and his much loved Queen Le Thien Anh.  Built in late 1860's as both a summer palace for the king as well as his rather eclectic ornate mausoleum decorated with pottery sherds.
Then to the Thien Mu, Holy Lady, Pagoda, overlooking the Perfume River, built in 1601, and including a seven tiered octagonal tower, Phuoc Duyen. The seven tiers represent the different reincarnations of the Buddha. The pagoda includes  an Austin A40 car that the monk Thich Quang Duc drove to Saigon before he burnt himself to death,  objecting to the South Vietnams government's persecution of the Buddhist . The site is commemorated in Ho Chi Min City .
After a very fast Pho soup, Can Lau, we finally get to the main event, the Citadel and the Forbidden Purple City for the kings of the Nguyen Dynasty. Based on the forbidden city in Beijing it covers some 520 hectares and consists of gates, pavilions, gardens with their bonsai  and Scholars Rocks, Gongshi,  in lovely pots, covered walkways and temples. However it was the site of the destructive Tet Offensive of 1968, so vividly recorded by Don McCullin, see photos. Sadly the two palaces at the centre of the complex were totally destroyed during the battle, leaving just a football size grassed area. A monument to the folly of war.  The charming Reading Pavilion, Thai Binh Lau, with its lovely garden has been well restored. Built in 1847 it was first restored in1921 and then in 1991 . However the overall impression is of a 19 th century pastiche without the patina of age.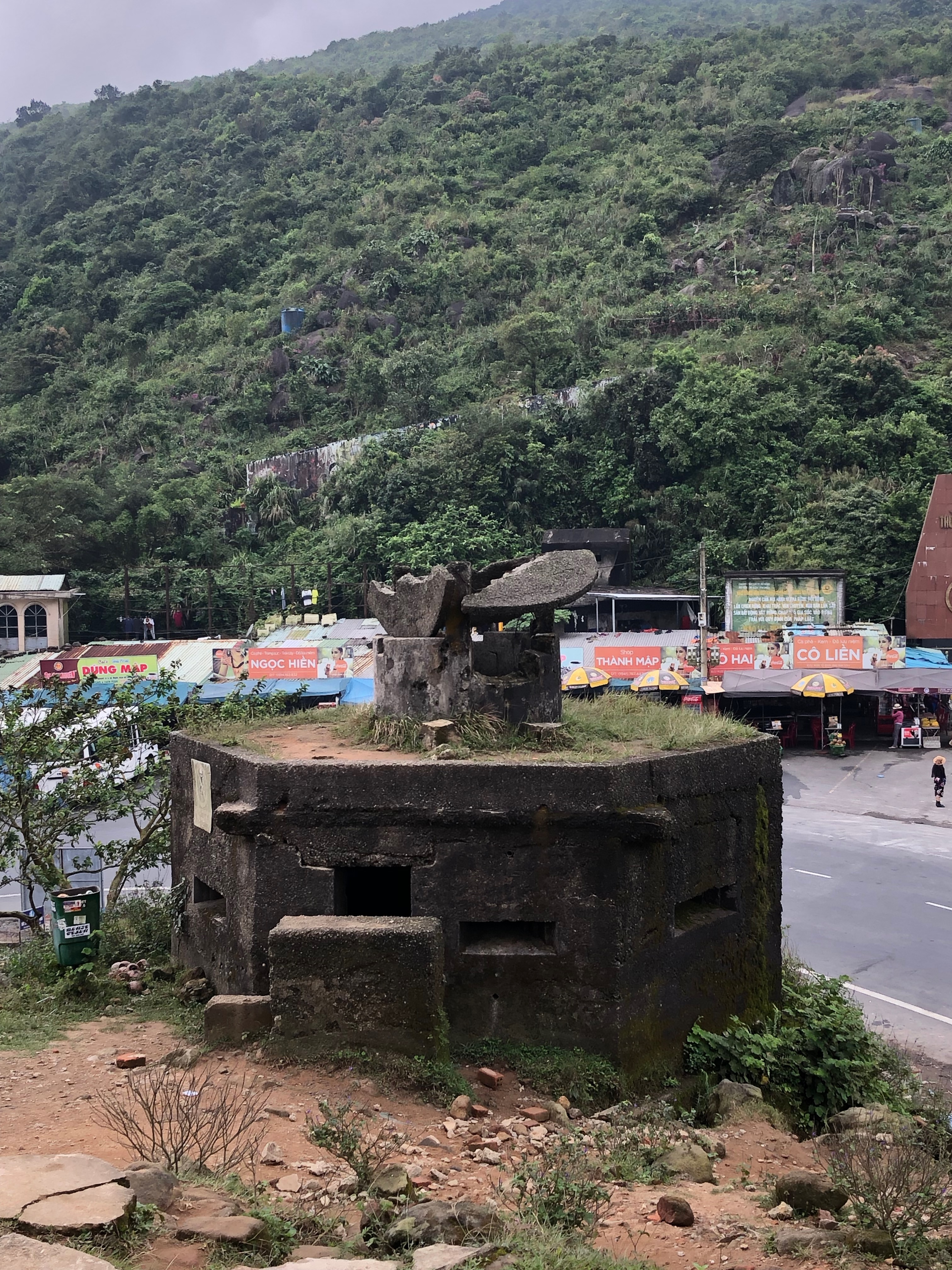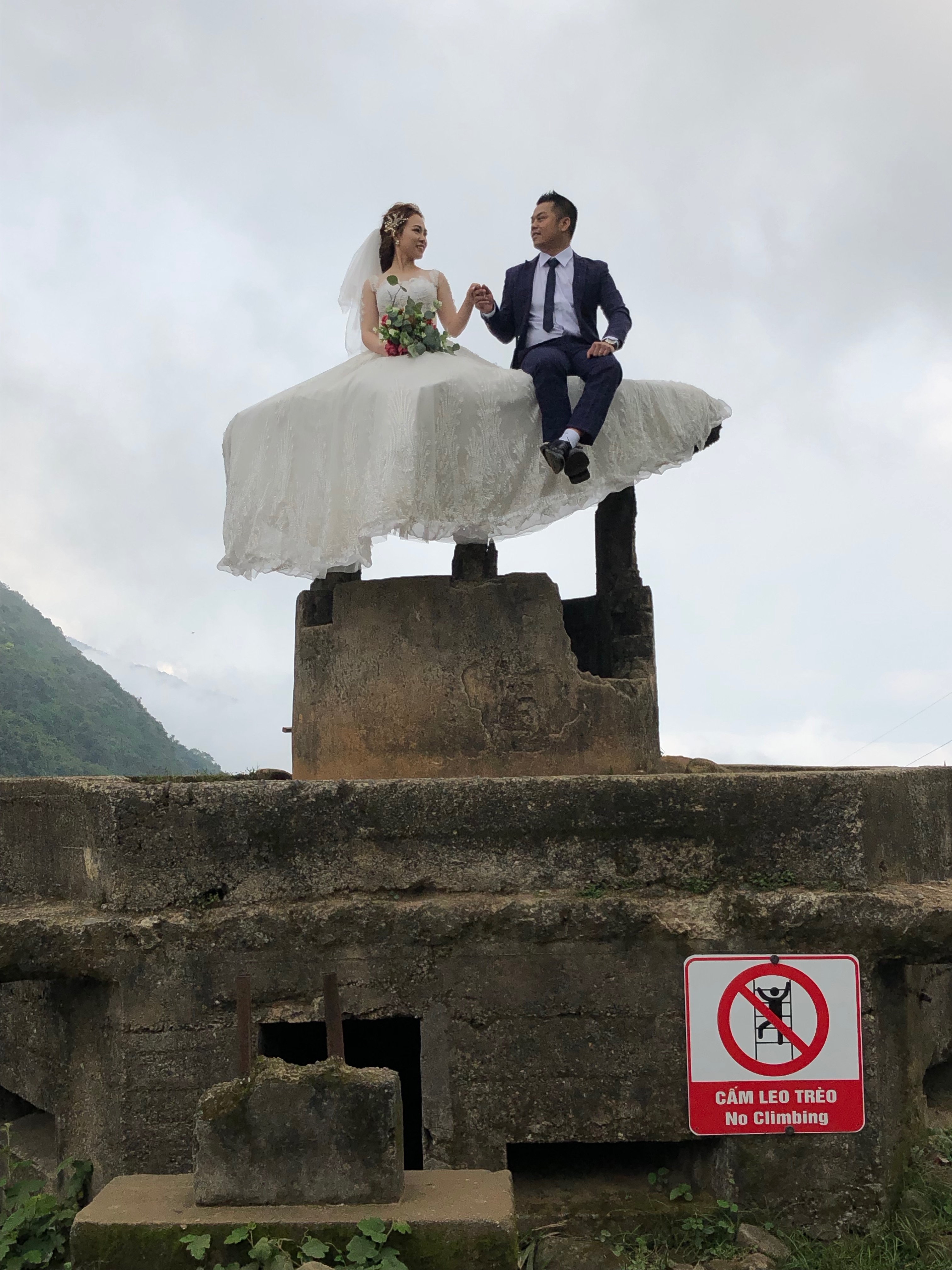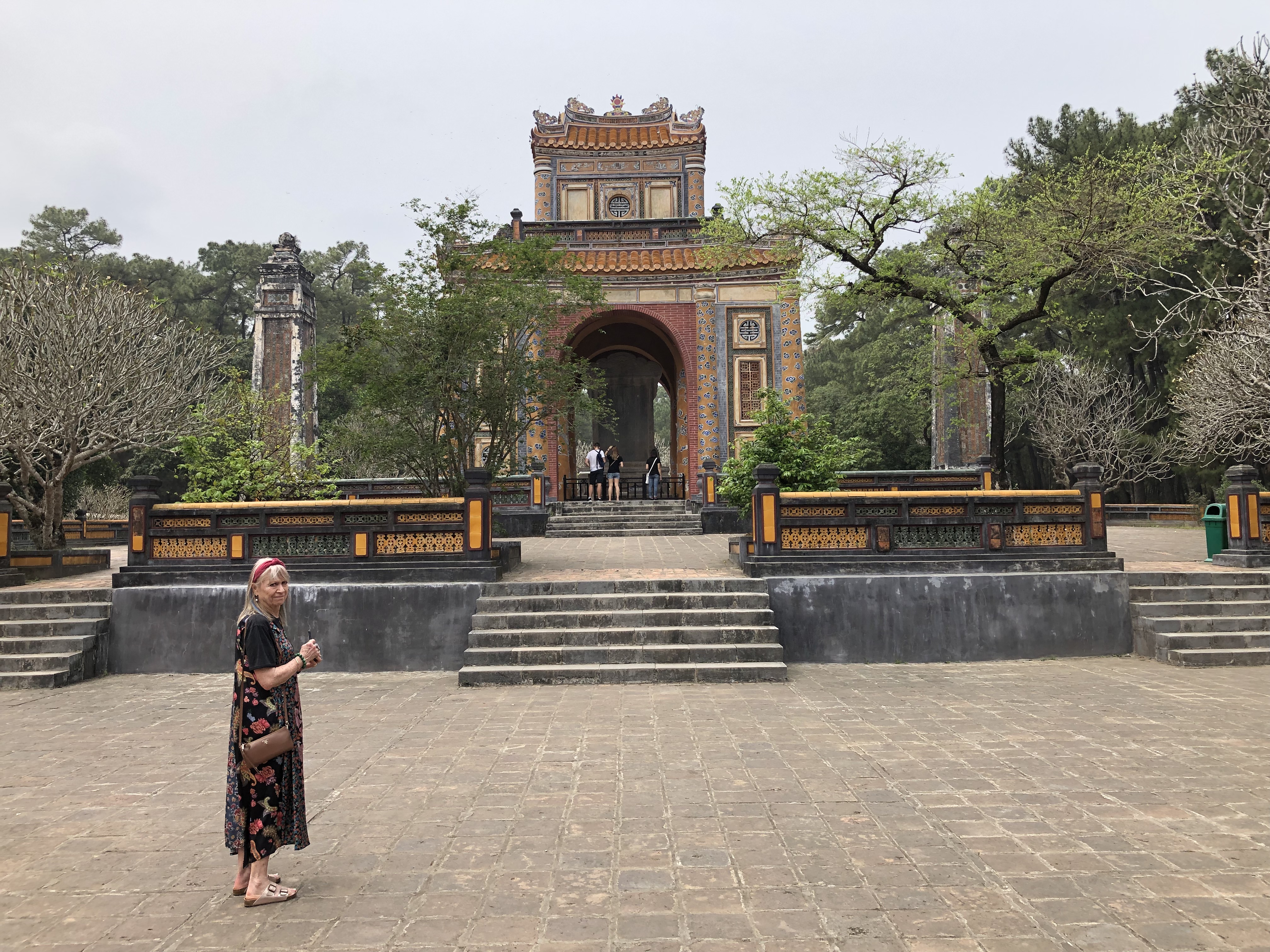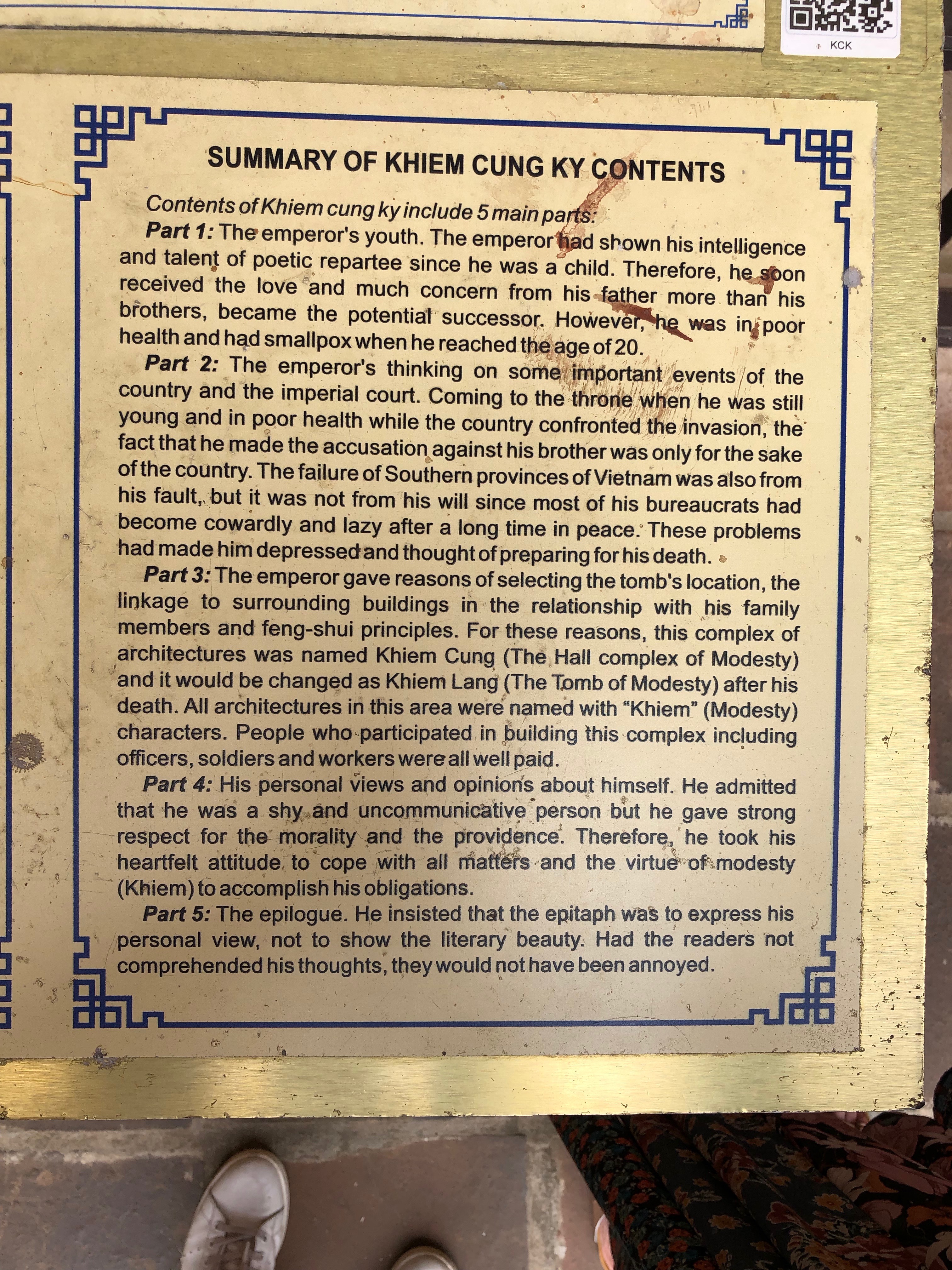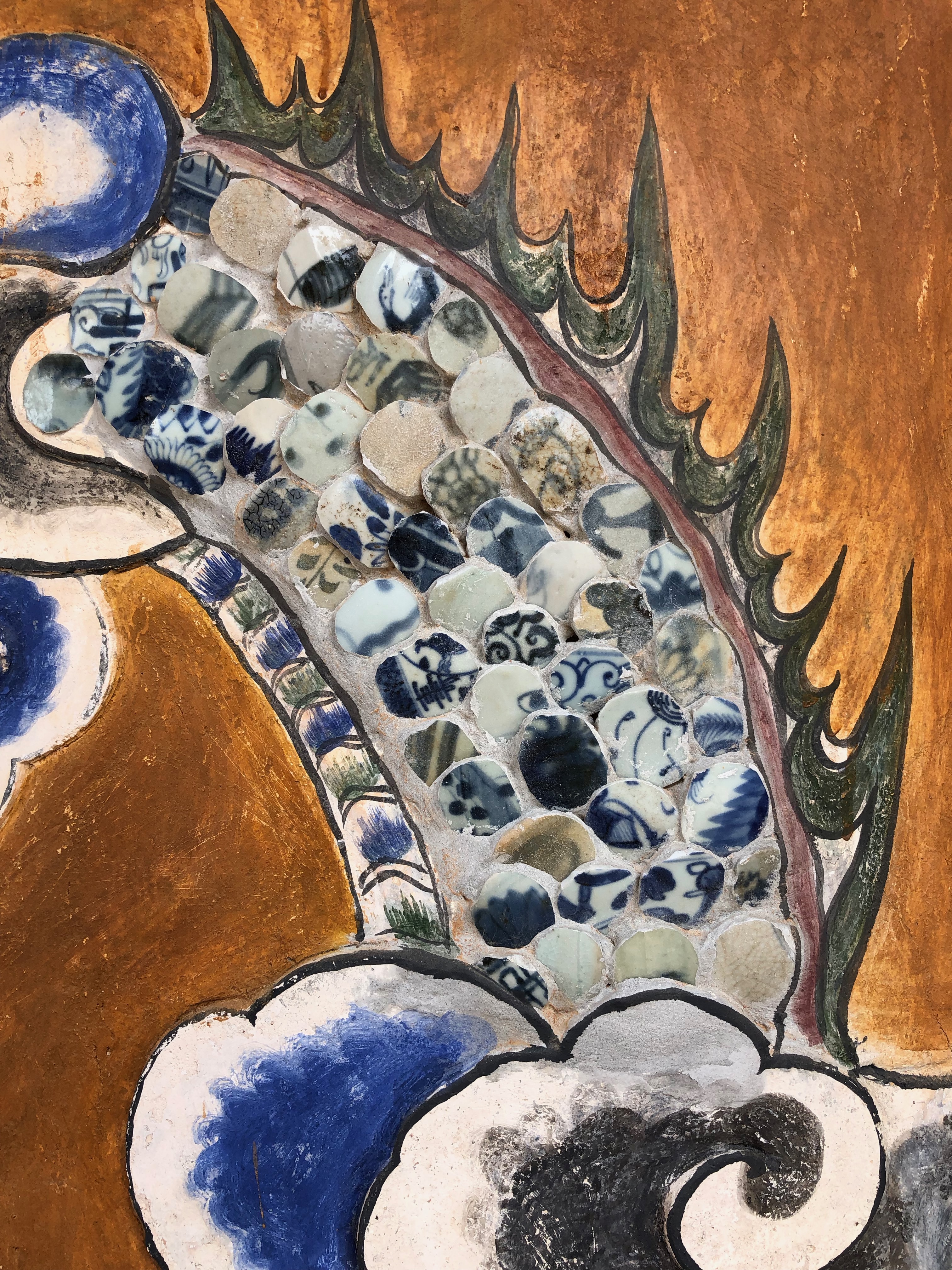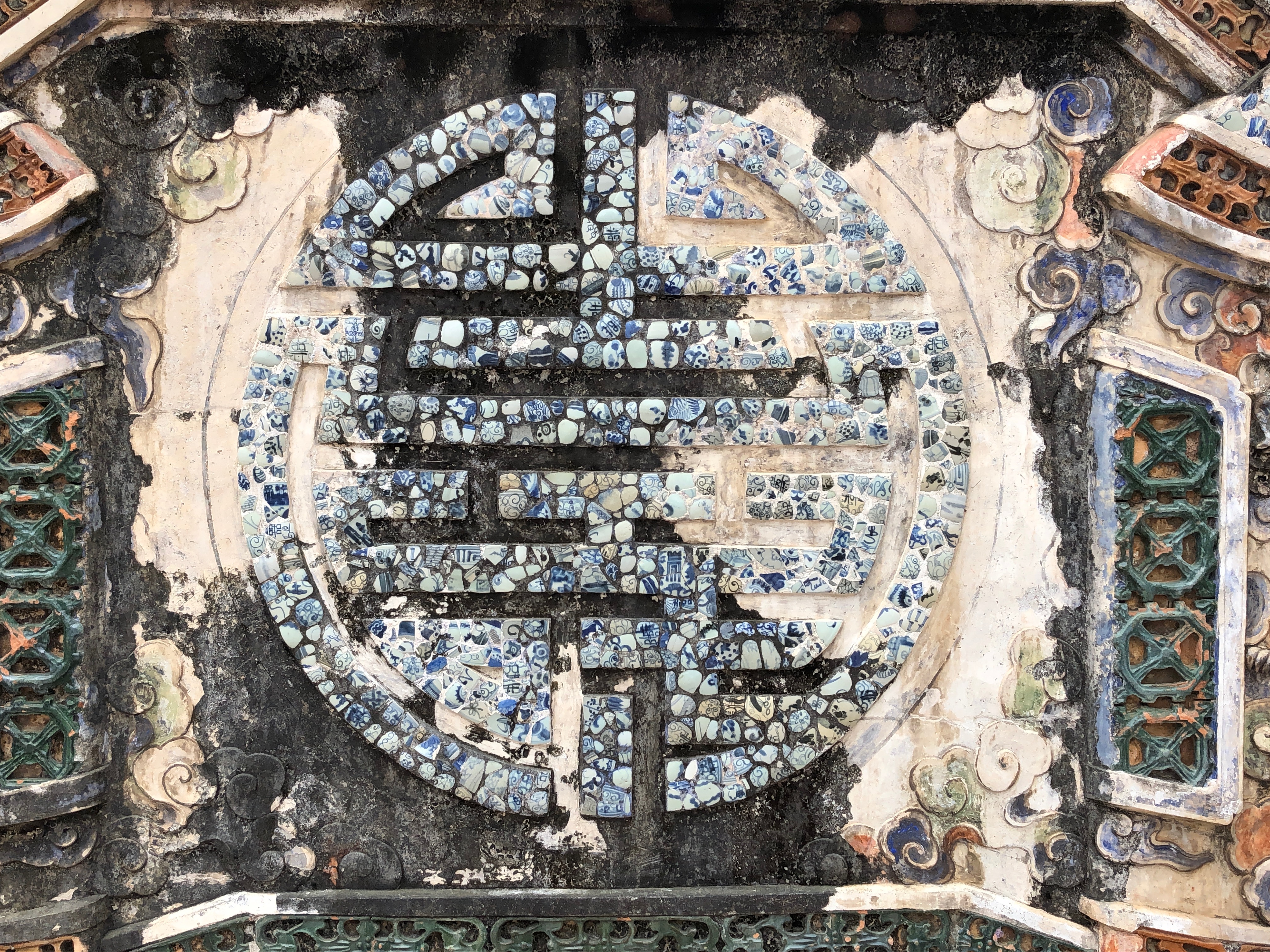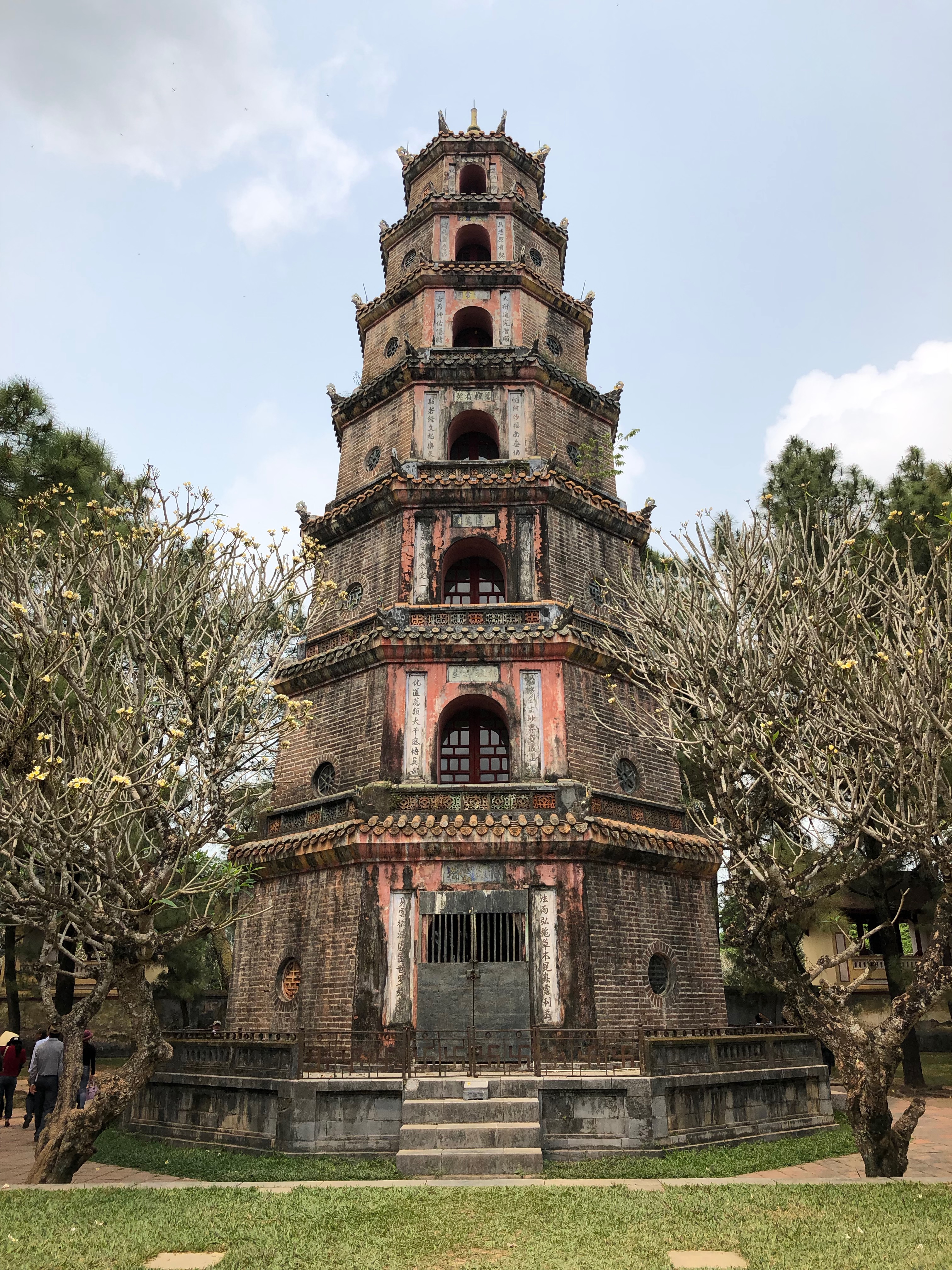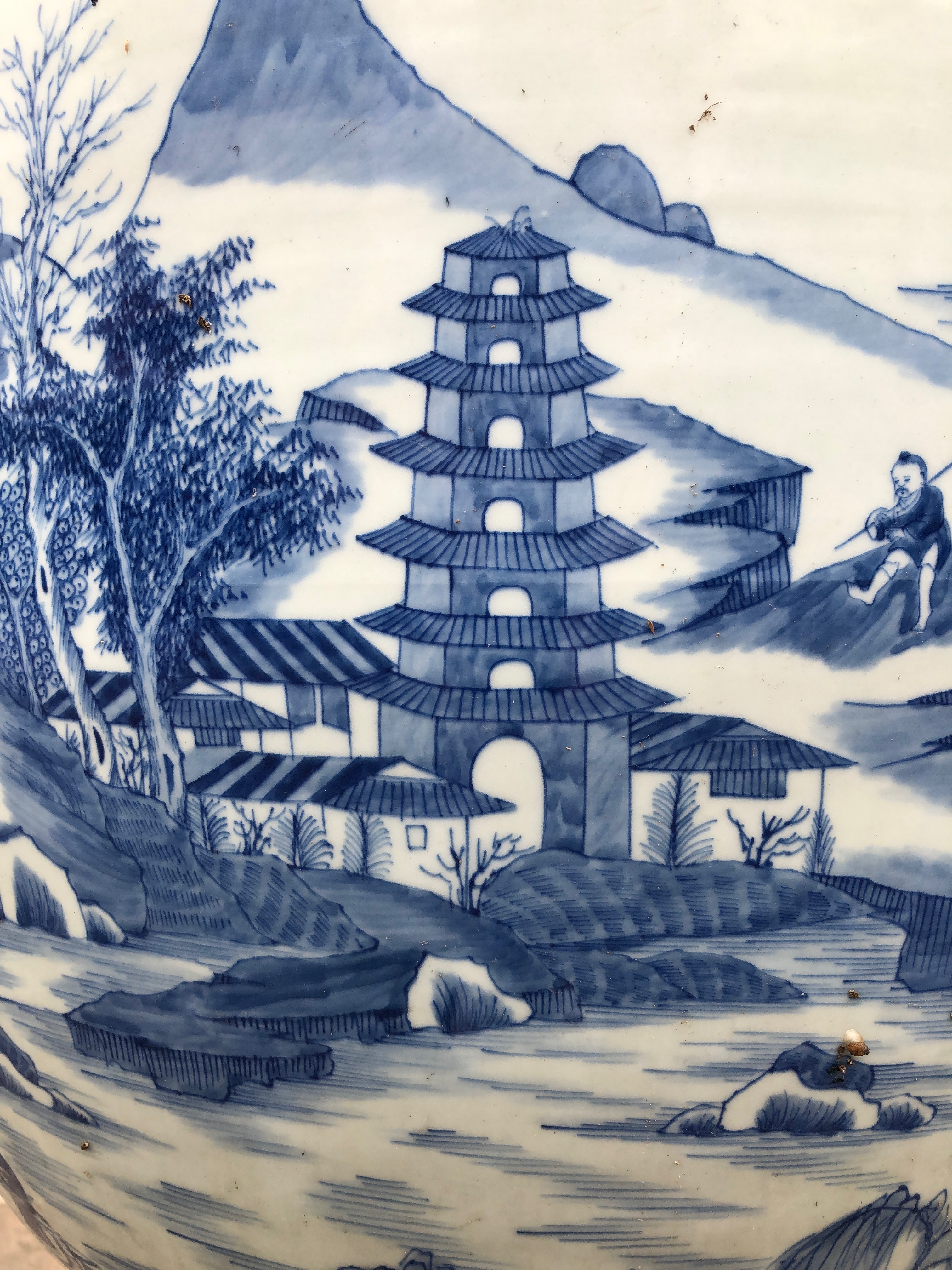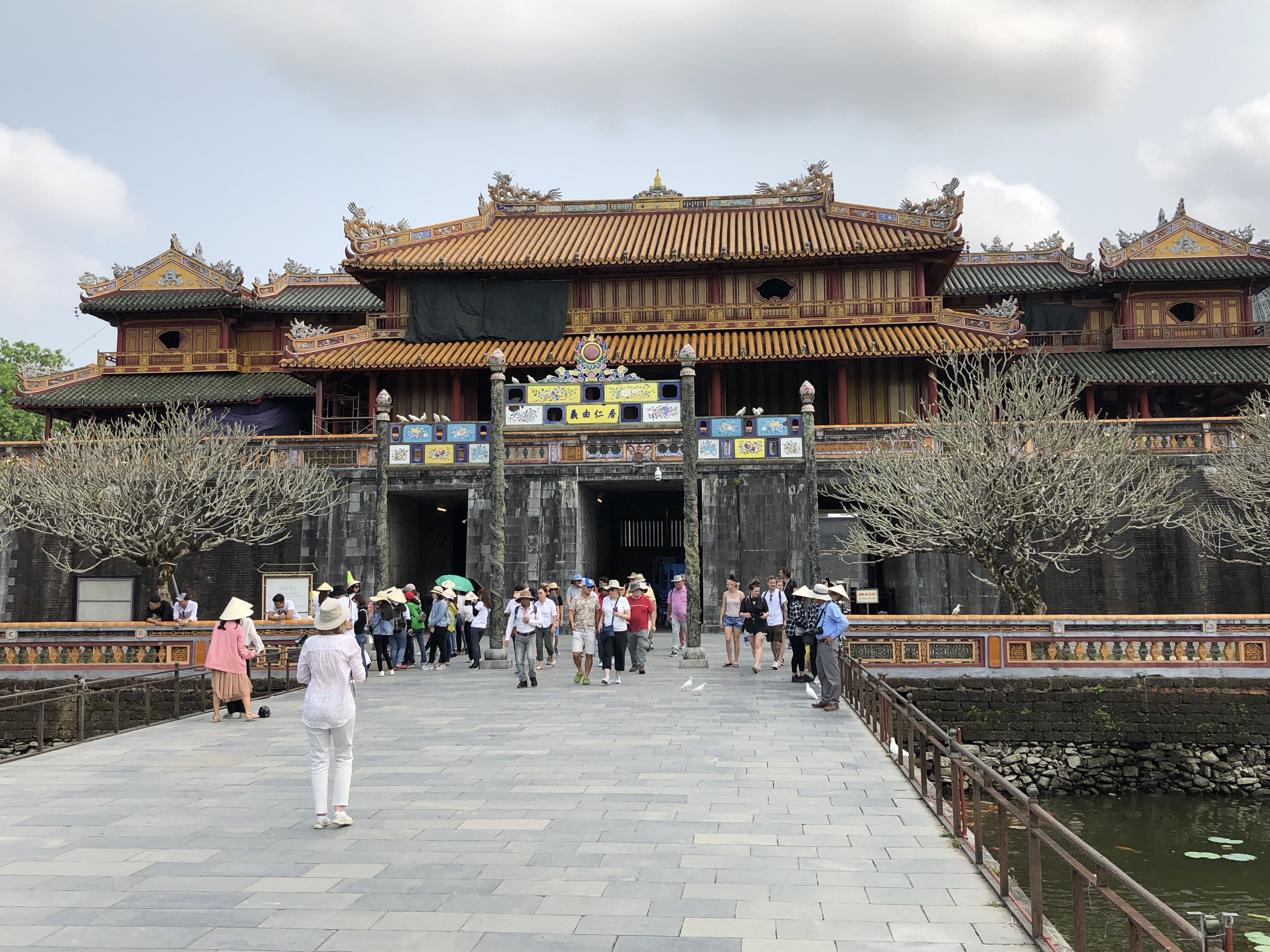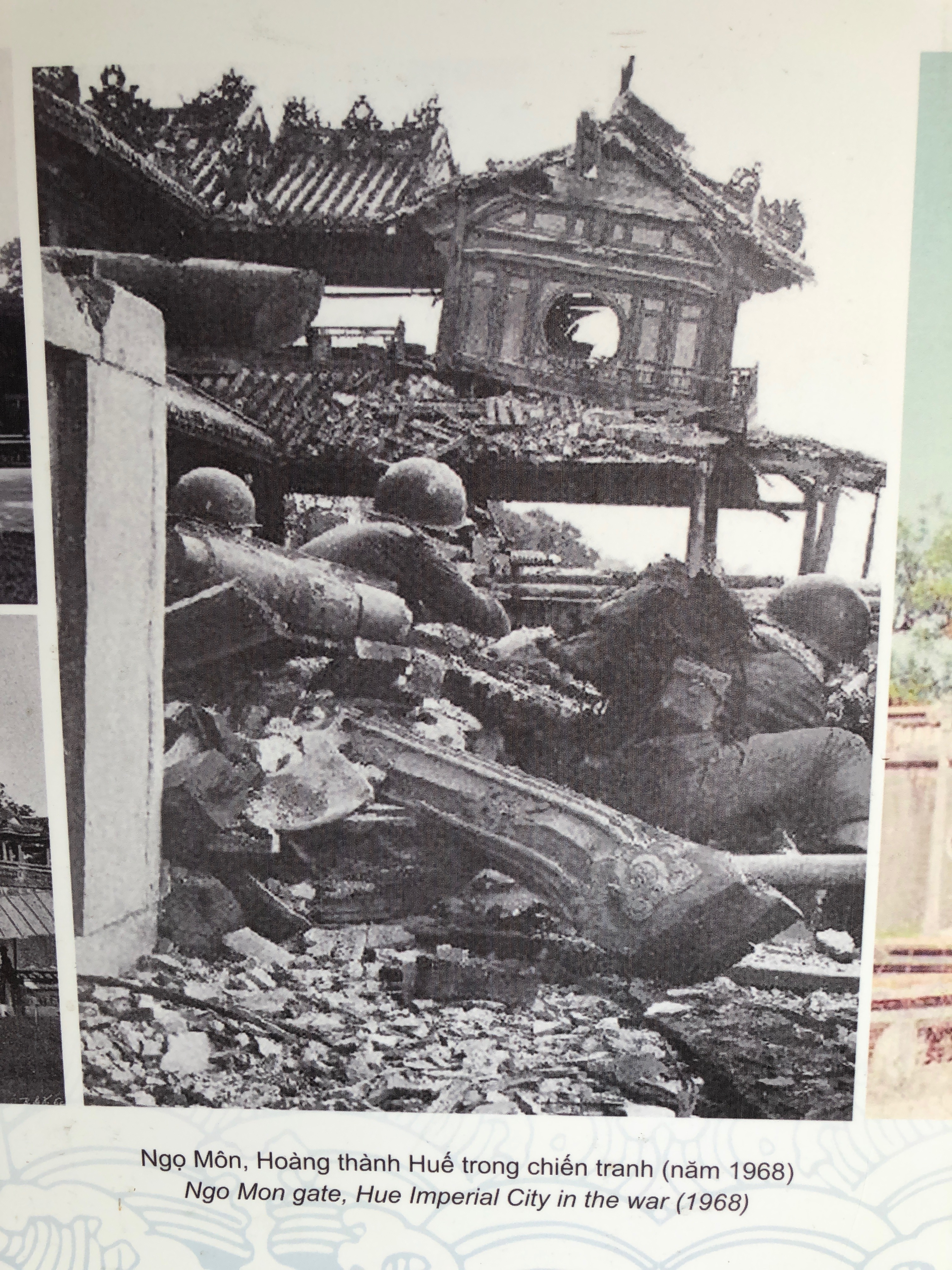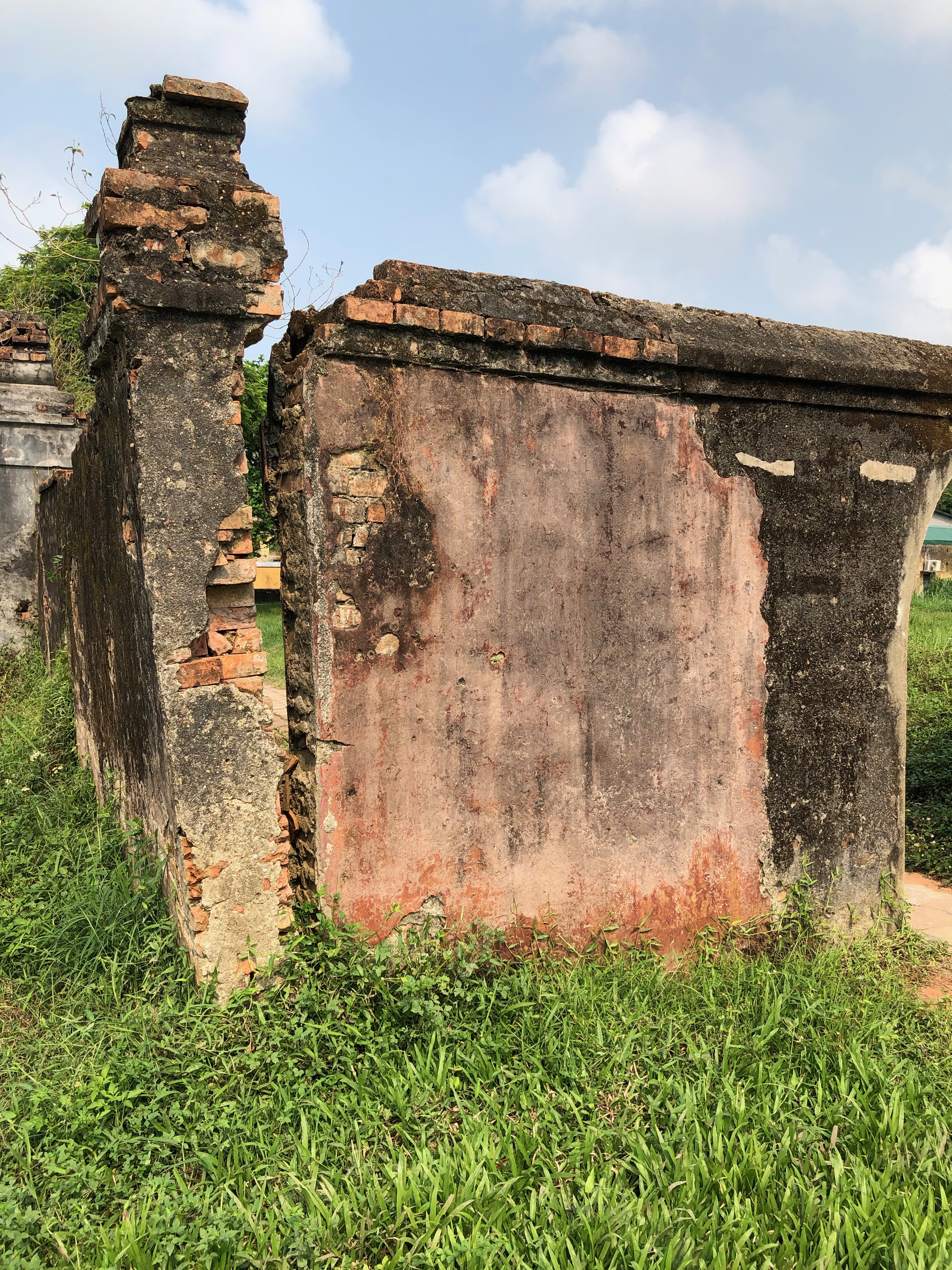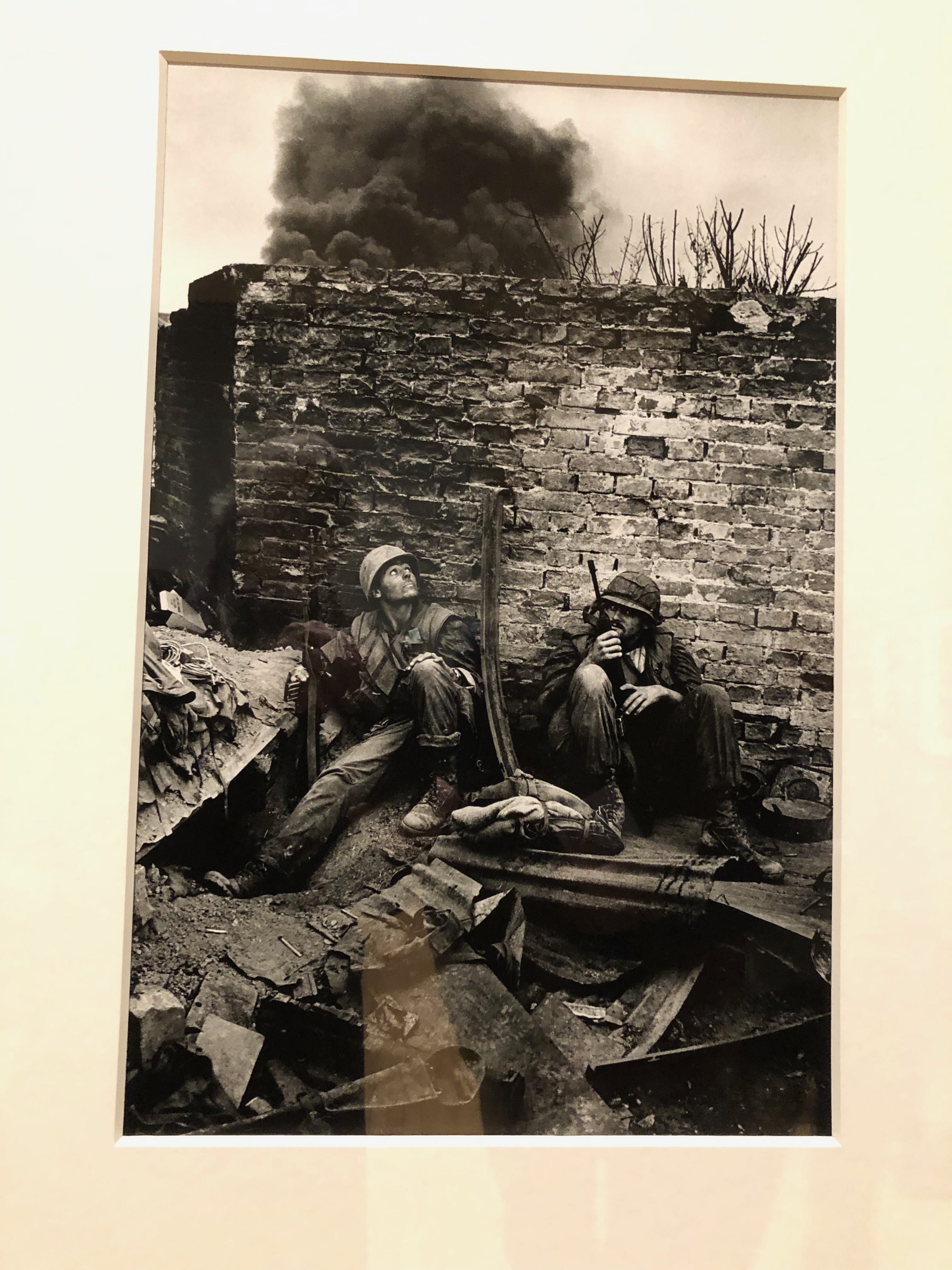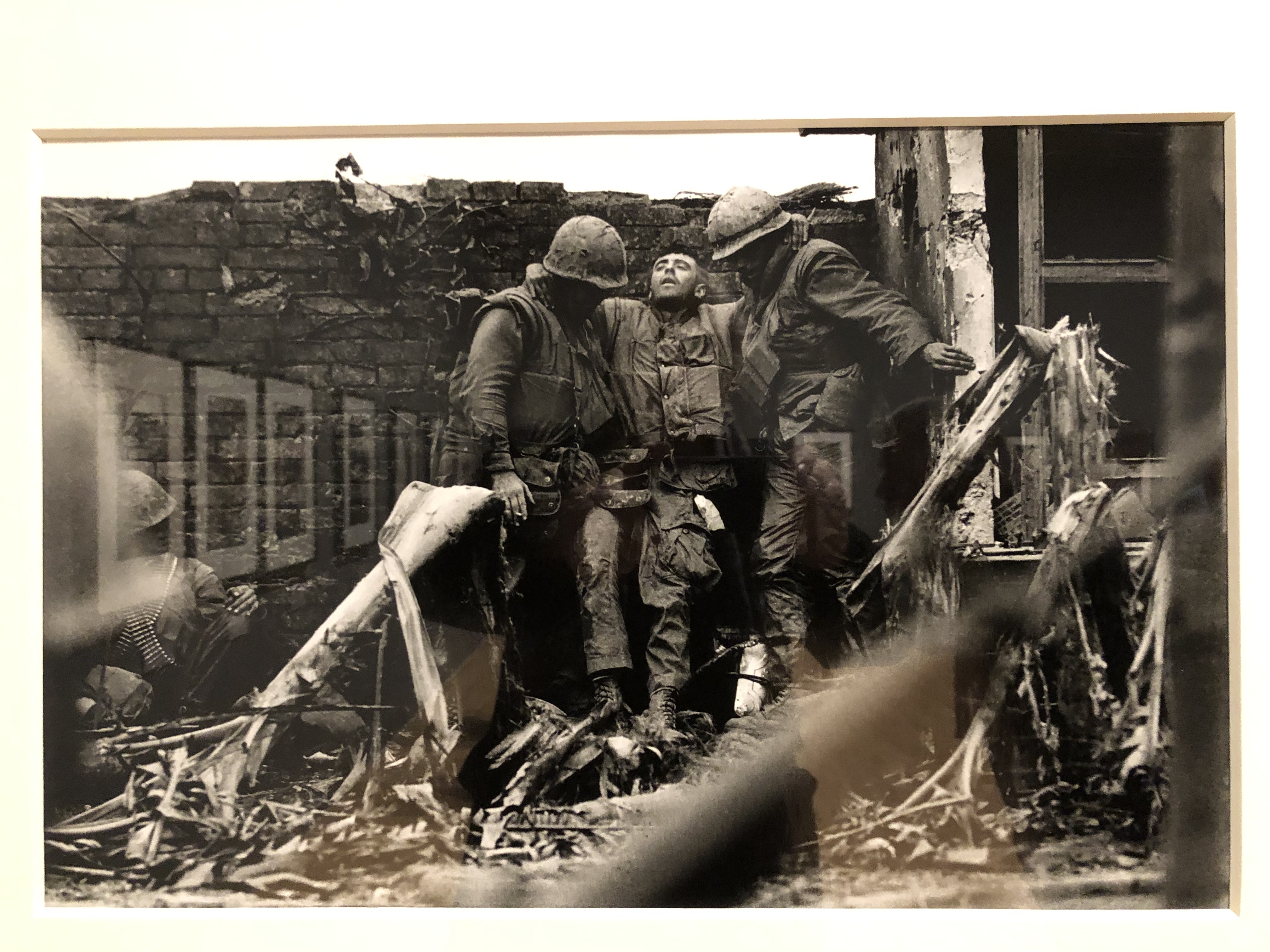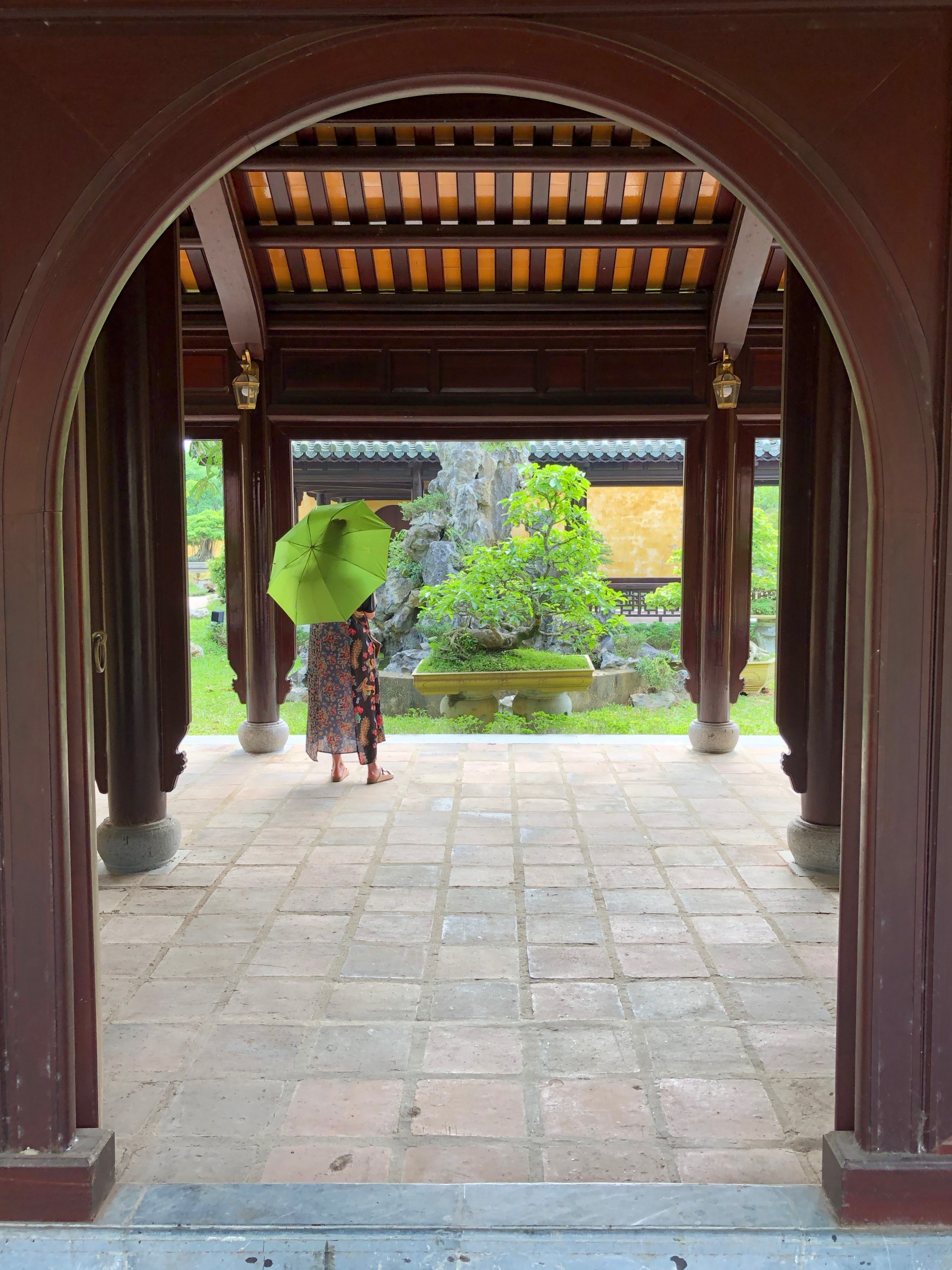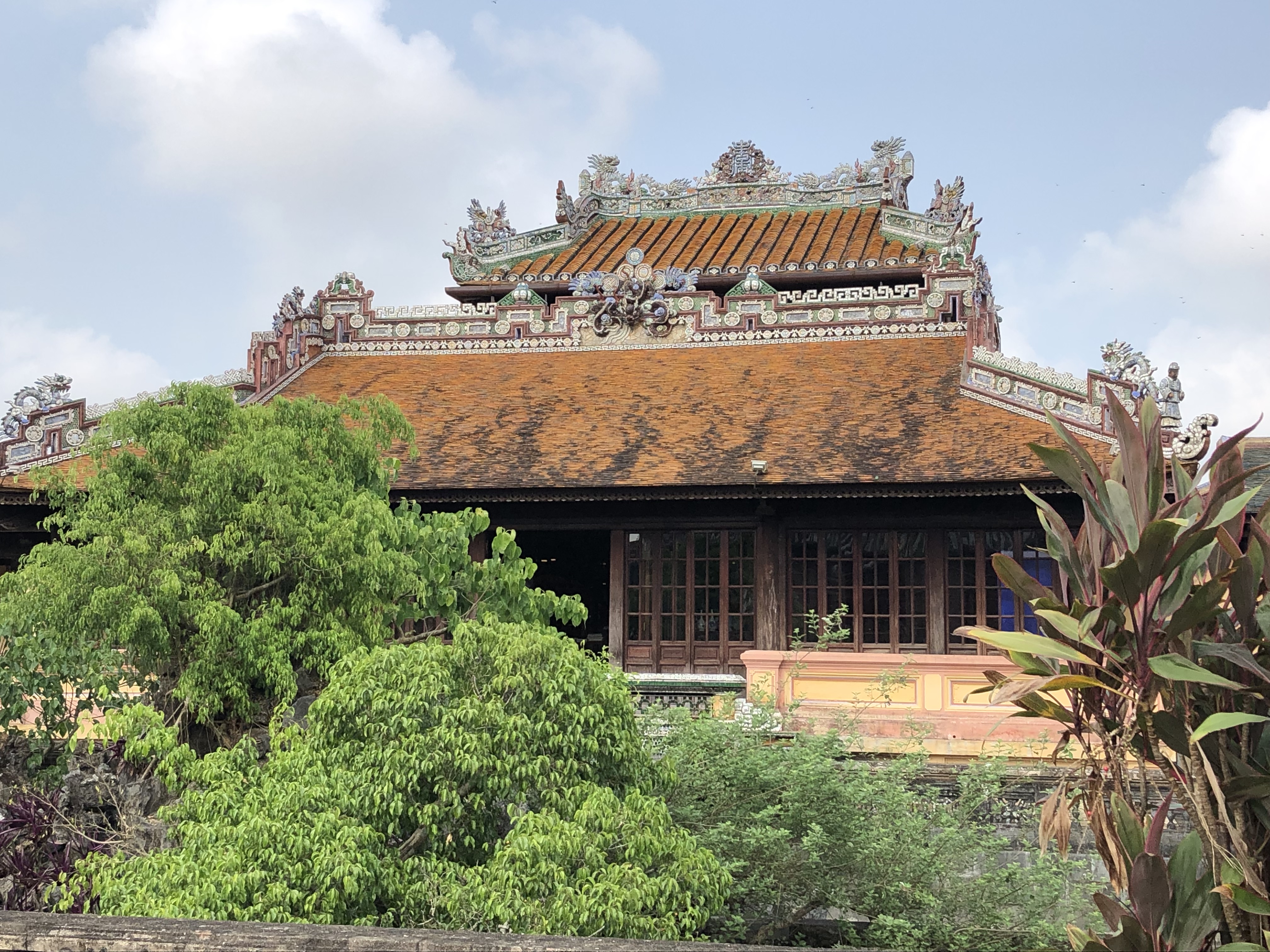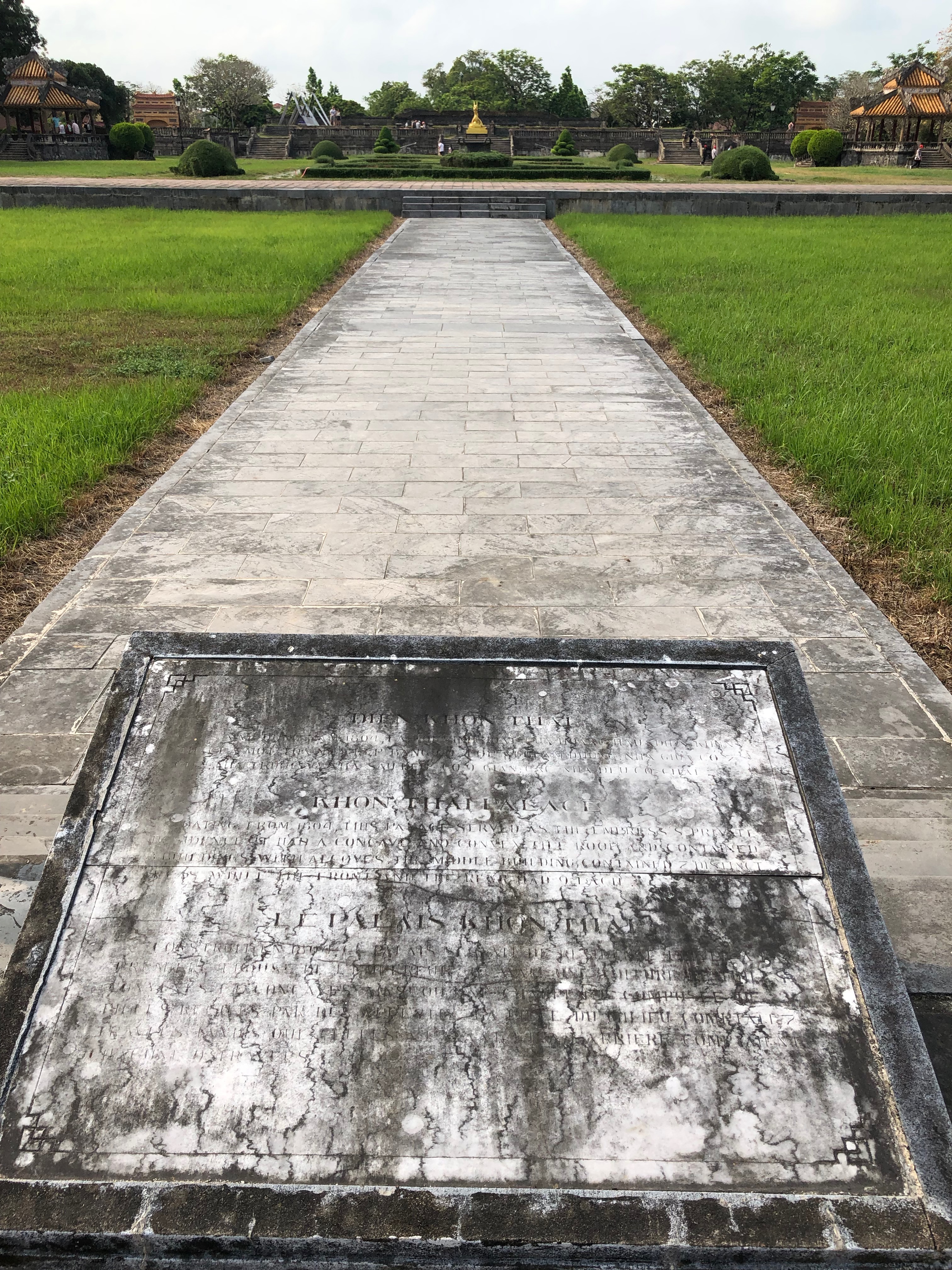 Saturday 16 March
Sun at last, you might not have noticed that I have not mentioned the weather, primarily because the sun has not shone since we arrived in a drizzly Hanoi on the 5 March.
My final massage, placed on a plastic sheet I was painted with cold spinach and grit soup then wrapped up in the sheet, en cocotte, with a towel over my eyes and given a head massage, after 15 minutes of marination I was sent off for a shower, alone, before being gently smeared with aromatic creams. Such is life.
Packing and final beach-comb and sorting out my treasures, make two drift wood assemblages to be given to dear Chloe. Discover that we are flying Thai Air rather than Vietnam Air, our luggage allowance goes up from 20 kilos to 32 kilos.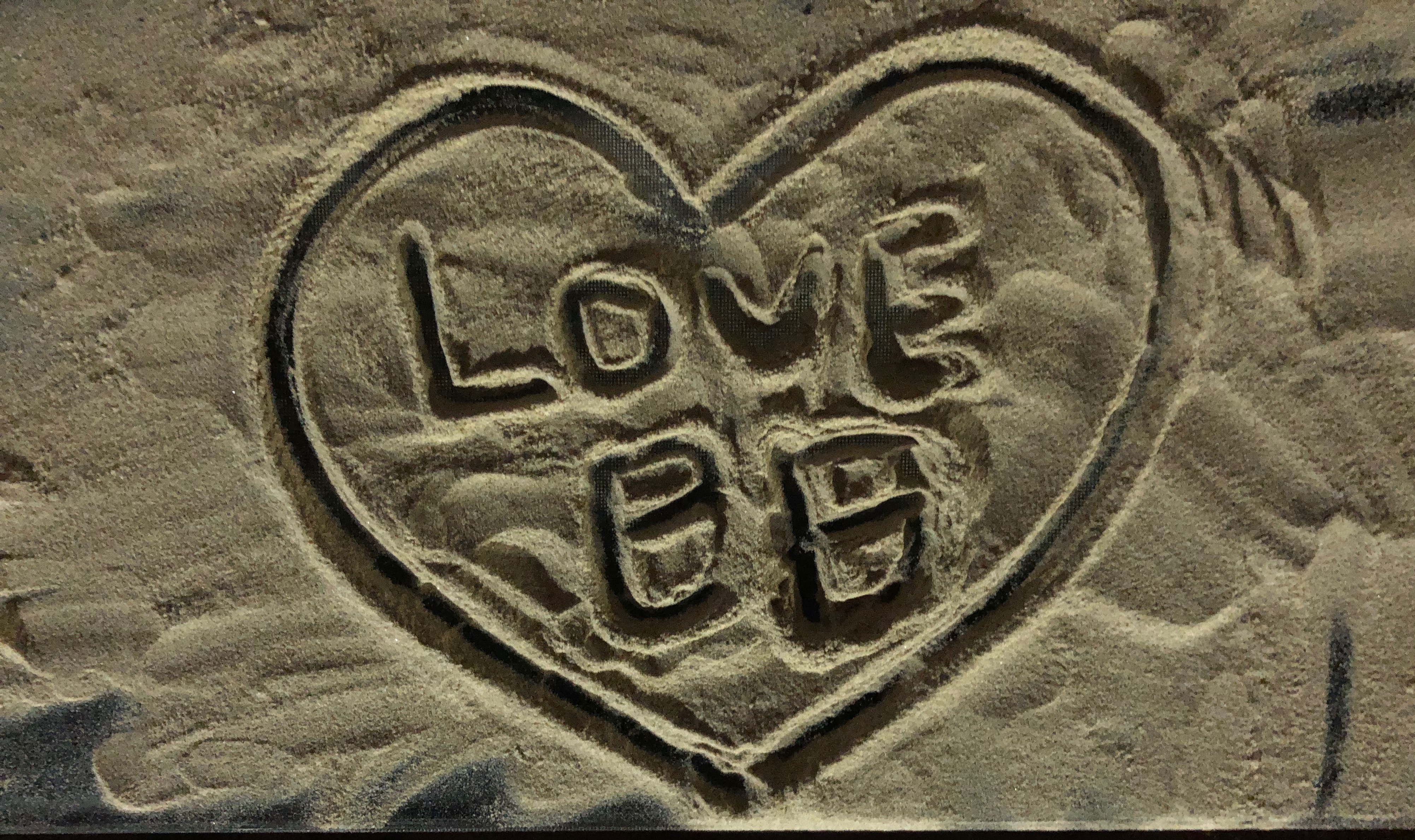 Sunday 17 March
Finally leave our little paradise to fly to Ho Chi Min City, HCMC, previously Saigon. Midday flight we are met at the heaving airport by the Kuoni representative and driven to our hotel, The Liberty Central  Saigon Citypoint Hotel, 59-61 Pasteur Street HCMC www.libertycentralhotel.com. Once again Kuoni's representative in Vietnam GoVacation have performed perfectly, always arriving on time.
Very central standard 4 star tourist hotel with a roof top bar and fair size swimming pool. Strangely in the bedroom the bedroom is separated from the loo and shower by a plate glass wall, no privacy place
First things first, off to the Ben Thanh covered Market just round the corner, a hot humid dense concentration of mini stalls pilled high  with cloths and bags controlled by loud women. Built in 1870 by the French it is any market anywhere but twice as busy.
Jackpot, Margaret is ecstatic, real fake handbags at below Bangkok prices, whole objective of the entire holiday is achieved.
Clutching a rather confusing map from the hotel we wander about flaneur like trying to work out the city, hoping for a serendipitous discoveries, very much my style of exploring , but Margaret does get nervous. The city centre has a livid scar running through it, a new metro is being built by the Japanese, which is confusing. Finally find the centre, the broad crowded pedestrianised road, Nguyen Hue, running down from the gloriously ornate French built City Hall down to the River and the classic Majestic Hotel. Also discover the air-conditioned Saigon Centre Shopping Mall, just like Peter Jones.
Serendipity leads us to the Lemongrass Restaurant at 04, Nguyen Thiep Street just off Nguyen Hue Street. We had Grilled prawn paste on sugar, Stir fried chicken noodle, crab fried rice, papaya salad with shrimp and pork and three Saigon beers, all for 950,000 dongs, £32. You will note we are sticking to doodles and fried rice, all very pleasant with simple decor and efficient service. It would appear to be state owned.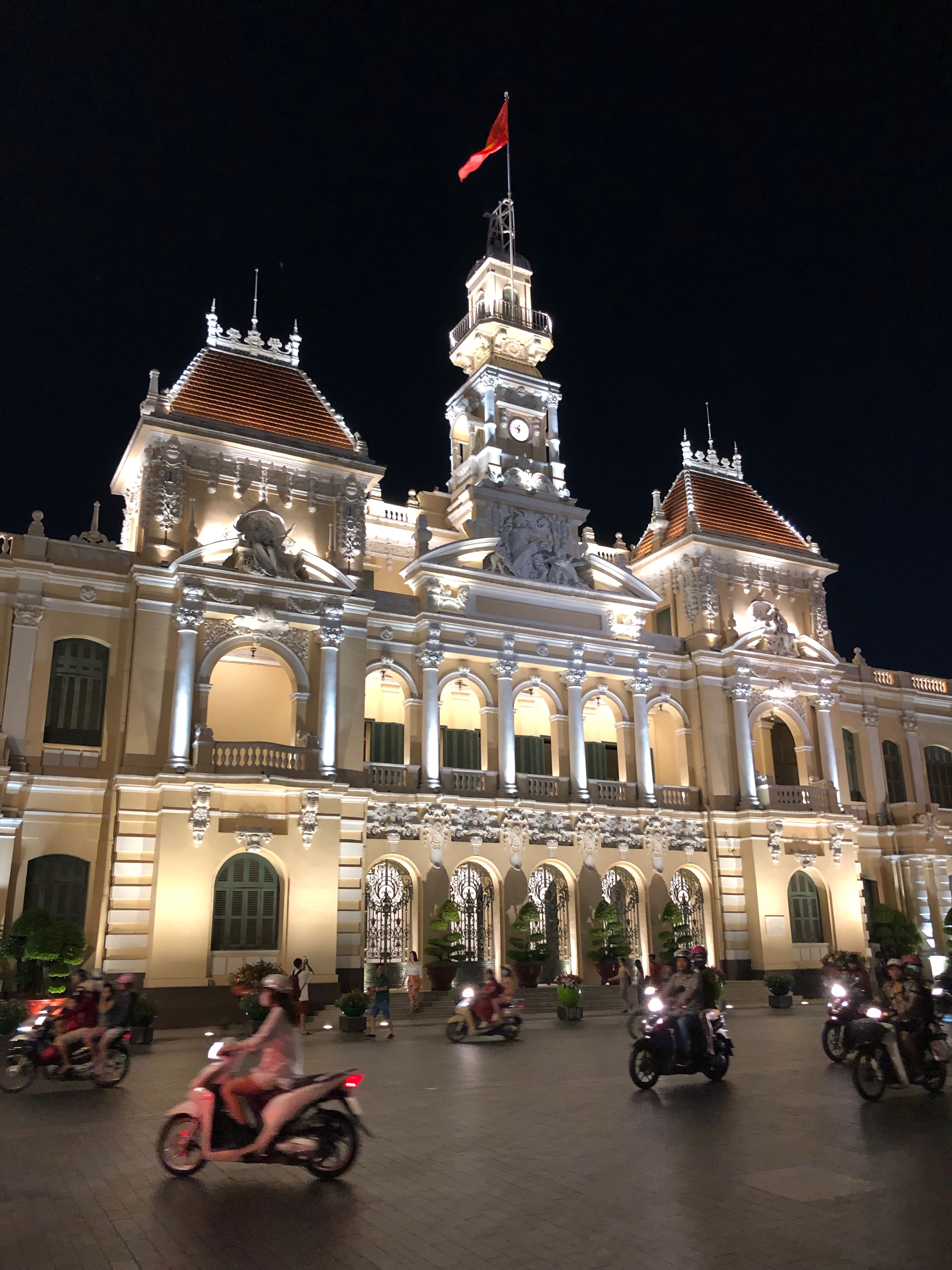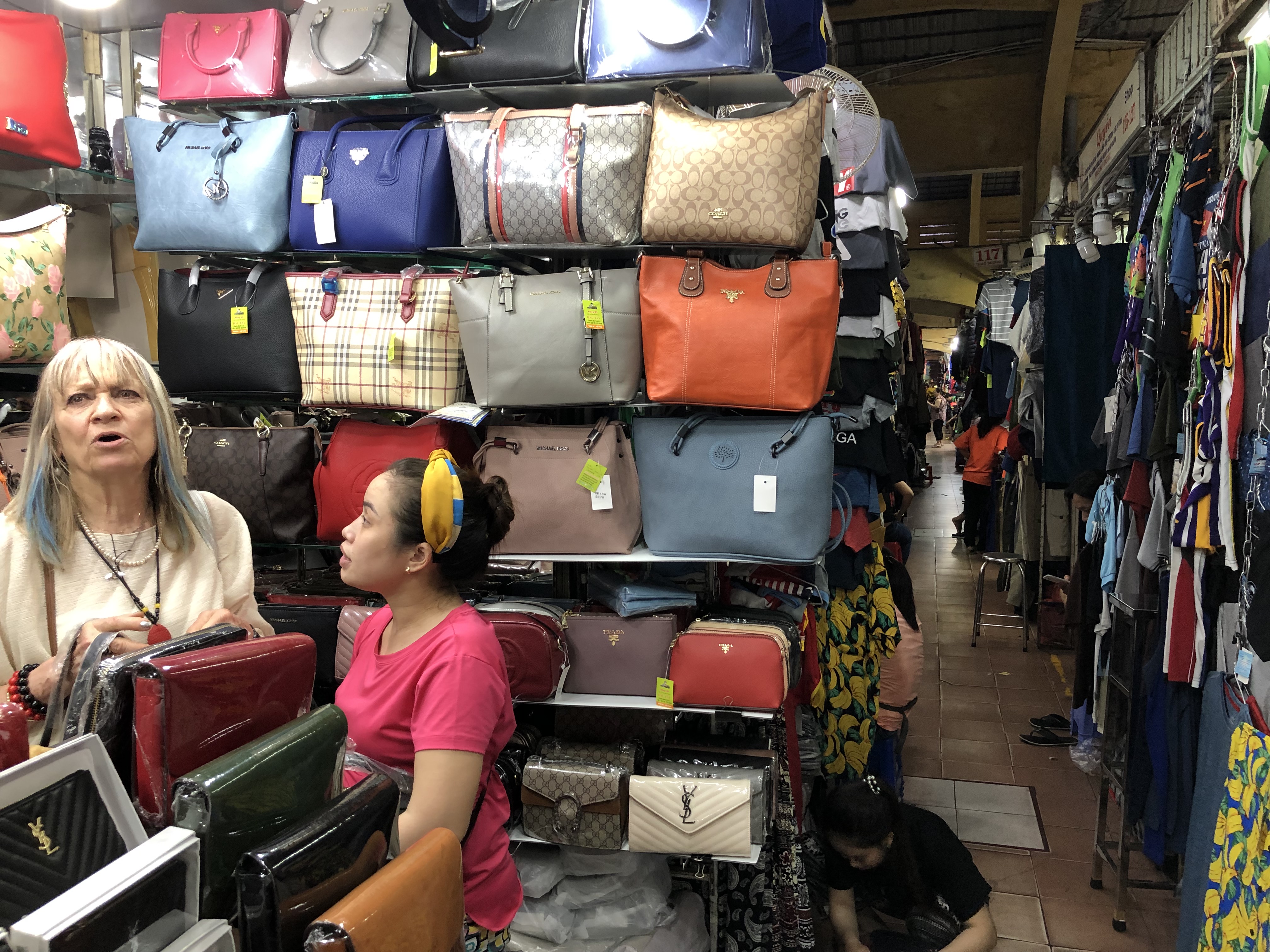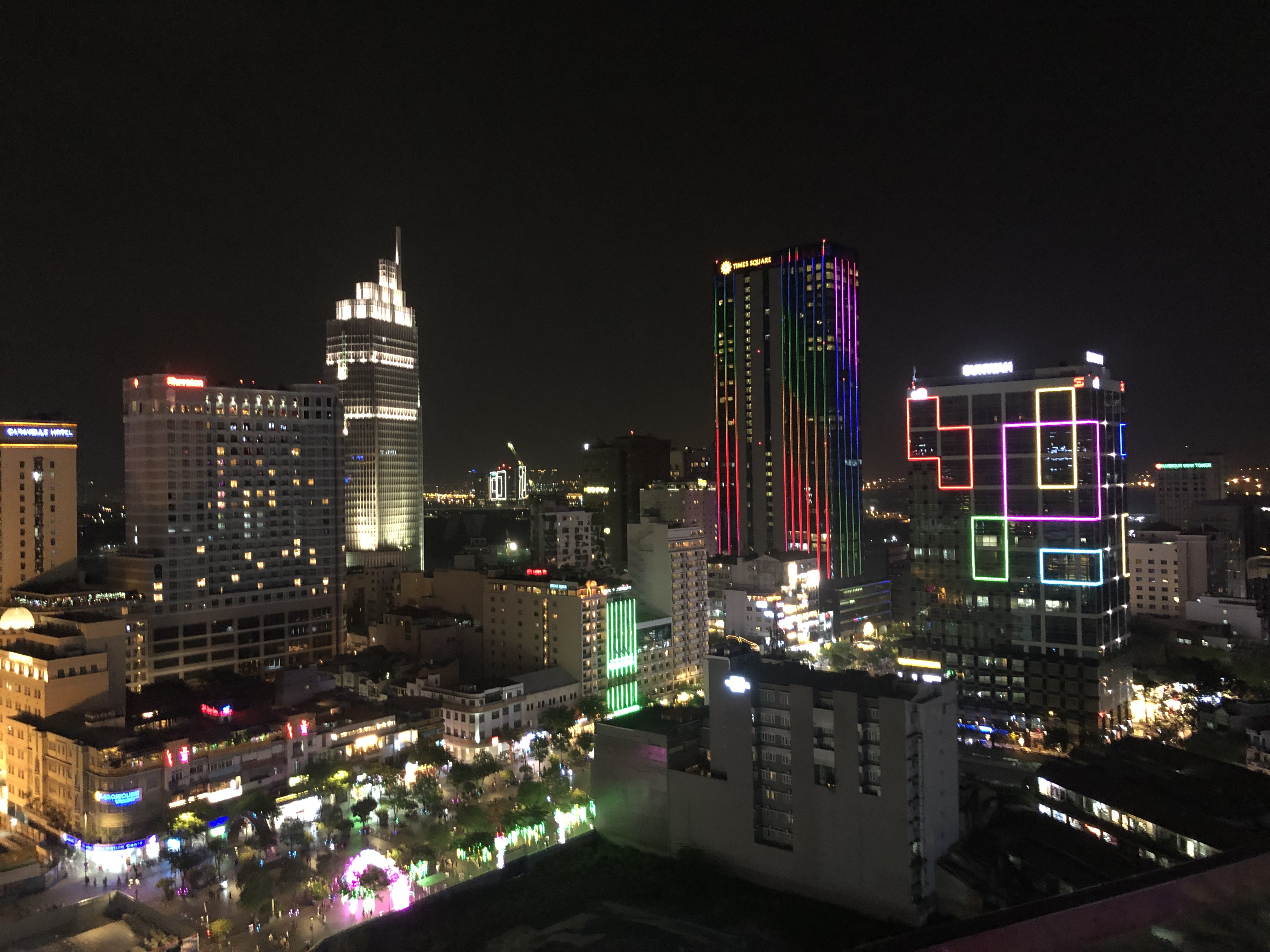 Monday 18 March
We do the city; Then and Nows using my old postcards bought in London at the Ephemera Fair in Bloomsbury and In the steps of Graham Greene's "Quiet American" assisted by blogs by timdolinghcmc@gmail.com and Steve Meacham in www.traveller.au/graham-greenes-saigon-revisited.
For my "Then and Nows" ;
The view of the Notre Dame cathedral built by the French in 1880 , "The Hideous pink cathedral blocked the way" Graham Greene, and the magnificent General Post Office built by the famous French architect Gustav Eiffel in 1891.
The Opera House, designed by the French architect Jules Board and opened in 1899, and the view of the Opera House and the famous Hotel Continental, built in 1880 and where Graham Greene stayed between 1952 and 1955 as a journalist for The Times and Figaro and where he wrote "The Quiet American" , in room 214. The hotel features in the book as does Place Garnier, now Lam Son Square where the bomb was set off by General The, "the big bomb near the Continental preceded and did not follow the bicycle bombs",  he was connected with the Cao Dai Church. Greene based the character General The on a real life warlord General Trinh Minh The [1922-1955]
The Palais du Governor General of Indochina, built in 1871 but demolished by the President of South Vietnam, Ngo Dinh Diem, and replaced by the current building in 1962. In 1975 the communists drove their tanks through the gates, the defining moment in the fall of Vietnam. The tanks are still in the gardens. It is now known as the Reunification Palace, an "historical relic."
In "The Quiet American" the British journalist hero Fowler lived just off Rue Catinat, now Dong Khoi, and now a ghost in the new Sheraton Hotel. The street runs down from the Cathedral and Post Office down past the Continental Hotel, Opera House , and Caravelle Hotel down to the Majestic Hotel. The pavement cafe of the Continental Hotel was where journalists met during the French and American wars and known as "the Continental shelf" . In the fiction the cafe was where Fowler first met Pyle, the quiet American "aide worker" who believed Indochina could be saved from the two evils of colonialism and communism by the "Third Force", supported by the Americans! Phuong, Fowlers beautiful young Vietnamese girlfriend, regularly visited the patisserie Givral which was opposite the hotel, and is now replaced by the recently opened Union Square shopping centre and hotel.
just south of the Post Office at 164 Dong Khoi, now the department for Culture, was the offices of the French "Direction de la Police et de la Surete" until 1954, was the workplace of Inspector Vigot, a friend of Fowler, who was investigating Pyle's death. The plaque outside, see photo, commemorates the fact that for four weeks in September 1945 the Viet Minh flag flew over the building. In the book Greene describes its "dreary walls…seemed to smell of urine and injustice". The building is scheduled for demolition, like so much of HCMC.
I am fascinated by this mix of fact and fiction, threading a story into a real place. The 'in the steps of" exercise in Saigon has been easier than in Havana for Greene's book "Our Man In Havana" Margaret does not share this so we returned  to the Ben Thanh market for bags and a cool lunch in the Saigon Centre with its choice of 24 restaurants on the top floor.
Visit the 262 metre high Bitexco Financial Tower, Saigon Skydeck, with its bazaar helicopter pad half way up. I find these views from skyscrapers increasingly boring in their sameness.
Drinks on the roof top bar of the Majestic Hotel, Greene's favourite bar, away from the common journalists in the Continental and where Fowler went at cocktail time to enjoy "the cool wind from the Sai Gon River" According to Insight Guides it is one of South East Asia's classic colonial hotels, and, being state run, it has not been brutally modernised and still "radiates an old world colonial charm". When we were there guests in the main lobby bar were straight out of central casting, elderly upper middle class English visitors, not tourists!
As Tim Doling notes in his post; "Sai Gon has changed a great deal in the six decades since Graham Greene walked its streets and anyone looking for seedy opium dens, exotic taxi dancers and world weary colons [and cynical flawed journalists] will be sorely disappointed". Now full of bland tourists seeking this lost world.
As Paul Fussell noted in his book "Abroad" ;" The explorer seeks the undiscovered, the traveller that which has been discovered by the mind working in history, the tourist what has been discovered by entrepreneurship and prepared[ and sanitised]  by the arts of mass publicity"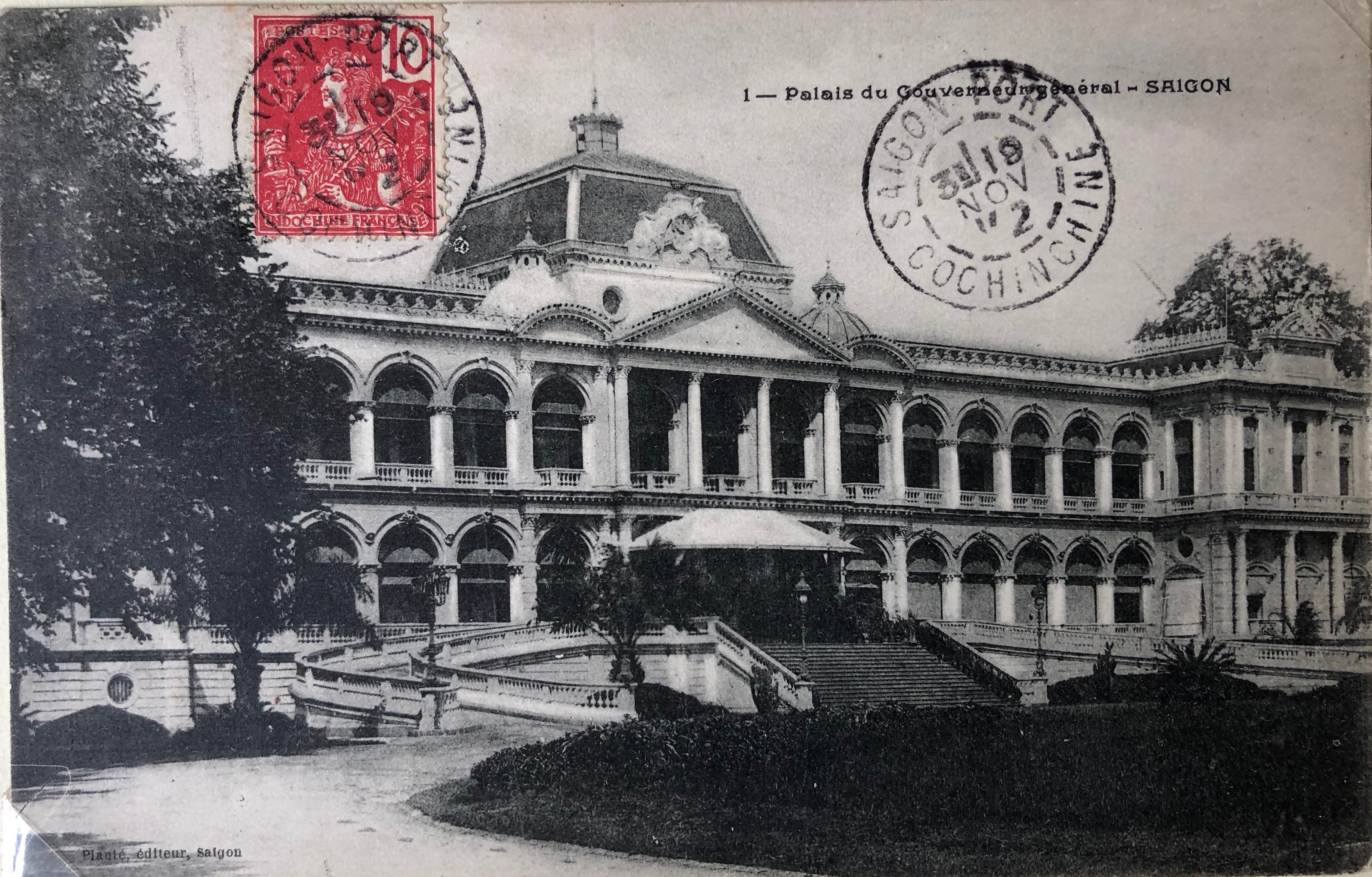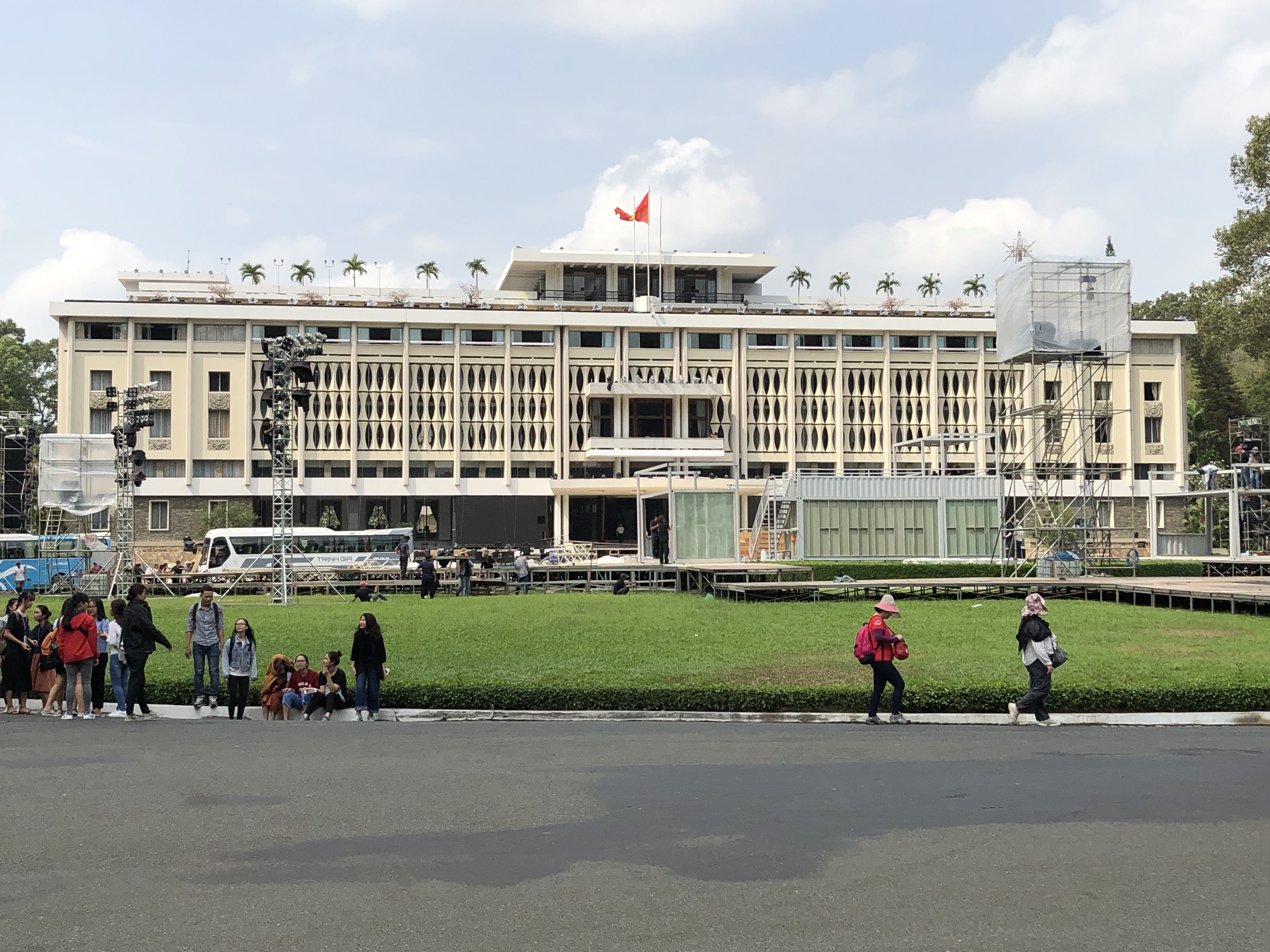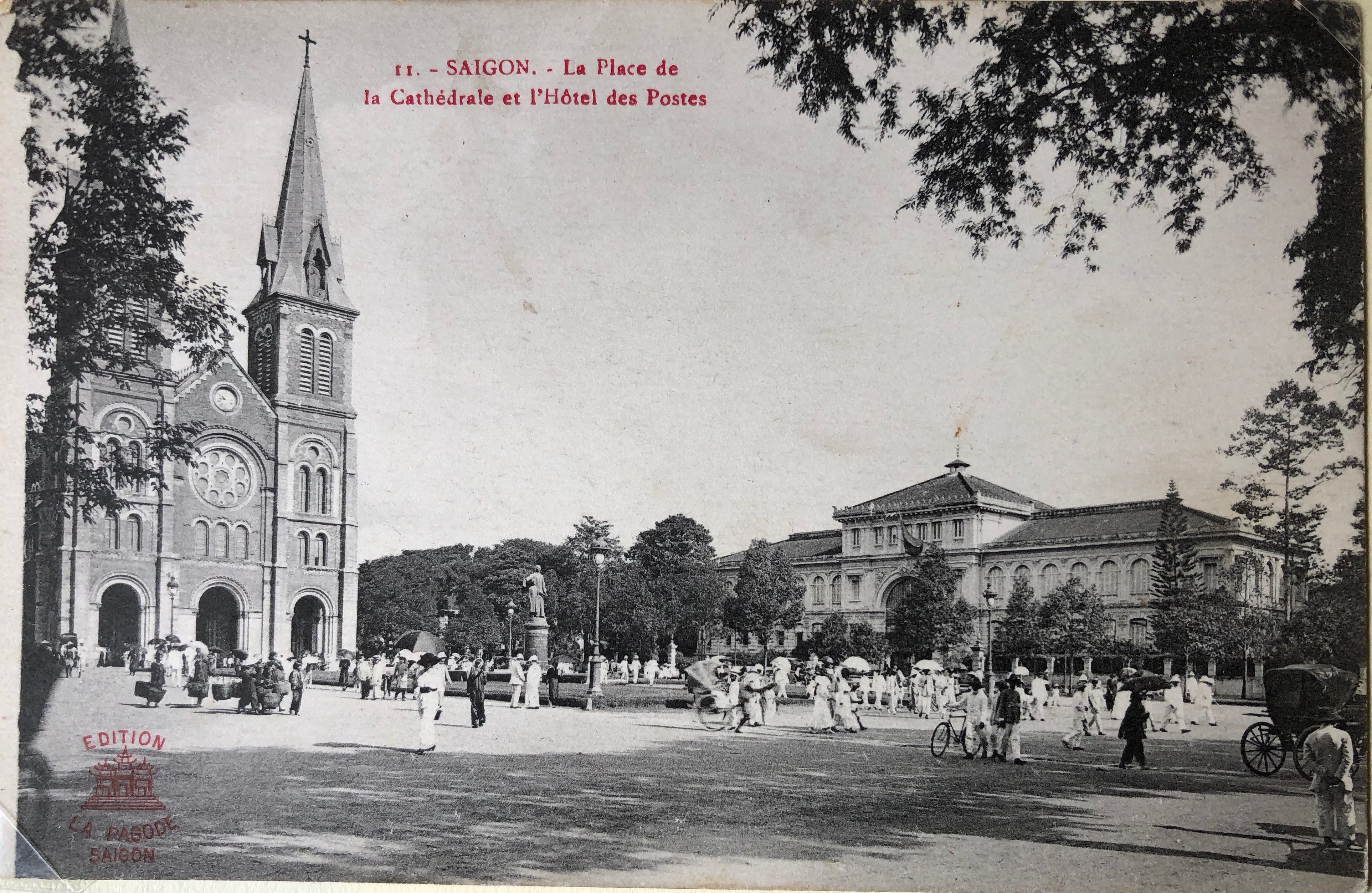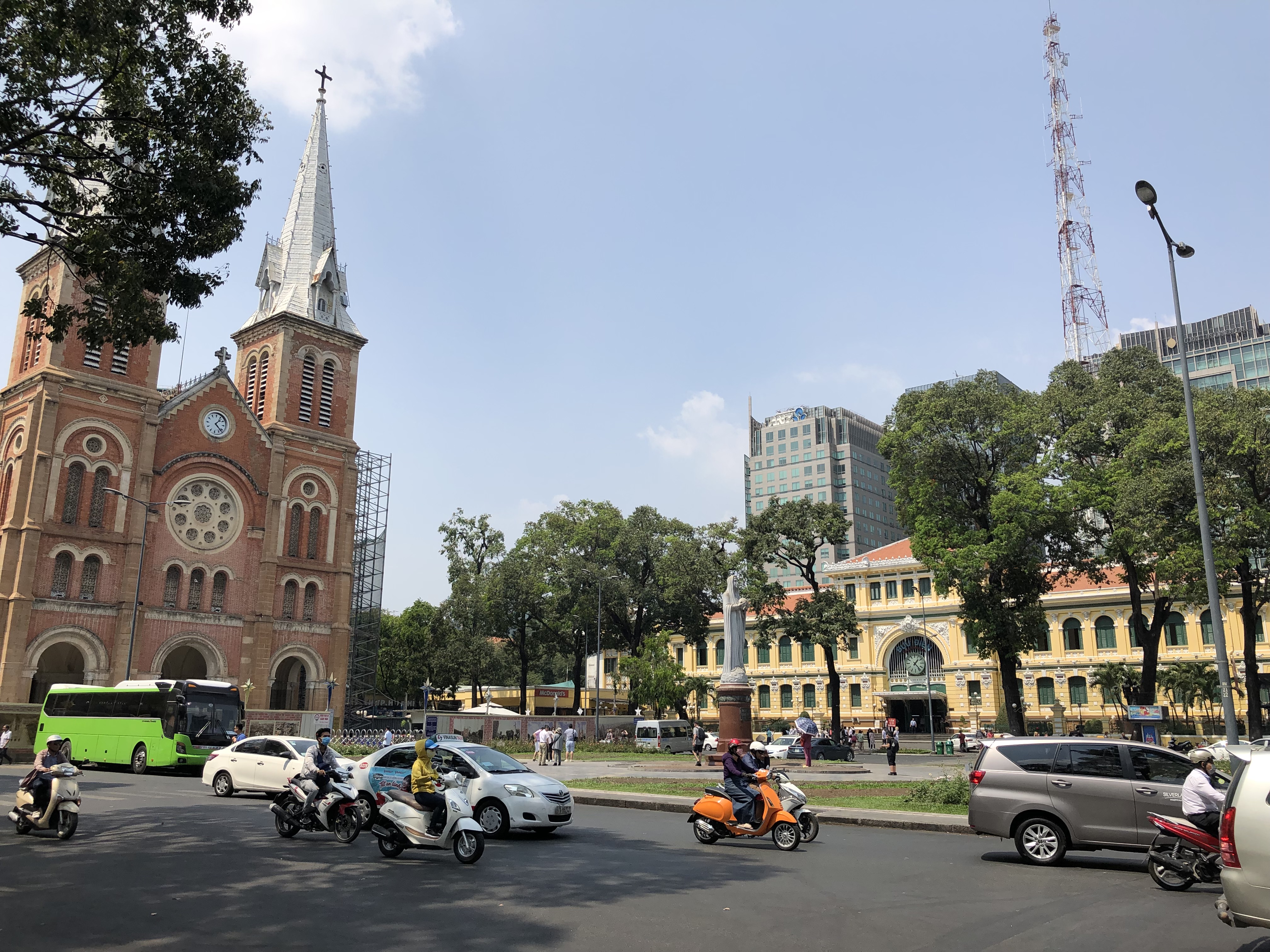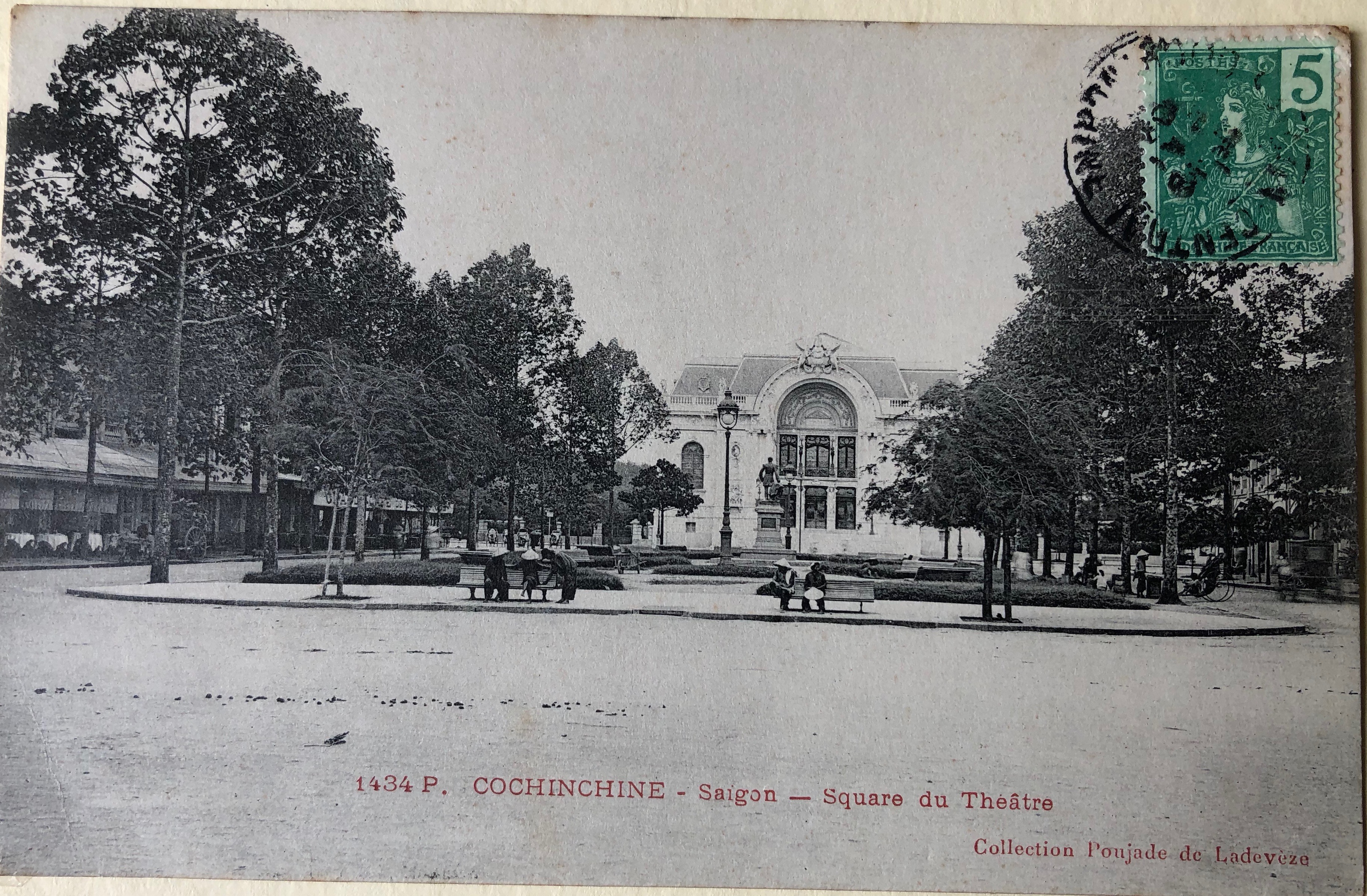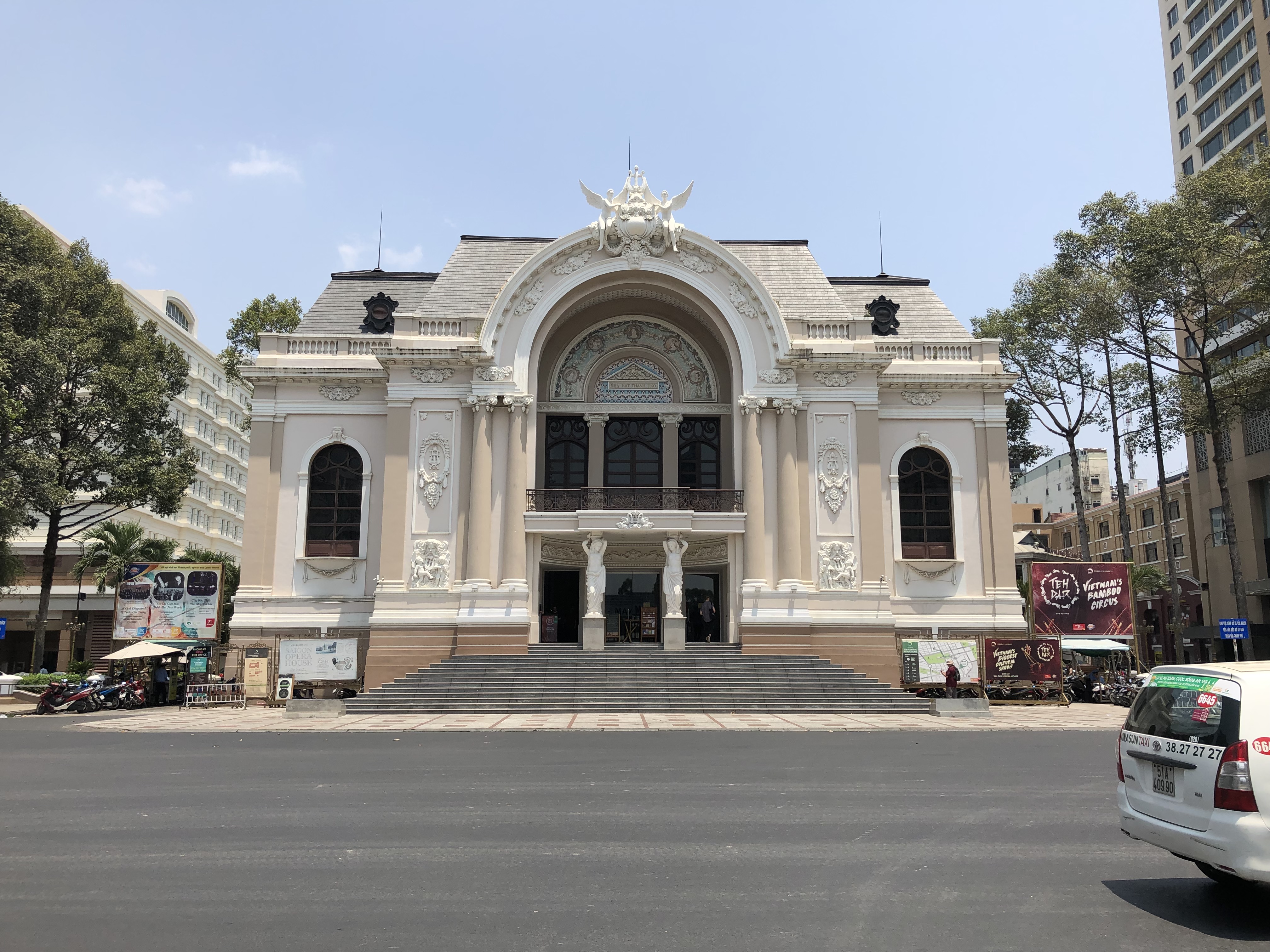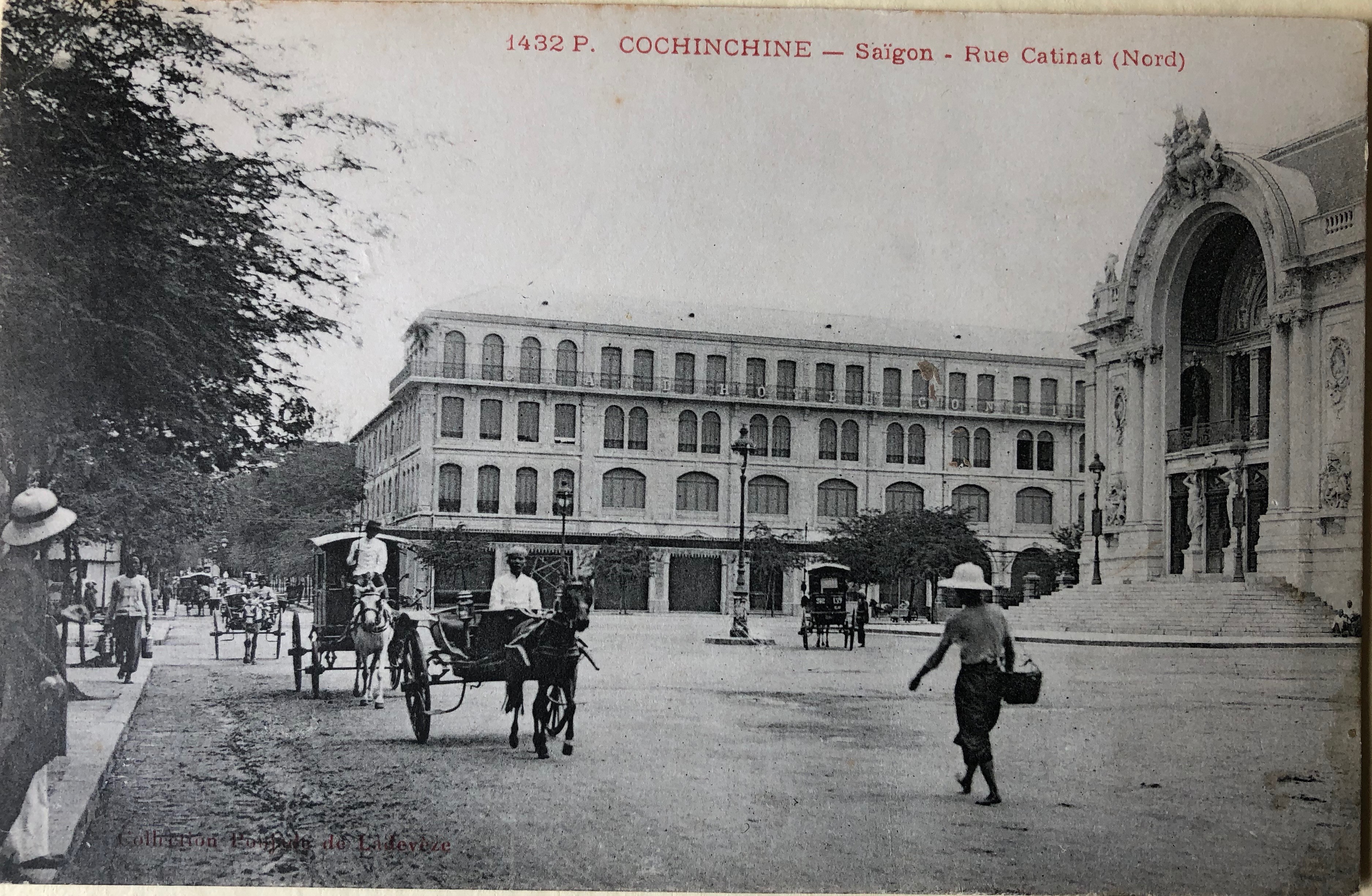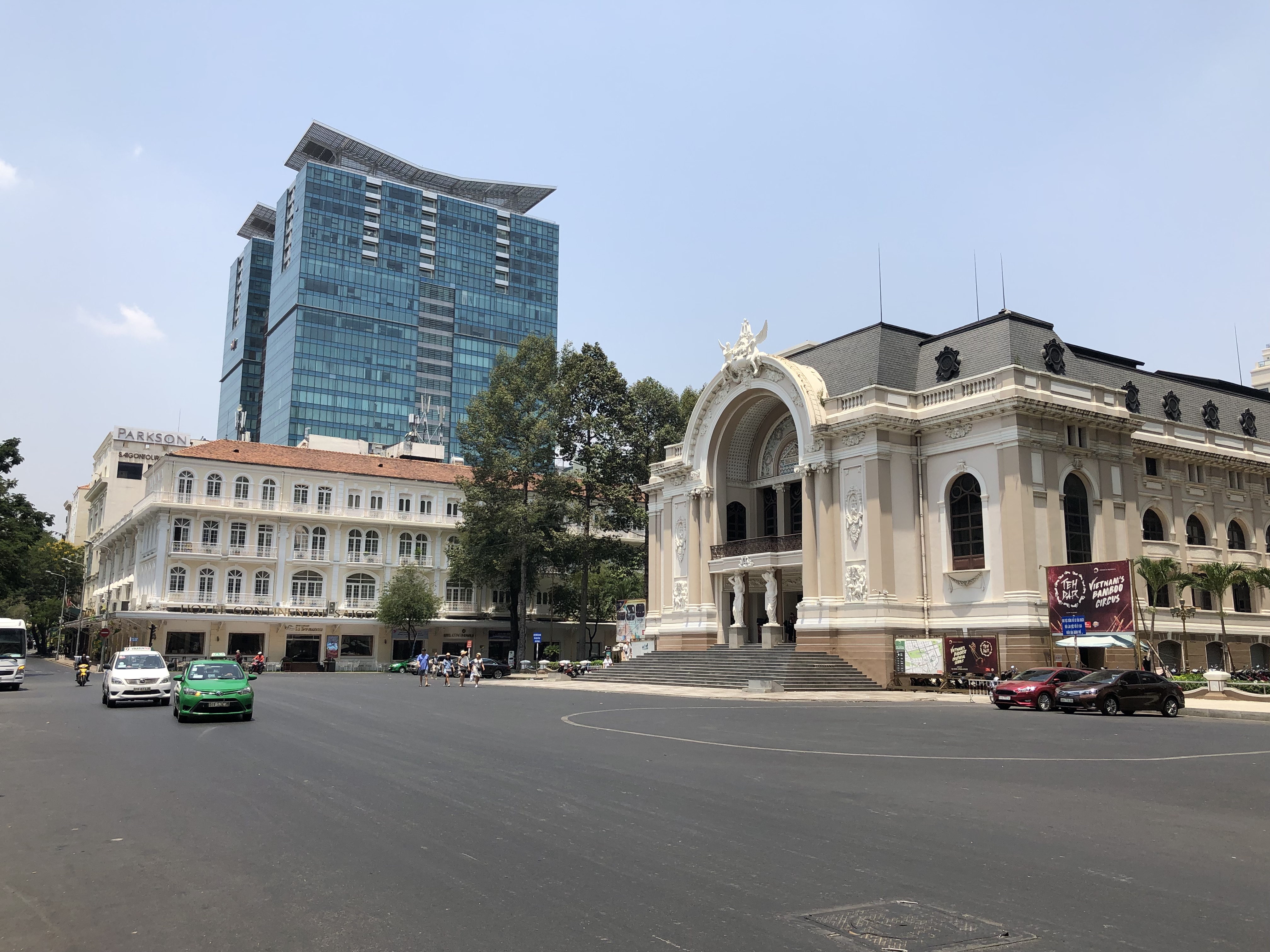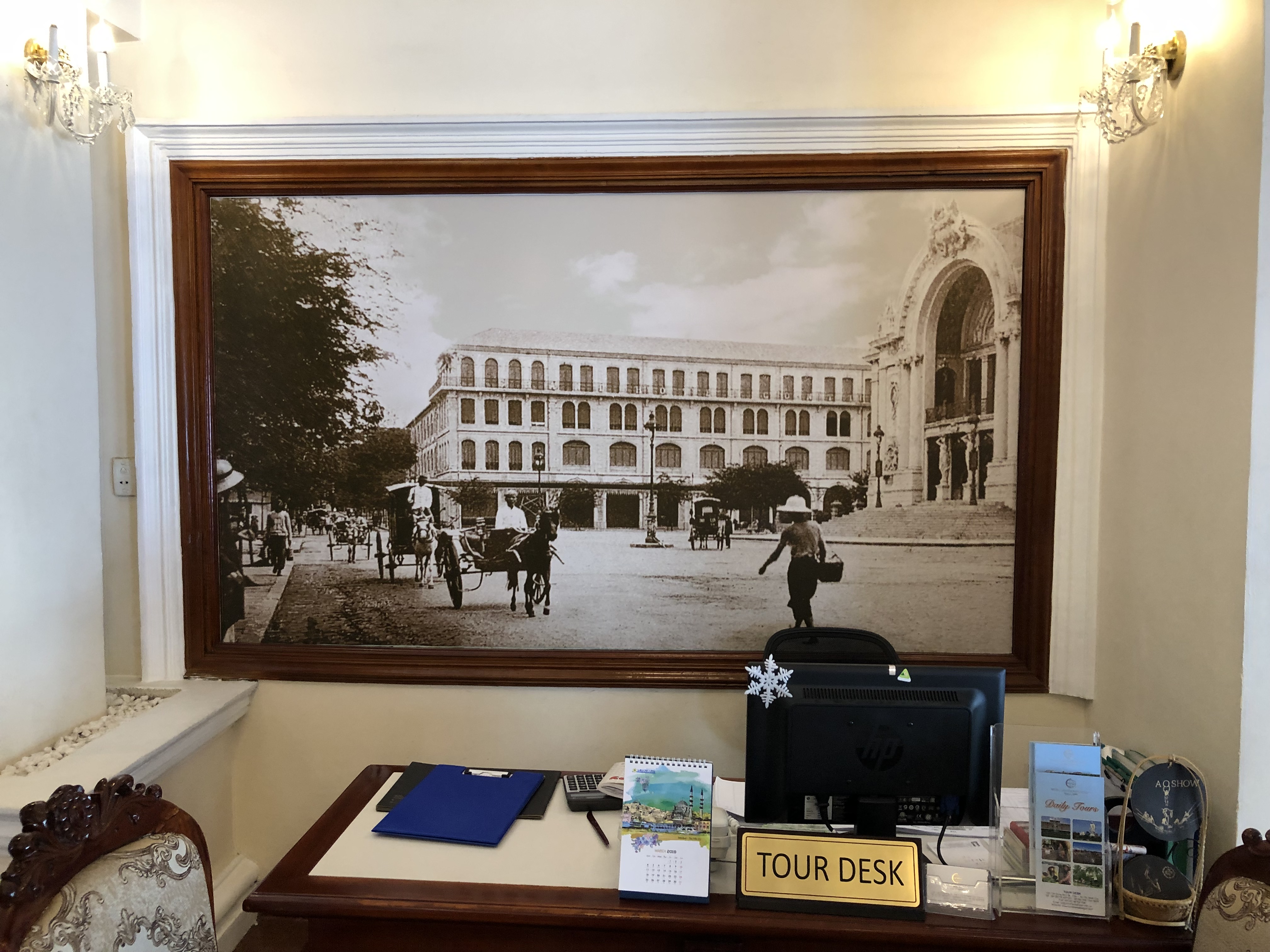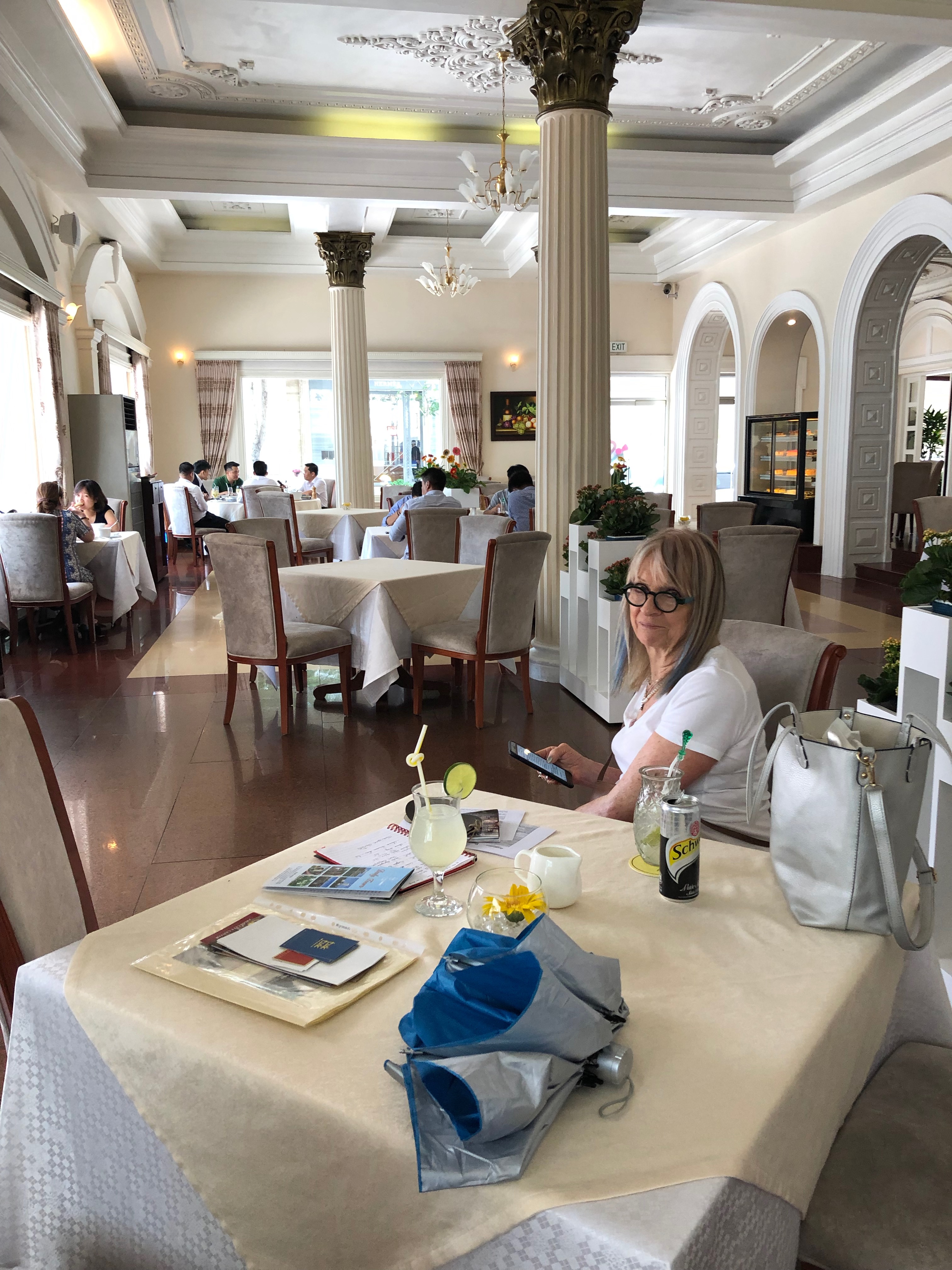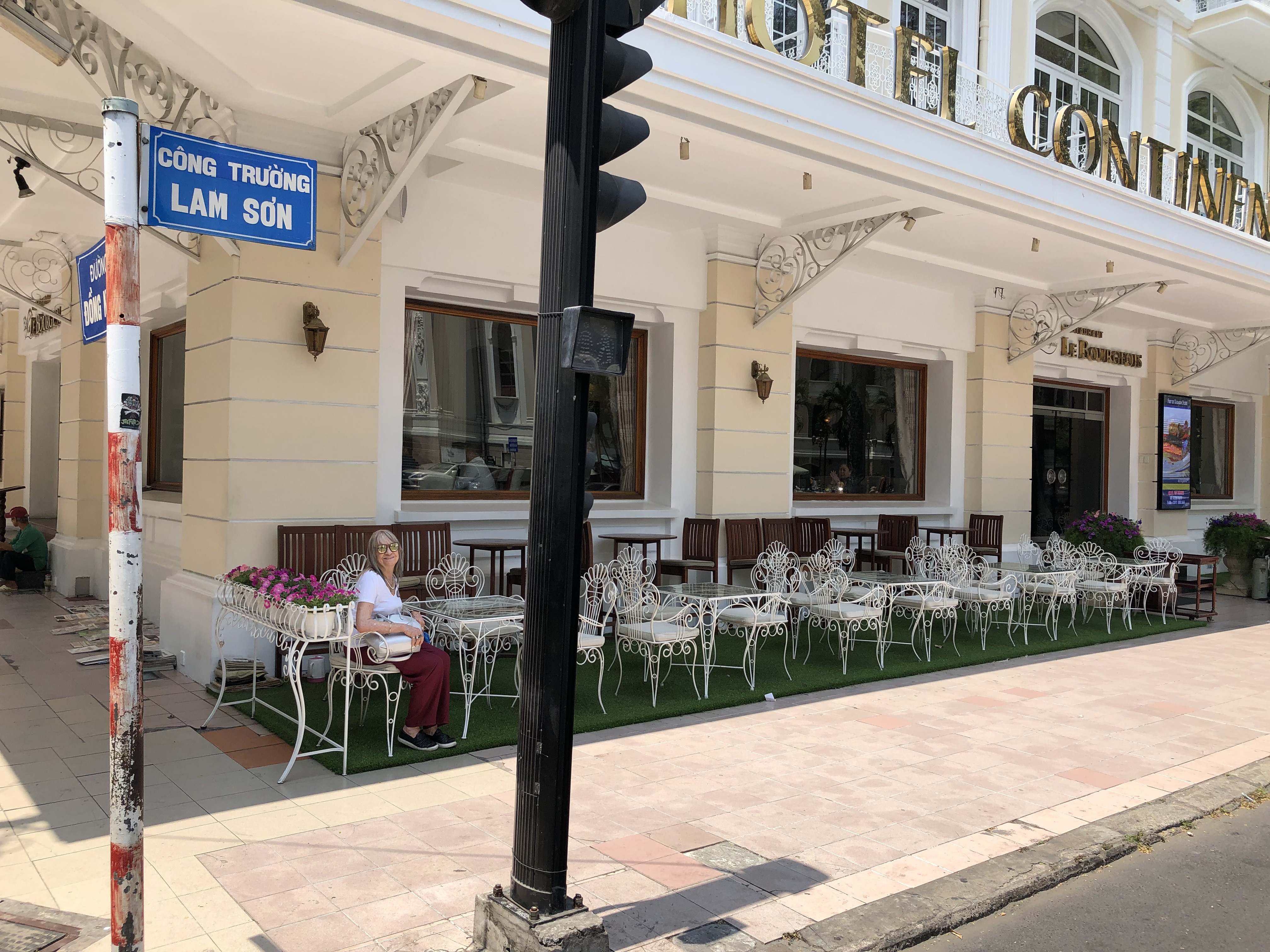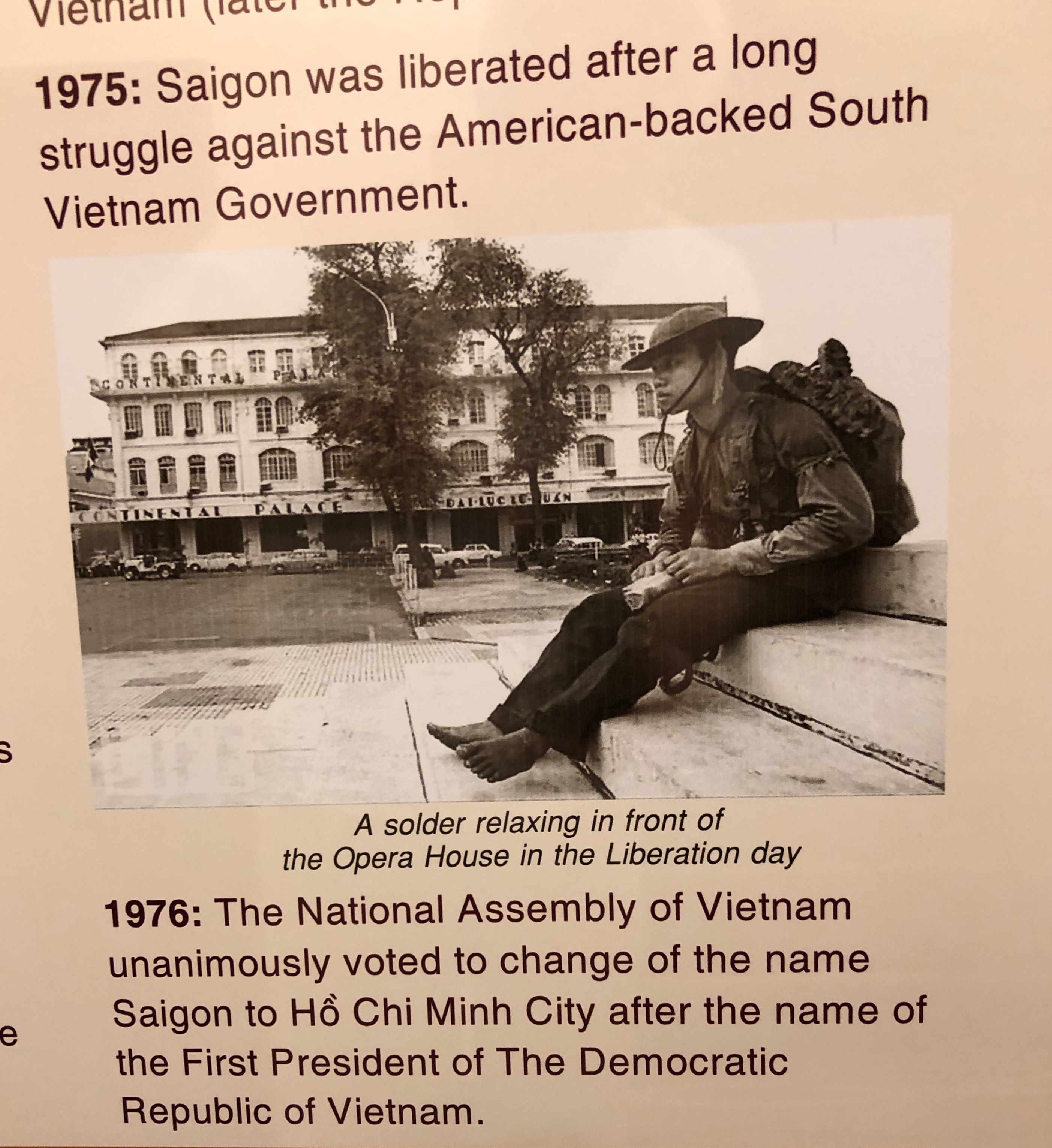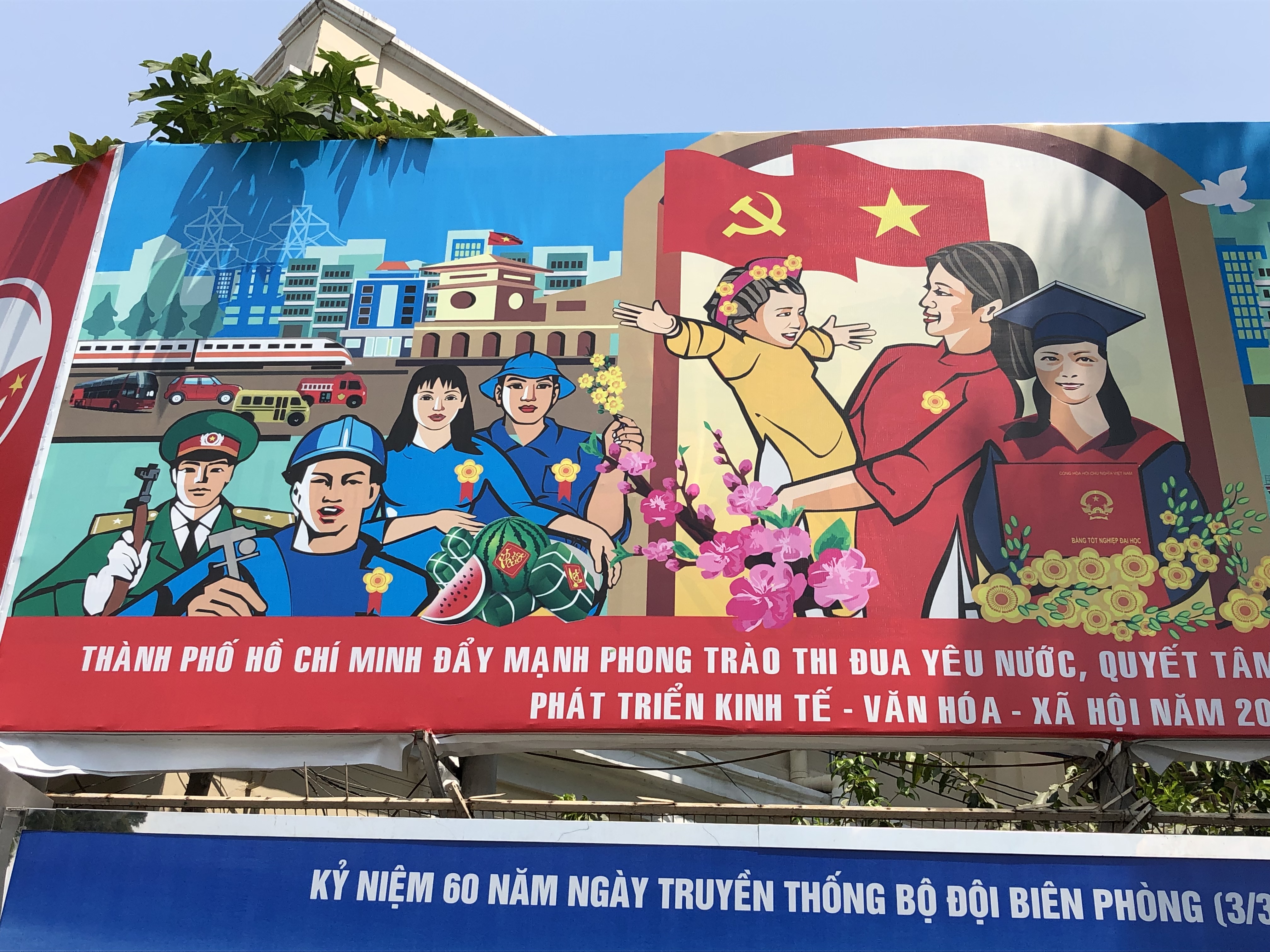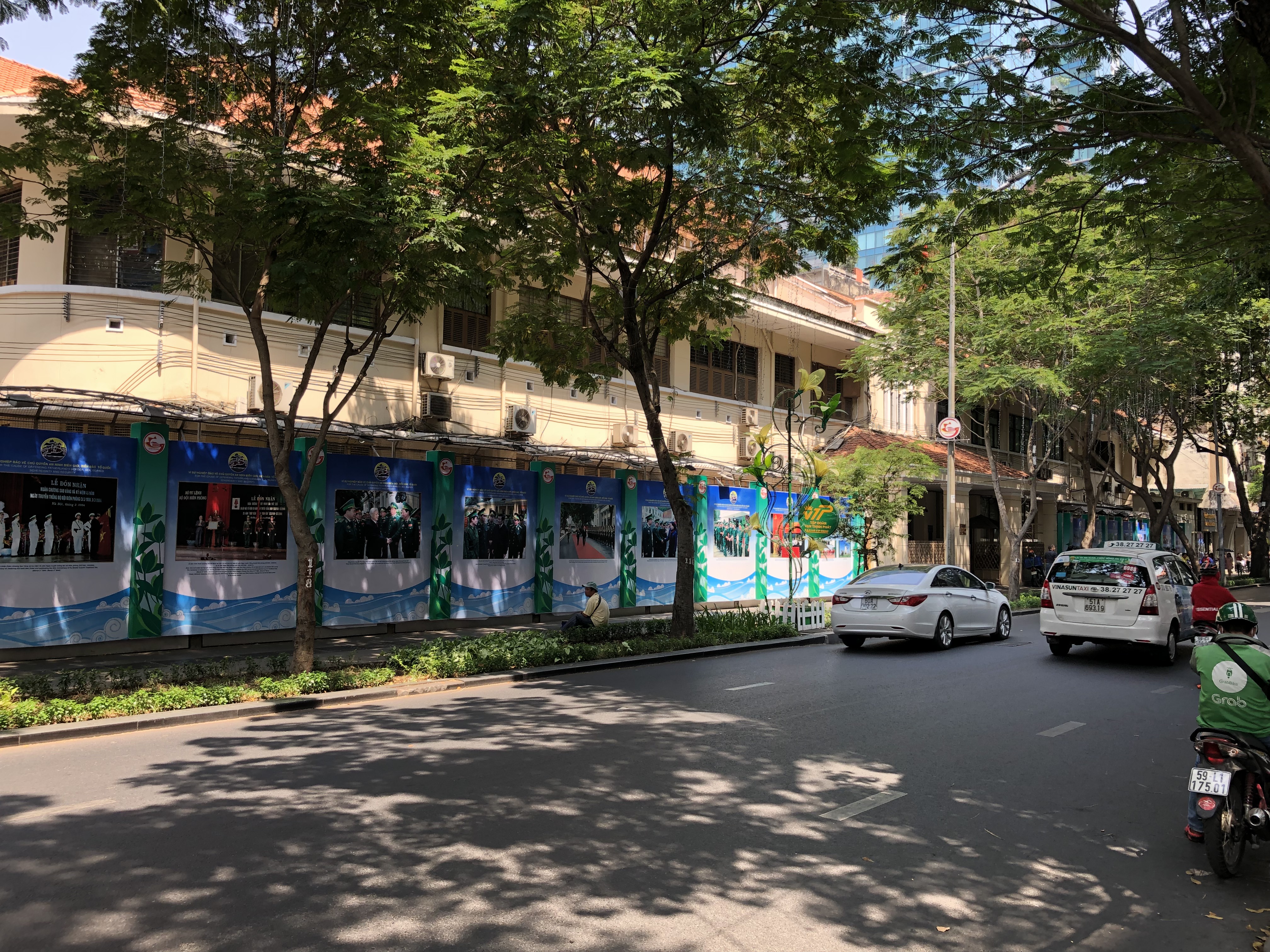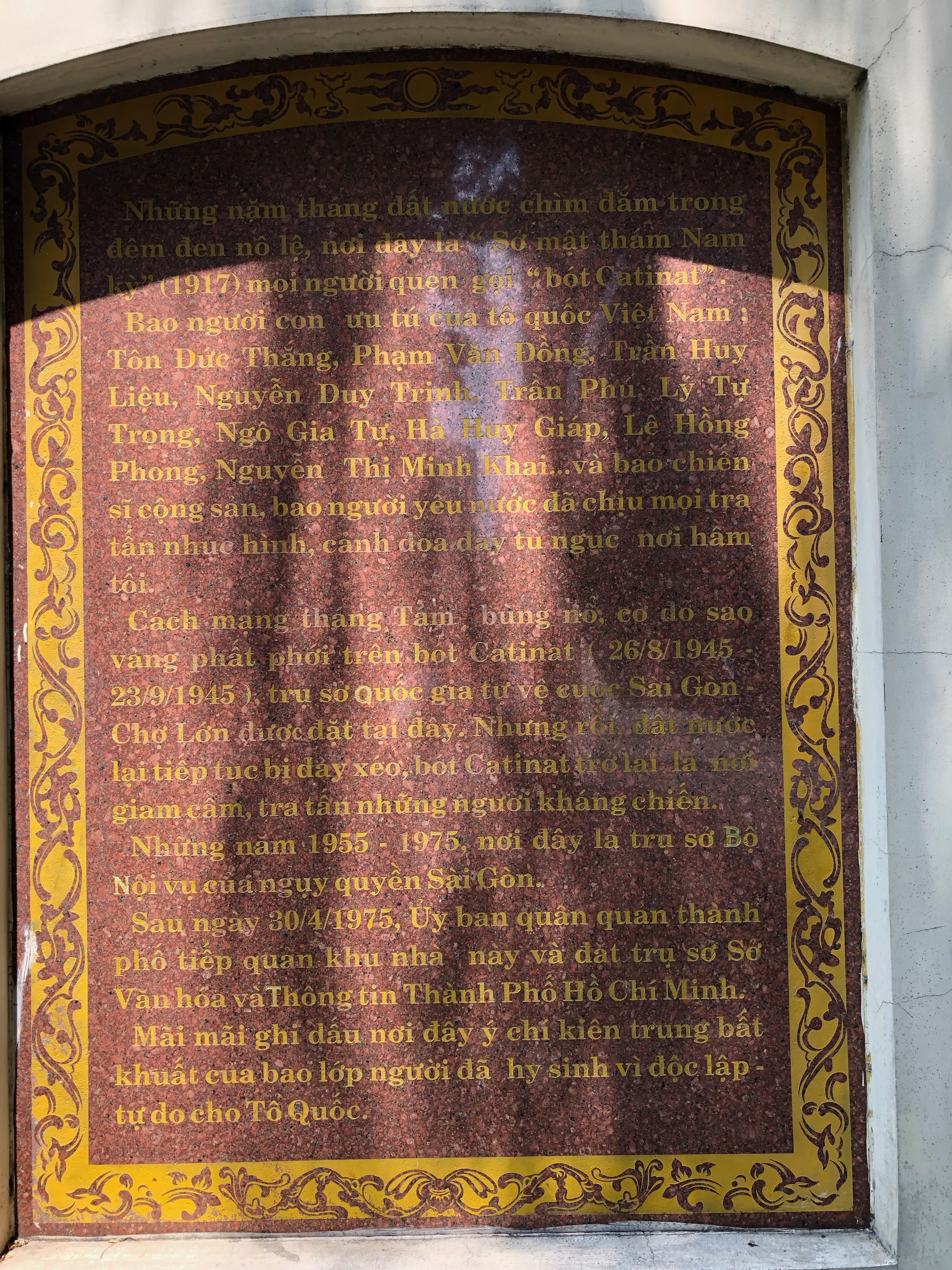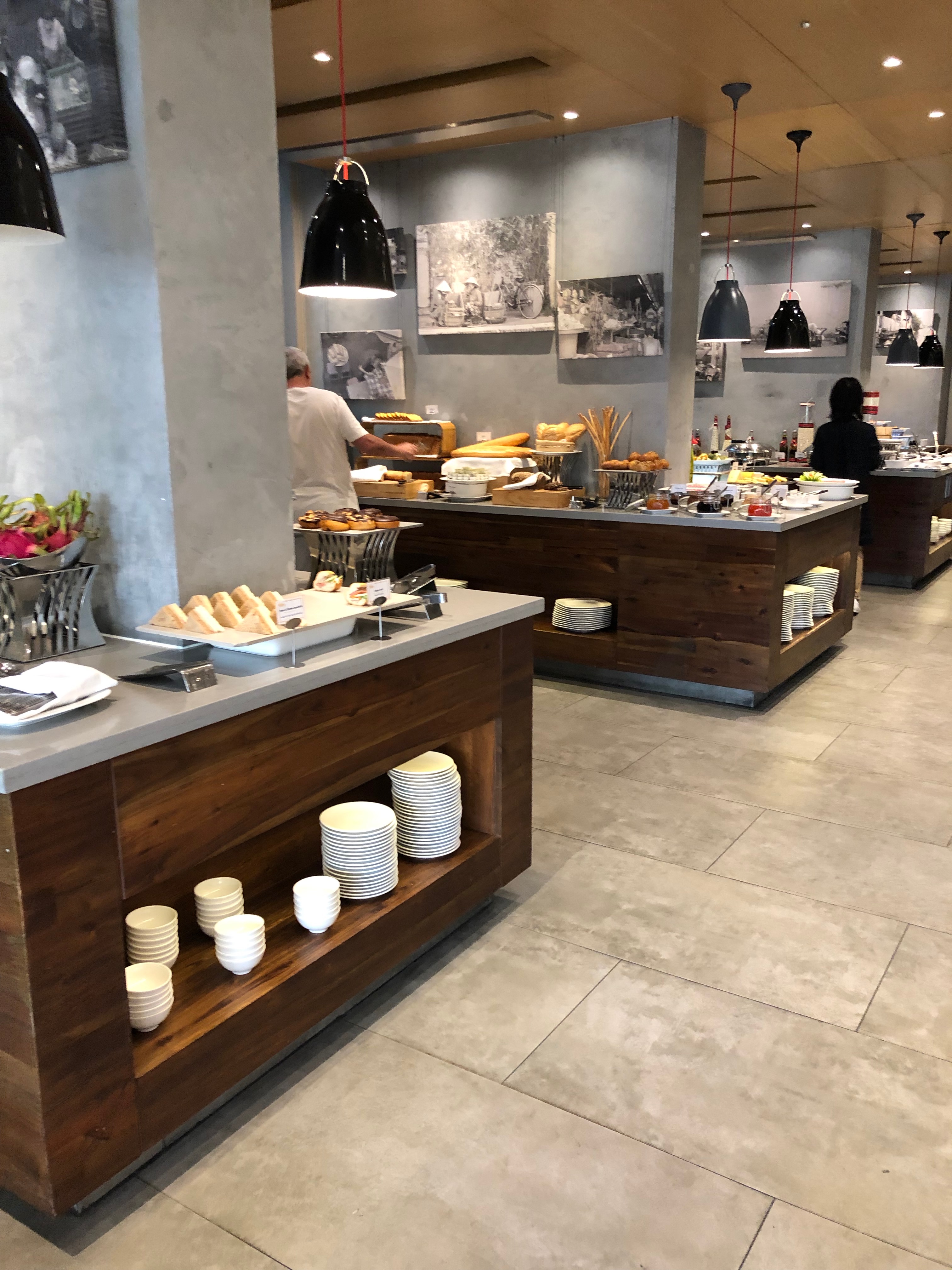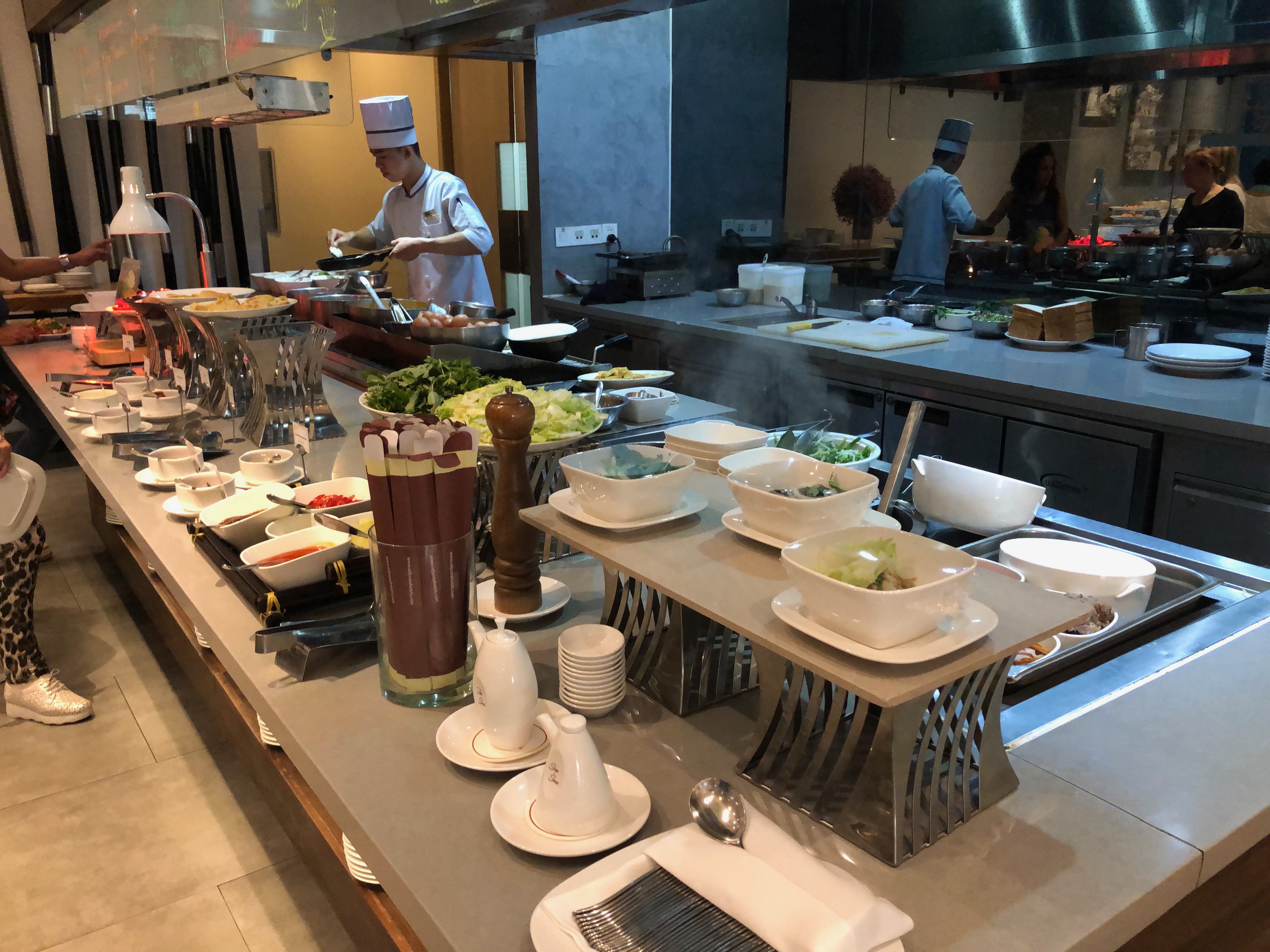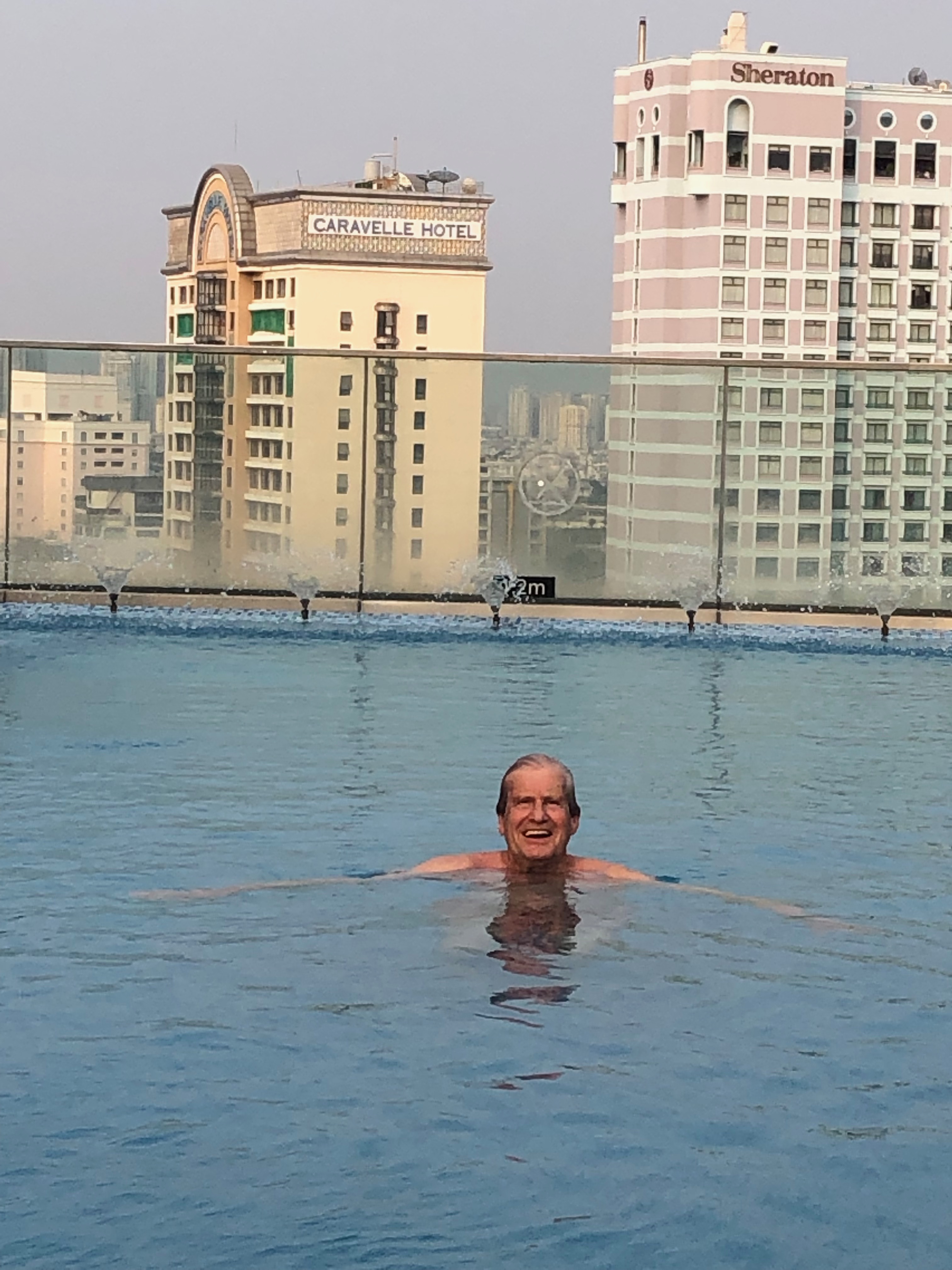 Tuesday 19 March
Off to the rather bazaar gaudy Cao Dai Great Temple in Tay Ninh, described by Greene as "a Walt Disney fantasia of the east, dragons and snakes in technicolour". it is some 100 kms out of HCMC close to the Cambodian border. Our driver was a keen supporter of YanSi, Chelsea. English football is extraordinarily popular throughout South East Asia.
The syncretic religion of Cai Dai was founded in 1926, its followers believe that all major world religions offer pieces of the truth whilst Cai Dai arose in the third age to unite them all. It repackages Buddhism, Confucianism and Taosm with an ultimate diety, represented by an Eye, with saints including Sun Yat-sen,[ Chinese politician]  Victor Hugo [French writer of Les Mis.], Nguyen Binh Khiem [Vietnamese poet born in 1491] together with Jesus Christ among others.
Echoes of western equivalent of Scientology perhaps!
On the way back we re-entered Graham Greene territory where Fowler and Pyle escape the Viet Minh on their night return from visiting Cai Dai. Their car runs out of petrol, they shelter in a watch tower and then have to hide in a paddy field. [pages 81 -106]  See photo of the paddy field with Black Lady Mountain in the background. I have finally seen rice growing close to harvest, and took a sample with is now on my table as I write.
Stop at a roadside stall selling water feature micro gardens with bonsai and scholar rocks and buy mini pagodas and temples for my micro landscapes in Park Walk. Tree roots are also popular, a stumpery , as are extensive topiary.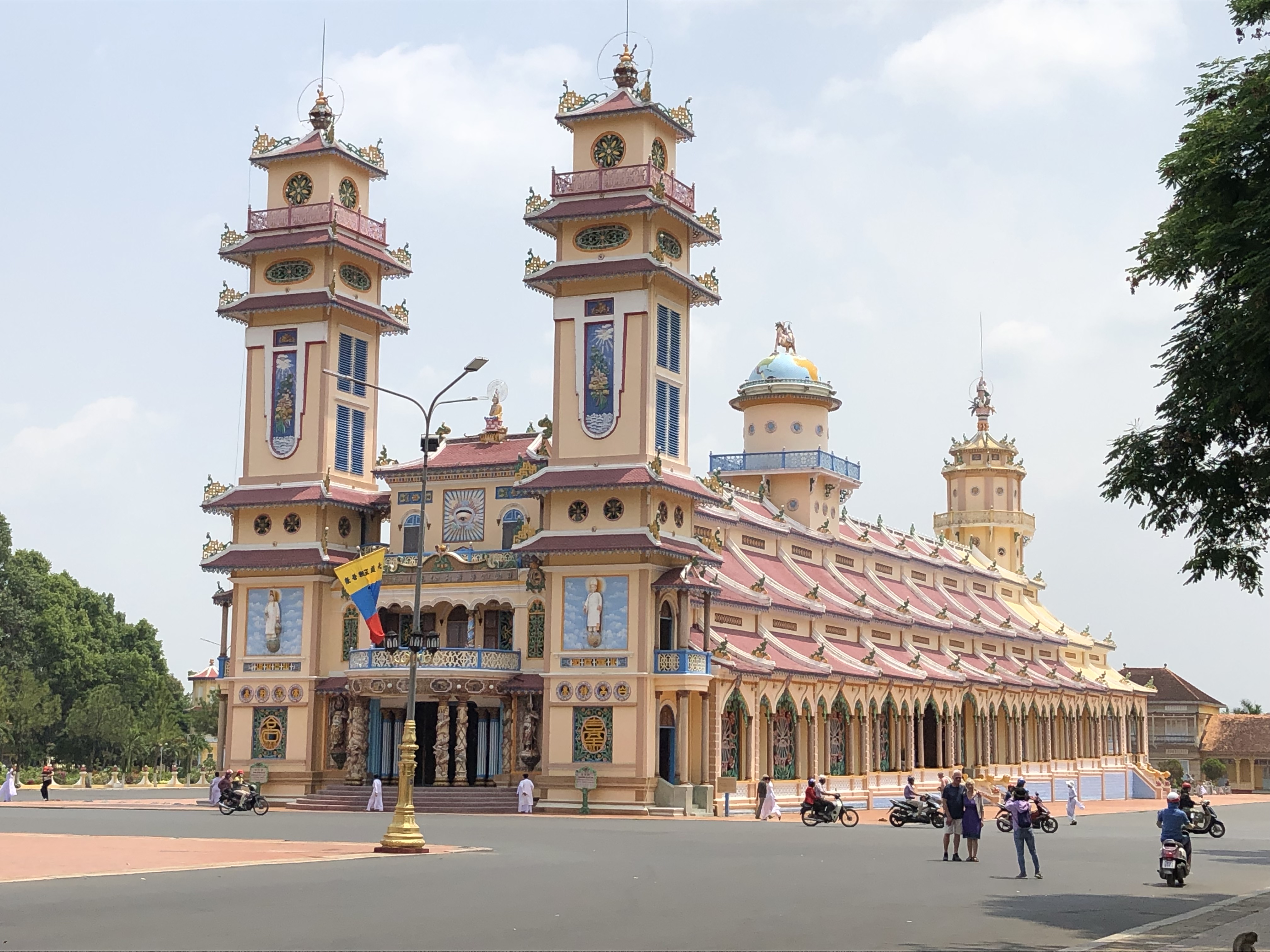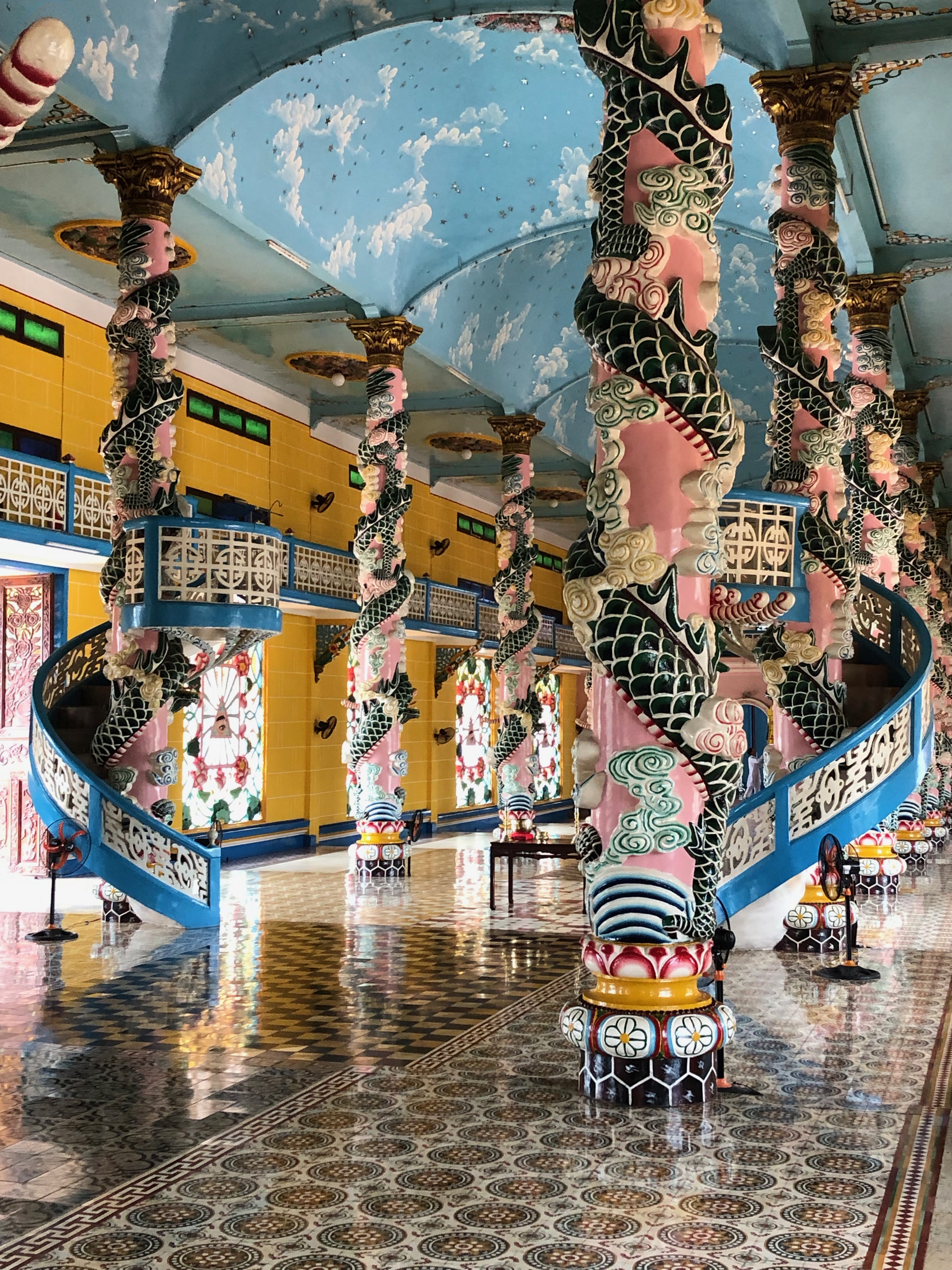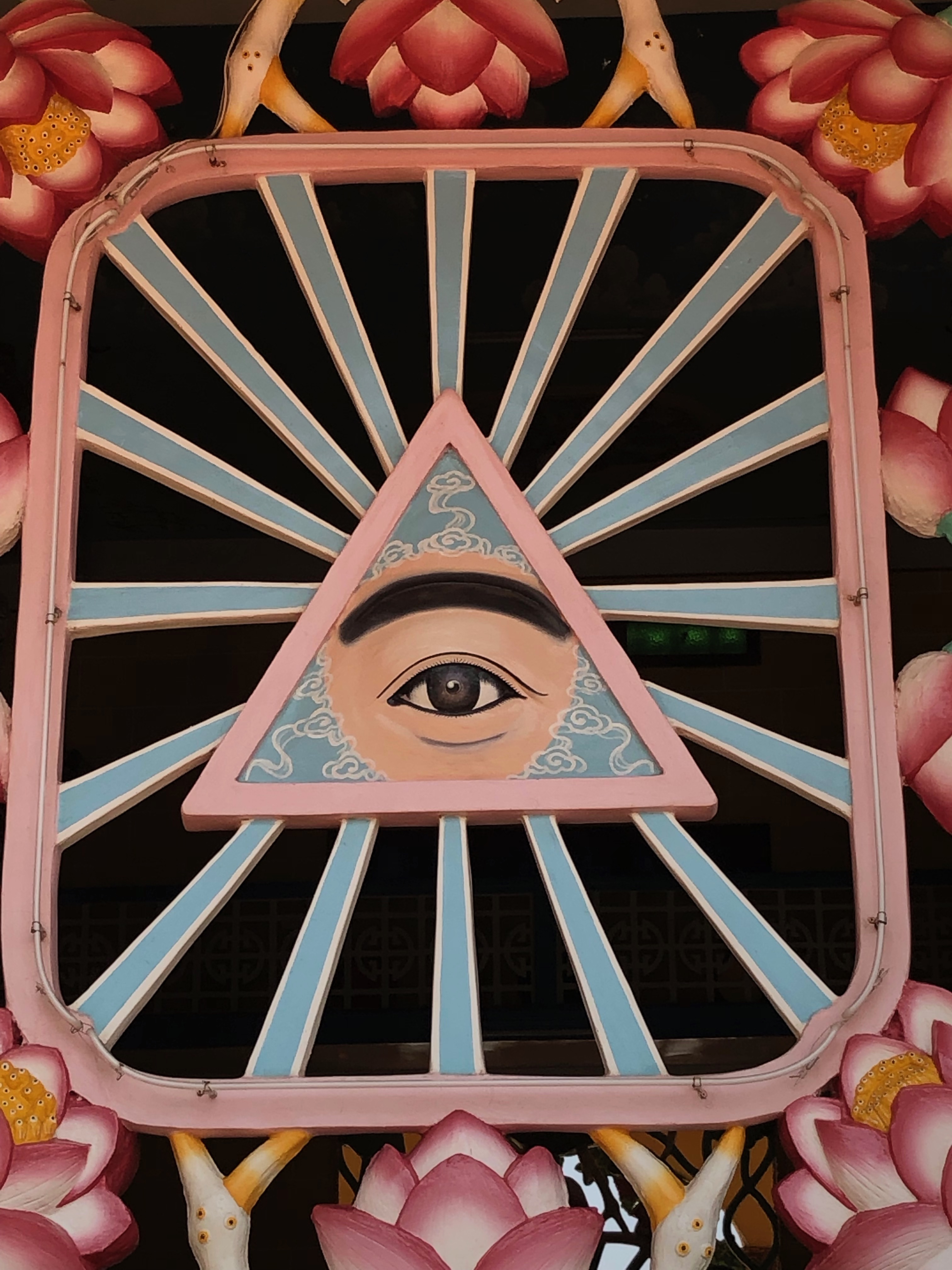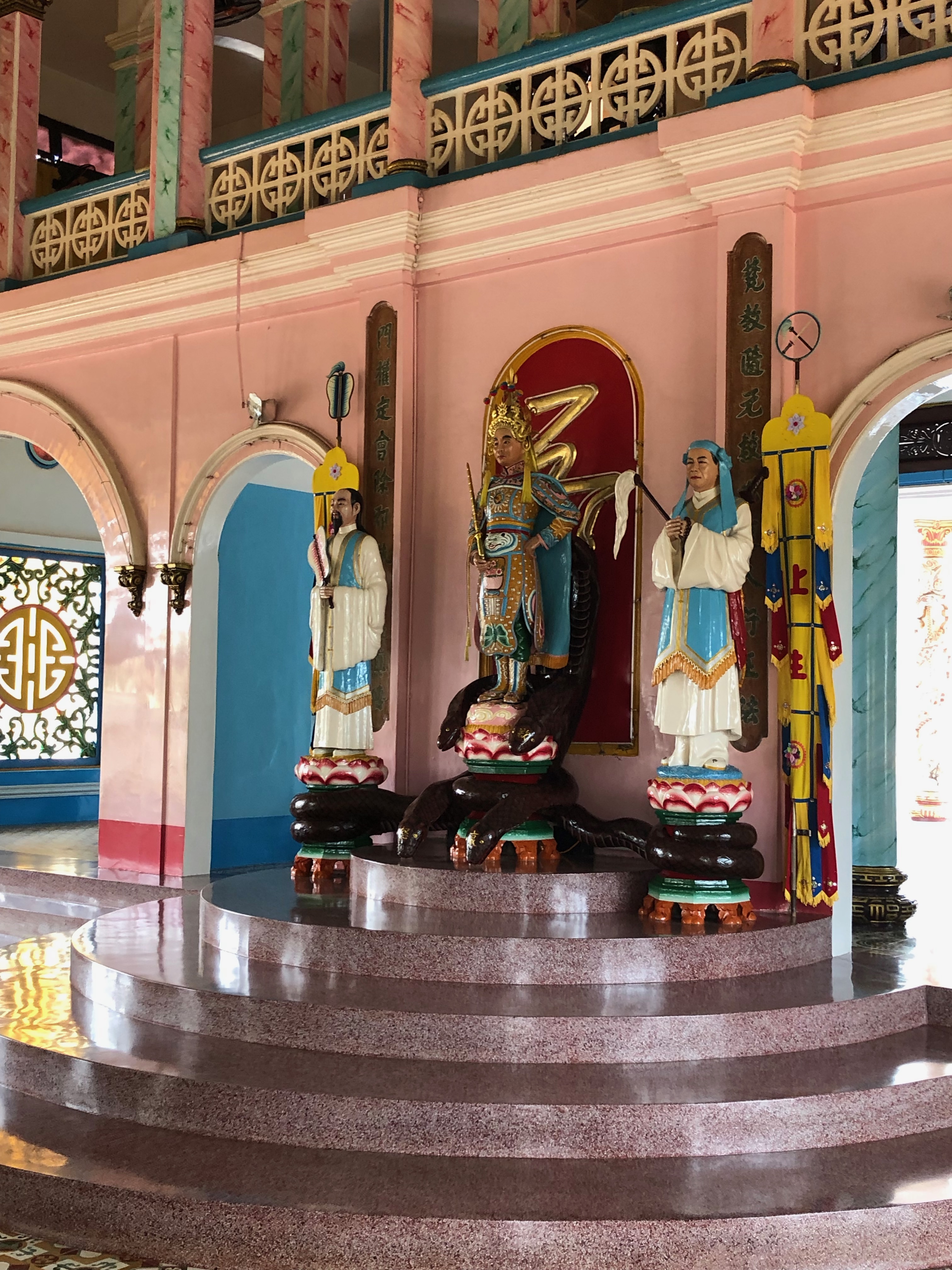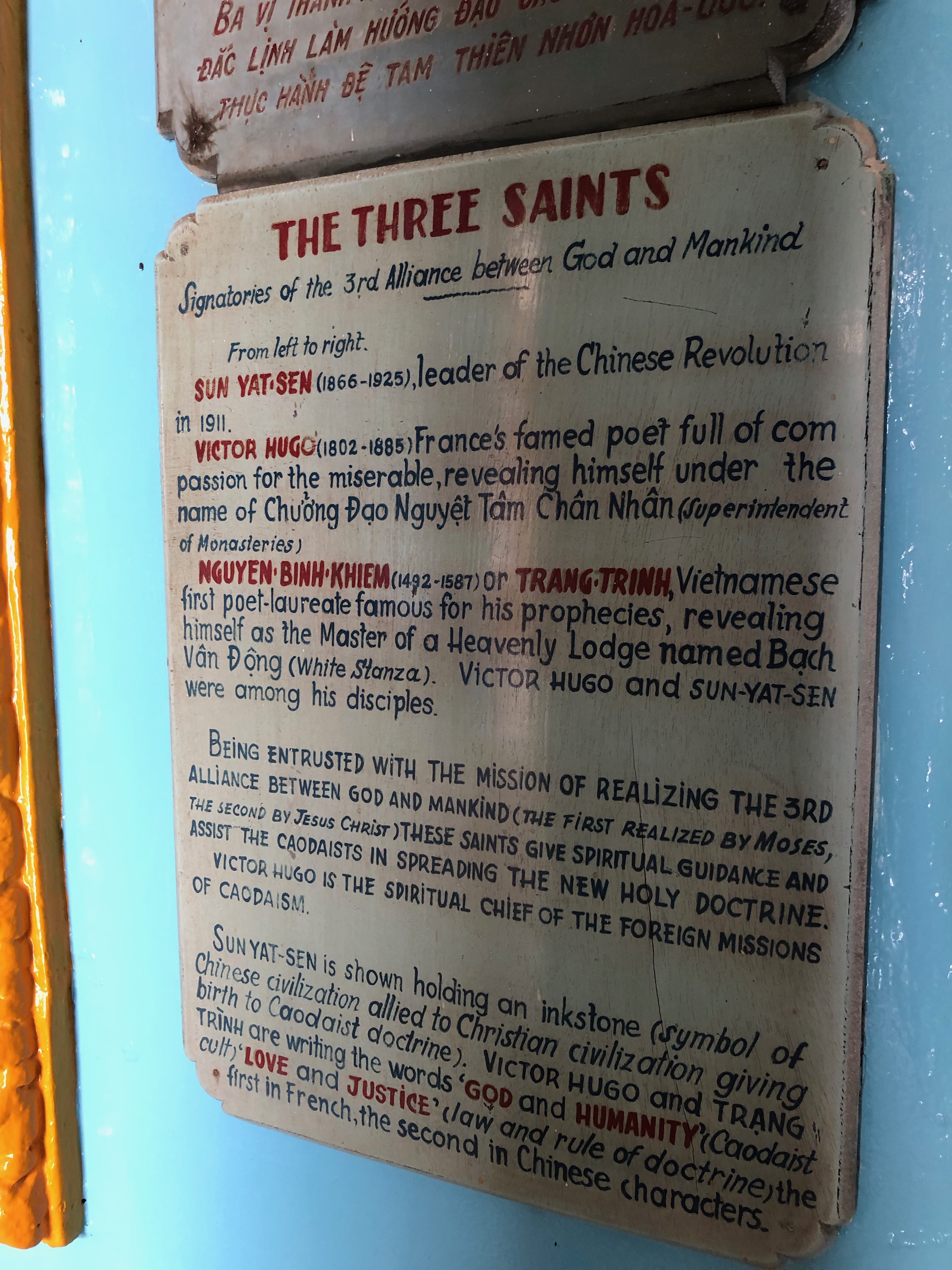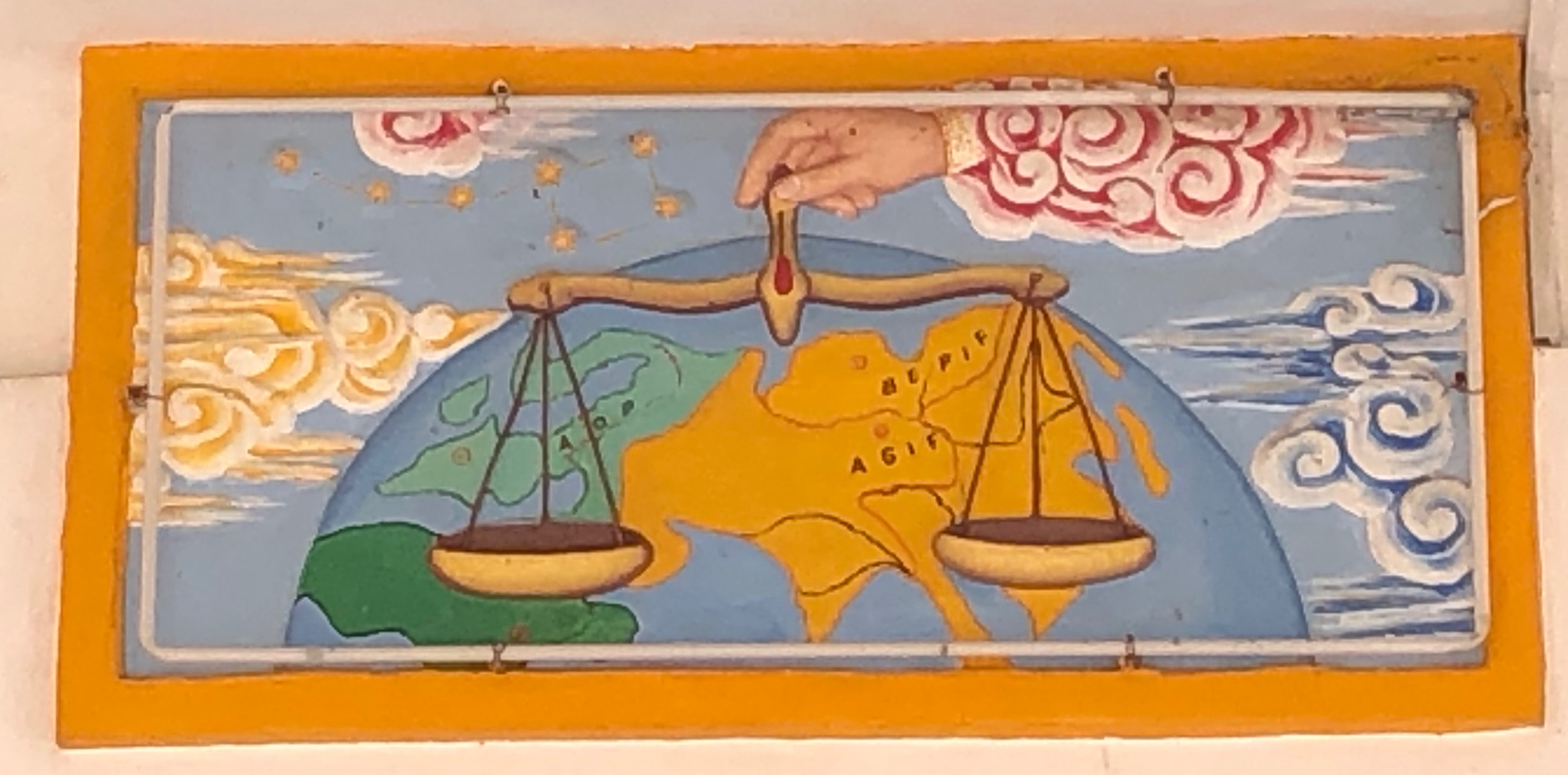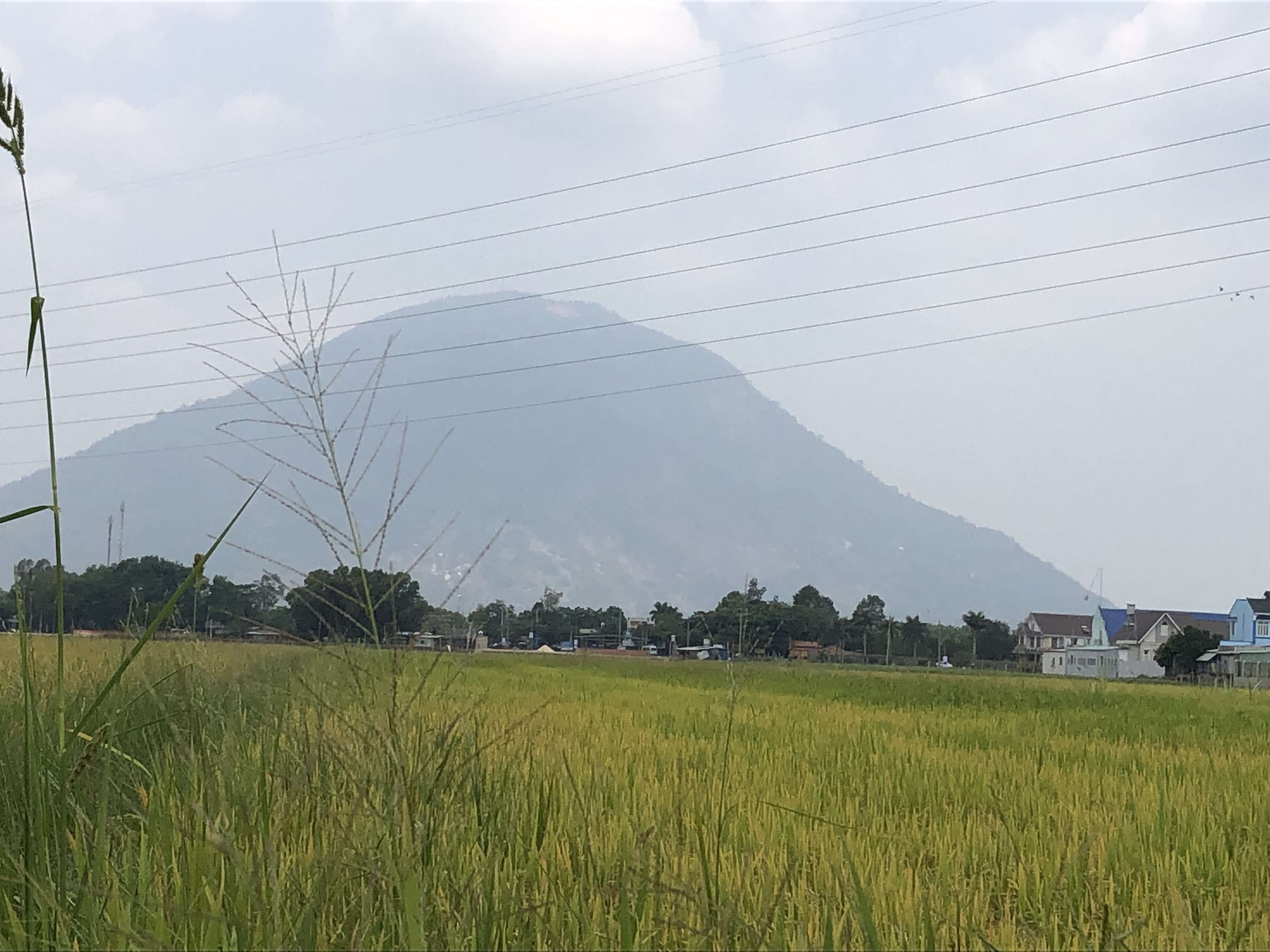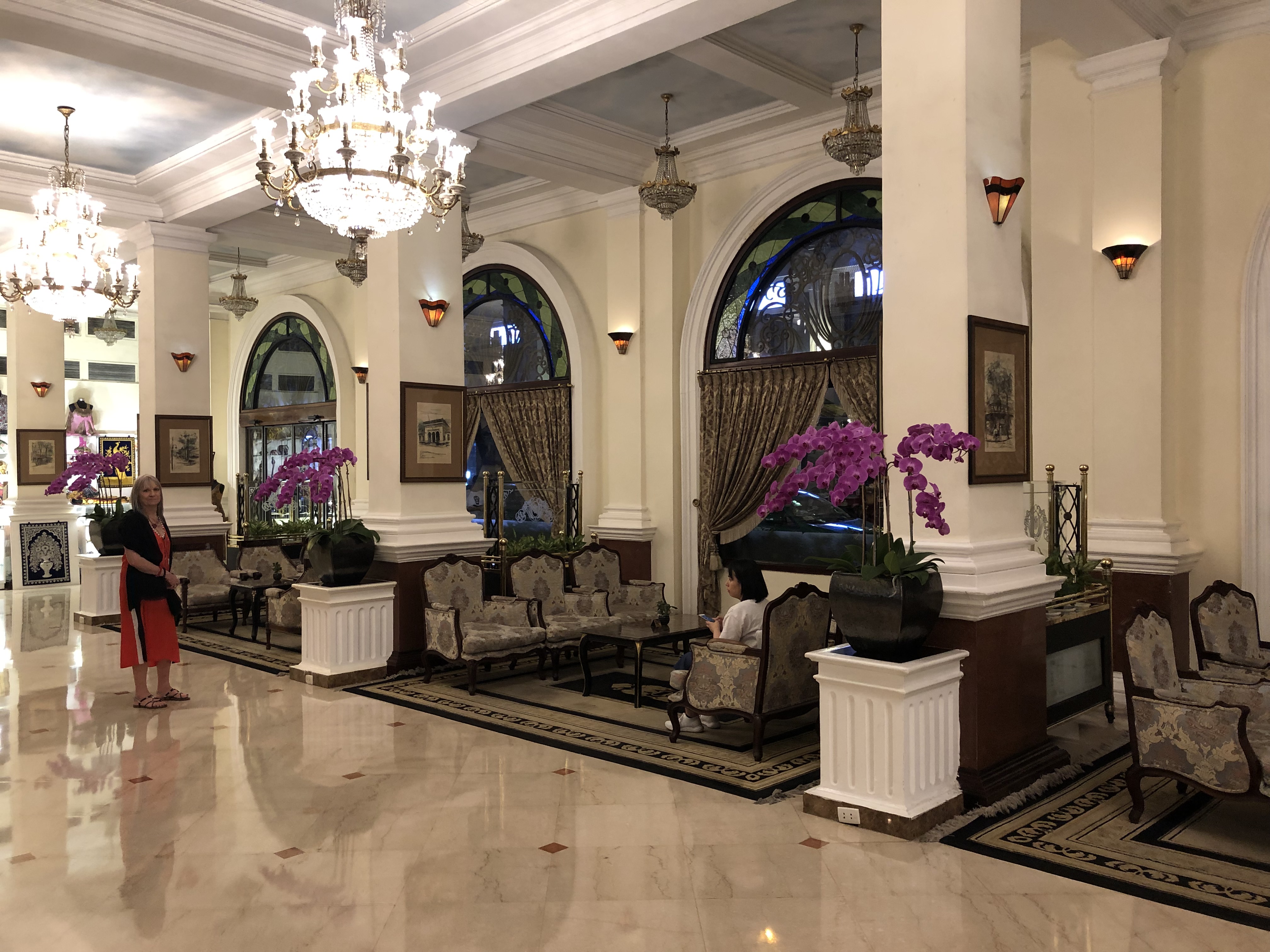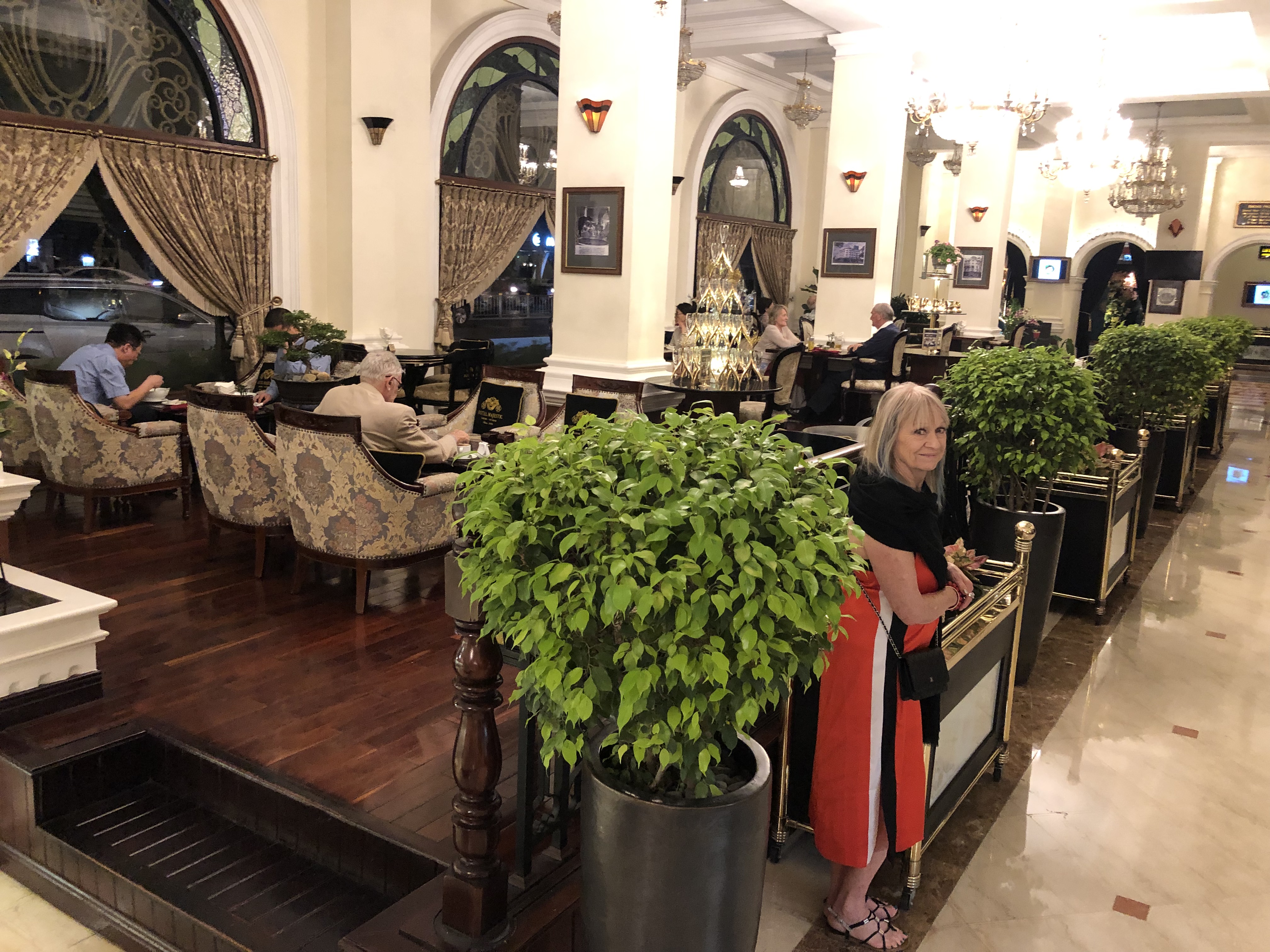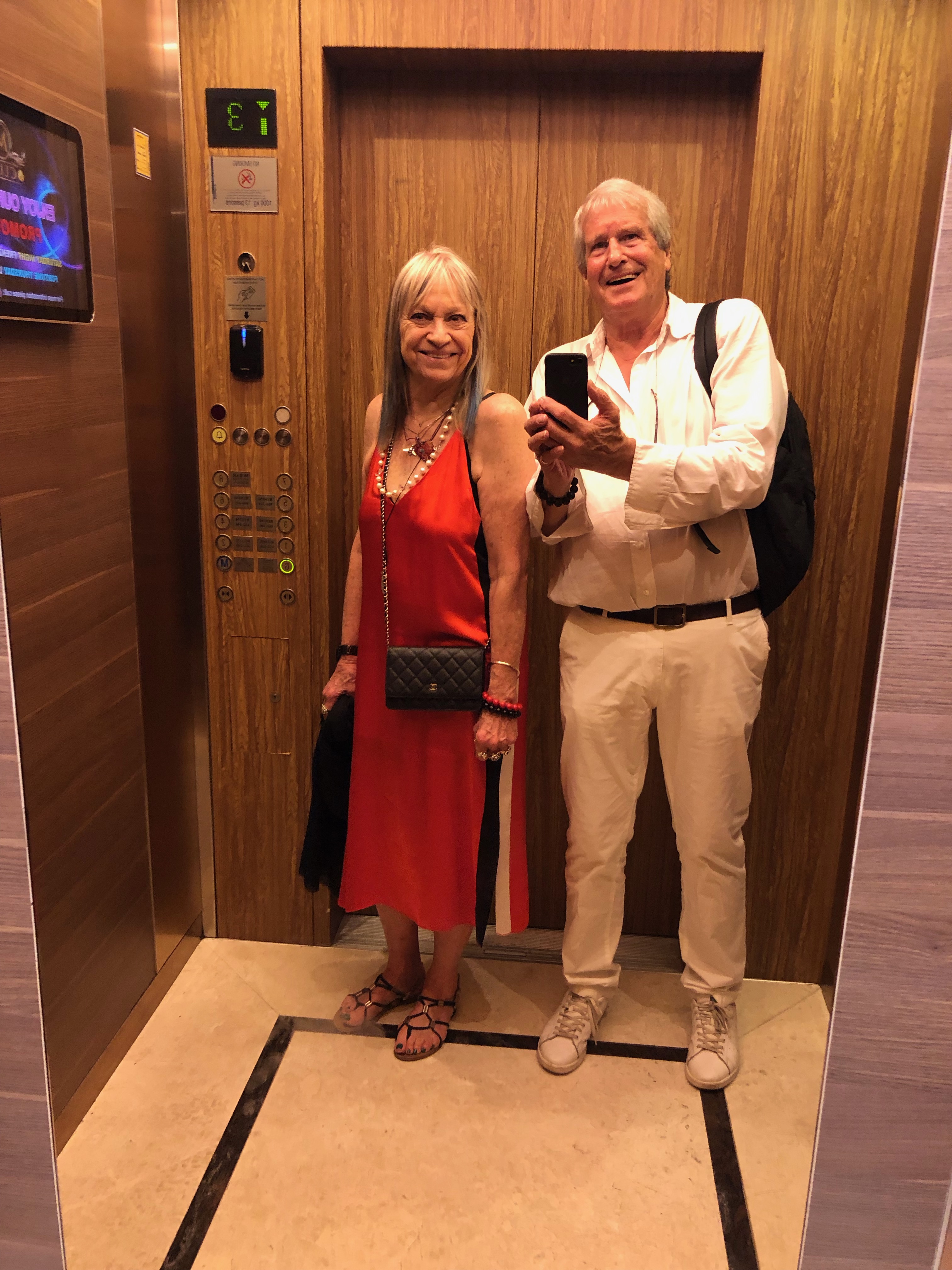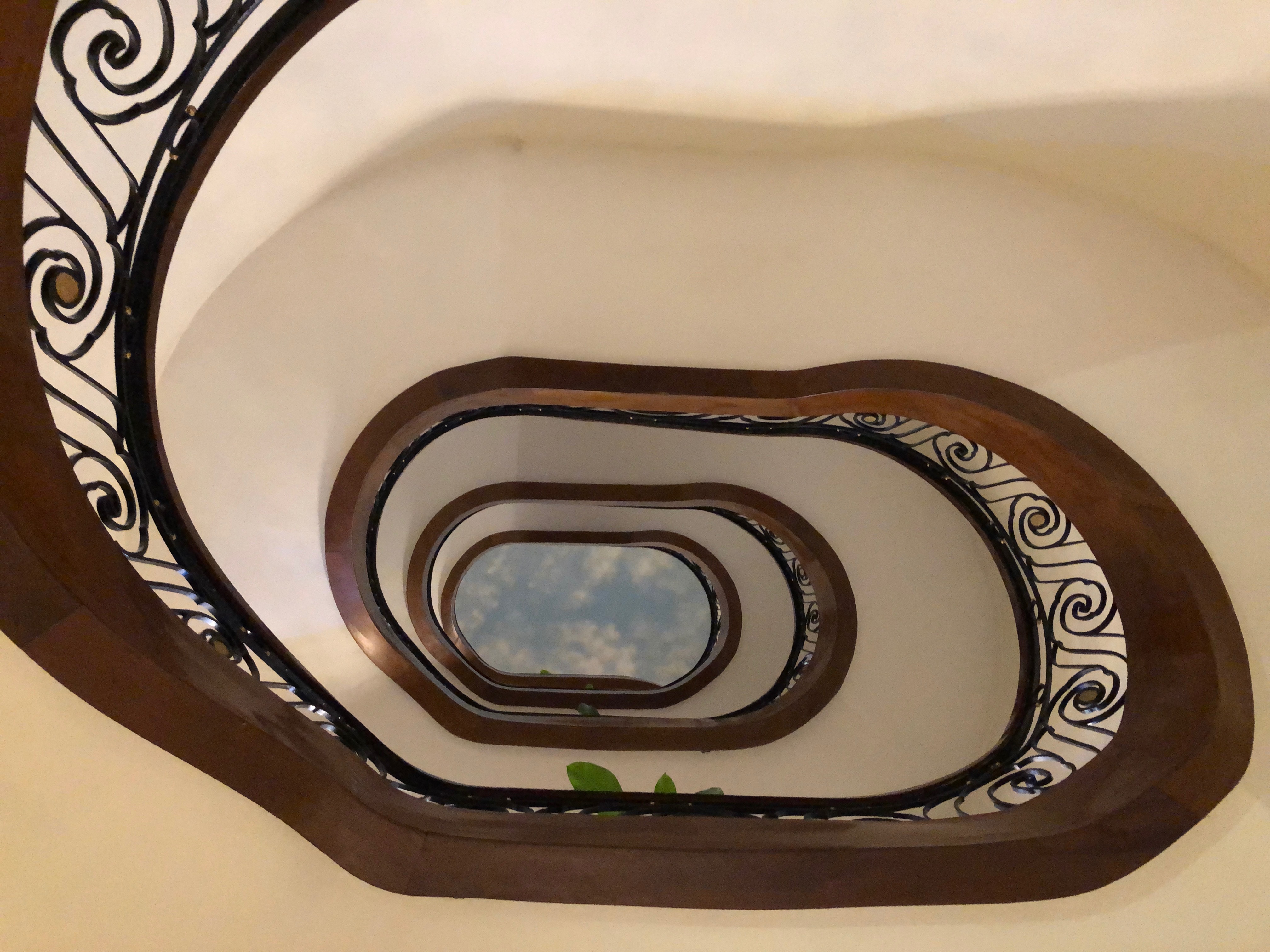 Wednesday 20 March
Potter around Saigon, find the monument to the monk from Hue who burnt himself to death Quang Duc on the corner of Cach  Mang Thang Tam and Nguyen Dinh Chieu. Great names.
Also find the site of the iconic photo of the last days of American involvement in Vietnam. The last and final evacuation by Hueu helicopter of CIA's Air America from the top of the Pittman Apartment Building on 22 Ly Tu Trong street on 29 April  1975 taken by Hubert van Es. See photos.
Visit the War remnants Museum, previously called the Museum of American War Crimes. The name was changed to facilitate a US trade pact in 1997. American servicemen in prison in the "Hanoi Hilton" were called "The Special Guests". Incidentally the current Hilton Hotel in Hanoi is called the Hilton Hanoi Opera rather than the Hanoi Hilton.
In the evening we see a charming show at the Opera House called Teh Dar, [Going in Circle] a high energy bamboo cirque expressing  folk stories and employing tribal music.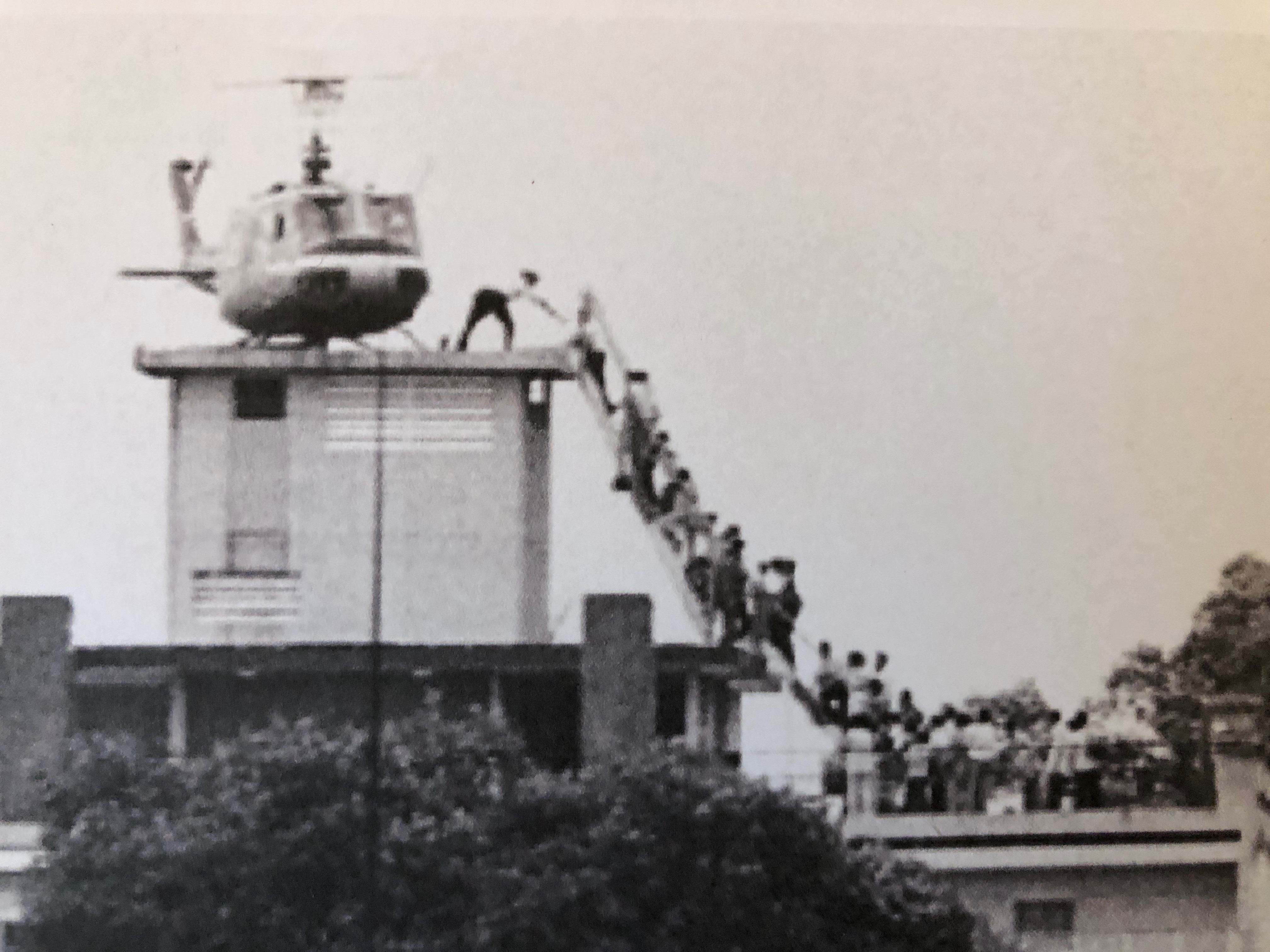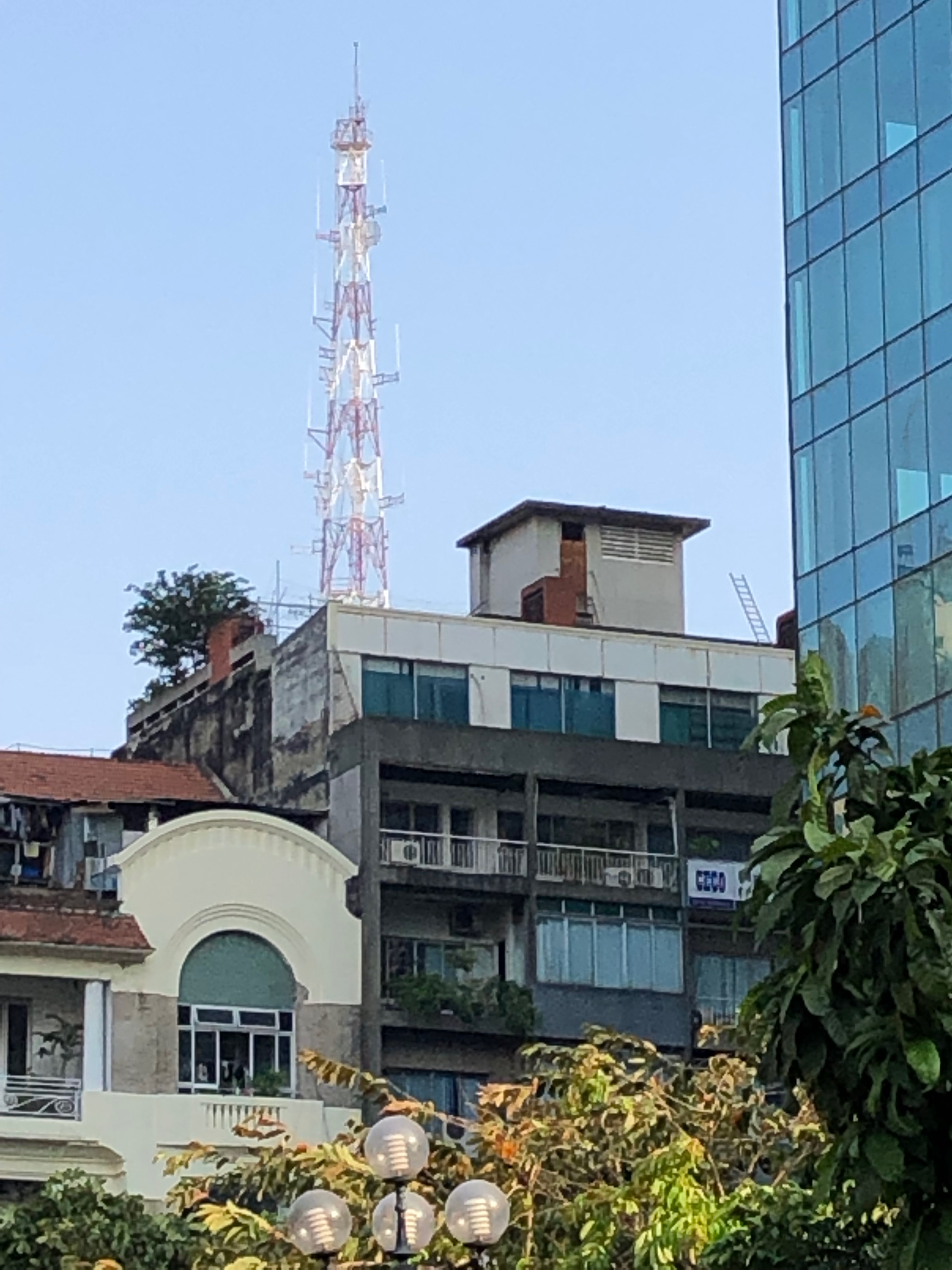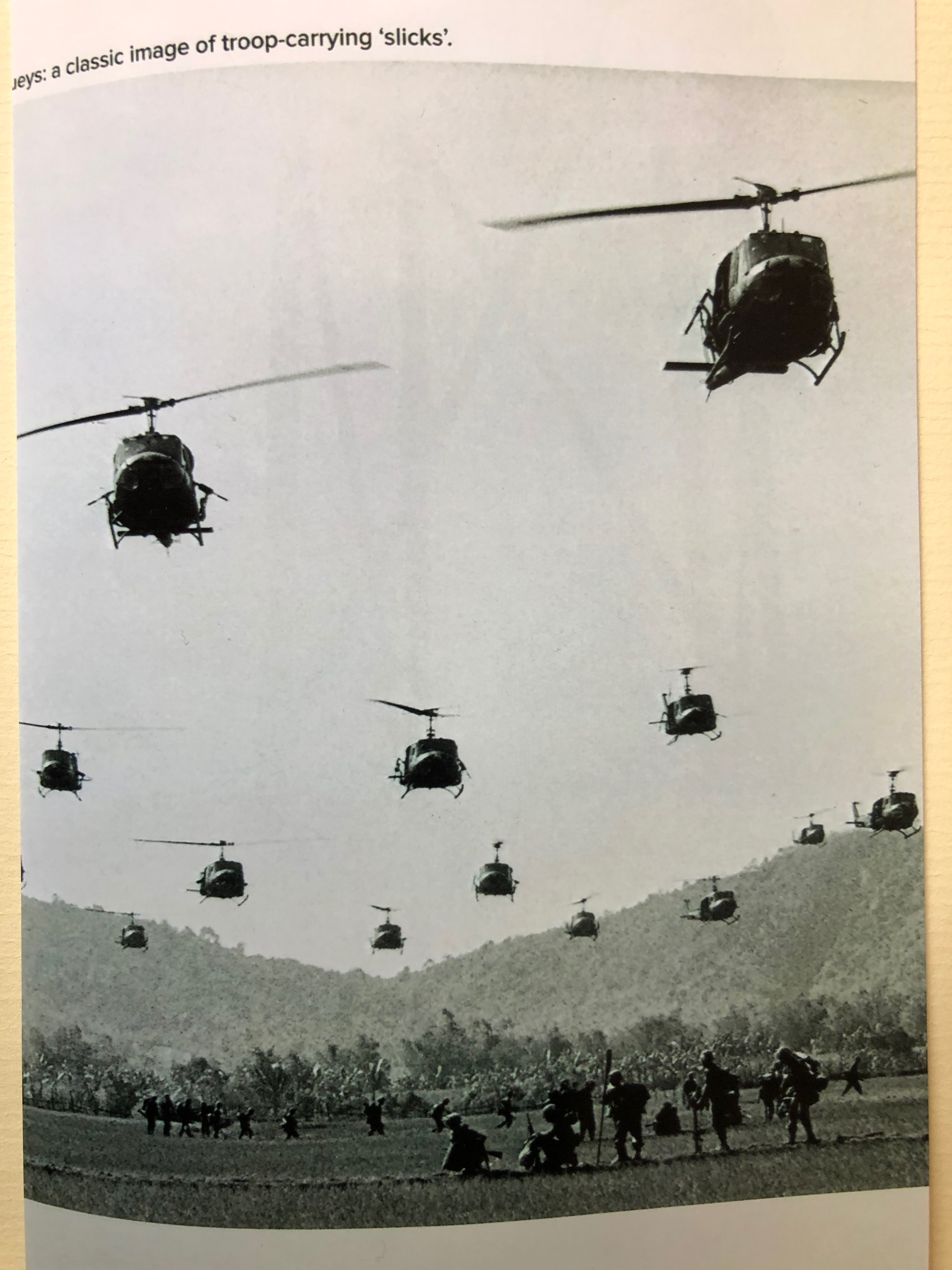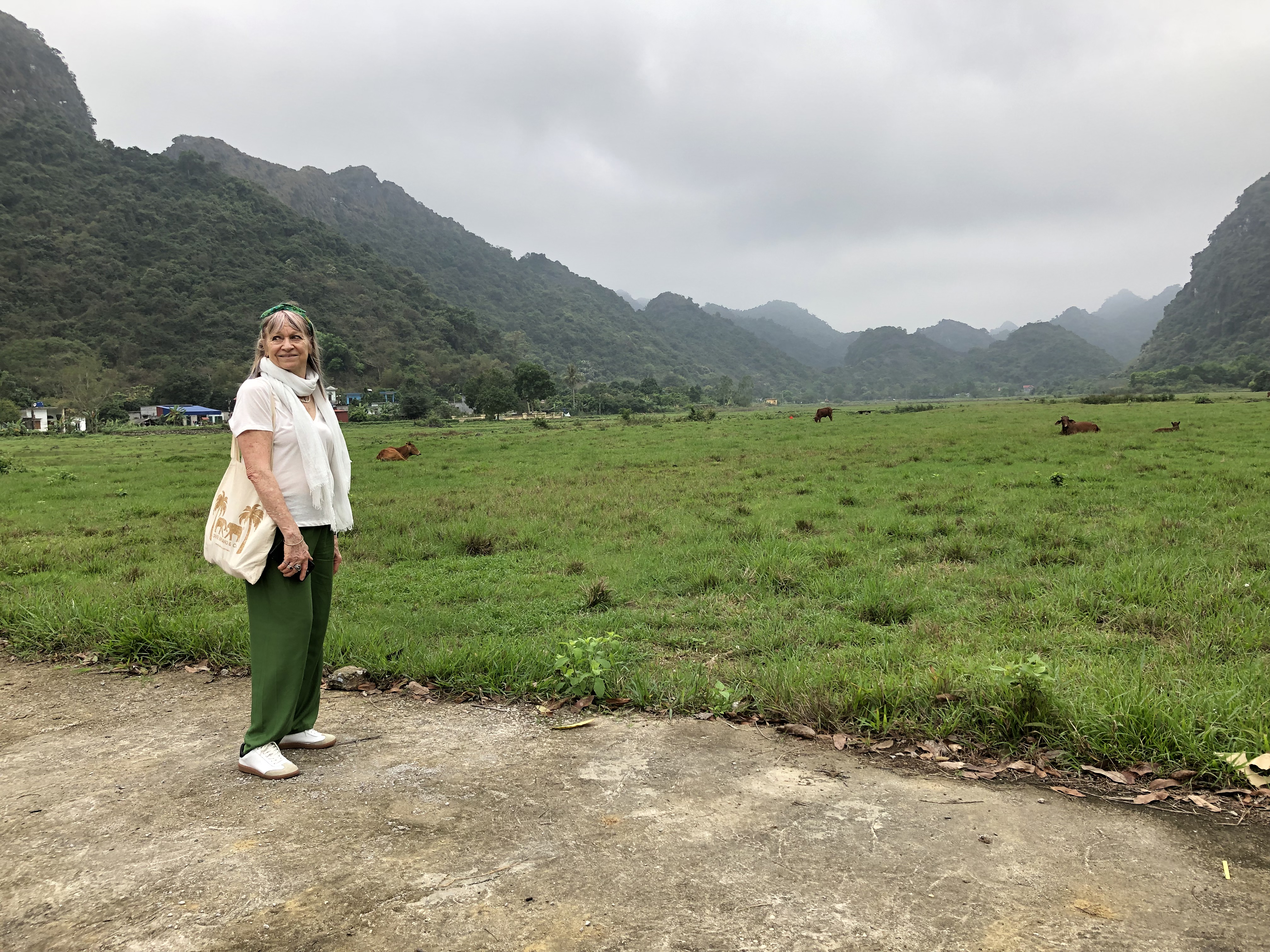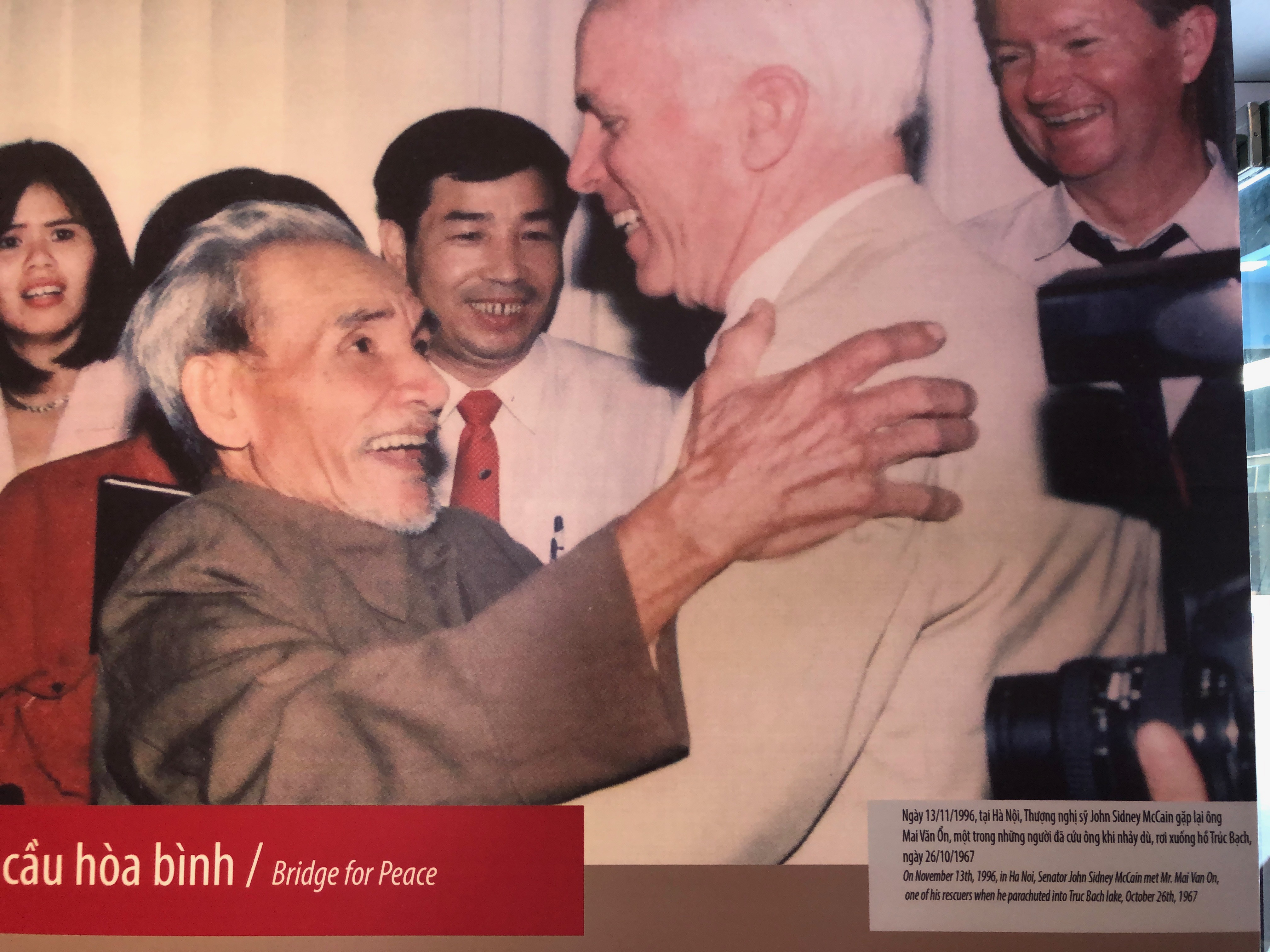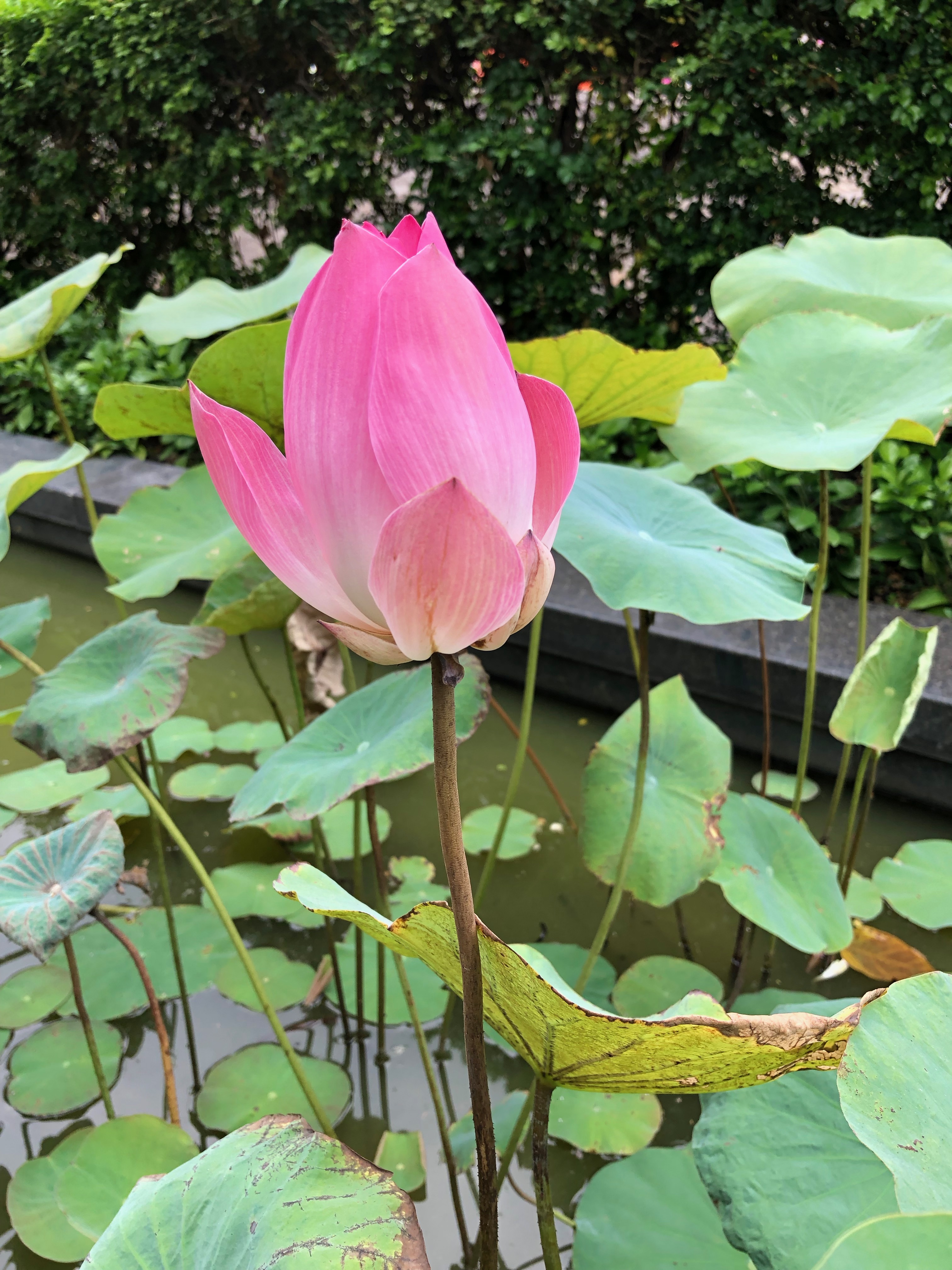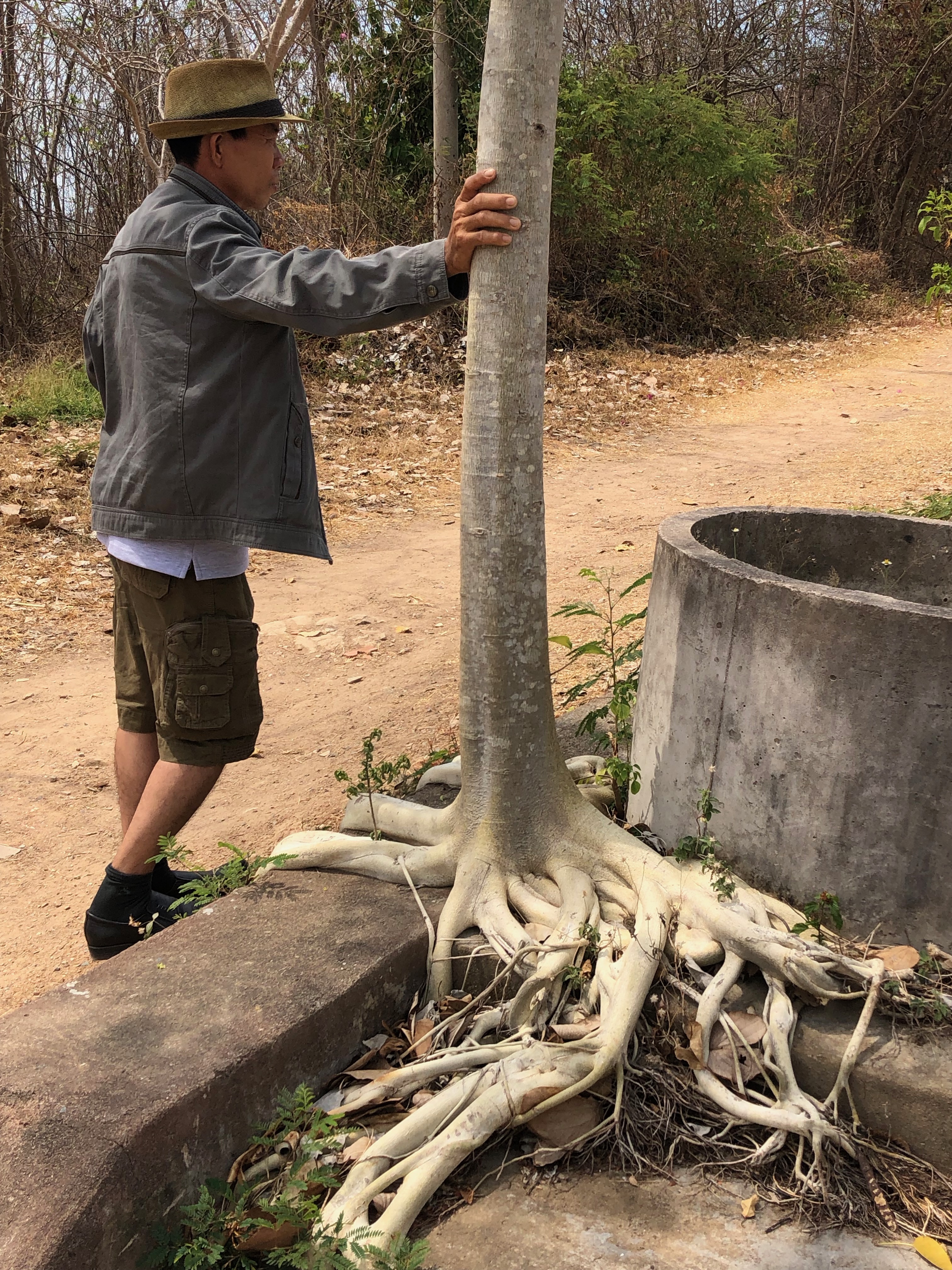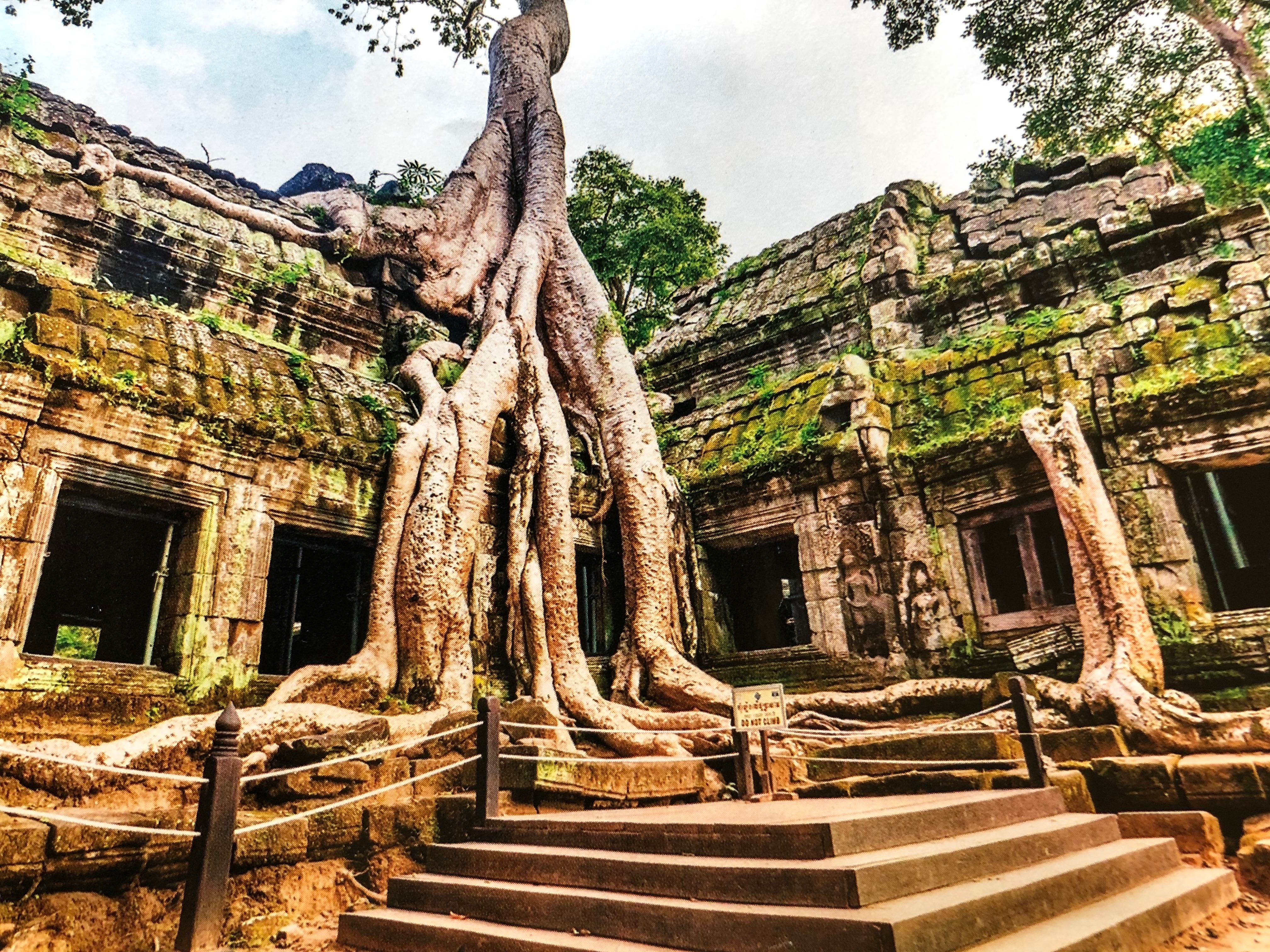 Sunday 24 March
5 hour trip back to HCMC avoiding the main motorway along country roads. unspoilt beaches south of Phan Thiet then fields of the weird Dragon Fruit, followed by cashew nut groves, the nut strangely suspended from the fruit, then tall kapok trees with vines growing up them, and the ubiquitous rubber tree plantations.
There does not appear to be any villages, just one long continuous strip development of shops, workshops, cafes and new houses with out a break. there are glimpses of country side behind the buildings. Most of the houses are standard small 5 metre wide single story with a pediment and porch made of concrete bricks, there are very few old wooden houses. The newer larger houses are more advanced in design with a double pediment. Occasionally there are larger three story much more ornate houses , owned perhaps by influential party officials!
Monday 25 March
Mid morning flight to Bangkok, again met by the Kuoni representative and taxi past the golden Apsaras of the airport, large ads for Arsenal football clubs and warning ad "Buddha is not for decoration, respect is common sense". Feel rather guilty about Margaret's mothers Buddha lamp in our living room.
The new hotel, Avani+ Riverside Bangkok Hotel, attached to the Anatara Riverside Bangkok Resort,  overlooks the Chao Phraya River just downstream of the modern centre, and most impressive. A double height reception and restaurant area on the 11 floor, our river view room with sliding doors on the 22 floor and bar and serious infinity pool on the 26 floor, with the byline 'To sin and be seen" . www.avanihotels.com.
A rapid turnaround, the bag shops call. we take the charming hotel shuttle boat 20 minute service  upstream to the Sathorn Taksin boat terminal and make for the Silom Road. Pass the jewellery centre, Margaret finds bracelets for presents! and a lovely fine necklace. On up the Silom Road to the Silom Centre, most disappointing, and on to the famous Patpong night bazaar where tourist shops nestle with girly bars with pussy shows. So different from my first visit nearly 40 years ago. Again very poor selection of bags, thank god for Saigon. Take a Tuk Tuk to the latest night market called Asiatique,  a very popular sanitised version of a traditional chaotic bustling night market. A pleasant enough meal then free shuttle boats back to the bar on the 26 floor.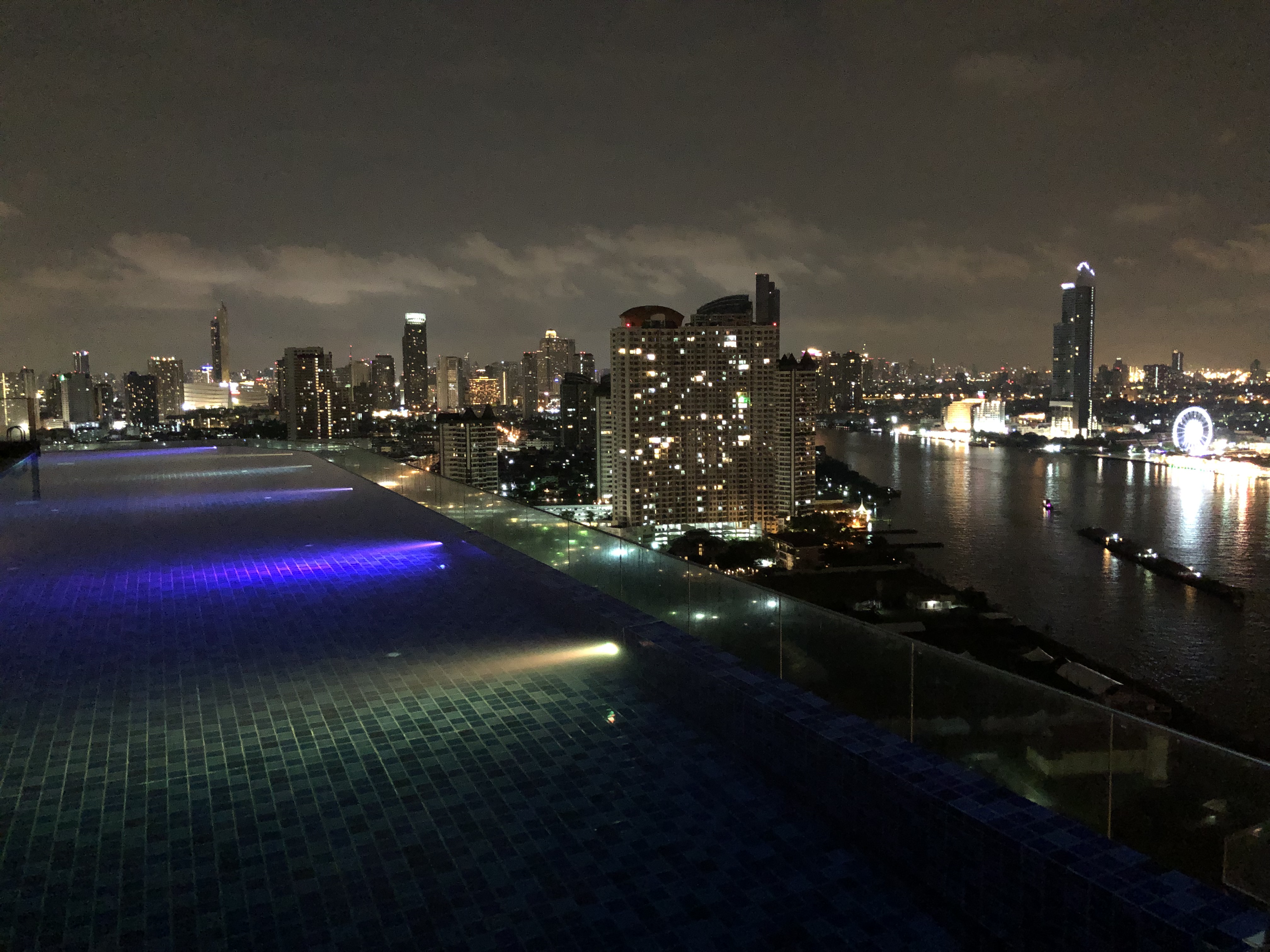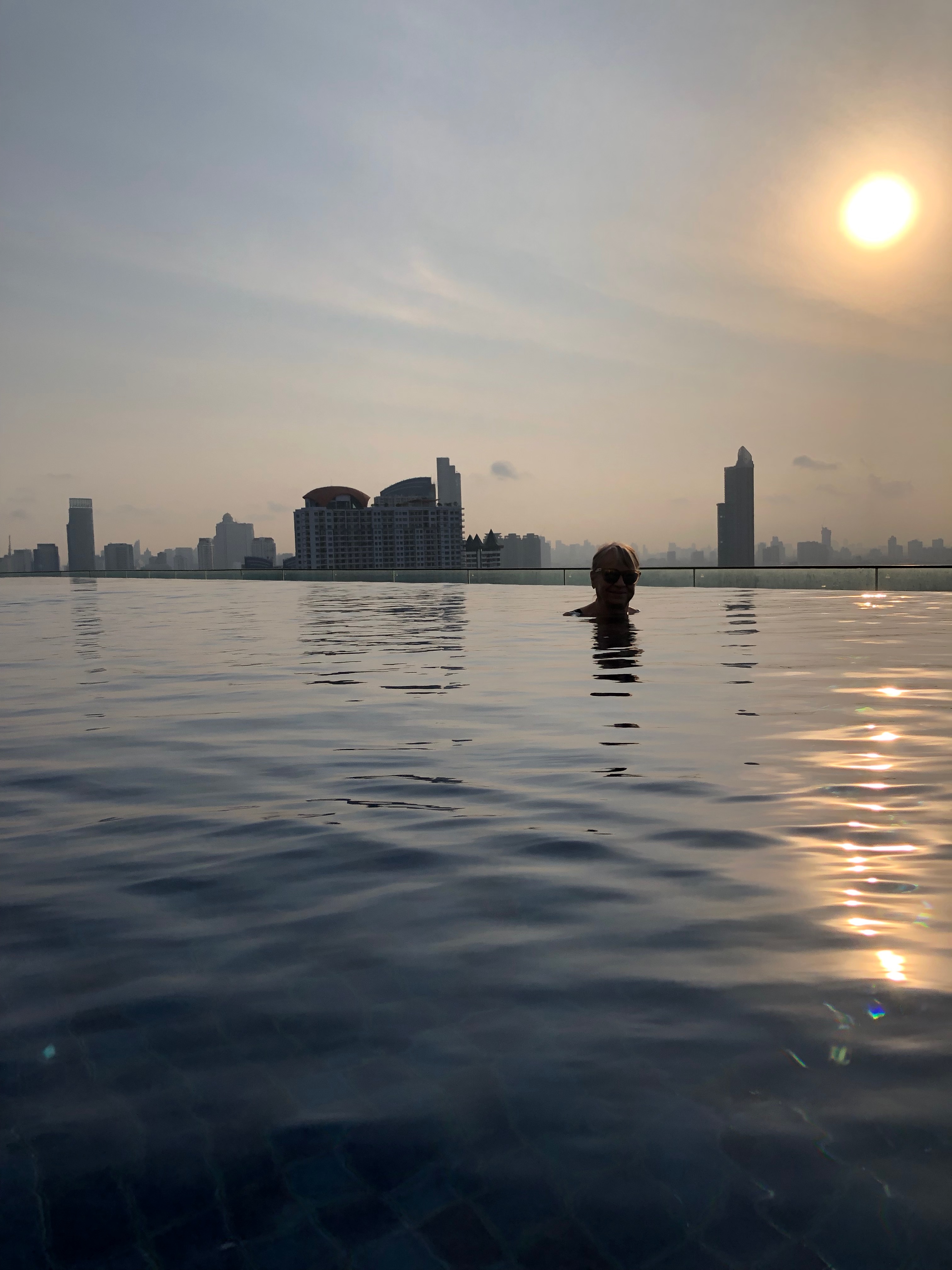 Another day, another experience
First two ferries to the brand new super mall Iconsiam, seriously if confusingly designed very high spec. with glass and marble everywhere, with extravagant use of space, but still the same global brands, plus Japan's Takashimaya store. A massive food court featuring hygenised street food from faux stalls and boats on indoor pools, They claim that the food and crafts from every region of Thailand is featured The more one travels the more it is all the same.
This being our third visit it is decided that we can miss the main attractions; Wat Pho's Reclining Buddha, Wat Phra Kaew's Emerald Buddha, the Grand Palace and Wat Arun. However we do a klong tour on a long tailed boat, Canals and Pagodas.
Decide to eat the hotel as our experience is that they are much better than local restaurants and street food. We had the classic; a Pad Thai Goong and a Tom Yum Goong with Jasmine Rice and a Yum Plan Tod. with beer it cost Baht 1706, £40. However we had a case of "The lady who asked for Soy sauce", straight out of that famous Punch cartoonist Bateman. The Supervisor Tuk came up and remonstrated with Margaret that you do not have soy sauce, equivalent for asking for tomato ketchup at the Savoy! She then gave us a fascinating talk on Thai food, especially the importance of dipping sauces, for example fish sauce, garlic and chilli, also sugar salt and chilli
Wednesday 27 March
We visit the splendidly designed King Power Mahanakhon Tower, a tall square dark glass tower with bits missing. It is owned by the owner of Leicester City football club who sadly died recently in a helicopter crash at the stadium. An express lift takes one up to the top open observation terrace with its iconic glass floor suspended over the side of the building, see photos. The top open terrace is 314 metres high, in comparison the tip of the Shard in London is 310 metres high. This compares with the new Pencil Towers in New York; 432 park Avenue at 425 metres and Central Park Tower at 475 Metres, and of course the Burj Khalifa at 828 metres. We missed the other high experience, the Sky Bar at the State Tower.
We pop into the famous Mandarin Oriental for a drink in the old part, the Authors Lounge used by Somerset Maugham, it opened in 1876.  Would love to do a tour of the classic colonial period hotels of South East Asia, including Raffles in Singapore and the Eastern and Oriental in Georgetown Penang. I do a quick detour to see the still vacant Customs House, built in 1888 designed by Joachim,, and the vacant East Asiatic Company  building built in 1884 designed by Annibale Rigotti . It seems that it will become a Plaza Athenee Hotel. The French have built a strikingly ultra modern embassy building behind their residence next to the Mandarin Oriental. Margaret buys two pairs of shoes in the most upmarket O.P. Place shopping centre, in the old Falck and Beidek Department Store built in 1878
Our last meal was at the vast brightly lite Seafood Market and Restaurant on 89 Sukhumvit Soi 24, Sukhumvit Rd. Klongtoey. with the bye line "If it swims we have it". you take a trolley and with a assistant choose fish shrimps etc from ice covered counters and take them to a cashier. You then take the trolley to your table, together with chosen vegetables when a waiter comes and asked how you would like it cooked by a large team of chefs at the main entrance. Ten minutes later it arrives, perfectly and not over cooked. Fish and veg; Baht 2,500, Wine Baht 1,000, cooking charge Baht 930. Total Baht 4430; £100, expensive.
Retire for Old Fashioned at the Seen Bar on the 24 floor overlooking a sparkling Bangkok with a magician barman.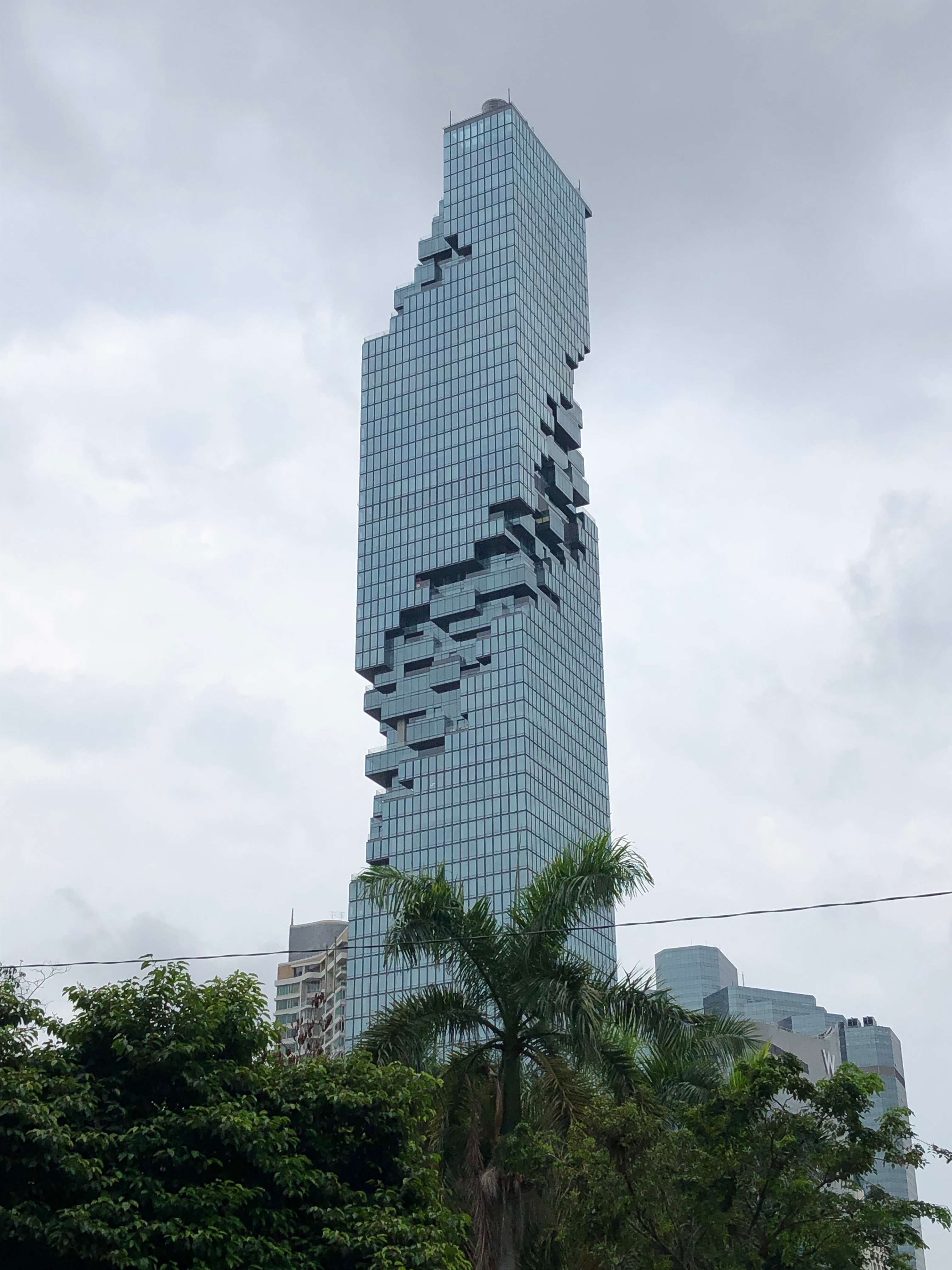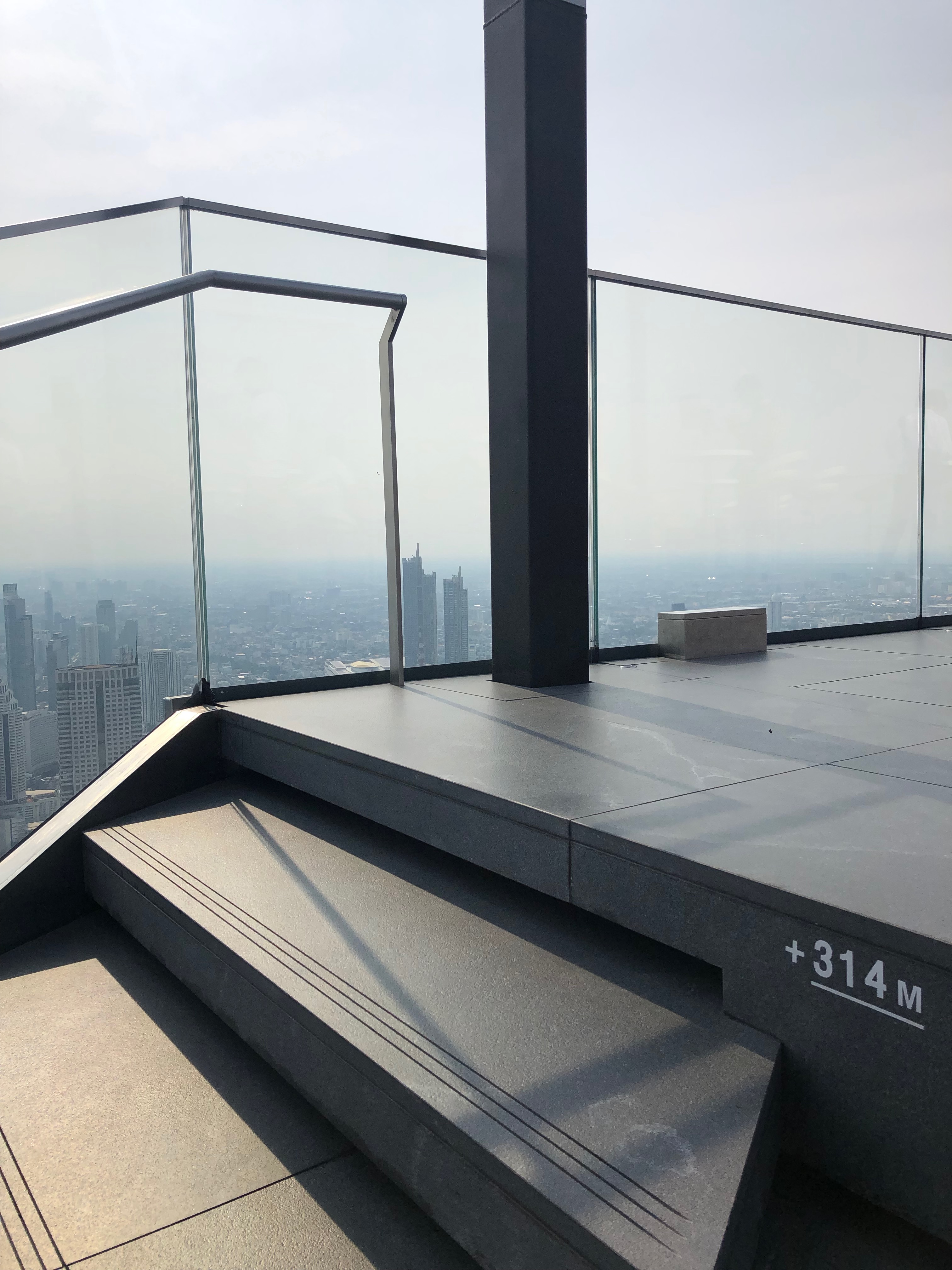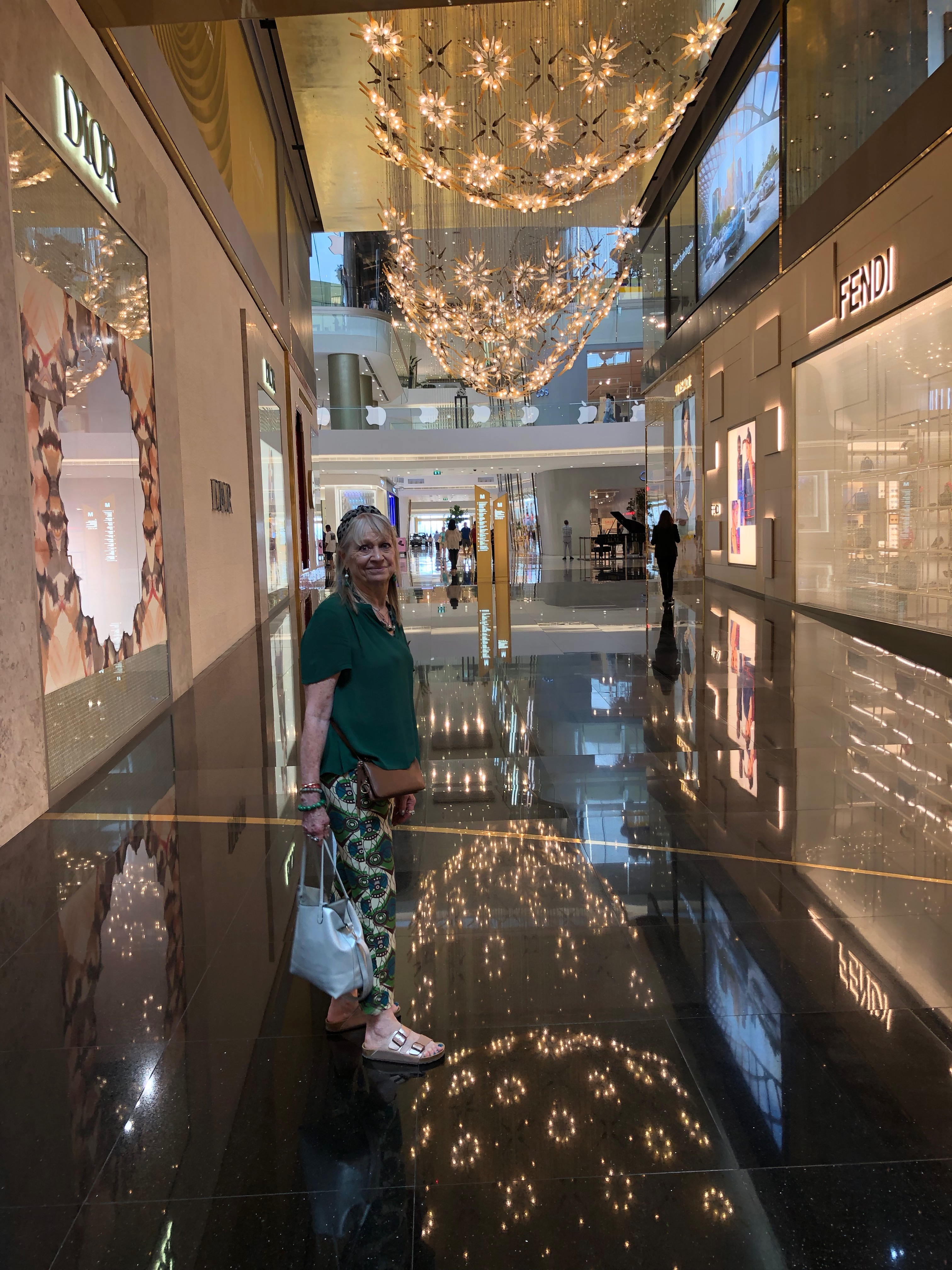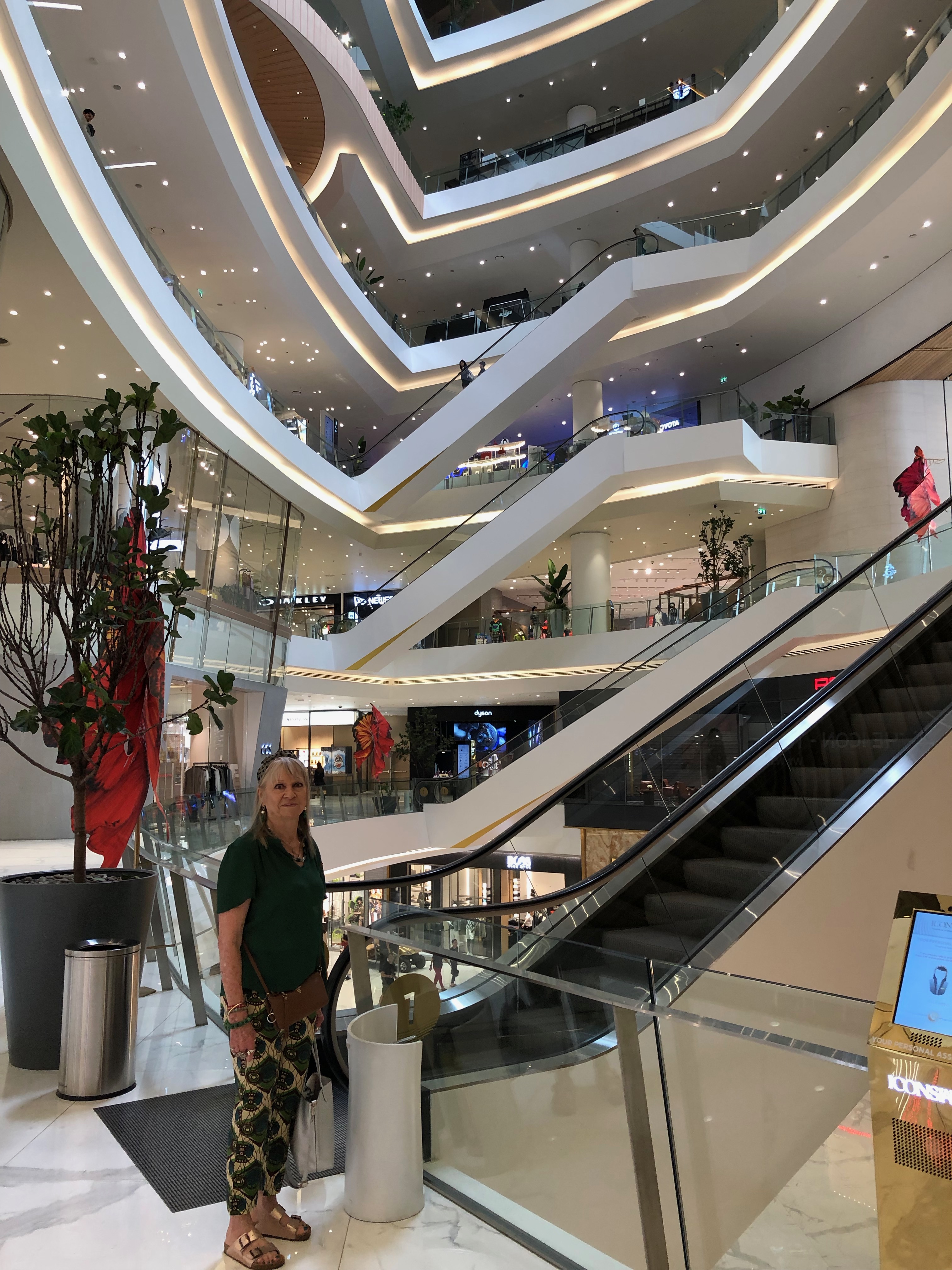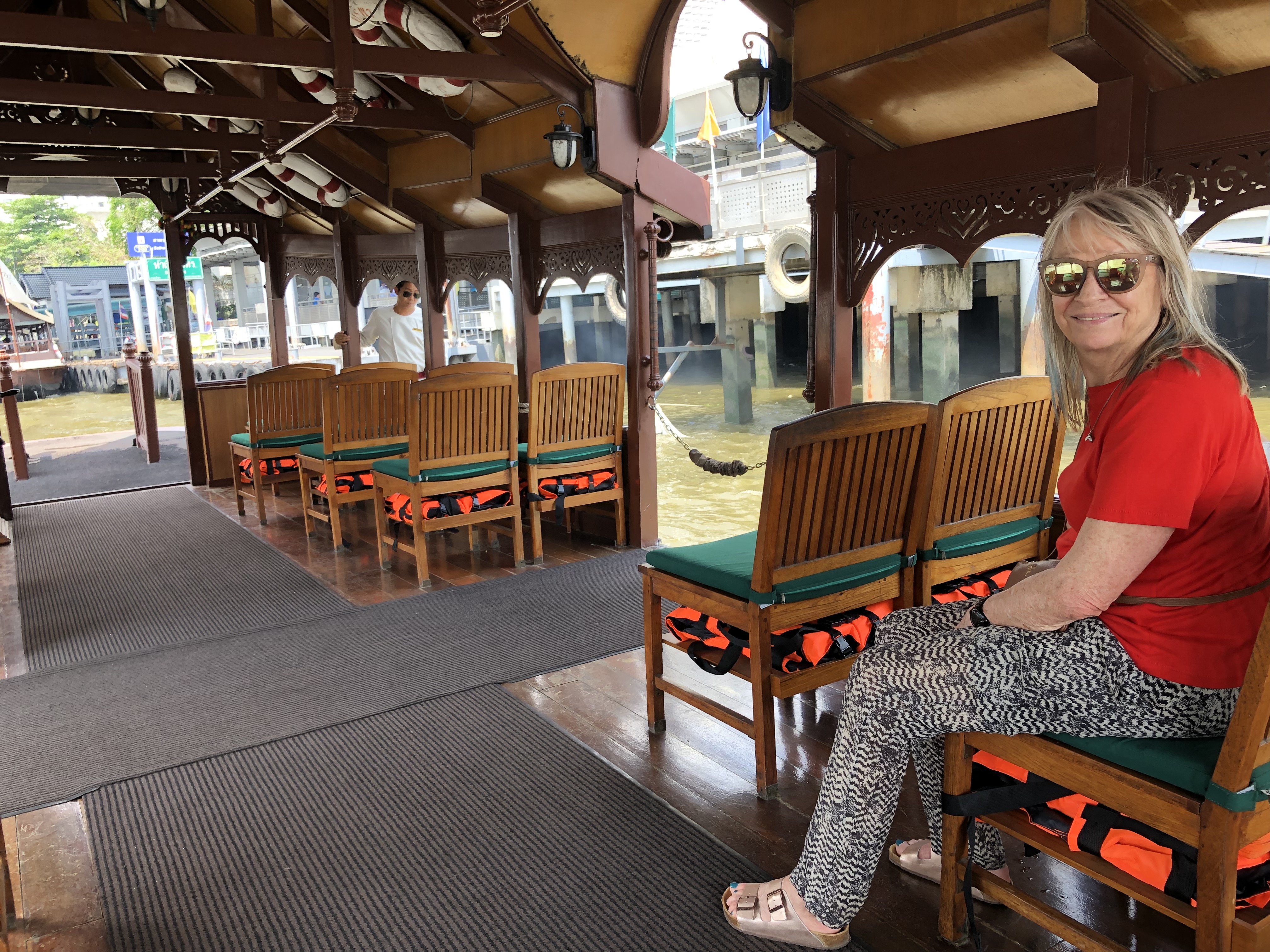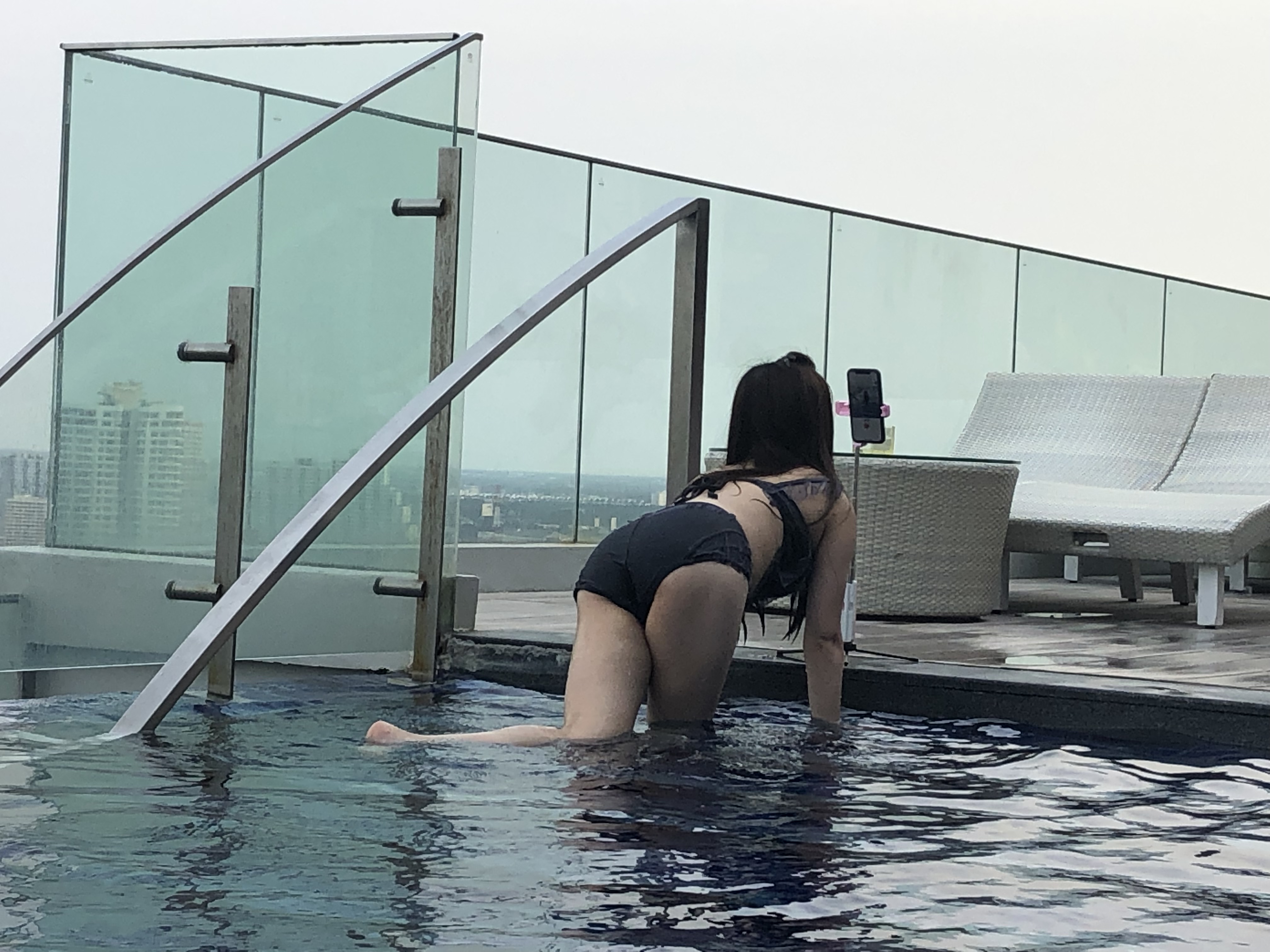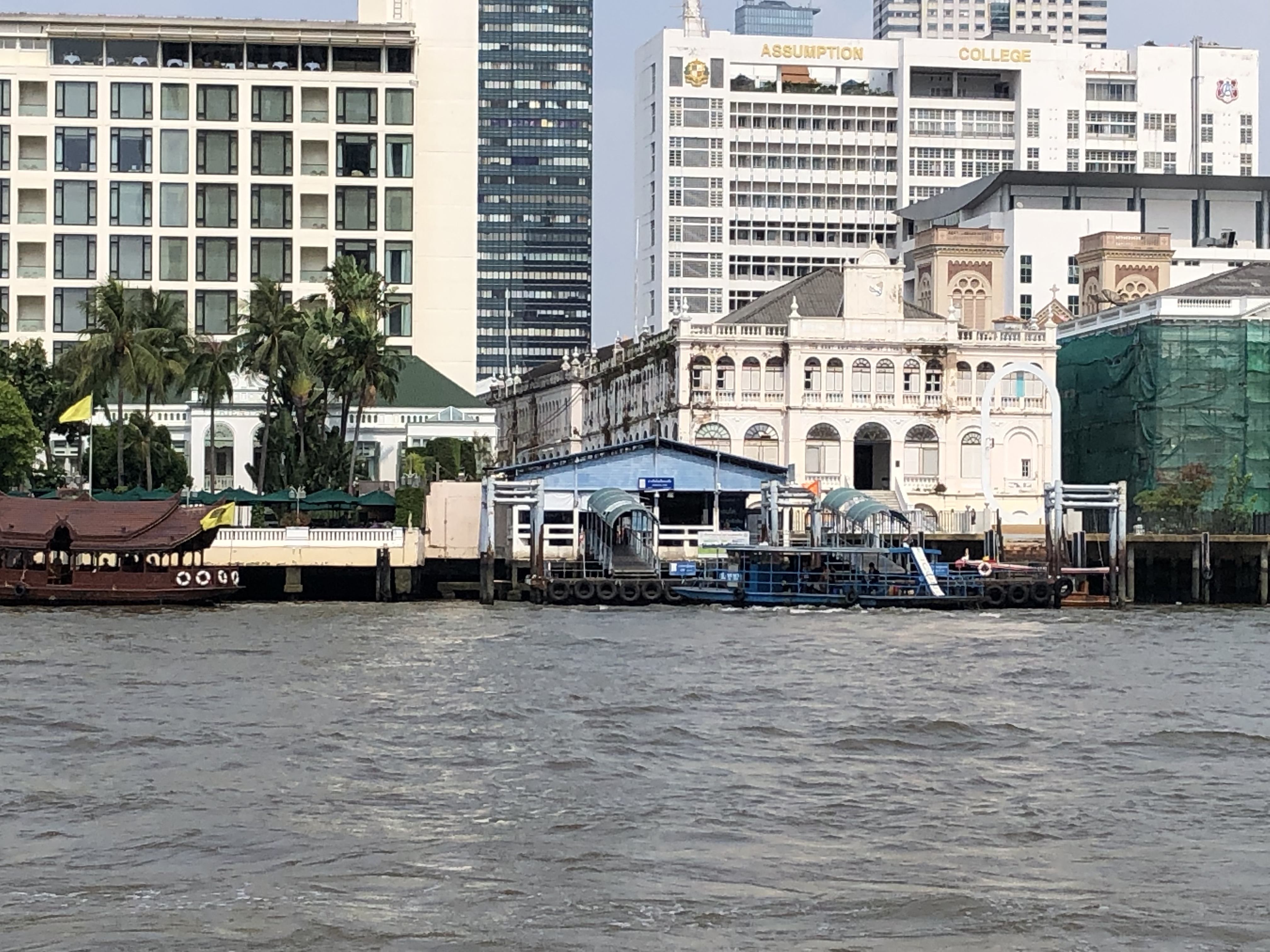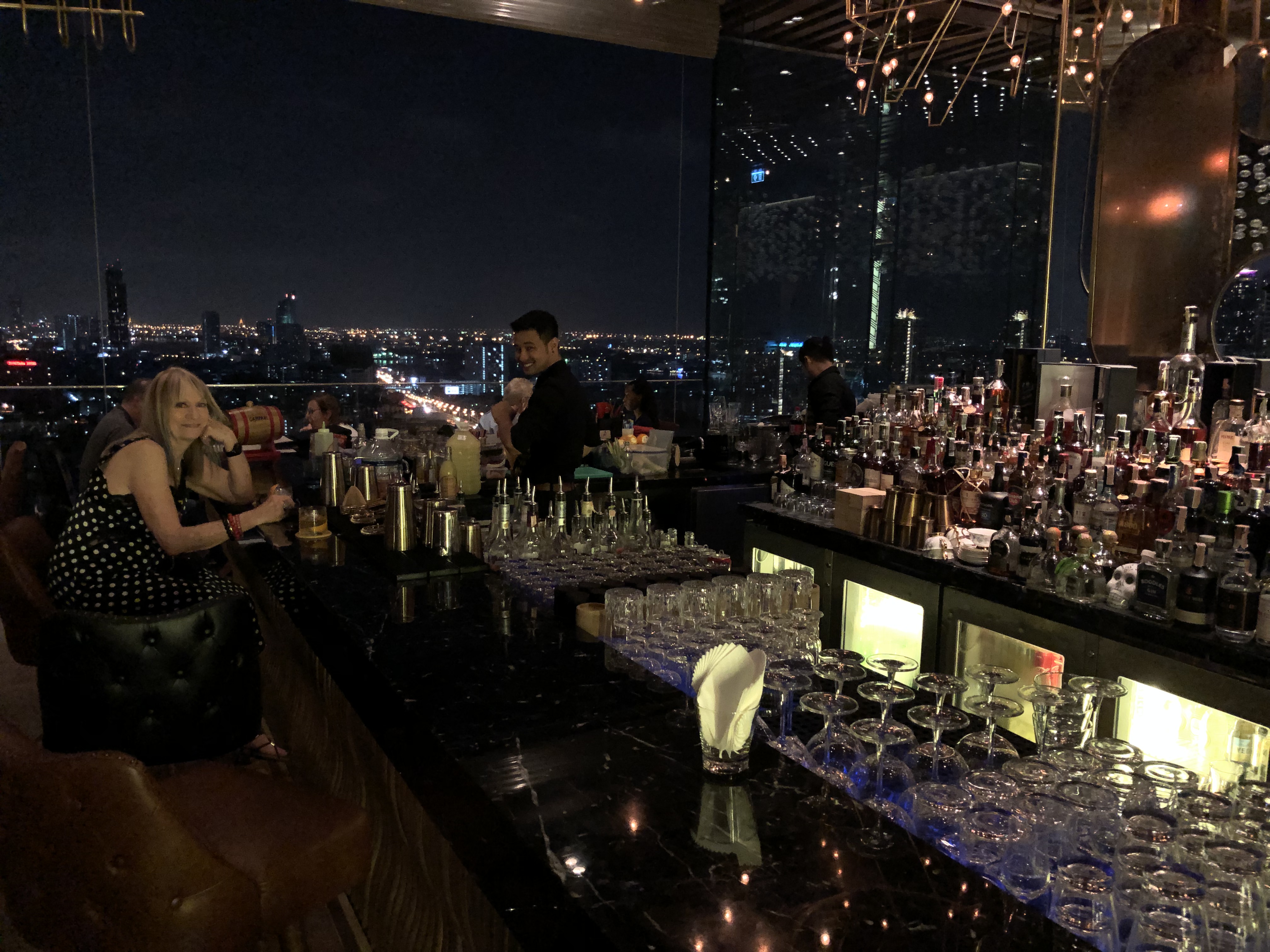 Thursday 28 March
The cab collects us at a civilised hour, 10 am, again thanks to Kuoni, for our midday flight to LHR., unsuccessfully chasing the setting sun, speed of the plane [550 mph] and speed of the revolving earth. [roughly 1000 mph].
An excellent experience, not just a holiday but an education. And back to the madness that is Brexit.
"The use of travelling is to regulate imagination by reality, and instead of thinking how things may be, to see them as they are"
Dr Johnson.
Thursday 21 March
A four hour drive on the main North South motorway passed miles of rubber tree plantations dating back to the French period to the lovely Anatara Resort Hotel on the coast near the town of Phan Thiet. www.anatara.com
A classic cliched tropical beach resort; impressive open plan foyer with charming young greeter, welcome drink with orchid flower and personalised welcome letter, free-form infinity pool with swim up bar overlooking a sandy beach, extensive tropical landscaping with neat cut grass, fish filled stream and lotus flowering lake, waving coconut palm trees, no ethnic or otherwise evening entertainment or activity coaches, no shop or tour aerators desk, no hotel brochures . Reminded us of that travel add "I should not be here either but….
The entire bay was heavily hosteled with over 30 facilities, the road behind was lined with shops and cheap restaurants. typical. Basically other than early morning beach walks one does not leave the ghetto.
The Antara identified some of the trees including the Pomelo tree, [ Citrus maxima] one of the original citrus species from which the rest of cultivated citrus have been hybridised, and mother of the grapefruit, the father was an orange, Rose apple tree , Areca Catechu palm, and the truly bazaar Dragon Fruit cactus like bush.
Friday 22 March
At leisure, beach walking and combing for drift wood, shells pottery sherds, planning collages. Make shell flowers and a face, mounted on piece of drift wood and given to the so helpful and heavily pregnant front of house manager Thuy. 
We will miss the buffet breakfasts, cereals and fresh exotic fruits, passion fruit yoghurts, omelettes
with everything inside, fried eggs on fried rice, strange eastern meals lead by noodle soups, very popular.
Saturday 23 March
Escape the compound a taxi to the 8 th century Cham Towers, Thap Poshanu Towers,  built by the Hindu Khmer civilisation. Rather elegant red brick constructions, heavily restored but still attractive. As the guide book says there is also a bright new pagoda with its lady Buddha, an abandoned French military outpost and a shop where we bought a miniature Cham tower, two scarves and a black Buddha for a necklace. They also had old one piaster banknotes from the French period, I resisted , and photographed one.
Afternoon by the pool reading Norman Lewis's book "A Dragon Apparent, Travels in Cambodia, Laos, & Vietnam" in the late 1950's, very interesting. Also felt a slight frisson of guilt as I was not on the second great anti-Brexit demonstration in London.